Recent Books on Congregational Conflict
Becoming a Conflict Competent Leader: How You and Your Organization Can Manage Conflict Effectively, by Craig Runde and Tim A. Flanagan
Promise and Peril: Understanding and Managing Change and Conflict in Congregations, by David Brubaker
Hope in Conflict, by David Sawyer
Congregational Leadership in Anxious Times, by Peter Steinke
In this edition of our FACT e-newsletter we look at two very different and opposing factors impacting congregational vitality. The first factor - congregational conflict - is internally focused and, not surprisingly, has a negative impact on congregational growth and vitality. The second factor, becoming a compassionate congregation, impacts congregational life in powerful, positive ways.
Peace, Peace - There Is No Peace in a Majority of Congregations
Congregational Conflict is Everywhere:

Some Ways To Mitigate the Impact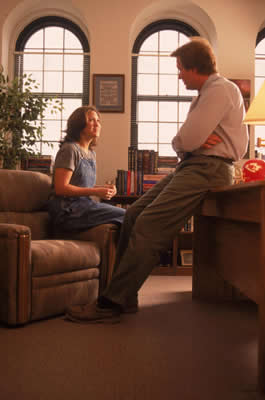 FACT research continues to document that conflict is a constant in American congregational life. Nearly 80% of congregations experienced conflict in the past five years; extrapolating those findings means that of the 350,000 congregations in the United States, 280,000 have experienced some degree of turmoil!
There are different degrees of conflict; serious conflict was present in 1/3 of the congregations surveyed, with 45% of Oldline Protestant congregations experiencing the highest level. Conflict erodes vitality - whether spiritual, financial or numeric growth.
There are some things that congregations can do to decrease the likelihood and severity of conflict. Creating strong interpersonal bonds, having clarity of purpose and mission, and building a culture open to change are three antidotes to conflict.
For the full article...
The Compassionate Congregation -An Effective Approach to Outreach and Vitality
Congregations involved in social outreach programs often discover multiple benefits: the potential for faster growth, an enhanced sense of vitality, and the satisfaction of expressing the congregation's compassion through direct service to those in need.
A systematic approach -- and some thoughtful matchmaking -- can help ensure long term success. Initial steps should include an assessment of the congregation's interests and its financial and human capabilities. Then, by identifying and prioritizing external needs (locally, nationally or internationally), the congregation can find the best fit for its work among a broad range of social and human services, social justice and social witness programs.
The possibilities for personal and congregational enrichment are almost endless, as are the opportunities for sustained and meaningful service to others.

The full FACT publication "INSIGHTS Into the Compassionate Congregation", which also includes a list of reference materials, is downloadable now in a PDF for FREE.
For further information about FACT, or to learn how to join the Cooperative Congregations Studies Partnership (CCSP), contact David Roozen at
roozen@hartsem.edu