Get ready for the Holidays with Age Defy!
Come mix and mingle with
Drs. Rick & Arlene Noodleman
and
Age Defy's Skin & Beauty Experts.
Thursday, December 9th
3:00 - 7:00 PM
Champagne & Holiday hors d'oeuvres
Holiday specials on services & Revercel products
Boutique shopping with complimentary gift wrapping
Live music, Holiday cheer and more!

RSVP by clicking here
Subject line: Holiday - Or call 877-AGE-DEFY
Spotlight On Treatment:
DermaSweep
™
Microdermabrasion Reinvented!

An innovative combination of vacuum pressure, precision brush tips, and integrated topical delivery makes DermaSweep the most personalized, targeted, and comfortable, particle-free system ever created. Treatments are fully customizable to treat everyone from patients with the most fragile skin types to those with the most resilient skin.
Because of its unmatched customization, Age Defy is proud to offer three levels of treatment:
DermaSweep-Aesthetician
DermaSweep-RN and
DermaSweep-MD, physician-level resurfacing
Winter is the perfect time of year for skin resurfacing
Schedule A Consultation Today

"Yoga & The Art of Living a Healthy Lifestyle"
Weekend Retrea

t
January 28-30, 2011
Friday 3:00 pm - Sunday 3:00 pm

Join senior Yoga instructor Cindy Walker and Drs. Rick and Arlene Noodleman for an
educational retreat of healing, restoration and
recovery.
Practice Vinyasa,
Kundalini, Yin & restorative
yoga - suitable for all levels of practice. Learn
about cosmetic dermatology and integrative
medicine. Massages, facials, spa, pool, star gazing, music, organic spa-cuisine, mountain biking an
d hiking,too!


LOCATION: Stillheart Retreat Center, Woodside

www.stillheart.net
RATES:
$225 p.p. Saturday Day Rate · $550 p.p. Triple Occupancy
$650 p.p. Double Occupancy · $750 p.p. Single Occupancy
$800 p.p. Tree House: Double or Triple Occupancy
Fees are non-refundable, all-inclusive and include meals & activities. Additional fees for body treatments.
If you need to cancel, Yoga & The Art of Living will issue you a credit towards a future event.



For more information and to register

click here
or contact Cindy Walker at: cindy@Y-tal.com


Revercel Website Re-launched!

Revercel is pleased to announce the re-launch of its website on December 6th - just in time for Holiday shopping! This user-friendly website was re-designed with you in mind. The site offers a state-of-the-art shopping cart and tips for all your skin care needs. It's easy to navigate and allows you to "Ask the Experts" too.


New At Age Defy:
Tattoo Removal
Because you're allowed to change your mind
You loved your tattoo at first, but you're at the point in your life where you no longer want it. At Age Defy, we understand. Our state-of-the-art Q-Switched laser breaks the tattoo ink into tiny particles which are removed by the body's natural filtering system leaving the surrounding skin unharmed.
Call us today for a complimentary Consultation!
Patient Testimonial
A YELP reviewer writes:
I have been a patient of this practice for over twelve years. I have been treated for both very serious skin conditions and, on occasion for cosmetic care.

The level of professionalism and medical knowledge is, in my opinion, UNSURPASSED. The time, empathy and care I have received from Drs. Harris, Noodleman, and NP Joe Gorelick have been way beyond my highest expectations! This is a group of exceptionally talented and credentialed physicians, practitioners, nurses and staff. In spite of their PHENOMENAL success, they are kind, ethical, fair and honest. I recommend this outstanding medical office withour question. They saved my life; literally.


Message From
Drs. Rick
& Arlene

Noodleman


As we say goodbye to 2010, we want to take this opportunity to thank you for your support, referrals and loyalty. We strive to bring you the best and most advanced skin and body care services and products. We are committed to outstanding results, patient education, service excellence and individualized care. Our knowledgeable Staff is dedicated to meet and exceed your expectations. We look forward to celebrating our 25th anniversary with you in 2011 and wish you a healthy, happy Holiday season and New Year.

In good health,


F. Richard Noodleman, MD
Medical Director,
Cosmetic Dermatology & Surgery


Arlene Noodleman, MD, MPH
Medical Director, Integrative Health
Meet Our Staff
Joe Gorelick, N.P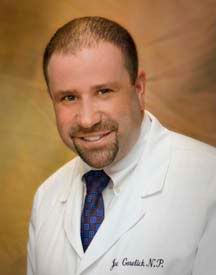 Joe Gorelick has been Age Defy's Nurse Practitioner for more than 6 years and is a patient favorite. Joe offers both medical and cosmetic dermatology services, and has special expertise injecting the Botox Cosmetic
®
wrinkle relaxer. Joe provides unsurpassed care to patients and has a great sense of humor. He has a great gift for treating acneic skin of both young and adult patients, too.

Joe earned his Masters degree and completed his R.N. and N.P training at Vanderbilt University. He also holds a B.S. in physiology from UC-Davis and is on the N.P program faculty at Holy Names College. Joe is often asked to give lectures to the community.

Schedule an appointment to see Joe or refer your friends and family for all their dermatology needs.

Join Us At Our Holiday Open House!
Thursday,
December 9th
3:00 - 7:00 PM
_______________________
Enjoy "this-night-only"
Cosmetic Dermatology, Medi-Spa & Revercel
®
Specials!
Gift sets wrapped & ready to place under the tree

.
RSVP by clicking here
Subject line: Holiday
Or call 877-AGE-DEFY