Spotlight On Treatment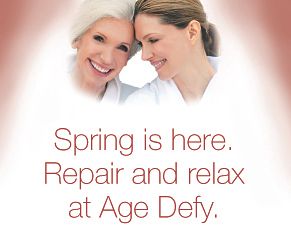 Our Spring Medi-Spa Package
A Therapeutic SilkPeel® Treatment Combined
With Age Defy's Signature Massage:

Superior to microdermabrasion alone, the revolutionary SilkPeel combines crystal-less exfoliation with a unique technology that actually infuses anti-aging solutions deeply into the skin. This dual approach improves skin tone and texture, minimizing fine lines, wrinkles and brown spots.
Our most popular body treatment, the Signature Massage restores balance and releases muscle tension. Swedish, Deep Tissue and Pressure Point techniques relax and detoxify tense muscles for therapeutic results.
Give or Receive the Gift of Beauty & Relaxation
just in time for Mother's Day!
$220
(regularly $270)
A $50 Spring Savings!

Offer expires 4/30/10

Join Dr. Rick Noodleman and his Staff for an informational seminar to learn about the latest in skin rejuvenation and anti-aging options this Spring.
Spring Seminar

Tuesday, April 6th
at 6:30 pm
Plus a receive a Free Revercel® Gift for attending the Seminar!

Revercel® Reports for
Triple Duty!
Our #1 Sun Protectior - SPF 45

Revercel Triple Duty brings sunscreen to a whole new level! Its three-in-one advantage conveniently provides SPF45 sun protection, sheer tinted coverage for a smooth look, and anti-aging peptides to help reduce the appearance of fine lines and wrinkles. Full spectrum protection, sheer tint for an even glow, and a peptide-powered Anti-Aging Complex to help skin look firmer and smoother - it's your must-have product for Spring! (1.7 oz) $49.50


New At Age Defy!
VISIA

® Digital Skin Analysis

UPGRADE



The VISIA® skin analysis is a state-of-the-art digital complexion analysis system. Age Defy now has the newest upgrade of this powerful system. With one qick photo, VISIA's high-resolution software analyzes your skin, evaluates wrinkles, pores, texture and UV damage and compares it to people in your age group. The VISIA helps Age Defy's skin experts develop a Skin Care Rejuvenation Program customized for your unique needs.
The VISIA Skin Analysis & Consultation
A $100 Value -
is complimentary for all Age Defy patients.
Visit us for your Digital Skin Analysis today!

Dr. Noodleman,

I am so happy with my new lips! You are a great doctor and a very sweet man. Your staff is fabulous. They all made me feel so comfortable. After meeting with Tatyana, I am now using your skin care line, Revercel, and as with everything else you seem to touch, I am seeing and feeling results already.

Thanks for everything,

Lee D.

Message From
Dr. Arlene
Noodleman
Don't Eat "Beige"!
Start Eating a Colorful Diet This Spring.
Spring is the time for new beginnings - to change your diet and improve your health. A "beige" diet is deficient in protein, vitamins, minerals, phytonutrients (plant substances) and fiber. What's more, eating non-colorful foods is high in calories due to added starch, fats and sugar, leading to chronic deseases such as diabetes and heart disease.
Integrative health physicians recommend eating multi-colored, nutrient-rich foods. Sometimes called the "Rainbow Diet", eating from these groups each day ensures that you will get the nutrients your body needs for good health. Here are some examples of color-coded healthy foods:
RED
Tomato

GREEN/YELLOW Spinach, avocado

GREEN
Broccoli, brussel sprouts

ORANGE
Carrots, sweet potato

YELLOW/ORANGE
Orange, lemon

RED/PURPLE
Cranberry, pomegranate


WHITE/GREEN


Garlic, onions
In addition to the Rainbow Diet, I advise my patients to eat a diet high in Omega-3 fatty-acids, found in fish oils. Omega-3 fatty acids have been found to help improve memory and support the immune and cardiovascular systems. While it is preferable to obtain Omega-3s from fish such as Alaska salmon, sablefish or sardines, many people do not eat enough fish in their diet. In those instances, I recommend fish oil supplementation such as Revercel's Pure Omega-3

(distilled and toxin free).

Have a healthy - and colorful - Spring!

Arlene Noodleman, MD, MPH


Director, Integrative Health



Meet Our Staff
Angelee Flores,
C.M.T.

Angelee Flores has been Age Defy's Certified Massage Therapist for two years. Graduating with honors from the College of Massage Therapy at the National Holistic Institute, Angelee has more than 1,400 hours of training in massage therapy, aromatherapy and holistic healing modalities. Angelee specializes in "integrative massage" using an intuitive healing approach that incorporates Swedish, deep tissue, Trager and Polarity Therapy techniques. She also offers postural and range of motion assessment.
Angelee enjoys living in Santa Cruz and when she is not doing massage work, she is at the beach with her 8 year old daughter. Her favorite food is sushi and she's always on a mission to find "the best sushi ever". Although she is a big animal lover, she only has one fish at this time!.
Enjoy Angelee's expert touch combined with a SilkPeel exfoliation treatment in the Medi-Spa - at a $50 savings in April.
Click here
for a complete list of our Massage Therapy services.
Gift of Beauty and Relaxation
Just in time for Mother's Day

O
ur Spring Medi-Spa Package includes a therapeutic SilkPeel® Treatment combined with Age Defy's Signature Massage
( reg. $270)

A $50
Spring Savings!

Offer expires 4/30/10