If you would like to market your company or become more involved in the Council, please contact the BABCNE office at
babcne@comcast.com
.

»September 22


Energy & Evironment Committee Breakfast Series


The series aims to be a forum for thoughtful and engaging discussions on the state of renewable in the US & UK. The September forum will focus on Regulatory Matters




»October 6


Consuls' evening forum

Business Opportunities in Commonwealth countries
details/purchase
»October 21
Financial Breakfast Series
With Blackrock
»November 5
Boston Clean Tech Venture Day
EU chambers of Commerce in NE are collaborating on this event to assist European Cleantech companies to explore and take advantage of opportunities in NE.
Details:
www.bostoncleantech
ventureday.com
»November 10

Energy & Evironment Committee Breakfast Series
Wind technology

»December 3
24th Annual Christmas Extravaganza,
Traditional Christmas luncheon, Harvard Club of Boston. This event was sold out last year so to insure your place, book your table now! Raffle, entertainment and gifts for all.
»January 12

Energy & Environment Committee Breakfast Series
Solar Energy
»January 13
Financial Breakfast Series
"Market outlook 2011 - Getting past the headlines to Strategic Investing" with Dr. David Kelly, JP Morgan

»February 10
17th International Business Forum & Networking evening
Market your company to the international Community - a limited number of exhibit tables are available at $700
»March 16
Energy & Environment Committee Breakfast Series
»April 13
Financial Breakfast Series
With Columbia Management
»April 27

CEO Series
"Road Trip - How a Niche Idea turned into a Global Industry" With Scott Griffith, Chairman & CEO, Zipcar.
»May 4

Energy & Environment Committee Breakfast Series
Renewable Gas & Innovative Technologies

Other events may be added as the season progresses. We invite you to check out the BABCNE website.
Credit for newsletter conception to


Joanna Berg

.

Contact information:
Email
LinkedIn
BABCNE Contact Info:

Lewis Wharf, Suite 523
Boston, MA 02110

Tel: 617 720 3622
Fax: 617 720 4331

Email:
babcne@comcast.net

Web: www.babcne.org


Welcome to the BABC-New England newsletter
News Links


For All "

UK in USA" News
cl
ick
her
e
BABC Network Monthly Economic News

A monthly summary of transatlantic economic data. For current and past editions,

click here

.





BBC, Financial Times, New York Times


Get your news with one click on the BABCNE website. more.
Recent News


Five-year plan to rebuild the British Economy

The UK Chancellor of the Exchequer George Osborne set out a comprehensive five-year plan to rebuild the British economy and tackle the country's record deficit. The plan sets out tough but fair action to: 1) tackle the unprecedented budget deficit; 2) introduce a fairer tax system, and; 3) encourage enterprise and support long-term
more
.
New Fee To Enter US

British travelers will have to pay a new fee to enter the United States without a visa from 8 September 2010. more.

UK's Bribery Act
The UK's Anti-Bribery Act will come into force in April 2011, and the British Government want the help UK businesses familiarize themselves with the implications of this new legislation. The Act will ensure that the UK is at the forefront of the battle against bribery, and pave the way for fairer practice by encouraging businesses to adopt anti-bribery safeguards. more.

UK Homeowners To Benefit from Solar Panel Giveaway
Reports are now suggesting that as many as 100,000 homes in the UK could benefit from free solar panels. Over the next 3 years, homeowners will be given a chance to increase the value of their home, while at the same time reducing their carbon footprint. more.
The British Consulate-General, Boston - New Location


On 28 June 1817, Britain opened a Consulate in Boston, to take care of British interests in New England. The first British Consul was George Manners, who held office from 1817 to 1839. In 1904, the Post was upgraded to a full Consulate General, and in 2000 it took on responsibility for the state of Connecticut (except Fairfield County), alongside the states of Maine, New Hampshire, Vermont, Massachusetts and Rhode Island. The Consulate moved to its current offices in Kendall Square on November 9, 2009. To read more, click here.
Feature
Social Media: Fad... or the biggest shift since the Industrial Revolution
Share your thoughts with us - is the social media helping you with your business outreach and development? Have tips to share? Email us at
babcne@comcast.net
and we will publish them in the next e-newsletter.
Watch this
video
(4 minutes)
Did you know? Years to reach 50 million users...
Radio - 38 years
TV - 13 years
Internet - 4 years
iPod - 3 years
Facebook added more than 200 million users in less than 1 year!
Events



Our fall events are listed on the left hand side of this e-newsletter. We encourage to you to check our website where all updates are posted.

www.babcne.org

24th Annual Christmas Luncheon, December 3rd...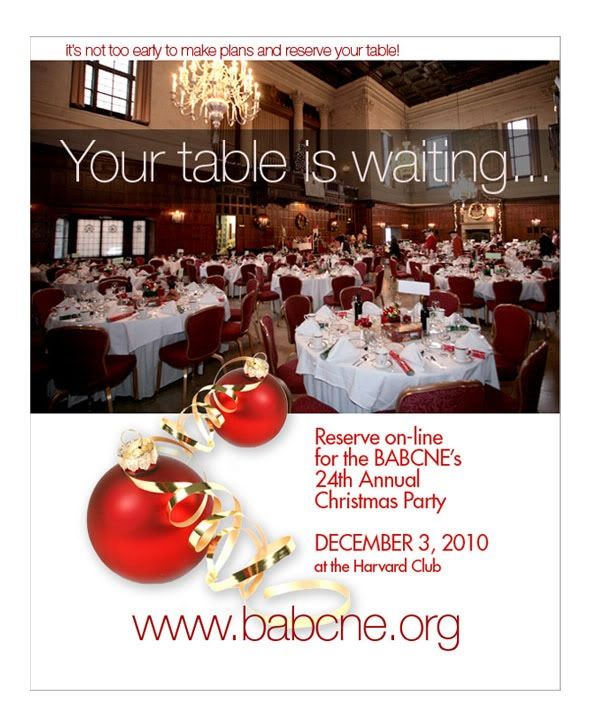 How Can We Help You?

Expand your networking base through the BABCNE by:
Preparing

for BABCNE events. more.
Inviting Guests To BABCNE Events:

In keeping with that theme, we encourage each of our members to actively invite guests to the many and varied events arranged to meet your business networking and social needs. Let's build our organization together!
Helping us Build The BABCNE Mailing List:

Spread the word! We encourage you to forward this email and event invitations to your friends and colleagues. With their permission, email their contact information to: babcne@comcast.net and we will add their contact information to our mailing list.
Getting Actively Involved:

It's a well-known fact that members who get involved in a BABCNE Committee or event get the biggest return on their investment.
Using

the BABC Network on-line Membership Directory of over 10,000 executives involved in transatlantic trade. This Directory is , accessible to members through a password, which is given on joining the BABCNE. more.
More About The BABCNE


For an overview of the British American Business Council of New England, click here.


BABCNE Leadership & Board of Directors
The BABCNE maintains a board of directors combining a broad cross section of American and British originating professionals. The day to day operation is managed by our executive director Urszula Wojciechowska. Board of Directors


British American Business Council
The BABCNE is proud to be part of the British American Business Council, the largest transatlantic business network, with 25 chapters, and 2,500 member companies, including many of the world's largest multinationals. BABCNE is an independent organization that participates in the BABC to provide our members a broader transatlantic business network.
BABC
BABCNE Social Networking

Who We Are, What We Do
To continue networking with BABCNE colleagues, between events, why not join the BABCNE groups on LinkedIn and FaceBook. Links are on the left hand side.
Meet the Members
LITESHIP INTERNATIONAL, LLC

Custom Brokers & International Freight Forwarders
. The company offers customized services serving all segments of the import community, from individuals to major corporations.
Whether you simply need a reliable US Customs Broker or you require a total logistics strategy for imports of all kinds of commodities through all distribution channels, LITESHIP delivers cost effective business solutions including customs brokerage; surface transportation; warehousing and distribution and more.
Contact: Eric Breda, Managing Member, Custom House Broker
Eric.breda@liteship.com tel: 617 567 1161

www.liteship.net
STANNAH STAIRLIFTS

The Stairlift People Founded in the UK over 140 years ago, Stannah StairLifts is part of a family company, which has helped over 200,000 people with stair climbing difficulties. The company focuses on customer service, both before and after the sale and appreciates great craftsmanship as well as the importance of safety, reliability and excellent value.
The company is famous globally for giving people independence and safer enjoyment of their homes. There are more Stannah Stairlifts across the world than any other. Stannah continually develop their products to insure that they meet customer needs.
Contact: Mike Charteris, Vice President
Mike_Charteris@stannah.com, tel: 508 520 7878