Wow, I can't believe the first 5 months of 2012 have come and gone. We have settled into our new Jesus Was Homeless "Living Room" location, seen a tornado rip thru Branson, and now serve over 700 meals each week to those living in weekly and extended stay motels. I'm almost scared to think what the second half of the year will look like.

We recently started "Church for people who don't like church" every Sunday at 10:30 am, once a month workshops where we partner with other organizations in the community, LIFE SUPPORT Discussion Group every Tuesday, a 16 week discipling class called GO...and make Disciples, a monthly service project and deliver meals. It's becoming harder and harder to juggle a full time job, family and manage the needs of Jesus Was Homeless but God continues to provide the strength, energy and most importantly the volunteers that make it happen. We could not do it with out them.

In the last few weeks we started tracking how many different churches and organizations are represented that help make Jesus Was Homeless possible. We know many more have helped that are not on the list but it's an amazing reflection of the community "being the church".

Thank you for what you've done, continue to do and will do in the future. Together we will"Turn Our Community Upside Down",

Bryan & Amy Stallings

Jesus Was Homeless

"There are 2,000 verses of Scripture that tell us we must be committed to protecting the poor and the oppressed...There is no concern of Scripture that is addressed so often and so powerfully as reaching out to the poor." - Tony Campolo

REPRESENTATION

Branson United Methodist Church

Brookeside Church

Church Army Branson

Closer Walk Christian Church

Community of Christ

Cowboy Church with Norma Jean

Faith and Wisdom Church

Fellowship at Cross Creek

First Baptist Church of Branson

First Baptist Church of Kimberling City

First Christian Church

First Presbyterian Church of Branson

Forest Park

Friendly Baptist Church

Gateway Branson

James River Assembly

LifeSong United Methodist Church

Mt. Branson Christian Church

New Beginings Fellowship

Ozark Mountain Community Church

Skyline Baptist Church

Telos Bible Church

The Carpenters House

The River

Tri-Lakes Church

Woodland Hills Family Church
GATEWAY BRANSON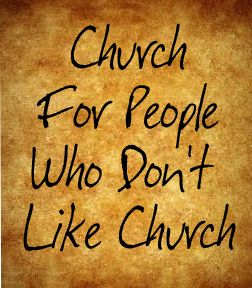 Join us every Sunday at 10:30 am for FREE breakfast and "Church for people who don't like church, where no perfect people are allowed!" You don't have to dress up. Just come as you are. Everyone is welcome at Gateway regardless of what you think about church or God or religion. Gateway Branson Internet Campus is a place where God meets people who are far from perfect. This church is for people who don't really like church. This is a safe place for skeptics and doubters to ask their questions. We know lots of people have been burned by church experiences in the past. We hope this is a place where everyone can sort out authentic faith in a very real God and begin to experience it themselves.
COME AS YOU ARE - Especially if you are Broken - Tired - Poor - Porn Addict - Smoker - Drinker - Not Good Enough - Messy - Questioning God - Imperfect - Ashamed - Willing - Searching for Answers - Don't Know God - Alcoholic - Lonely - Rich - Unhappy - Straight - Gay - Judgmental - Drug Addict - And you'll be just like us!
WARNING: No Perfect People Allowed
Transportation is provided from the motels by calling 417-335-9915.
GO SERVE Projects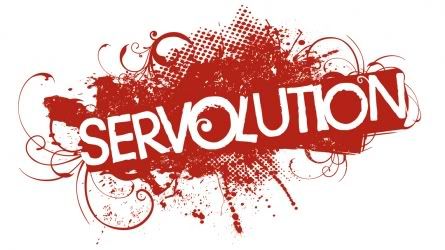 Have a heart for serving? Love to serve? So do we! Not only do we believe in loving God and loving people, we also believe in serving others and creating a SERVOLUTION in our community - (A complete and radical change of a person's life caused by simple acts of kindness for the glory of God). Join us each month as we GO SERVE in our community at Gateway Branson. For a list of upcoming events see our Events Schedule Page and come serve with us.
See past event photos:
Garden Planting at an Extended Stay Motel
LIFE SUPPORT Discussion Group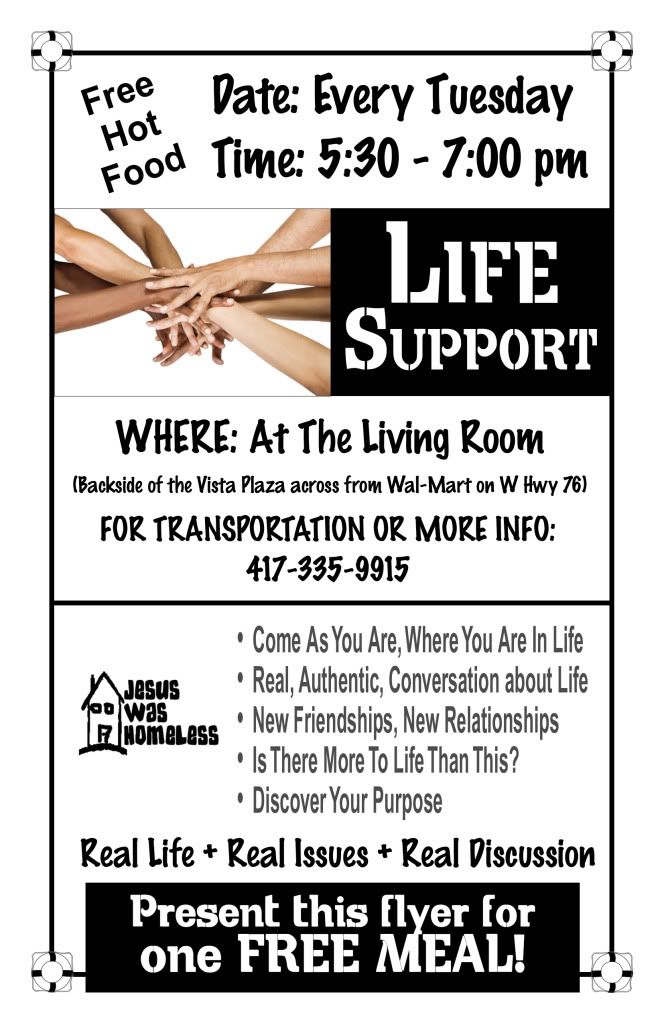 LIFE SUPPORT Discussion Group every Tuesday night at the JWH Living Room. There is a FREE HOT MEAL provided at 5:30 pm and group discussion from 6-7 pm. We began our Life Support discussion groups in two area weekly stay motels but now host them at the Jesus Was Homeless "Living Room".
This is a group setting where we provide a hot meal and share our life struggles and challenges. We know how important it is for people to connect with one another in relationships.
Transportation is provided from the motels by calling 417-335-9915 so come for the food, stay for the conversation and let's do life together! We will meet you where you are at in life so "Come as You Are" and explore...Real Life, Real Issues, Real Discussion!
RELATIONSHIP WORKSHOP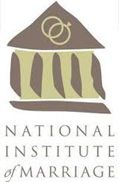 RELATIONSHIPS MATTER...and now you can learn the tools that will equip you to having better relationships with your spouse, kids, co-workers and everyone you come into contact with and the best part of all - it's FREE! Join us Saturday, June 9th, 10:00-2:00pm for a fantastic relationship workshop presented by National Institute of Marriage. Lunch is provided at no charge. For more information contact Amy at 417.335.0266 or amy@jesuswashomeless.org
LOVE YOUR NEIGHBORS BBQ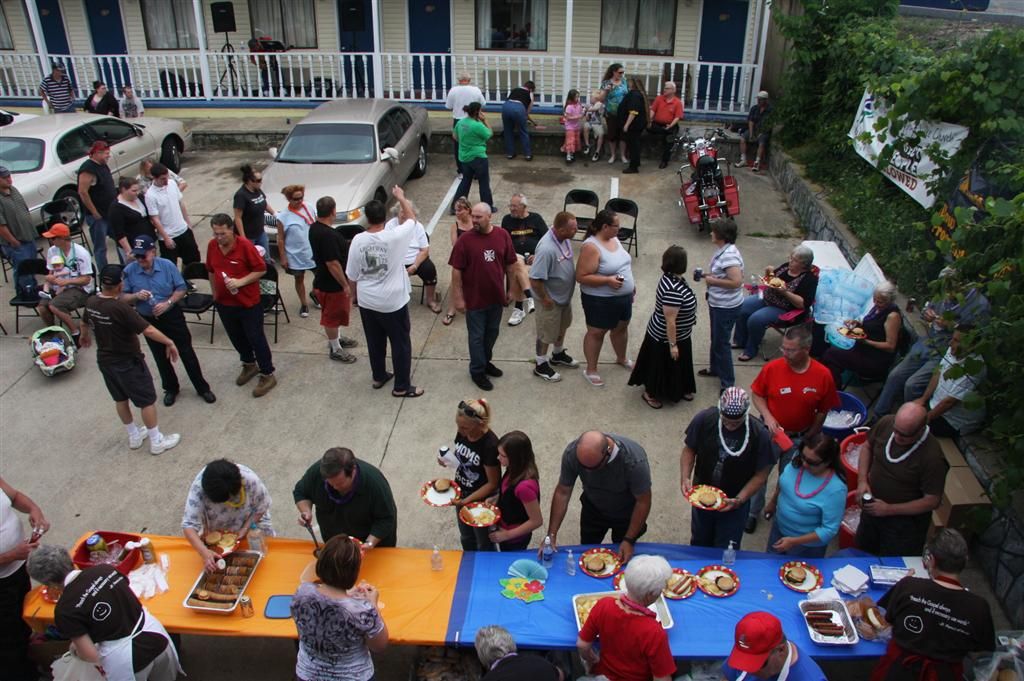 Check out our latest "Love Your Neighbors" BBQ that we held May 20th at the Good Shepherd Inn. You could feel God's presence as we did real "community" with one another. We laughed, we cried, we hugged, we ate Famous Dave's hamburgers (ok maybe we didn't cry) and had an awesome time building relationships with one another. A HUGE thanks goes out to Tom Lovato for sharing his music and his passion for God. This had to be one of the best BBQ's of all time. If you missed out, you missed out on something special but you can join us for our next one Sunday, June 24th, 4-6 pm at the Branson Villas, 1900 W Hwy 76.
For a complete list of events visit our Event Schedule Page.
See all the photos:
PADDLE FOR THE HUNGRY - JUNE 23RD & 24TH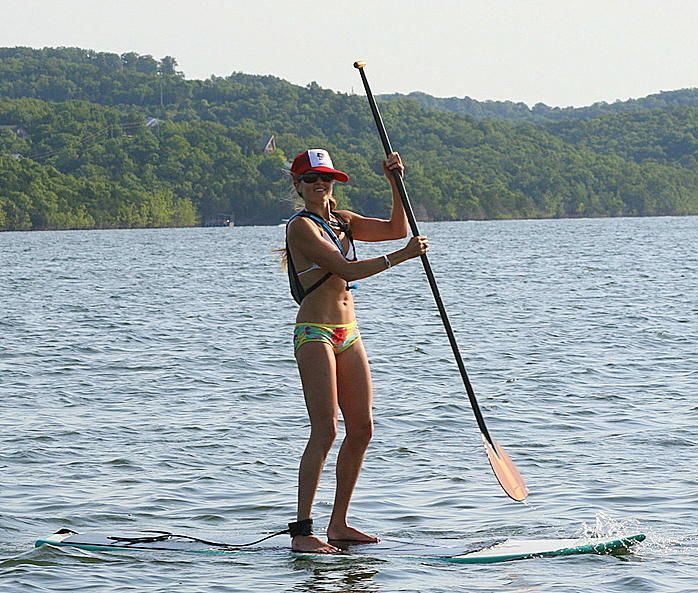 Jodelle will be paddling 32 miles across Table Rock Lake in an effort to raise money for Jesus Was Homeless. The paddle will take place over the course of two days where Jodelle will paddle 16 miles and stop and rest for the night at a campground on the lake, and then turn around and paddle 16 miles back. You can help by pledging $1 a mile to the cause. If just 100 people would pledge $1/mile, Jodelle will reach her goal of raising $3200 towards the purchase of food and transportation for delivery of the meals.
To find out how to pledge please call:
417-230-0554 or email Jodelle at jodellefitzwater@gmail.com and enter the subject "Paddle For the Hungry" or visit www.getfitwithjodelle.com
MEAL HELP NEEDED
Does your church, group or organization like to cook? If so, we could use your help. Our LIFE SUPPORT Discussion Group at "The Living Room" is in need of volunteers to help provide a meal each week. We currently have the fantastic women from the Branson United Methodist Church and Barbara Fairchild Ministries each providing one meal a month. If you like to cook this is for you. Your service will provide a hot, home cooked meal for the many that don't get one very often. If you are interested in helping or would like more information please give Amy a call at 417.335.0266 or email amy@jesuswashomeless.org
MUSICIANS WANTED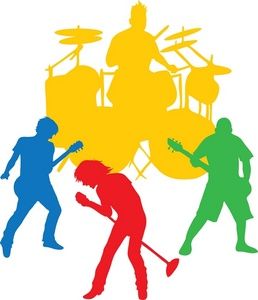 We are looking for musicians for a late Sunday morning church service (10:30 am - 11:59 am) to play music for people who don't like church. We need messy, authentic, people who are or are not Christ followers but are willing to explore God. Tattoos, piercings, spikey hair, are all ok. Shoes are optional.
You must be able to play a variety of music from alternative, classic rock, modern, & edgier worship music. If you are interested please contact us at bryan@jesuswashomeless.org
CREATIVE ARTS WANTED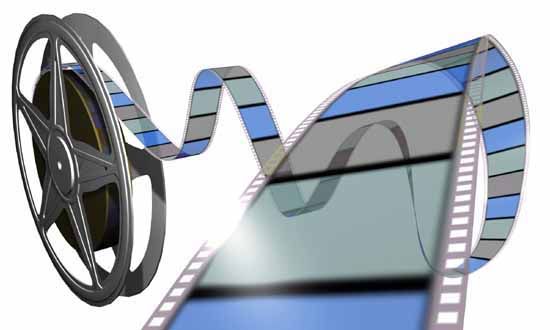 We are looking for someone that has a funny sense of humor, experience with Adobe Premier, a heart for God and wants to help us create unique video clips for our Sunday Service and JWH events. Please contact bryan@jesuswashomeless.org
DRIVERS WANTED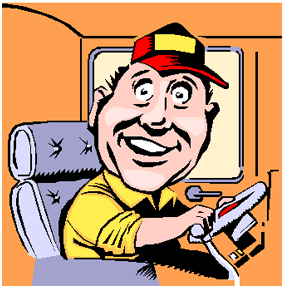 Want to serve but don't know how or where? Like to drive? Then we need you. We need drivers on Tuesday evenings for our LIFE SUPPORT Discussion Groups to pick up and drop off people at the motels. We also need drivers for our Sunday morning Gateway Branson Internet Service. If you want to serve by driving for us contact Amy so she can get you scheduled. Must be 18 years or older, have a valid driver's license and be insurable. 417-335-0266 or
amy@jesuswashomeless.org
GET CONNECTED
Jesus Was Homeless Gateway Branson