THANKSGIVING 2010

20 They all ate as much as they wanted, and afterward, the disciples picked up twelve baskets of leftovers. 21 About 5,000 men were fed that day, in addition to all the women and children!

- Matthew 14:20-21 (NLT)
| | |
| --- | --- |
| You Can Still Volunteer | December 2010 |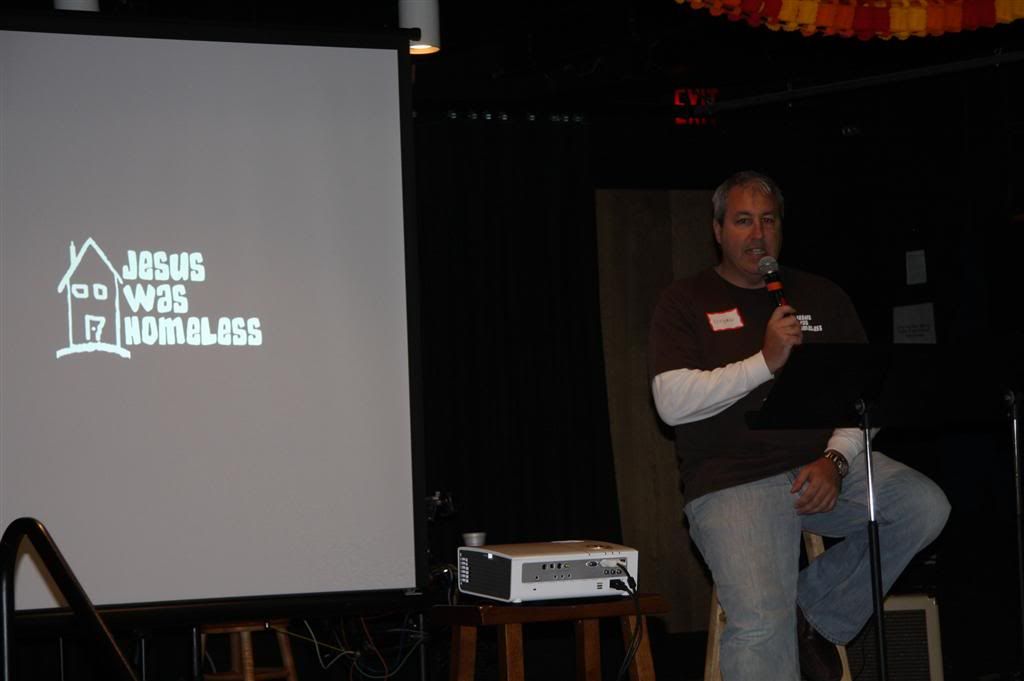 We didn't feed 5,000 but we fed nearly 500 including volunteers and guests at our 3rd annual "Love Your Neighbors" Thanksgiving Day Dinner. We had such a great time. See all the Thanksgiving Photos here. A HUGE THANKS to Branson United Methodist Church for hosting us, The River Church for using their buses for transportation, Famous Dave's and Golden Corral for supplying the wonderful food and the many volunteers that came to share their heart with those struggling this holiday season. But don't stop there! You can continue to voluteer with us every week. Check our Schedule Page here to see when you can serve.
FROM AMY

I love the way that God uses people to speak to my heart as I was becoming distracted with the business concerning the Thanksgiving meal and was starting to forget why I was doing what I was doing. Between work, Jesus Was Homeless obligations and preparing for our 3rd annual Thanksgiving meal, as always, we started to get really busy. My phone was ringing from the time I awoke until the time I went to sleep (and sometimes in-between). Please don't get me wrong, I love talking to others who share a passion to love and serve others or just had questions, but I started to focus more on my "to do" list and less on my "why do" list. As God tends to do, he brought me back to reality with a simple phone call from an elderly woman who lives alone and has no transportation. What she said to me (with her voice trembling) made me stop in my tracks and remember what this Thanksgiving meal was truly all about. She said, "Can someone please come and get me for the meal - I don't want to spend another Thanksgiving all alone".

I want to thank everyone who came and gave of themselves for the people in our community who did not want to spend another Thanksgiving all alone - for there are many.

Please email me your stories/experience of the Thanksgiving dinner. THANK YOU!

God Bless, Amy

MEASURING RESULTS

Often times I hear how we are a hand-out instead of a hand-up so I wanted to share with you how we measure our results to know if we are making a difference in people's lives. Not only in the lives of those being served but also in lives of those serving. We believe the most spiritual growth will occur when you begin to serve others. We ask ourselves Are...?




●

People are exploring faith and becoming the church.




●

Messy people are hanging out with "us" and even belonging before believing. (Jesus trusted those who were not trustworthy. I.E. Judas)




●

Lives are changing by abiding (the fruits of the Spirit) rather than trying harder.




●

People are connected in LIFE SUPPORT Discussion Groups where LOVE, GRACE, TRUTH and AUTHENTICITY allow for confession and healing to happen.




●

People are serving others rathan than focused on being served.




●

We are multiplying life by life. (The Timothy Factor) If people are not finding faith and leading others, we're not being the Body of Jesus.

NOW 2 LOCATIONS!!!

I'm thrilled to announce that we are beginning our 2nd location for our LIFE SUPPORT Discussion Group, now at the Good Shepherd Inn on 76, beginning December 1st. This is so exciting to see the continued growth from those attending and the individuals wanting to step up and lead. So many of the folks that attend LIFE SUPPORT won't go to a church so, shhhh!, don't tell them we are bringing the church to them. To see why people attend watch this short video here.

RANDOM ACT OF KINDNESS

Our first LIFE SUPPORT Service Project was a HUGE success. We took a group of people that attend our LIFE SUPPORT and passed out bottles of water and Krispy Kreme donuts to would-be shoppers entering the Tanger Mall the Saturday after Thanksgiving. Just think how powerful this will be for our community when the ones being served become the servants in our own community. We would like to bring our LIFE SUPPORT along-side other churches & organizations for them to become servants with each month. If you have a volunteer project you need help with or know of an opportunity to serve, please contact us. To see all the service project photos please click here.

Jesus Was Homeless T-shirts

With Christmas just around the corner, it's time to think about helping us and giving a great conversation piece as a gift. Our Jesus Was Homeless T-shirts are a 100% preshrunk cotton super heavyweight tee shirt. When you purchase a Jesus Was Homeless T-shirt you help to provide up to 4 meals for those in our community. To view all our shirts or to order yours today click here.

Personal Message




We have delivered or served over 18,000 meals so far in 2010. We could not have done this without your support both in time and money. Please remember that you can make a tax-deductible donation to us and know that it will go directly into helping others, as we don't have any salaries to pay and are 100% volunteer led. With the current economic situation we continue to see much more need then there are resources available. Thank you for all you've done and continue to do.

Ministry Quick Links



Lots of Ways to Serve
There are so many ways to serve with us, but the first thing you need to do is contact us and let us know what your passion is. What makes your heart beat in rhythm with God's? Or maybe it's what injustice makes you angry? There are so many opportunities to serve, don't just attend church on Sunday and give God your hour of time, become the hands and feet of Jesus by "BEING" the church. CONNECT - SERVE - GROW - LEAD with us!
Merry Christmas,
Bryan & Amy Stallings
Contact Information