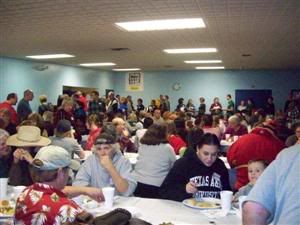 We have had care bags in the past that folks could take with them after their meal to help fill some of their many needs. To do this again this year, we are in need of coats, hats, gloves, blankets, deodorant, razors, shaving cream, tooth paste, tooth brushes, and of course, cash and volunteers.
LOTS OF WAYS TO DONATE:
You can drop off items at the CenturyLink store on Hwy 248, in the Gretna Plaza, next to Tijuana Willies.
You can call Amy at 335-0266 to make arrangements for pick-up.
You can drop coats off at Comet Cleaners in Branson.
You can mail a tax-deductible donation to Jesus Was Homeless, 176 Summerbrooke Lane, Branson, MO 65616
You can donate on-line at DONATE
NEW LOCATION:
Due to the over-whelming success of the past Thanksgiving Dinners we've relocated this year's event to the Branson United Methodist Church on Hwy 76 across from Mazzio's. Doors open at 5:30 pm and dinner will be served at 6:30 pm.