JOIN OUR LIST

Mini Athletics
Urban Energy is happy to propose a class specifically designed for kids fitness. With loads of fun, each activity has been designed so that the children get the most benefit of outdoor exercise, whilst having fun, taking into consideration their growing bodies. Suitable for kids between the age of 7 to 12, the programmes will be offerered on a private group basis. if you are interested and have a minimum of 5 kids who can commit to a full month (4 sessions), we will run the club privately for you. Nicola is our dedicated 'mini' instructor . With her experience and love of athletics, we know we can offer your children a programme that will bring them fun and fitness !

Cost per child for 4 sessions in a calendar month : AED200.-

Please contact us if you are interested.


Update on all Urban Classes
Urban Running on monday evenings is now in Arabian Ranches at 7pm. Meeting in the car park of Jess Ranches school by the community centre.

Urban Kick classes are still on hold until Amy comes back from her 'Thailand bootcamp' but will resume on the 9th January.

The Urban Aqua class, currently taking place in the Tamani hotel will change location, most probably in Barsha. please check our website for up to date information.

Congrats Amy!

Once again, Amy has been voted one of the best personal trainers in Dubai, by the readers of shape magazine. That's the second time this year that Amy receives the accolade and we are very proud of the achievement. The vote of confidence by all of those who have voted for her is a great testament to her dedication and professionalism. So a big thank you to all of you !

The feedback we constantly receive about Emily, Marie and Nicola is heart warming and we know that Urban Energy's success relies totally on our 4 instructors.

It is lovely to be recognised and we thank you for it !

| | |
| --- | --- |
| Issue: # 12 | December 2010 |
Dear Urban Enthusiast,
Every month we marvel at how quickly this newsletter comes around. This time, Amy and I reflected on the fact that this is Edition 12. Wow! what a packed 12 months! A whole lot of ups and downs and it's amazing to think that only 12 months ago, armed with a new trade licence and a bag full of scribbled notes, we were launching Urban Energy! We won't lie and say it's been an easy ride. In fact, if it's one thing it hasn't been, it's easy ! But above all, we have heard amazing stories, got to know incredible people, welcomed lots of babies, and accompanied many of you on your first times: first baby, first 5km run, first half marathon, first proper non girly push up, first jab or hook, or very simply first look in a mirror without a despairing thought!

As we roll into the New Year and its dreaded resolutions, we hope you will remain with us on your journey to health and fun in fitness.
We wish you a very happy festive season and fantastic New Year celebrations !

TODAY IS A GOOD DAY!
Sincerely,

Laurence & Amy
Emily's Nutrition corner
The Basics of fuelling, refuelling and repairing
FUELLING:
Carbohydrates = Instant Fuel. All activities use fuel, which is measured in calories and often referred to as energy. Our immediate use fuel tanks are our muscles. The quick burning fuels our bodies use are carbohydrates such as bread, pasta, rice, vegetables, fruit and sugar. When we eat carbohydrates they are converted in the body and stored as muscle glycogen - thus filling up the fuel tank.
Fat = Reserve Fuel : Fats in our food are stored in the "long distance" fuel tanks: our fat cells. We tap into these reserves when we participate in endurance events.
Hydration: Dehydration is one of the biggest problems in sport. If you wait until you are thirsty it is too late, so get used to drinking water every 15 minutes. If it is very hot or you are in heavy training then drink even more.
REFUELLING:
Keep in mind that our window of opportunity for maximum potential glycogen replenishment occurs within the first 30 minutes after exercise. This simply means that we have a 30 minute window opportunity when our muscles are most receptive toward being refilled.
REPAIRING:

Protein = Repair.
A
fter exercise, we should take in high quality protein. Every activity in life damages muscle cells; the more strenuous the activity or the exercise, the more damage that occurs. Adequate, high quality protein assists muscle cells in repairing themselves.



courtesy of running4women.com



Urban Health Retreat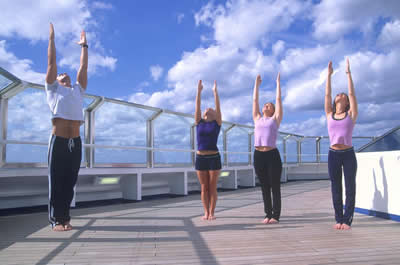 Save the date: 28th/29th January 2011. 2 days of fitness, fun and great nutrition! Urban Energy is launching the first fitness retreat of the year ! With a programme packed with loads of fitness sessions, running, boxing, kickboxing, Abs blast, and strength training, we will test your fitness and get your 2011 year starting with a bang! Regardless of your fitness level, there will be something for you ! We have also arranged delicious and nutritious food, with the right amount of calories and nutrient.
Classes will be varied and fun. You will also have the opportunity to have your own private fitness assessment
Priced at AED 1500 per person sharing in a twin room, we have included breakfast, mid morning and mid afternoon snacks, lunches and dinner as well as the overnight stay in the luxurious JAL Hotel in Fujairah. So get away from it all, kickstart your fitness for good, get to meet a great bunch of people who all have the same goals and join Urban Energy in the first ever fitness retreat !
To make this as valuable as possible for all participants we have capped the maximum number of attendees. Reserve your space now by contacting info@urbanenergyfitness.com
New class prices for the New Year

We have readjusted some of our class prices, effective January 1st 2011. Good news for those of you committed to your fitness, most of our prices have come down and we now offer even better value for more results !

Every participants will now pay for a full calendar month membership:

4 sessions combo pack : AED280
8 sessions combo pack : AED460
12+ sessions combo pack: AED600
All combo sessions are valid for a calendar month and unused sessions expire at the end of the month.

Combo packs allow you to chose whatever class you wish to attend, and now include running as well. the 12+ combo pack allows you to attend an unlimited amount of sessions.

Urban Prenatal and Storkfit 6 sessions flexi pack: AED 420.
We understand the scheduling issues that pregnant women and new mums may experience and therefore this flexipack has no expiry date, allowing maximum flexibility in attendance.

Urban Running allows you to pay for a full month commitment or on a class per class basis.

Prices for personal training remain unchanged. We have added personal training for rehabilitation. Rehab trainer is specific training helping those who are injured or coming back from injury. This technical skill is not widely available and we are lucky to have Amy as a fully certified rehab trainer. Prices for Rehab training are AED350.- per hour.

If you have any questions, please feel free to ask any of your instructors.

The Urban Experience
As 2010 draws to a close, we would be grateful if you could take a few minutes to fill in the attached survey to let us know how we are doing.

To help you help us, 2 Reebok gifts, and 2 personal training sessions will be drawn amongst all those who fill in the survey !

It will only take a few minutes and will help us tremendously in continuing to offer you the best fitness service in town !

Thank you in advance.

Urban Energy survey


And for a bit of fun ..
The team (minus Amy) is jumping of joy at the thought of training you all in 2011 and getting you fit ! This is your year !