New Colombian Community Cultural Initiative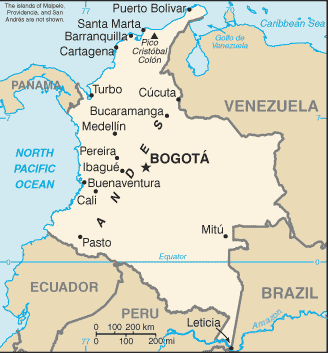 CTMD announces the launch of our newest

Community Cultural Initiative

(CCI)

in New York's Colombian Community. Through the CCI program, CTMD develops workshops, festivals, classes or concerts in collaboration with community members over a 5 year term. The impact of this program has been profound and has led to the creation of several independent cultural organizations, most recently

Pachamama Peruvian Arts

,

Mano A Mano: Mexican Culture Without Borders

and the

Mariachi Academy

of

New York

.



After months of field research and inteviews with leading artists, CTMD will be holding an introductory meeting on Tuesday, October 6

th

to discuss the

artistic and programmatic needs of New York's Colombian Community and begin to plan programs that work to maintain the vibrancy of the community's artistic traditions

. The committee will include traditional musicians, dancers, artists, educators and cultural activists working to preserve and present the folk arts of Colombia. All are welcome, as this project will represent all regions of Colombia. For more information please contact Gabrielle Hamilton by phone at 212-571-1555, ext. 27 or by email.
Sizhu Sundays Family Program at the
New Museum of Chinese in America

CTMD is pleased to announce a new eight-part family concert series at the brand-new Museum of Chinese in America (MOCA). Entitled

Four Seasons of Sizhu: Silk and Bamboo Sundays, this new series of performances for children and families features New York's finest Chinese musical ensembles.

Each concert will highlight one of the traditional Chinese instruments and present music of a selected season. Programs will be interactive to educate audience members of all ages on the the cultural contexts for the music. The series opens on Sunday, October 4, with

Melody of Dragon

performing a concert of music of Autumn and featuring

dizi

(flute) virtuoso

Chen Tao

.



Sizhu Sundays

continues on October 11 (with Melody of Dragon), November 1 and 8 (Min Xiao Fen and Her Blue Pipa Trio), November 15 and 22 (EastRiver Ensemble), and December 6 and 13 (Music From China).



Sizhu

represents a beautiful corpus of music performed by small ensembles, akin to Western classical chamber music. Many of the melodies are derived from folk and court musics from the diverse regions of China, though new compositions are also performed. The term

sizhu

, meaning "silk and bamboo" refers to the string and woodwind instruments of the ensemble.

The series will be held at MOCA's beautiful new museum designed by Maya Lin, 215 Centre Street in Manhattan's Chinatown. All ages welcome, concert is free with Museum entrance fee ($7 for adults, $4 for seniors and children, free for MOCA members and children under 12). Call 212-619-4785 or email for reservations and further information. At 215 Centre Street, MOCA is located between Howard and Grand Streets, one block north of canal Street. Take the N, R, Q, W, J, M, Z or 6 trains or the M9, M15 or M103 buses to Canal St. (2:00-3:30PM)

An-sky Institute for Jewish Culture Features
Michael Alpert and Beyle Schaechter Gottesman
CTMD's new

An-sky Institute for Jewish Culture

recently debuted a new three-part series of lectures/concerts at the Center for Jewish History with a multi-media presentation by

Walter Zev Feldman

about his recent trip to the Republic of Moldova. In his father's hometown of Edinets, Feldman discovered musicians of mixed-ethnicity continuing to perform traditional Jewish music. These musicians, who refer to themselves as "klezmeras," represent the heirs to a musical tradition that greatly influenced the renowned klezmer clarinetist Dave Tarras, who served a musical apprenticeship in Edinets.

The next program in the series, scheduled for Monday, October 26 at 7PM, will explore the songs and poetry of

Beyle Schaechter Gottesman

, who received an NEA National Heritage Fellowship in 2006. Gottesman will be joined on stage in an interview and performance by her son Itzik Gottesman of the

Yiddish Forward

newspaper and granddaughter Esther Gottesman. At the Center for Jewish History, 15 W. 16th St. in Manhattan. A reception will follow the event. Tickets are $15, $10 for CTMD and CJH members. For reservations call 212-868-4444, or click here.

The An-sky Institute will present

Michael Alpert

teaching Yiddish dance at the next

Tantshoyz

on Thursday October 1. Live music will be provided by some of New York's leading klezmer musicians. The

Tantshoyz

series is now taking place on the first Thursday of every month at the Workmen's Circle (45 E. 33rd St between Madison and Park Avenues). Beginners are welcome! Parking is available on the street or in the lot next door. Admission $10, $8 for CTMD and Workmen's Circle members. In a new feature, a discussion of archival video of dance will be held at 6:30PM, with the dancing taking place from 7:00PM-10:00PM. For more information contact Pete Rushefsky at 917-326-9659 or email.
Pachamama Peruvian Arts Update
Pachamama Peruvian Arts

(PPA) had a busy and exciting summer! In June PPA wrapped up their year with a beautiful presentation entitled

Mallki

(the Mummy). Artistic Director

Carlos Bernales

wrote the narrative based on Peruvian history as well as ancient cosmic visions and prophecies from Peru and composed the original music based on the Peruvian folklore. Enjoy clips of the show on You Tube!

Following a month of review classes,

Pachamama

celebrated Peruvian Independence Day on July 28th with a concert of traditional dances and music. Over 300 people enjoyed an evening of

marinera norteña, tuntuna

, Afro-Peruvian percussion and more at the Gantry Plaza State Park in Long Island City. Just last week, PPA's advanced

cajón

students performed as special guests of the Afro-Peruvian band Afrodita, which is led by their percussion instructor

Hector Morales

. Hector reports that the students "stole the show!" This performance was part of the Queens County Folk Festival and took place on Queens College Campus.

Now officially an independent non-profit arts organization,

Pachamama's

impact on the Peruvian community has been profound as over 500 students have graduated from PPA classes. In addition, PPA has been the subject of several theses, mostly recently one by

Gladys Paredes

of the Peruvian Consulate for her master's degree at Academia Diplomatica Del Peru. Entitled

Estructuracion de la politica de proteccion del Patrimonio Cultural Inmaterial para promocionar cultura y turimos- Caso de Nueva York 2008-2009,

Gladys studied PPA and two other New York-based Peruvian groups to examine how protecting the intangible cultural heritage of Peruvian immigrants residing in New York promotes culture and tourism in Peru. It is no surprise that PPA was a part of Gladys' study as many youngsters are now more interested in traveling back to Peru after attending PPA classes.



Pachamama Peruvian Arts

will hold their annual

Open House Concert and Registration

on Friday, September 25th at 7:30pm, at PS 212, 34-25 82nd Street, Jackson Heights, Queens. This presentation is entitled "Coya Raymi" (Moon Festival), and honors the September shamanic tradition of "cleansing" the spirits of a community through rituals dating to Incan times.

Pachamama offers free music and dance classes in the traditional performing arts of Peru. Enjoy a concert performance of Peruvian

festejo, cajón, marinera norteña,

traditional songs, Andean music and more. Children ages 7 to 17 are welcome to apply for free weekly classes in these forms. For more information call 212-571-1555 ext 27.


Ukrainian Vechornytsi Dance Party &
New Concert Series at the Ukrainian Museum


On September 26th, our Carpathian

Vechornytsi

dance parties return to the Ukrainian East Village Restaurant, 140 Second Ave (between 8th and 9th streets).

Tamara Chernyakhovska

will lead the dancing, with music provided by clarinet/flute virtuoso

Andriy Milavsky

and his

Cheres Ensemble

. The

Vechornytsi

runs from 7:30PM - 11:00PM, with dance instruction during the first hour. A special singing session of Harvest songs will be included in the program. Admission is $10 for adults, $5 for children (food and drink not included in the admission price). Beginners and kids absolutely welcome!

Additionally, this Fall CTMD's

Ukrainian Wave Community Cultural Initiative

will present a two-part series of concerts at the Ukrainian Museum entitled "Fine Art/Folk Arts: Two Counterpoints." The series is hosted by

bandurist

Julian Kytasty

with violist

Ron Lawrence

and the

Radio Banduristan Song and Dance Ensemble

. On Friday, October 23, bandurist/composer

Michael Andrec

and the Bowery Poetry Club's

Bob Holman

will be featured in a presentation entitled "StringText." On Friday, November 13, the series will present "SongDance" and feature

bandurist

/singer/arranger

Lilia Pavlovska

and choreographer/dancer

Katja Kolcio

.

Both concerts begin at 7:00PM. The Ukrainian Museum is at 222 East 6th St. (between 2nd and 3rd Avenues in the heart of Manhattan's Ukrainian East Village). Admission is $15 for adults with discounts available for seniors/members.


Korean Sanjo Festival and Symposium at CUNY
On Monday, October 19 and Tuesday, October 20, CTMD is pleased assist ethnomusicologist

Ju-Yong Ha

in presenting the 2009 Sanjo Festival and Symposium: Korean Sanjo and Other Improvisational Traditions in Asia along with CUNY Graduate Center and the Gugak FM Broadcasting System of Seoul.

Sanjo is a genre of music, originating in shamanic culture and imbued with strands of folk and court music traditions to create a quintessentially Korean form, performed with instruments such as gayageum (zither) in solo formats or accompanied by the double-headed janggo drum.

The symposium and concerts will feature leading scholars of Asian and Korean music and some of Korea's foremeost sanjo performers, including Master Park Hyun Sook (gayageum), master Park Hwan Young (daegun), Master Lee Tae Baek (ajeng), Master Heo Yoon Jeong (geomungo), Master Kim Sung-A (haegeum) and Master Kim Chung Man (janggo).

The entire program will be held at CUNY Graduate Center, 365 Fifth Ave. in Manhttan (corner of 34th St.). For more information contact Ju-Yong Ha at 949-295-2373 or by email. The symposium runs from 9:00AM-5:00PM on October 19-20 in Elebash Recital Hall, with the Concert at 8:30PM on October 20 in Proshansky Auditorium.
Remembering Lucia Capodilupo

It is with deep sadness that we note the passing of a dear colleague and friend,

Lucia Capodilupo

. Lucia died following a

tragic car accident

this past summer.

Director of Special Projects at the Center for

Traditional Music and Dance

during the early 1980s (the

Ethnic Folk Arts Center

at the time), Lucia worked on numerous projects, including

Musica Popolare

, the Center's three consecutive national concert tours that featured Italian folk artists performing regional music and song of Southern Italy and Sardinia. Lucia edited all of the programmatic materials and publications during that period and was very instrumental in securing the Center's very first

private foundation support

from the

Ford Foundation

.

Lucia held a Ph.D. in Russian literature from Yale University. At the time of her accident, she worked as Director of Corporate and Foundation Relations for Teacher's College at Columbia University. She was additionally the prize-winning author of the book Thin Through the Power of Spirit: Creating Paradise in Your Weight and World, (DeVorss Publications) a primer on weight loss through spirituality, visualization and guided imagery. Lucia lectured and led seminars on the topic.

Lucia was a beautiful writer, took great pride in her work, and possessed a wonderful sense of humor. She was an incredibly caring and loving person and she will be sorely missed by all who knew her.
What We're Listening To

At CTMD we are exposed to a whole host of traditional music genres from around the globe. Friends and colleagues often ask us what we listen to when we are not busy researching and programming immigrant artists. We thought we share some of our favorite picks in our e-newsletter.

Here is what's playing on Gabrielle Hamilton's mp3 player:



Alcatraz

is the self-titled, debut CD from a group of NY-based Latino artists, including Marcos Napa and Hector Morales, two instructors for

Pachamama Peruvian Arts

. Named for the famous Afro-Peruvian couples' dance by the same name, Alcatraz features the infectious rhythms of traditional Afro-Peruvian music treated with a jazz vibe. With the exception of one track, most tunes on this CD are traditional Afro-Peruvian songs or new standards made popular by Afro-Peruvian revival of the 1970s. The upbeat and energetic of swing of the

festejo

rhythm will be keep you charged. Listen for the

zapatato

(tap dancing) on "Negrito de la Huayrona" performed by Marcos. To purchase this CD click here and for booking information email Hector Morales.



Folk Violin from Peru

(also entitled "Llaqtaypa Violincha" in Quechua, one of the native languages of Peru) is a beautiful and educational CD painstakingly compiled by the Peruvian violinist

Daniel Zamalloa

. Take some time to enjoy Daniel's extensive liner notes which consider the origins of folk violin in Peru, translations of Quechua lyrics, as well as discussions on ritual context in which many of these tunes will be played. Daniel offers not only tunes from the Andean mountains but also traditional works from the Amazon region, including "Pijuayo" which was originally played on a two-stringed instrument. Daniel was a featured artist at

Pachamama's

June 2008 concert presentation and is now located in the Boston area. To learn more about this wonderful artist or to buy this CD go to his website.

Other Happenings...
Our friends at Create Culture will be organizing a trip to Morocco from February 11-20, 2010 for music and dance workshops with the master artists of the Sufi

Daqqa Roudania

. Join other artists and arts lovers in the ancient citadel town of Taroudant located at the foot of the Atlas mountains in southern Morocco. Take part in daily music and dance sessions with the master artists of the Daqqa Roudania, visit the town and its surrounding oases, learn Arabic, attend local weddings and much more, during this immersive ten-day workshop exploring Moroccan Sufi music and dance. All levels of experience welcome! To learn more visit Create Culture's website or email (contact them as soon as possible to reserve your spot on the trip).


On Thursday, September 24 at 8:00PM at Queens Theater in the Park, Eros Taximi, led by CTMD Touring Artist Mavrothi Kontanis on oud and vocals, will perform an evening concert of Greek rebetika, laika, and entehna as part of the Greek-American Performing Arts Festival at Queens Theatre in the Park Flushing Meadows Corona Park. We're also excited to watch the legendary Greek shadow puppet figure, Karagiozis, "emigrate" to New York in a special show on Saturday, September 26 at 1:00PM. For more information, go to the Queens Theater in the Park website. Kontanis will also perform with his Maeandros Ensemble on October 9 at 8:00PM in a show produced by World Music Institute at Symphony Space (95th St. and Broadway on Manhattan's Upper West Side).For more information, go to the WMI website.


On Friday, September 25th, at 8PM, the New York Gypsy Festival presents Turkey's great fasil clarinetist Barbaros Erkose, and Klezmatics trumpeter Frank London will appear with Macedonian clarinetist Ismail Lumanovski and the New York Gypsy All Stars. Erkose was featured with his family ensemble in an Istanbul gazino in Tony Gatlif's renowned film about Roma music, Latcho Drom. For more information go to the festival website. At the Lafayette Grill, 54 Franklin Street in Manhattan.

The

Lado National Folk Dance Ensemble of Croatia

will be performing at the Rose Theater (Jazz at Lincoln Center's home in the Time Warner Center, Columbus Circle, Manhattan) on Wednesday, October 14th at 7:30PM.

For more information about the program and f

or reservations, click here. As a special to Global Beat of the Boroughs eNewsletter subscribers, for an additional 10% discount on tickets, enter the code "

NYL1410" upon check out.
eNewsletter Editor


Pete Rushefsky
Executive Director
Center for Traditional Music and Dance
32 Broadway, Suite 1314
New York, NY 10025
phone: 212-571-1555, ext. 36
fax: 212-571-9052
prushefsky@ctmd.org
www.ctmd.org


Master Artist Feature

Diego Obreg
ó
n
:
Innovation and Tradition Flow from Colombia to Queens
How did a leading marimba maker and player from Colombia end up in Queens? Click here for a profile
by CTMD's Gabrielle Hamilton and Graduate Intern Naomi Sturm.