6 Ways to Practice Success:
It's time to stop spinning your wheels
Have you ever gone into a practice and thought to yourself..."this practice is so successful!? They've really got it all together. I wonder what he or she is doing to achieve such success!" Likely, it's a little bit of everything. They know where and how to apply their time and efforts, they employ a staff that they
did not "settle" for, they go to conferences and learn how to improve broken systems and how to better care for and treat their patients. Successful people may be just as afraid of change as the next person, but they are less afraid to take the leap into trying new things or new technologies that make their lives easier. They've literally learned to work smarter, so they can STOP spinning their wheels. How about you? Find out some of the not-so secret Secrets of Success! Read more....
Detective Lynn is making her debut
Have a challenge for her?
Post your questions and stories.
Everyone benefits when we come together as a
medical practice
community
and
share!
Our New Blog...coming soon!
What's Hot & What's Not in Internet Marketing
by Glenn Lombardi, President, Officite, LLC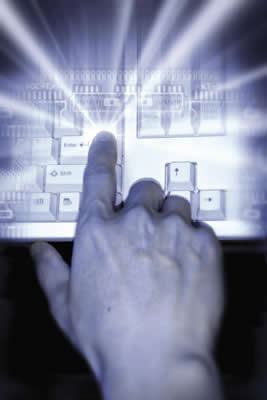 Everything a Podiatrist should know about the latest, must-have online marketing trends
To be efficient in your practice marketing efforts, it's important to understand what will work and what marketing methods are being left by the wayside. In the last decade, there has undeniably been a shift in how podiatrists market and reach new patients. As the Internet becomes more and more central to our lives, a professional practice website is the best place to start in order to capture a growing number of Web-savvy patients.
How much revenue are you losing...from ineffective collection protocols?
How successfully are monies being collected in your office? Have you taken the time to stop and evaluate if there are missing collections, opportunities to make front desk collection efforts more effective? Click on our Collection Check List link to see how well you are doing and to help identify the areas that need improvement. Start NOW. Get all of your "collection
ducks" in a row and prevent your dollars from getting unnecessarily flushed away!

Interested in more great forms for your office? You'll find 101 of them in our 1-2-3-Forms CD
Greetings!
Happy New Year to all our subscribers in this our 2011 Holiday season! A New Year means new beginnings and for SOS....a brand new logo; designed especially for us and unveiled here for the first time in our Winter Newsletter. (You DID notice it in the header, didn't you?) We're very open to your opinions, so c'mon, take 5 seconds, answer our poll and let us know how you like it!
In this issue, we have new articles and information you will find interesting and helpful in your practice. After reading our feature article written by Glenn Lombardi of Officite "What's Hot & What's Not in Internet Marketing" check out "6 Ways to Practice Success." We have a new form you can download and coming soon!...an all new "Ask Detective Lynn" blog where we'll invite you to share concerns and help us bring various office crimes to justice!
We've posted a list of new 2012 Training Workshop locations on our website.
Take a peek.
I'd like to take this time to say "Thank you" to all this year's doctors and staff workshop attendees and a special thanks to our very generous
Sponsors
whose support of practice management education makes SOS Workshops possible! It's about time you found out for yourself what everyone else is talking about! Listen to what attendee, Becksy Jurjo from NJ had to say:

It is definitely a learning experience. I would describe it as FUN and enjoyable; informative; every minute was accounted for! Straight to the point...no "passing the time." Honestly one of the best seminars/workshops I've attended so far. Thank you! It was very appreciated.
Andy Warhol said, "They always say time changes things, but you actually have to change them yourself." Here's to YOUR new beginnings!
Cheers!
What do you say to someone who calls asking for a reference regarding a former employee? If they left on good terms, you'll likely want to give him/her a glowing recommendation; however, if this individual was fired, a cautious response is in order!
While your first inclination may want to "tell all"...from a liability perspective, it's wise to stick to just providing them with your former employee's job, title and dates of employment to avoid a potential defamation suit
. And if you do find yourself in a sticky position, always best to check with an employment attorney for further guidance.
Join our SOCIAL Network!

How can we help you?
SOS is a staff-focused consulting company that studies, develops and facilitates "success" strategies for medical offices all across the nation. By linking established management approaches and time-tested turnkey concepts to the critical integration of well-trained staff, SOS can help improve practice efficiency resulting in a more successful and productive work environment for all. In this regard, SOS translates into "Secrets of Success."
to learn how SOS can meet YOUR practice needs!