FORK PLAY October 10, 2012
Road Food Rage. Crave Fishbar. City Grit. Neta at Last. Veritas. Empellon Cocina. Vintage Evening Bags.
Dear Friends and Family,
How explicit and killing should a restaurant critic be? I'm sure the haughty owners of La Grenouille and La Caravelle thought I couldn't be more poisonous than I was in 1970 when I slammed their arrogant ways in "How to Play the Celebrity Game" and "Insult à La C
arte" I heard that society darlings frothed at the mouth when they read my New York review, "Colony Waxworks". Those ossified shops were sacred cows and they deserved to be skewered.
When I launched Insatiable Critic online, I promised that I would try to be really nasty in Gawker-Eater style. So I want to apologize for being almost mellow when I took a BITE of Guy's American Kitchen a few weeks ago.
Not having watched his hyper antics on the telly, I wasn't outraged by Guy Fieri as most civilized folks are. I think I found it amusing to wander into the tanktop shlock of Times Square, though some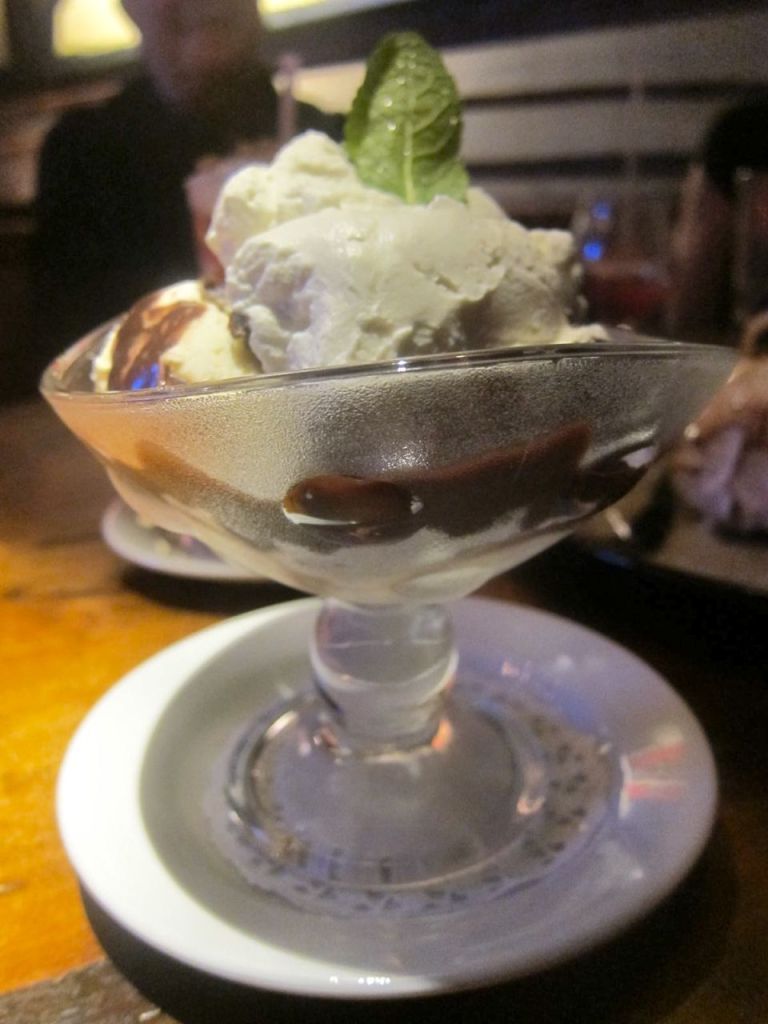 of my companions were annoyed. Love, Peace, Tacos and Grease, it said on the wall. The margarita was oversized and actually had booze on the top. The chile was better than just edible. I thought the chicken was good enough if you were really hungry. Click here to read more and reassure yourself that I wasn't hypnotized.
If you have ever wanted to smash Fieri in the face with a red hot plancha, you might find vengeance in JD Stein's indictment in The Observer. "Goatee-framed sphincter mouth" pretty much resets the bar.
***
Checking out the colors of apples at the market this morning, I thought we'd try to capture them in this week's Fork Play.
***
Swimming with the Greenery
I can almost guarantee that no other chef has ever put together a bluefish salad with quite the sa
me tangle of greenery as the smoked fish "bouquet" at Crave Fishbar. In four decades of grilled red snapper you could knock me over with a dill feather if you discover a fish decked out with the passion for greenery and verve of Chef Todd Mitgang's.
That's what draws m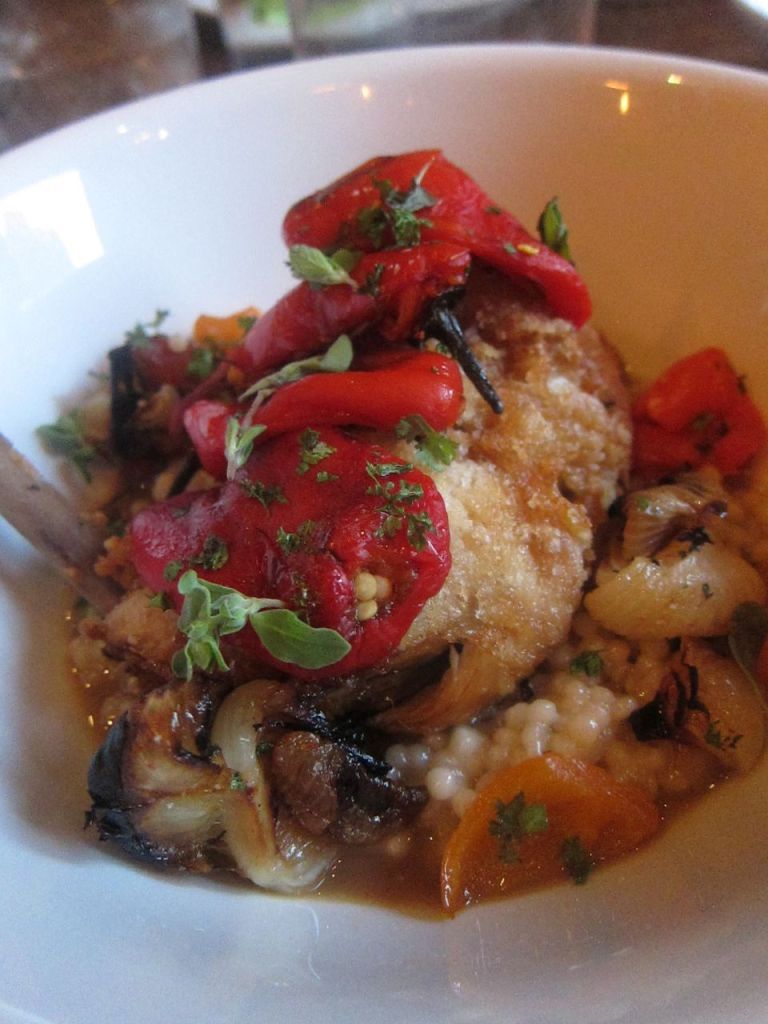 e back, three times now, across an island from my pad: The chef's green vision. So much of what he sends out of his kitchen fairly vibrates with leafy things, unexpected garden vegetables and as if that were not enough, pebbles of grains.
Of course there is vinegared fried chicken leg (for dark-meat lovers like me), pastas too (not necessarily the chef's strength), and the inevitable pork belly (a delicious change of theme). Click here to read what to order. You'll want to go soon. 945 Second Avenue between 50th and 51st Streets.
***
Fifty Shades of Blue
Let me invite you to join me for a racy dinner reading from my best selling novel "Blue Skies, No Candy" at City Grit's Culinary Salon 7:30 Thursday October 18. If you only know me as New York City's "mouth to trust", first as New York magazine's restaurant critic of 30 years, then as caustic judge on Top Chef Masters, and n
ow as the candid tongue behind "The Insatiable Critic," you'll discover the dual meaning of delicious excess.
Erotica from a restaurant critic? Of course. The same five senses -eyes, ears, nose, fingertips and taste buds - that deliver the sensuous joy of great eating tell you how it looks, smells, sounds and tastes in bed (or on the floor, the desk, or the back seat of the taxi).
Feeding the senses that evening will be Sarah Simmons, Food & Wine's Home Cook Superstar and City Grit's talent in the kitchen. Simon has created a four course menu featuring legendary aphrodisiacs. The $65 tab covers tax and tip and a download of either Blue Skies or Delicious Sex. Sign up now on Citygritnyc.com
***
Neta Means Ingredients
By the time I focused on Neta, a peel away enterprise by Nick Kim and Jimmy Lau, two chefs with a long history seconding Masa Takayama, the small West Village shop had already found it's loyal audience. I needed to ask Richard Bloch, architect of the frosted glass, grey walls and granite floors, to help
me reserve at Kim's station.
We could have the late shift, he told me. Nine o'clock. I was bringing my friend Joel Grey. He lives just blocks away and had never heard of Neta. I was a novice to the sushi faith in 1971 when Joel coached me in Japanese fish talk at Take-Zushi - then a spare little second story eatery. "There are tastes that sing like a heavenly chorus," I wrote in a review called "The Joy of Sushi," a
fter that transcendent hour on a plateau of bliss.
Now I hoped omakase at Neta's raised maple counter with a staccato of ebony insets might bring edible ecstasy to round out our history. Chef Kim couldn't help himself. He kept handing over his most luxurious offerings even though I'd ordered a $95 tasting. Click here so you'll know what to expect.
***
Veritas: Speak Softly and Carry a Big Bordeaux
My friends suggested Veritas for dinner. Their passion for great cooking and fine wine has no tolerance for the raucous uproar in many of my favorite places. And Veritas
is proper. It was the night of a monsoon and guests swept in shedding puddles, umbrellas inside out.
Chef-owner Sam Hazen stepped out of the kitchen and spotted me. Hazen is not just a passionate cook. He's that rare chef who is always in his kitchen or standing at the door to greet you. I suspect the evening's opening gambit, marvelous poached and delicately crumbed egg nestled on a juicy island of short ribs was designed just for us. I'd be back for that dish alone.
Yet another sublime egg with spicy merguez lamb sausage in a feverish tomato porridge was thrilling too. I turned on my cholesterol denying mechanism and ate more than my share. With care and alchemy, the kitchen delivered a monolithic pan roasted veal chop that was remarkably juicy, pinker than pink; short rib ravioli
alongside. But the roasted duck, blush pink inside, was even better.
My host's devil-may-care pick from the house's celebrated cellar -- a velvety and delicious Chandon de Briailles, Savigny-les-Beaune - made me feel very rich.
I suppose I could say that the triumphs balanced out a too-cooked scallop starter and a rather stringy and bland maple-brined wooly pig. But at these prices, appetizers $14 to $23 and entrees $28 to $49, I don't want even a few dull moments. And how about more chocolate please on the warm chocolate hazelnut cake? That was Sam himself again, saying goodbye, making sure we all took home a banana muffin for breakfast. 43 East 20th Street between Broadway and Park Avenue South.
***
Empellon Cocina Push
Frankly I said "yes," when I heard about The Push Project last Friday night at Empellon Cocina not realizing it was a special dinner shared with a visiting chef for $125, agave pairings $40 extra. I am wild about the Mexican inspir
ed cooking of Alex Stupak and his wife Lauren Resler. I thought Push must be a charity.
But no, it's a once-a-season night to push the couple's imagination by working with a visiting chef. Apparently Enrique Olvera's Pujol in Mexico City is where I should have gone two winters ago on my way to the Yucatan. Plantains with cream cheese, pasilla chiles and caviar was the house's ambitious start. I liked Stupak's raw prawns with Mezcal cream and orange even more. And then felt stars bounce off my forehead with Olvera's boldly spicy and citric aguachile scallops with melon and celery.
Resler's frutas in sangria made my mouth feel new again, just in time to immerse myself in her sensational fig mousse, tamarind caramel and chocolate sorbet. What I could not have imagined was crowds of affluent foodies
arriving in waves as late as 11 that night. And professional mouths scattered about like movie stars: Vogue's Jeffrey Steingarten, Melissa Clark from the Times, Johnny Iuzzini and Elizabeth Falkner, a gifted trooper I met at Top Chef Masters. Her Brooklyn pizzeria Krescendo opens soon. 105 First Avenue between 6th and 7th Streets.
***
Vintage Evening Bags
The incurable collector that lives and schemes inside my brain has a weakness for vintage evening bags. Long before Barbra Streisand started collecting, I bought my first little satin bag with scattered seed pearls and a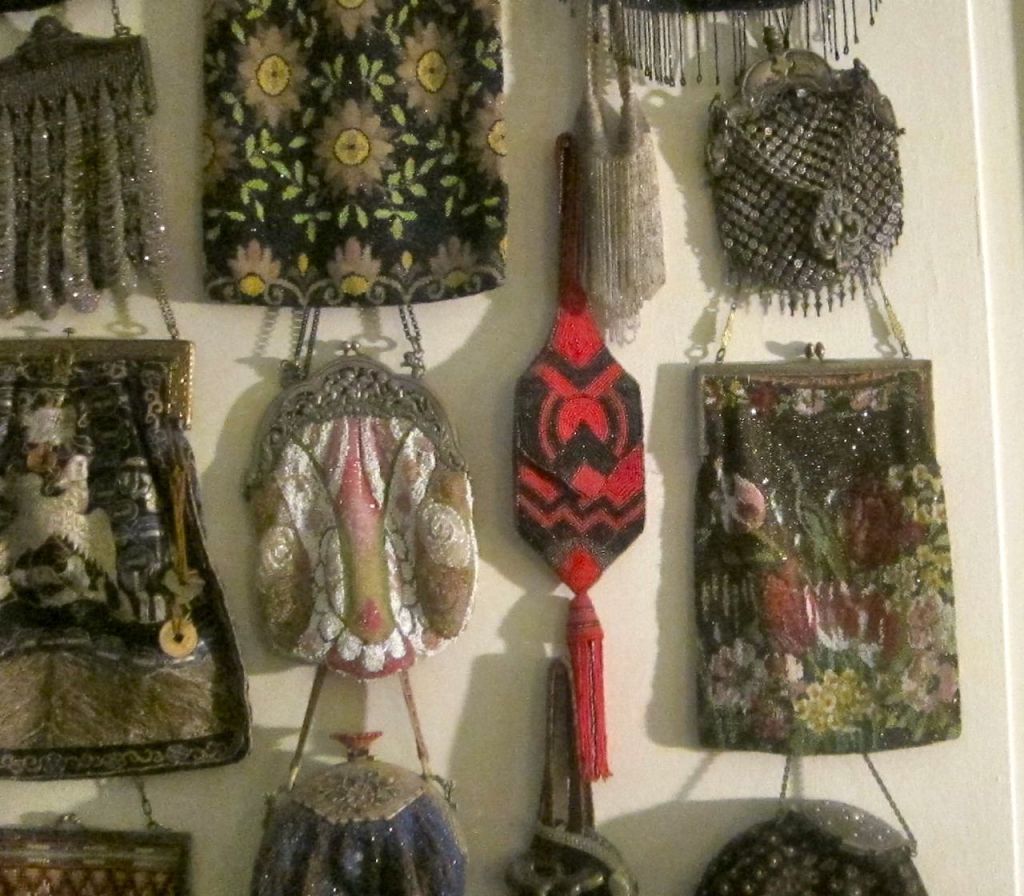 compact at the top on a chain for $1. Almost any era had its appeal: American Indian to Art Deco, Victorian, boxy bags from the 40's, mother-of-pearl minaudieres, Chinese embroideries. The men in my life never had to guess what I wanted for my birthday. I took them to Sylvia Pines Uniquities at 1102 Lexington Avenue and showed them exactly what I coveted.
I sometimes wear the scarlet and green Art Deco beaded bag John bought me. He had charm and staying power and bought me another the next year. I remember how shocked but very dashing Patrick Shield was the day he paid $600 for a small black suede evening bag with a marcasite watch in the frame.
My guy designed an installation of bags above our fireplace. The overflow stayed in my drawers wrapped in tissue. Now I want to sell a few dozen I've not even looked at in years. I remember Sylvia told me that's how she started her business - to sell her collections. Spare me that curse. Interested? Mine start at $15. If you live in New York, email me for an appointment.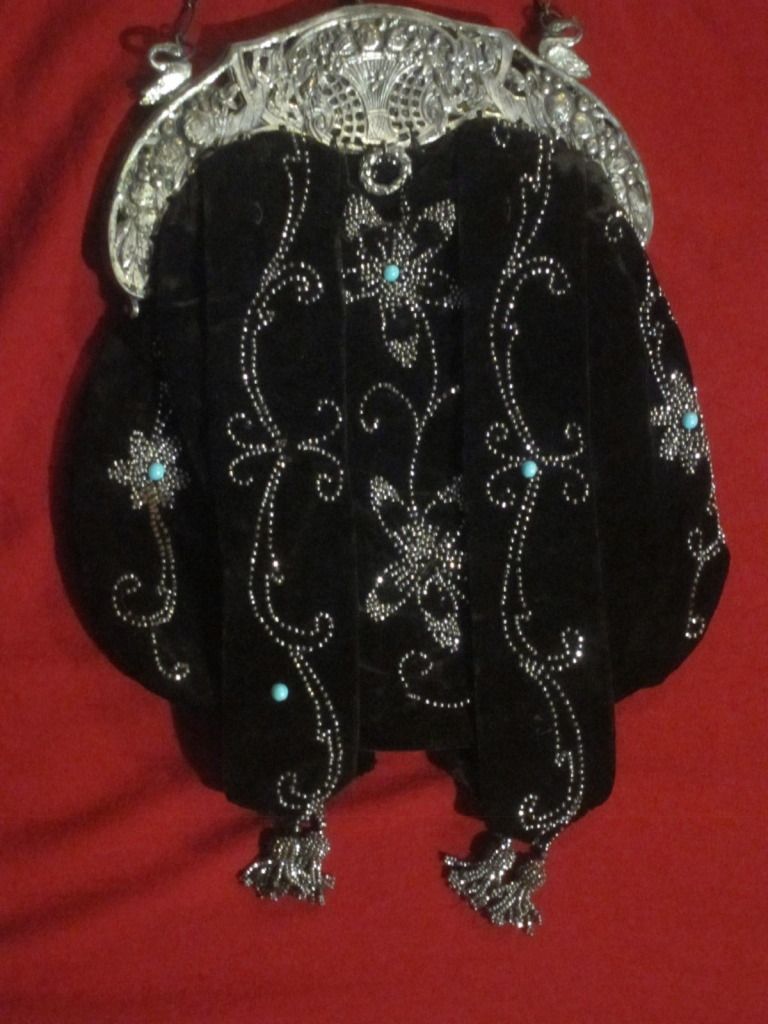 Connect to me at twitter.com/GaelGreene .
P

hotos of the Margarita and the sundae at Guy's America Kitchen; the vinegared chicken thigh and the flounder at Crave Fishbar; Neta's scallops with sea urchin, foie gras and truffles and the salmon tartare on crispy rice; Sam Hazen's Merguez with farm egg and the duck at Veritas; and the scallops with celery and fig and chocolate dessert at Empellon Cocina's Push dinner may not be used without permission. Copyright 2012.

Gael Greene. All rights reserved.
Fork Play copyright Gael Greene 2012.