FORK PLAY: September 7, 2012
Living. Foragers City Table. Governor. HamptonsEats. Crave South Edison. Southfork Kitchen
Dear Friends and Family,
How loving can friends be? When they arrange for their grandchildren to stay somewhere else in primetime August, the week leading into Labor Day and invite you to East Hampton. That's about as loving as it gets.
I feel strangely disoriented. There is no Steven to carry my too heavy suitcase down the stairs. No aggressive arm-waver to hustle a cab racing by and persuade the driver to make a u-turn. No solid body in the window seat of the Hampton Jitney eating potato chips and reading the sports section.
But now I have arrived at the East Hampton stop in front of The Palm just minutes from the house. My host Howard has wrestled my ridiculously he
avy roll-on upstairs. And I am installed in the family's blue room again. This is where I wrote most of "Insatiable" in the spring of 2006. This was almost my room before all the grandchildren began to arrive. Now the crib and the changing table and toddler size Mickey and Minnie have been shoved into one corner.
My pulse has already slowed. I imagine I can smell the sea from the front steps. This will be a time for healing, or more likely, distraction. Chowder twice a day, and lobster rolls.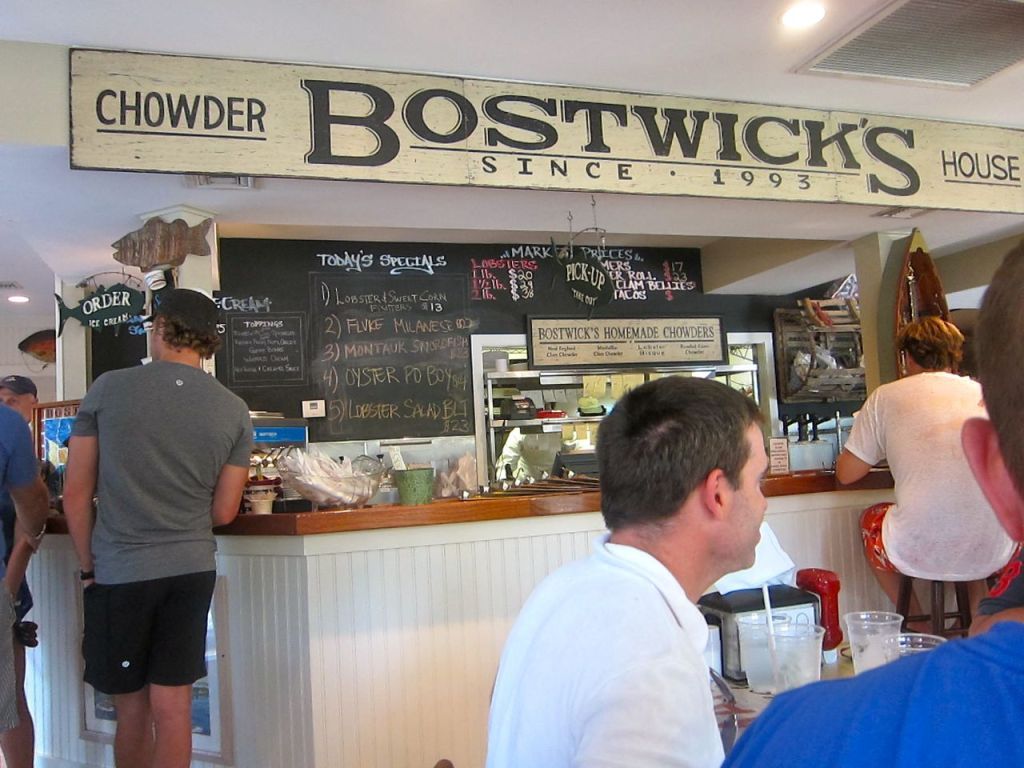 And I'm shocked to discover that Bostwick's just steps down the highway - jam packed after the Jack Nicholson sighting - has the best corn chowder I've eaten all summer. Lush with fresh corn sugar, smoky with bits of bacon. Amazing. 277 Pantigo Road
***
Foragers City Table
I can't say I was craving fermented tea leaf salad. Much to my astonishment, I actually like it. And after all, it is called Foragers City Table. At least they left out the stems. Now, after a few sips of my powerful
Manhattanite cocktail, I pretend not to notice that my abstemious pals are ignoring the chicken fat potato chips, forcing me to finish them. Hmm, really good.
This could be my once-in-a-while spot for a business lunch or supper after the movies if it were a walk from my home. As it is on this far-away corner: a sophisticated haunt for the neighborhood. And they do take reservations. Click here to see what you'll want to order. 300 West 22nd Street on the SW corner of Eighth Avenue.
***
A Twee Grows in Brooklyn
Please don't try to draw me into a debate on How Great is Brooklyn vs How Jaded is Manhattan. I say good for Brooklyn. Once dicey streets are alive with the sounds of dueling forks and couturier ice cubes. Of course I am curious and would join the reverse Bridge-and-Tunnel crowd to check it all out if only more hot spots took reservations.
But Governor does honor bookings. Smartly settled below the Clock Tower in the industrial space once part of a papermaking and print empire on the waterfront, it's a step up in cuisinary ambition an
d price points from the owners' Colonie in Brooklyn Heights and Gran Electrica in Dumbo. I was already grumpy when I saw the $7 charge for bread - a trend I noticed first in Chicago. Here it's a whole crusty sourdough round - warm from the oven - and on the plate, a big smear of housemade butter "salted" with little pearls of Timberdoodle cheese rind. Ridiculous. And amazingly good. Click here to read more. 15 Main Street between Plymouth and Water Streets.
***
HamptonsEats
It seems a bit foolish to tell you about Hamptons restaurants after Labor Day. But fall is my favorite season in beach towns when the sand is deserted, it starts getting cooler, and families retreat. Not everything will be open, but some spots will try luring the locals w
ith early bird prix fixes at a reasonable hour.
My friends live on the far eastern edge of East Hampton and gravity draws us to Montauk. I read about the Hamptonization of this scruffy beach town. But I don't see it at all. Locals and surfers still own this blue collar village. Well, maybe prices are a little arrogant.
For lunch my friends often head for the back porch of Clam & Chowder
where the fishing boats come in. Clams on the half shell are the best bet here. But the chowder's not bad. It's gentrified with a fuchsia taco chip. I'm tempted by the lobster roll which turns out to be massive, chewy and undermayoed. I should stick to my cherrystones. 352 West Lake Drive Montauk.
My hosts are regulars at The Coast too. The lobster-scallop bisque is pretty good, and just $5. Granted the overwhelmed server forgot spoons. We're happy enough sipping it from the
cup. The sushi rolls are freshly made, not bad at all. And my panko-crusted fish and chips is first-rate. Cod instead of the local tilefish tonight, and big fat skin-on steak fries full of potatoey savor. Too bad the mussels are so tight and puny. 41 S. Euclid Avenue. Montauk.
***
Crave South Edison
Though Chef Todd Mitgang has left to open Crave FishBar on Second Avenue, he is supposedly consulting at South Edison. I was a big fan last year and fussy friends reported the kitchen was as good as ever early this summer. Sure it was annoying when the team at the podium couldn't find our confirmed reservation. (A discreet application of 20 bucks took care of that.)
I suspect the house was suffering last week in August meltdown. We waited endlessly for the waiter's attention, then waited for drinks, waited to waylay the waiter again to take our order. There he was at last, always smiling. But the kitchen was slow too. Nothing was really that bad: too much bread in the summer panzanell
a, not much flavor in the fried rock shrimp and what ossified the aioli?
I recognized Mitgang's vinegar chicken thigh in the new crispy buttermilk braised chicken leg with waffles on spicy napa cabbage. Fabulously crisp but whewwww, so much salt. If I say tilefish a la plancha was $34, you'll say I was just annoyed by the prices. No honestly, I think it was end of summer-blues. 17 South Edison, Montauk.
***
Bell & Anchor Buzz
Of course we would hit the hottest launch of the summer. Materializing in a nowhere patch of Sag Harbor, Bell & Anchor had impeachable DNA and a glowing review in the Times. With partners Fresno chef Sam McClelland at the range and entrepreneur David Loewenberg (Fresno, Beacon, red/bar brasserie and little red) courting the clients, the summering haut monde flocked to this un-chic stretch of Noyac. Still I'm amazed by the power crowd flocking tonight.
The place is good looking enough but painfully noisy. "We've got to do something about that," Loewenberg confides at once.
Given the good notices, I'm puzzled at first by a roll whose only virtue is that it's free, flavorless ribs with oversoaked spinach alongside, and the saltiness of perfectly decent chowder.
The fritto misto is a tad too salty also but a better choice. My hosts are sharing my lobster garganelli with corn, basil and saffron cream because, to be cruelly frank, the house's signature $46 lobster thermidor has only a few thimbles of anemic lobster bits inside. And the kitchen didn't even bother to crack open the critter. A point for the kitchen: the asparagus on top could not be more perfectly cooked.
Sweets from the house, especially the deeply dark chocolate brownie with coffee ice cream sends us home a little less grumpy. 3253 Noyac Road.
***
Southfork Kitchen Triumph
In Bridgehampton, I find Chef Joe Isidori defying the last big weekend-of-the-year curse. He has the Southfork Kitchen purring. Of course he knew I was there and saved a quiet booth, sending out oysters on seaweed as a gift and raw fluke in a spoon - one for each of us. True, the place didn't fill up till 9:30. Is the food too sophisticated? Certainly the $68 prix fixe can't be forbidding. Everywhere we ate, we spent as much or more.
My friends, first timers here, were instantly seduced by the bread - thick slices of toasted brioche and crusty whole grain lined up in a brown wooden box with butter striped in honey and Amagansett salt.
There was also toasted country bread with the chicken liver mousse, unctuously rich, more than the three of us could eat. Al dente vegetables in bacon-speckled clam chowder seemed almost unnecessarily healthy. I hesitated a moment, enjoying the tremulous perfection of the sous-vide egg before smashing it into the smoked oyster stew where again, the corn and limas seemed aggressively nutritious.
The chef's exquisitely cooked char wore a negligible foam - I'm not going to
make a federal case out of one small foam - with the tang of grapefruit and yuzu. Even though moved by the thrilling perfection of fried soft shell crab on Caesar-style romaine, I do have a quibble. Too much liquidy dressing.
I wished our waitress had warned us there was a ten-minute wait for the chocolate cake. We'd sat long enough - yes, even here the kitchen was a bit slow. I liked the butterscotch pudding with duck fat popcorn though I think it could be more attractively presented. Deconstructing a lime tart, strikes me as a sacrilege.
Whatever you do, don't overlook the peach pāte de fruit. Don't tell yourself: Oh, I've overindulged already tonight. Taste peach multiplied a tenfold by that last touch of salt. Yes. Brilliant. 11 Sag Harbor Turnpike, Bridgehampton.
Connect to me at twitter.com/GaelGreene.
Photographs of Round Swamp Farm, Bostwick's Counter, Forager's chicken fat potato chips. Governor's romaine, Clam and Chowder's lobster roll, fish and chips and the cherrystones on the half shell, South Edison's chicken and waffles, and the lobster thermidor at Bell & Anchor

may not be used without permission from Gael Greene. All rights reserved.
Fork Play copyright Gael Greene 2012.