FORK PLAY: August 9, 2012
Whimsical Bests. Maybe Magic. Wisconsin Pizza. Sexy Kosher. Fitful Fig. Comfort Me With Grom. Detours by Richter.
Dear Friends and Family,
Yet another best list: Newsweek's 101 Best Places
to Eat in the World. I spied the almost sexy cover shot - a stalk of asparagus en route to open lips painted scarlet red. A blushing peach would be more like it. It was my vacationing neighbor's copy. I sneaked a peek.
I like that no one is saying these are THE best restaurants in the world. "Finest, oddest, most
memorable" is their definition. They asked 53 "top chefs" for nominations. Who are the world's top chefs? you ask. Hmm. They asked Daniel Humm, but not Daniel Boulud. David Bouley, and even the prankster David Burke piped up. Also, Hélene Darroze and Anita Lo.
I might say, definitely idiosyncratic: is that a word? Just Look at New York City, where some of us happen to be experts, if not arbiters. A gaggle of greats are no shows. Per Se. Marea. Le Bernardin. Gabrielle Hamilton nominates Daniel and Franny's in Brooklyn. Inaki Aizpitarte of Le Châteaubriand in Paris singles out Momofuku Noodle Bar.
There's Parm, right up there with the 101, more "Odd" then "Memorable," nominated by Daniel Humm, though Eleven Madison Park and NoMad are NoShows.
In the category of memorable I'd add RedFarm, Wong, ABC Kitchen and definitely my current mad passion, Empellon Cocina.
Chez Wong is fun for lunch and hard to get into in Lima, Peru - sorry, Eric Ripert, they serve stir fries too as you see in my photo above. But if you're serious about great, you'll book dinner at Malabar. Of course I'll file the list in case I get to San Felipe in Mexico. Wouldn't want to miss those taco trucks.
***
Plums are more reliable than peaches. They are almost always tart and ready to eat when they give just slightly, unlike peaches, which can be mushy or magnificent when they start feeling ripe. Colors today are about plums. Click here to see my Plum Rum Conserve recipe for when Italian plums arrive. It's wonderful on toast or pound cake or coffee ice cream.
***
The Sensuous NY Times
First it was the shock of reading about America's new fascination for domination and submission on the front page of the New York Times while sipping my breakfast
coffee. "Fifty Shades of Grey," is turning women on, I learned. Why not Fifty Shades of Blue? I thought, immediately tweeting links to tout my own erotic best seller, "Blue Skies, No Candy."
Then, on the front page, a solemn piece on the menu plans of Eleven Madison Park. If you're old enough and grew up with its sober news columns, you'd never dream the Gray Lady would be quite so sensual. Fine dining doesn't often make the front page, not since Craig Claiborne's $4000 dinner spooked readers.
Smoke and mirrors and Bunsen burners brought the world over a treacherous mountain road to El Bulli and left thousands pining on the wait list when it closed. Daniel Humm (above) and partner Will Guidara, with their Michelin three-star spot already in the Pellegrino World's top 15 restaurants, are contemplating what it takes to hit the ultimate spot.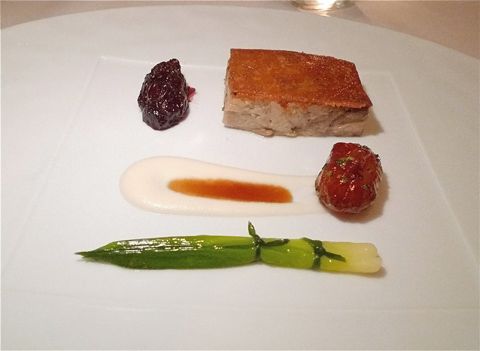 I loved Eleven Madison Park when it was just austere and beautiful and the food wasn't really that brilliant. And I've loved it since, though somewhat less, since the grid menu that makes you design your own dinner. My favorite meal there was a special lunch for the Inn at Little Washington to honor Danny Meyer and vice versa. Danny led me to believe Humm was being weaned from his foam dependence. That was before the three men realized they had different visions for the place and Meyer sold out.
I accept that the chef wants to improvise and move on. Instant smoking captured in a glass dome (a trick I've already tasted at EN Japanese Brasserie), a spray of sea mist and card tricks as part of a dessert. The $195 menu, close to four hours of abstract art or story telling, will appeal to some appetites, I'm sure. The marathon-only meal at lunch is a challenge. Bless them. Let tourists line up to come. Because who else will have the time? Certainly not business lunchers.

***
Growing up in Detroit, I drove miles with friends to Hamtramck for deep dish Greek pizza. I still miss it, even while admiring the coal oven pies at Arturo's and happily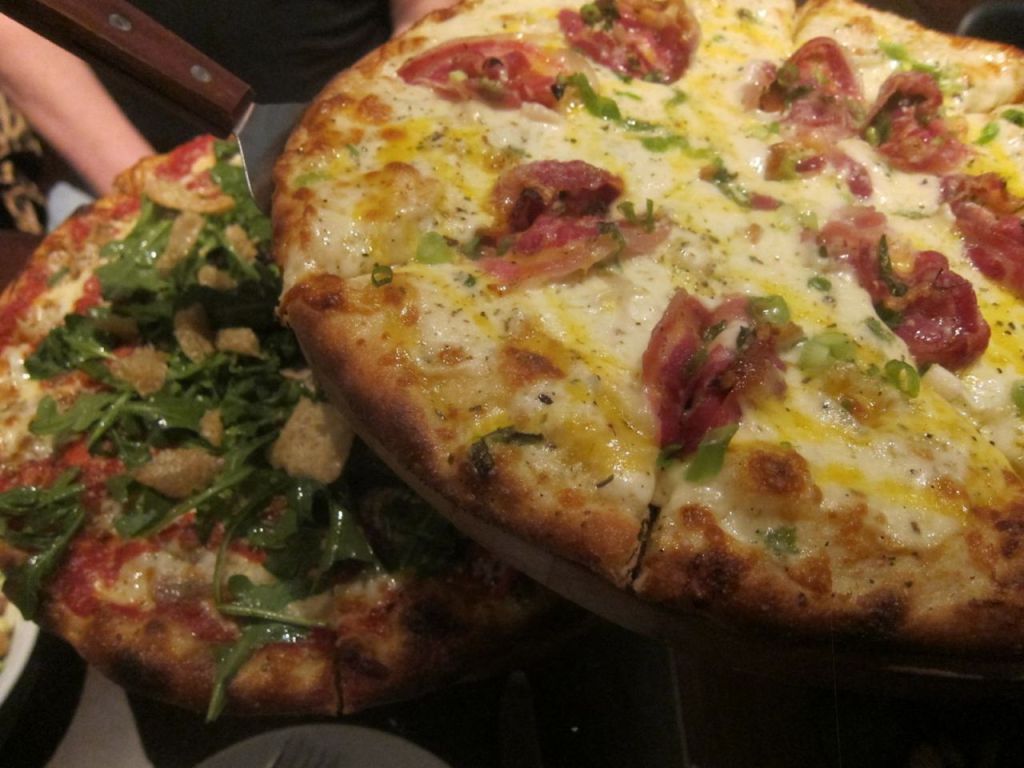 sharing an extra crisp spicy sausage pie at Donatella's.
You can take the boy out of the Midwest..but of course Michael White would want to include Wisconsin pizza in his growing feeding empire. His Nicoletta was inevitable. I longed desperately to taste but am loathe to go where they don't take reservations. Finally, I broke down and asked a contact if we could somehow finesse the line. (This is a terrible confession) There, I've said it. And so we did.
I liked everything we ate while waiting for the main attraction. It's not Neapolitan so it doesn't come out of the oven in 72 seconds. And to be brutally frank, the crust is inexplicably tough. That chewy dough was piling up, left behind on plates at every table the night I first tasted. Still, I was so thrilled with the lusty much-too-muchness of the Carbonara topping I was back the next night sampling the Calabrese. You might want to go anyway. Click here to read more about why. 160 Second Avenue NE corner of 10 Street.
***
Sexy Kosher Jezebel
"Hey, what goes?" I ask my companions, a trio of internet-age food professionals. "What do all these beautiful black people at the front desk have to do with kosher?"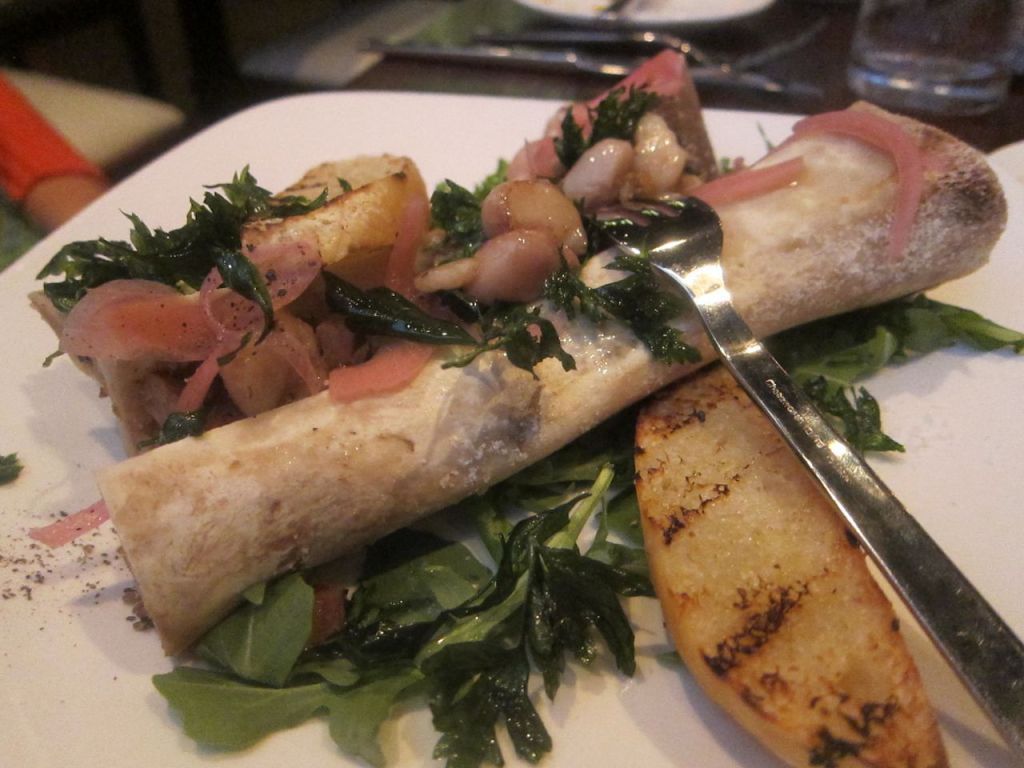 "It's all about 'aren't we cool'," says James, one of my companions, ordering a Negroni, to discover Campari is not kosher.
I am faking cool myself ordering an $18 Singapore Sling. The bar master taking our order agrees that leaving out the Cherry Herring will make it a more tangy drink. It's tall and sleek too, tart indeed, and I can feel the alcohol in no time. And $18 is almost a bargain compared to the $20 Bulldog Martini.
It seems a couple of guys from finance - Henry Stimler and Menachem Senderowicz of B&Y Hospitality (British & Yiddish) - created this supper club in an 1887 townhouse across from the Soho Grand Hotel to prove that kosher could be sexy. "Speak British, think Yiddish," and you get Jezebel. Click here to know what you might order. 323 West Broadway between Canal and Grand Streets.
***
The Purple Pig Improvises
Living just around the corner, I've often longed for West 72nd Street to liven up and land a good restaurant or two. There's no place I'd eat at since Famous Dairy disappeared. The Kultur Maven, my beloved ex and I used to go often. He would order the blintzes. I was in love with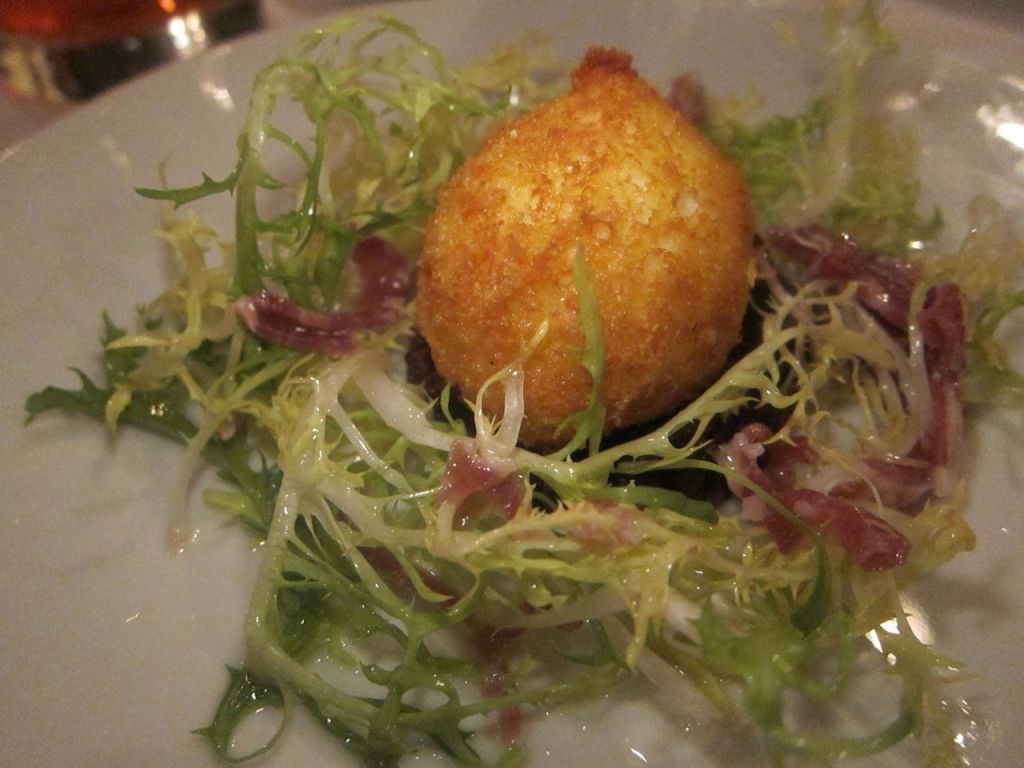 the bready mushroom loaf. Hideous sauce on the side, of course.
Seventy-Second Street Street is still hit and miss, with tenants coming and going. So I was surprised to learn that a one-star Michelin chef had moved The Purple Fig into the old All-State Café space below the sidewalk at 250 West. Portions were tiny and prices aggressive, I heard.
By the time I arrived with friends, the $14 cocktails had been slashed to $9, but the place was deserted at 7:30 and entrees still topped out at $37 for scallops with celeriac remoulade. Then I read Steve Cuozzi's report of a much later comedy of a dinner and realized the desperation had already sunk in. Click here and scroll down to check out the house's cash only trick. 250 West 72nd Street between Broadway and West End Avenue.
***
Comfort Me With Grom
I trust my Personal Assistant to be a few steps ahead of what's happening in dining out. She is constantly networking and tasting. "I'm getting good word on Comodo," she said. To be frank, I'd never heard of the place. It means "comfort" in Spanish. In minutes I had claim to a table at a charmingly rustic little spot on MacDougal, with its own delivery wagon parked out front.
How rustic? Not enough air conditioning. That rustic. I got there early. It was empty and bucolic. Within half an hour a table of rowdy guys were shouting and within an hour the place was packed. The sound was deafening. Add to that a certain clumsiness in the food. Forget the hibiscus spring roll. Stick with a lamb slider if you must. 58 MacDougal Street at Prince. Just proves that early buzz can be misleading.
Now definitely in need of comfort, we headed toward my friend Zarela's favorite spot for chocolate sorbetto, l'Arte del Gelato. $4.50 each for a small cone. It was creamy and good, but definitely not a contender against Grom around the corner. Amazingly, the line was just whittling down. I bought two "extra noir," that coffee flavored, deep dark midnight cocoa loaded with shards of chocolate. I shivered. I love extra noir. Once I had it in a cup half and half with salty caramel. I am not a Grom-hound, though I live within four blocks of the Upper West Side parlor. After all, on most nights out, I am tasting four or five desserts. I save Grom for moments of peak unfulfillment.
***
With Richter in Venice
In my 26 years with Steven Richter, the
dependable, always game Road Food Warrior, we have spent four winters in Venice, three summers in Pietrasanta in Tuscany, extended winters exploring India, months at a time in Beijing, Hong Kong, Hanoi, Peru, Morocco, Tunisia and we've always had Paris. Now Steven is very ill. You will notice that the quality of the photographs on Insatiable-Critic.com has fallen since I began doing them myself.
Click here to see a gallery of my favorites from our travels on Insatiable Critic. If you are intrigued, you can see more of his work at www.Laumont.com. Click on "Gallery." Click on "Artists," then click on "Steven Richter." Many of these images are available for sale printed on watercolor paper or by special order on photography stock. Email me.
***
Connect to me at twitter.com/GaelGreene.
Mask and Clown in Venice may not be used without permission for Steven Richter. All rights reserved.

The food and restaurant photographsmay not be used without permission from Gael Greene. All rights reserved.
Fork Play copyright Gael Greene 2012.