Nora: Farewell and Bon Appetit. My Dinner/Reading. A.G. Kitchen. Strip House Secession. Vintage Reviews. Three Last Bites.
Dear Friends and Family,
I haven't said anything till now about the sad, shockingly too early death of Nora Ephron. We were
friendly in the early days. I remember a lunch where we compared lives with impossible men. She had let hers go. I was holding onto mine. I owe her a great debt, perhaps for much of the joy of my life, for insisting I leave my silent, lumpen, traditional psychiatrist and consult the amazing, beloved, powerful and practical Mildred Newman.
But then Nora moved on and did not respond to my calls. I'd been left to the Salon des RefusÚs. So I did not share in the great meals, the recipes or the unique capacity for caring friendship her bold-face friends have eulogized these past few days. I became just another fan, reading between the lines of "Heartburn," impressed by her skill at gaming Hollywood's exclusionary system, admiring her films, dazzled by the style and fun of "Julie and Julia." Roaring with laughter at "What I Wore." Though I must say I didn't get excited about her neck.
Even in death she was still annoyingly brilliant. Reading how she planned every detail of her memorial service, I thought, oy vey! I better work on mine while I still have half a brain. I toyed with the idea of running off copies of my famous Danish meatloaf for the dozen or so friends who might show up for champagne or apple cider at my memorial service, even though she thought to give away recipes to her celebrators and mourners first. I'll be dead and still competitive.
Farewell, dear Nora, and Bon Appetit.
***
Figs are bursting out all over. I see mission figs, with deep purple skins, blush pink and red inside - colors that are hard to match, but we tried here.
***


Delicious Sex and Glorious Food
Just four seats left. It's not too late to reserve for
"Delicious Sex and Glorious Food," my dinner reading at Porter House tomorrow at 7pm. Join me as I juggle my two passions in the private dining room of the popular steakhouse overlooking Columbus Circle.Between courses of marrow on toast, Maine lobster bisque, and Black Angus filets with fried onion rings, I'll
be reading from my breakthrough erotic best seller, "Blue Skies, No Candy."
I plan to sweeten dessert - by Wayne Brachman, one of my favorite pastry chefs - with revealing secrets of "Fork Play," seduction at the table, a chapter from my "Delicious Sex." The evening's $75 price includes tax, tip, wine or beer and a download of either book. Call 212 823 9500.

***
Early in my years as New York magazine's Insatiable Critic, some readers thought my descriptions of food were
straight-out sexual. Not sexual, I would say, sensual. It's all about using the same five senses in experiencing food or love making. I expanded on that idea in "Delicious Sex" With a lesson in How To Eat a Fig.
1. Buy a fresh fig - it doesn't matter if the skin is green or black. Study the skin, its folds and markings.
2. Cut an "X" in the stem end of the fig.
3. Squeeze the fig with four fingers till it opens like the petals of a flower.
4. Study the astonishing contrast between the unthrilling skin and the amazing blush and varying pinks of the flesh.
5. Smell the fig. It's a subtle scent, uniquely figgy. Smell it again.
6. Lick the fig. The taste is subtle too, wonderfully organic. Lick it again.
7. Rub your mouth and chin with the fig. How do you feel about the wetness? Lick your fingers.
8. Bite the fig and swallow it. Take another bite and taste it as it rests on your tongue. Taste the sweetness and the tart undertone. Feel the texture of the fig. It's not at all like pizza, is it, or like a lamb chop? It's a fig. Savor its unique figness.
Now you're ready to eat a sea urchin and embrace the sea. Click here to download "Delicious Sex" now and discover more exercises in sensuality.
***
Alex Garcia Pops Up
It was only the second night and I worried that the free-floating Alex Garcia might not stick around that long, even as a partner with his name on the awning and his image on the menu at A.G. Kitchen. But the transformed Columbus Tavern was so close to home for me and the layered Havana sandwich was exactly what the menu boasted - "NYC's Best Cubano," at least in my Cubano-loving experience.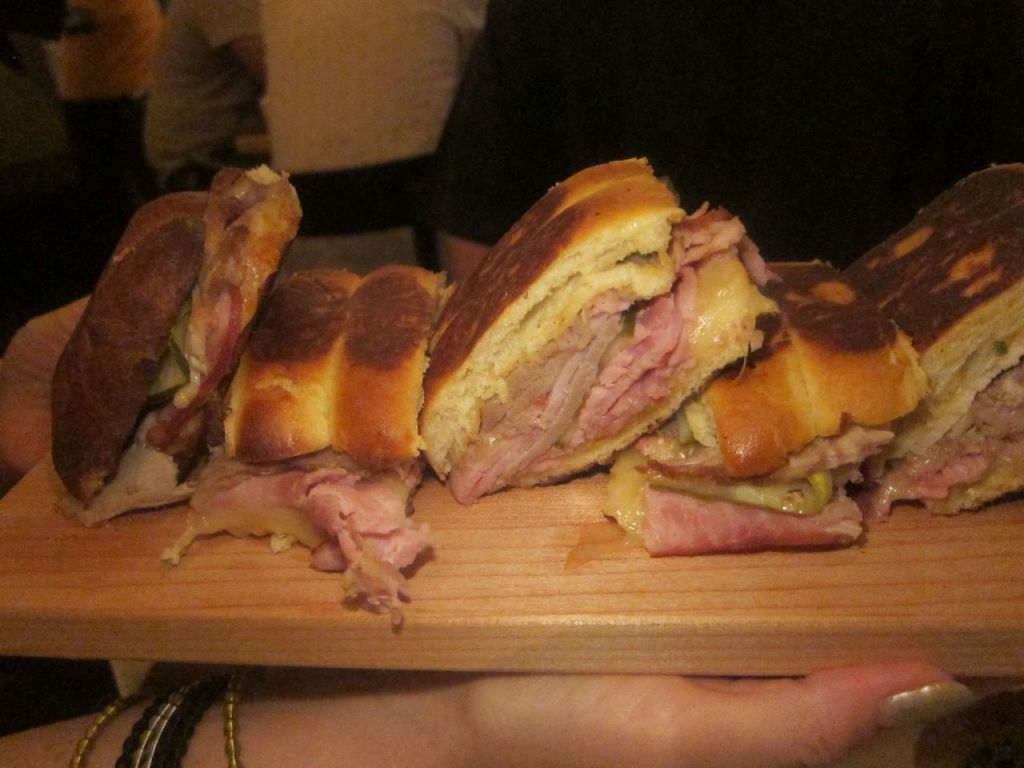 I knew I'd be back soon for the much-too-rich Manhattan Latin Burger, a killer with its blissfully rare blend of sirloin, short rib, chuck and brisket, topped not just with cheddar and bacon, but guacamole too. Indeed, I did go back a few days later. I thought the Caesar lacked classic oomph, but saddest of all, the Cubano had lost its crusty pressed edge and exuberance of pickle. I'm not saying it was bad, it was quite respectable, with its box of plantain chips alongside. It just wasn't the best ever anymore.
So it isn't just Garcia's wanderlust I have to worry about. It's whether he can train the kitchen to keep the edge. We'll see. Of course I'll go back again. I'll give them time to simmer. Click here to read my first report.
***
New Stakes at Strip House
For a long time I've been sending friends and readers to Strip House for its New York sirloin strip - my favorite
steak. I would usually share that thick cut with a friend so I could over-indulge in my favorite sides - goose fat potatoes, double-baked stuffed potatoes, gorgonzola bread, and, without fail, the monster wedge of 24 layer chocolate cake. (I'm counting the filling as layers too.)
Recently, my friends, Strip House creators Penny and Peter Glazier, sold the 12th Street original with its sexy red David Rockwell design, to another long time friend (and advertiser of mine), Steven Hanson. And Hanson opened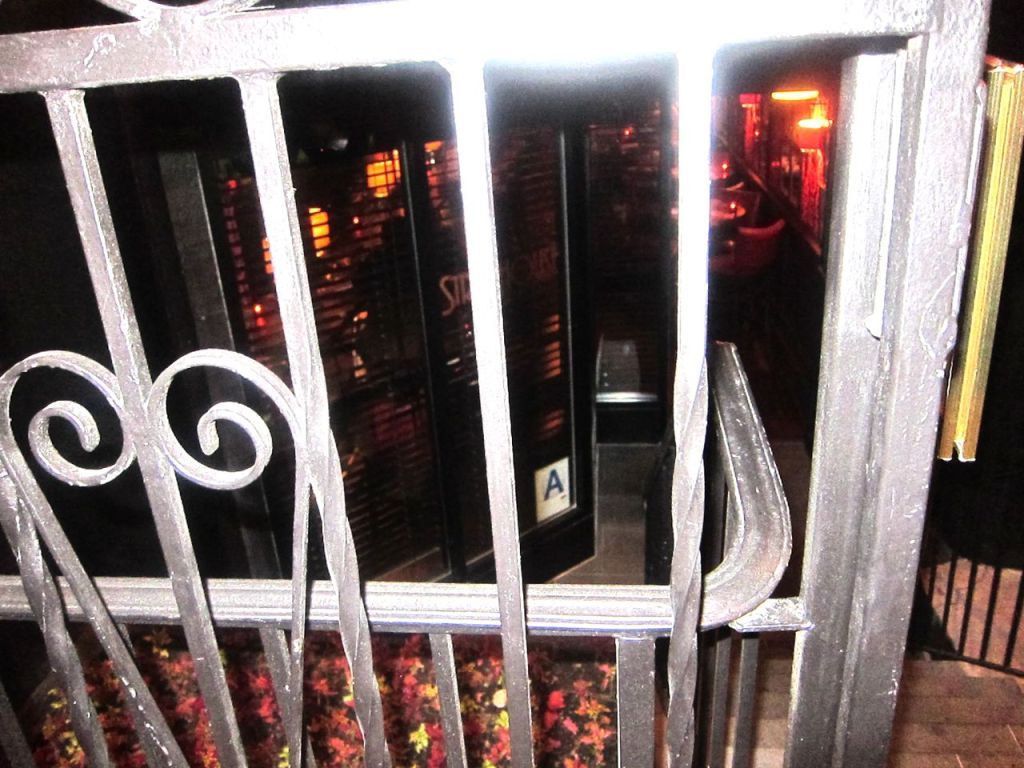 the small Strip House Grill next door, down the stairs. I worried my favorite dishes might be altered or gone.
At the risk of offending everyone with what I would find and what I might say, I joined some friends for a rare girls' night out. Clearly, the Hanson team, mostly recruited from the Glazier crew, was determined we would eat upstairs and not in the Grill. Click here to read more and decide when you'll do your own Strip House ketchup.
***
And That's The Way It Was
The young assistants and interns who transcribe and upload my vintage reviews to InsatiableCritic.com are amazed and amused to see how we used to eat. Recently, while scanning to catch typos in "Some Like It Haute," from October 9, 1978, I came on a line that brought back the innocence of 34 years ago.
"Pretension is one of the deadliest sins in my book. But outright honest vulgarity touches a soft spot," I wrote. "That's why I am more amused than offended by La Folie." To read more about restaurants New Yorkers once loved, most now long faded away, click here.
***



Three Last Bites
I was stirred, if not shaken, by Nora Ephron's
endearing cleverness in sharing recipes at her memorial - her last, warm and witty production. That inspired me to email a few cookbook author friends and chefs, apologizing for being ghoulish, asking what one recipe they might leave for their friends and sycophants.
"'Tis a bit ghoulish," Jonathan Waxman emailed back, "but then Jews have no hell, so all's fair. This recipe is my father's (who passed on this April)."
Arny's Fireplace Grilled Marinated Chuck Steak
Serves 4
Marinade:
1 sweet onion
2 TB Tio Pepe
3 cloves garlic
1/4 teaspoon Tabasco sauce
1/4 cup good olive oil
1 TB soy sauce
1/2 cup Chablis or similar
Steak:
4 Idaho potatoes (washed)
2 TB olive oil
6 TB sweet butter
1/2 cup minced chives
1 3 pound chuck steak
For recipe instructions please click here
***
Jean-Georges Vongerichten's
"Crab Toasts with Sriracha Mayonnaise."
Serves 4.
4 slices good sourdough bread 3 tablespoons Sriracha Mayonnaise, 8 ounces picked lump crabmeat, preferably peekytoe, picked over for bits of shell Crushed red chile flakes, optional 1 lemon, cut into wedges.
Sriracha Mayonnaise:
1 large egg yolk, 1 tablespoon Dijon mustard, 1/2 teaspoon kosher salt, 3/4 cup grapeseed or other neutral oil, 2 teaspoons fresh lemon juice, 2 teaspoons Sriracha.
For instructions, click here.
***
Rozanne Gold
My Mother Marion's Cabbage and Noodles
Serves 4
This was my comfort dish growing up and I'm sure will continue to be when growing old! My beautiful Hungarian mother, Marion Gold, perfected the dish that she, too, ate as a child. It is radically simple to make.
1 very large head green cabbage
1 stick unsalted butter
12 ounces wide egg noodles
Kosher salt and freshly ground black pepper
For instructions, click here.

***

Connect to me at twitter.com/GaelGreene.
Photographs of the steak-frites at Porter House may not be used without permission from Steven Richter.

Photographs of

Strip House Grill, Strip House sirloin and AG kitchen's Cubano sandwich

may not be used without permission from Gael Greene. All rights reserved.
Fork Play copyright Gael Greene 2012.