Sex Is Back. Dinner-Reading@PorterHouse. Contrary@Hakkasan. Yopparai. Tatou Nostalgia. Tulsi. Summer at ABC Kitchen. MakeMyCake:Nico&Anne.
Dear Friends and Family,
I can't believe how many times ben wa balls came up this weekend. It's the maddening "Shades of Grey" rage.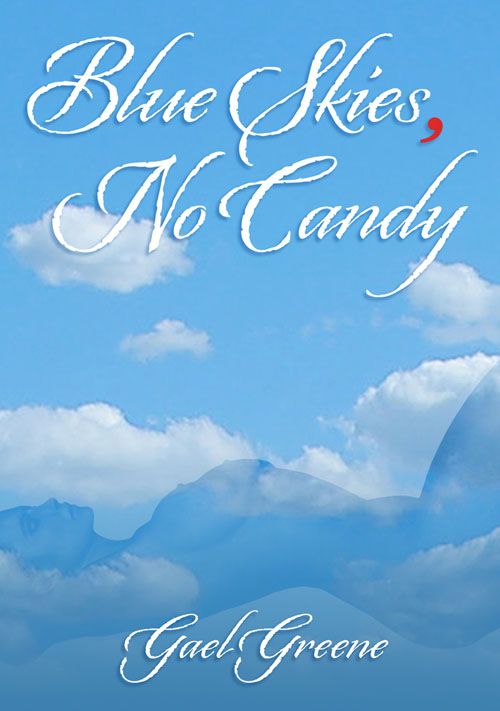 Maddening to me because I can't seem to get my own erotic best seller "Blue Skies, No Candy" onto your iPads and Kindles. My own niece is devouring "Shades of Grey." "The second one is even better," she tells me.
"What about shades of blue?" I ask. "What about 'Blue Skies, No Candy?' Fans tell me it's a great primer on sex. One fan wrote me: 'I use it all the time.'"
My niece tells me about the real estate agent whose ben wa balls rolled out while she was sh
owing a house. Sex toy sales are booming. I wonder if the husbands of these raging women are thrilled or challenged.
How many guys have time to chain their mates up before sex or submit to the velvet cuffs. Domination is a turn-on too ladies. "Delicious Sex" offers hot scenarios if you don't have your own. Sigh. It's no consolation to be ahead of your times.
Still, it suggests that "Delicious Sex," my guide for women and "Men Who Want to Love Them Better" is definitely needed more than ever. Available now for just $4.99 in just published ebooks: "Blue Skies, No Candy." Click to buy "Delicious Sex," "Doctor Love."
***
An Evening of Sex and Steak
They say readings by the author E.L. James heated up sales of "Fifty Shades of Grey." Okay. I'll try that. Here's an invitation to all new and old addicts of erotica. Can you take the gasps and moans of vintage seduction with your Caesar salad?
Maybe you only know me from 40 years as the official mouth of New York magazine. Or from watching chefs wither at my appearance as a judge on "Top Chef Masters." Perhaps you follow my musings on Twitter and InsatiableCritic.com. Here's your chance to sample my other passion and, if I may say so myself, expertise.
Chef-owner Michael Lomonaco and I are hosting a night of "Delicious Sex and Glorious Food at Porter House" Tuesday, July 17 at 7 pm. During a four-course dinner in the private dining room, I'll be reading from "Blue Skies, No Candy," a Times best seller in its day, an underground obsession during its long out-of-print years before I republished it as an ebook.
To sweeten dessert, I will reveal secrets of Fork Play, the art of seduction at the table, from "Delicious Sex," the witty, wacky and altogether serious g
uide that suggests 69 ways to turn a woman on and ditto for a man.
This dinner-reading is the perfect way to spend a summer Tuesday evening. Expect an amuse, a choice of appetizer and entrée, dessert, wine or beer, tax, tip, plus a downloadable copy of either book for just $75. After that, you're on your own.
There are only 50 seats available so call Porter House Reservations 212 823 9500 to get information on how to reserve now. 10 Columbus Circle at 60th St.
***
Our colors today celebrate watermelon and sweet black cherries. Unlike peaches and melons, so maddeningly unpredictable, cherries are always sold ripe.
***


A Contrarian @ Hakkasan

A few weeks ago after a second visit I realized that I
actually like the food at Hakkasan. Other critics have seethed with outrage over the prices and listless food. Not me. I long for that spicy ma la chicken with cucumber sticks under crackling shards of skin. I crave the udon noodles stir fried with duck and the peppery old-tennis shoes scent of XO sauce. I was working on my Hakkasan BITE when Pete Wells gave a cranky one star and Steve Cuozzo tossed off half a star with a growl.
Clearly both guys got a dumbed-down version of dishes I loved. Carpetbaggers, like these troops from London for all their research and consultations, panic in
trying to please New York taste. How spicy should it be? They take us for Philistines. Underestimating the sophistication of the New York affluential can be fatal. Ask Alain Ducasse.
Will the $15 million supposedly spent on the marble walls and peacock embroidery in the maze of small rooms preposterously parked on West 43rd Street be washed down the drain?



There is a way to be happy at Hakkasan. Click here to read what I loved and how to enjoy an evening.
311 West 43rd Street between Eighth and Ninth Avenues. 212 776 1818.

***
One Flight Up to Yopparai
As open as I am to tasting adventures, even occasional cuisinary heroics, I have been mystified at times by izakayas, the sake pubs that my Japan-smitten friends love. So I had doubts when my architect friend, Richard Bloch, suggested Yopparai on the buzzy Lower East Side for dinner. He neglected to note that he'd designed the place.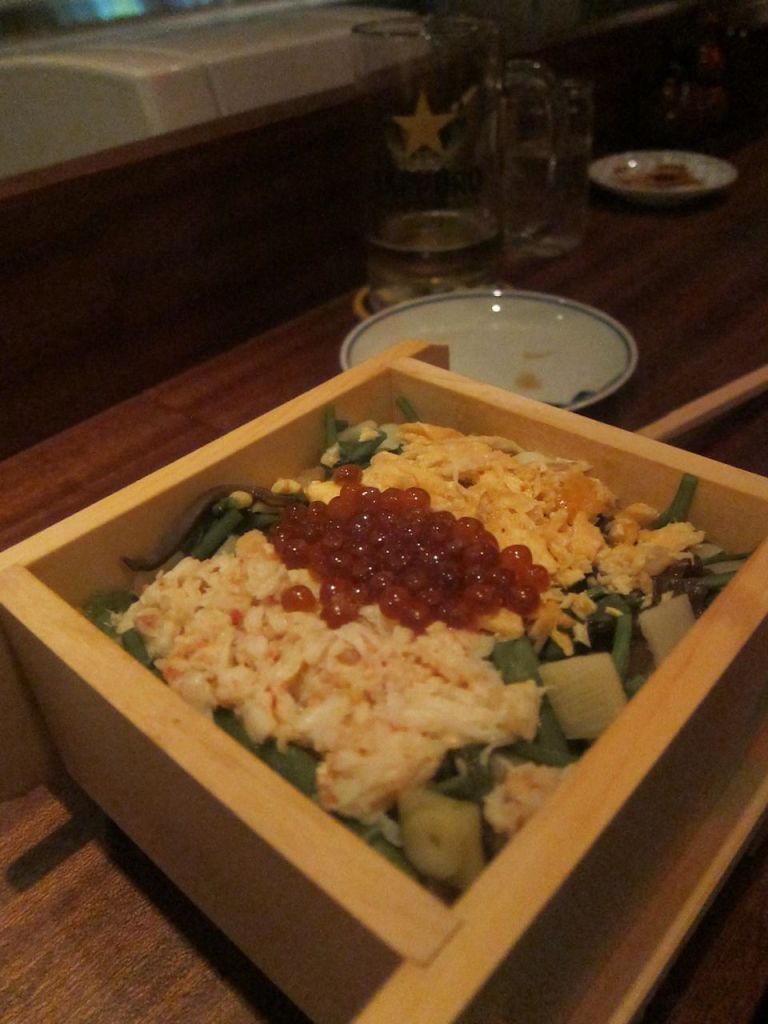 I was instantly seduced anyway by its serenity, friendly welcome and sounds of jazz sometime between the house cocktail - sparkling sake with Japanese yogurt and yuzu in an ice-embedded glass in a wooden box - and the remarkably unsalty edamame.
Soon enough my friend was crunching squid sashimi. "I wonder why they don't serve ginger," he said. Too caught up in the delicious sweet stickiness of raw shrimp, jumbo heads-on babies, and nibbling wasabi to clear my somersaulting taste buds between bites, I didn't care.
What should you order in a sake pub? The architect guided me through the menu. Now let me show you. Click here. 151 Rivington Street between Suffolk and Clinton.
***

Tatou Had a Moment
Our town was in one of its periodic financial meltdowns in October 1990 when seasoned entrepreneur-about-town Mark Fleishman chose that moment to open a supper club with the feel of 1850 New Orleans, a disco, a private enclave and blues king Sammy Price and his trio swinging. Fleishman had never even been to New Orleans. Everything the chef knew about Creole food, he piled onto a pizza - okra, black-eyed peas, chilies, gumbo seasoning, celeriac, onions, endive, tomatoes, olives, and small patches of Cheddar and chèvre. Even the appetizer size, splendid on its crisp whole-wheat-rye crust, was big enough for two or three.
Architect David Rockwell, then a partner at Haverson-Rockwell, gave Tatou an old fashioned stage set, vintage swags of fabric, painted cherubs, cast iron satyrs and bronzesque Amazons hoisting fringed lamps flanking the stage.
"If you're not too jaded, you can easily just go with it," I wrote in my review. Read how it went by clicking here.
***
Tulsi Again
My niece Pamela is a vegan. Her sister Dana might just as well be, except that she loves goat cheese too much. Their brother Adam just loves food, like me. Tulsi, with Hemant Mather, a favorite Indian chef in charge of the kitchen, turns out to be perfect for astonishing everyone's taste buds.
Dana's Aveda Lemon Drop cocktail definitely had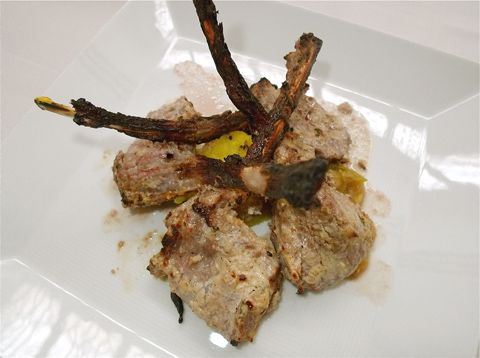 alcohol. About my Kamasutra I'm not so sure. But it's the chaats I love here, and the little crab cakes, the complex dal. The chef sends out lentil dumplings with chickpeas in a yum-provoking swirl of yogurt, tamarind and mint.
Tandoori mushroom caps are piled with garlicky yogurt and spices.



I fell in love with the chef's tandoor grilled lamb chops and south Indian potatoes at Devi when our longtime friend Suvir Saran shared creative honors with Mathur. 211 East 46th Street, between Second and Third Avenues. 212 888 0820.
***
Summer at ABC Kitchen
I've been a raving sycophant of ABC Kitchen and Jean-George's infatuation with the market since the week it opened in March, 2010. No one devotes as much verve to vegetables as J-G and his gifted chef de cuisine Dan Kluger. (Food and Wine's stuck on Kluger too, naming him one of its Best New Chefs in the July issue.)
Of course I would do the small wedding dinner for Steven's son Nico and his Anne there Monday evening. Nico loves it too. But I couldn't deny the vegetarian sisters their night at ABC Kitchen. We did that on Saturday.
So I got to taste all my favorites twice: beet salad with
housemade yogurt, the spicy carrot and avocado salad with crunchy seeds (and tonight, not enough sour cream). The special - just in from the market, heirloom tomato toast - was thrilling, a first taste of vibrant summer tomato. (I meant to add that to the wedding menu and forgot).
Kluger sent out a new dish - a strawberry ricotta mash with grilled country bread that I just don't get at all.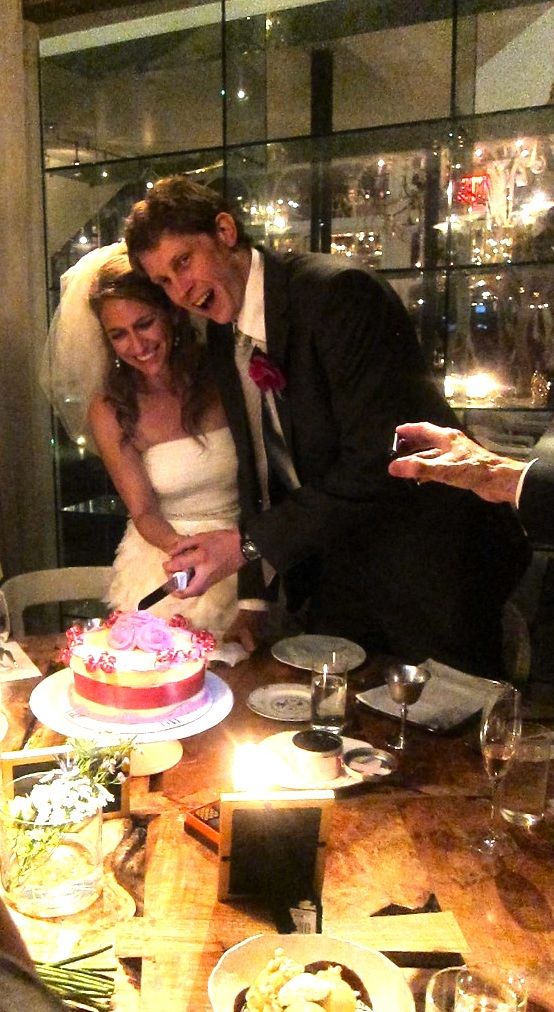 (I was outvoted.)
For the wedding party - just three sets of parents and the couple -radiant of course, head over heels, married in Central Park between thunderstorms - I added three different pizzas, crab toasts, ditto the voluptuous chicken liver version, fluke sashimi and fried calamari.
Everyone ordered an entrée. I had to cancel mine after finishing off the crudities and all those toasts. Instead I shared Steven's cavatelli with morels, leaving room to taste MakeMyCake Bakery's carrot cake with pink roses, and more than my share of the salted caramel ice cream sundae with popcorn, peanuts and chocolate sauce, an excess I never regret. 35 East 18th Street between Broadway and Park Avenue South. 212 475 5020.
***

Connect to me at twitter.com/GaelGreene.
Book Cover Design by Chow CiaoDesign.com

Photographs of steak-frites at Porter House, Tandoori lamb chops at Tulsi and the carrot salad at ABC Kitchen may not be used without permission from Steven Richter.

Photographs of Hakkasan's dim sum and the smoked ribs with pansy, Yopparai's baked rice with crab and salmon, ABC Kitchens lobster and the newlyweds, Nico and Anne, cutting the cake may not be used without permission from Gael Greene. All rights reserved.
Fork Play copyright Gael Greene 2012.