Yanou Vows War. Short Rib Epiphany. Calliope Hums. Bocuse Alive. Food City Chicago: Schwa, L2O Jewels, Girl and a Goat, Paris Club. Auntie Yuan. Singapura.
Dear Friends and Family,
As an early American foodie abroad, I always found it remarkable how a table at a great restaurant was mine for
the night. There was never a nudge to make way for the next customer. But now the long painful Euro crisis is eroding that luxury. And the eminent diva publicist Yanou Collart just won't tolerate it.
She has declared war on Parisien restaurants booking two seatings a night at 7 and 9:30pm. "I CANNOT accept that someone else decides for me at what time I should eat," Collart says.
"I have already warned Antoine Westerman who is doing it in his new Coq Rico. He says I am threatening him. I was just warning him in writing, either you stop or I'll inform the press of this unacceptable behavior."
"In New York, certain hot restaurants will only give
you a table at 5:30 or 10 pm," I email her. "I like 9:30 myself."
"Don't think only of yourself," she chastises. "Warn your readers." She is putting together a list to release to the local press and calling all the French critics, Francois Simon at Figaro, and Giles Pudlowski from Le Point. "Remember what Brillat-Savarin wrote she says, translating: 'Inviting someone means you are responsible for his happiness as long as he is under your roof.' How can that happen if you cannot choose the time you want to eat?"
Yanou of course has no such problem. Typically restaurateurs invent a table for her if they don't have one free. Or as she observes, "I always find a solution."
***
Radishes fresh from the garden have arrived, as reflected in our ForkPlay colors this week, along with the green of the snap peas at the marvelous new outpost I'll take you to below.
***
Short Rib Epiphany
How could I not love Il Buco Alimentari? I'm a fool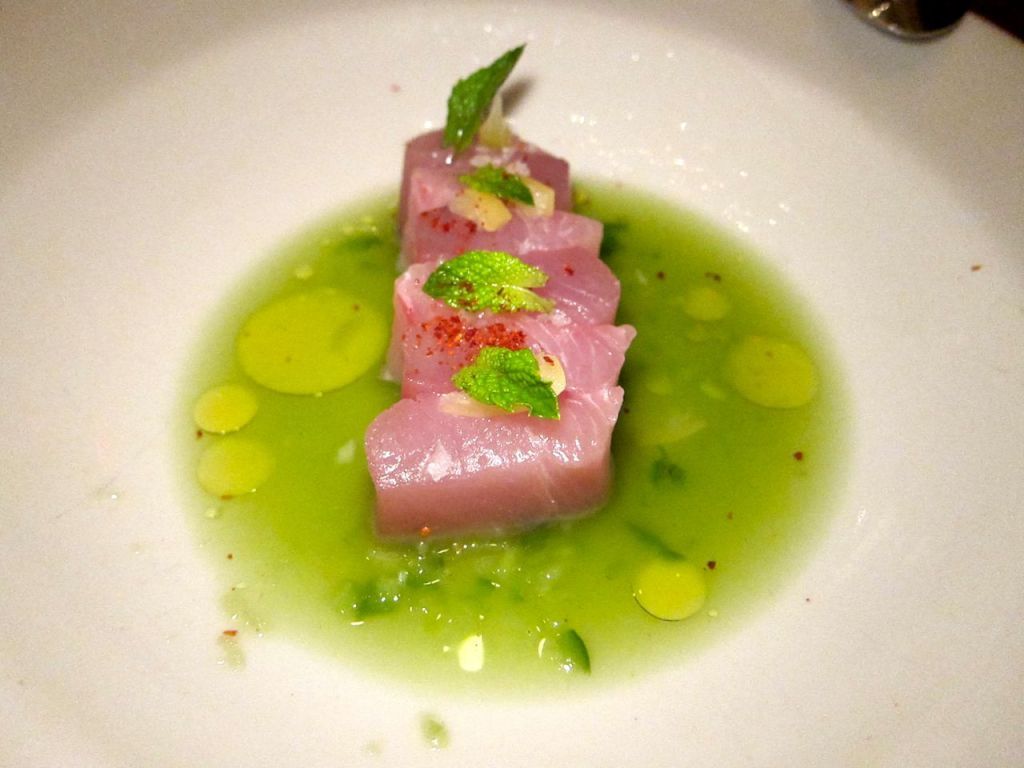 for that rustic country look and a collection of old kitchenware I could have amassed myself if I'd gotten there first. I imagine that big burly guy in the kitchen is the chef and he seems to be impatiently chewing out his crew. Theater of the raw and the cooked. Miniature artichokes hit the table fried to a crisp along with a clay basket of house-baked bread. The Technicolor of the crudo would excite any fashionista; the texture is definitely arousing this gourmand. And then comes the already celebrated bone-in short rib sprawling tauntingly on its cutting board: voluptuous and juicy, with almost burned crust,
bearing shards of celery, sequined with walnuts.



Of course you must go, even though a certain critic's three stars has this NoHo place booked far into the future. Consider dropping by for lunch. Or if you live nearby, breakfast. Feast on bread alone. Perhaps you need to know more about sharing starters, what pastas you want to order, and why you should not miss fresh ricotta clouds on peas in their pods. Click here.
53 Great Jones Street between Bowery and Lafayette.
***


Calliope Hums
Eric Korsh and his wife Ginevra Iverson have been talking about another place of their own since their
Restaurant Eloise in Sebastopol, California didn't quite work out. It would be mostly French, seriously French, but fun and laid back. And it is. Call it "farm house European."
Indeed, Calliope in the ever-so-slightly dressed up space that was Belcourt, is almost too laid-back on my early first visit. Chunky candles burn low on the deserted communal table and the place is almost empty on its eighth night. Our threesome doesn't mind. We're sipping $12 classic cocktails - Negronis and a Manhattan - and taking bites of mellow spring radish from a basket with buttery toasted bread alongside, typically wanting to try everything on the smartly tailored opening menu. The word "calliope" is stamped at the top in faded red, deliberately lower case C, almost a mirage. So named for a species of hummingbird, not for the noisy organ-like tooting machine in an old-fashioned circus.
I doubt you'll find this dedicated classic French ambition anywhere in the East Village except at Daniel's DBGB where insistent crowds keep it anything but laid-back. Click here to know what Mom-and-Pop are cooking. 84 East 4th Street on the SW corner of Second Avenue.

***

Bocuse Alive

Now, after a run of farewells and a premature obituary on Twitter, the world knows Paul Bocuse is alive and serving PB classics in his frozen-in-butter Michelin-three star outside Lyon. My last lunch there was worth a fast trip on the TGV and the $600 or so we would
have paid if we hadn't been invited by friends.
Did you know Bocuse collects old calliopes? I'll never forget a brunch during the amazing truffle tour of France with Yanou, arranged by Moet and Chandon/Hennessey, with Paul conducting the "Marseillaise, God Save the Queen" and our national anthem in front of his raucous toys. There have not been many times in my life when I was given more caviar thanI could eat. Click here to read "Nobody Knows the Truffles I've Seen."
Young chefs need to remember that it was Paul's determination not to die on his feet in the kitchen that first brought him to New York promoting Duboeuf Beaujolais and a dinner at the Four Seasons. That, for better and worse, was the beginning of the chef as celebrity and entrepreneur.

***
Chicago Eats
I don't keep up with restaurant buzz in Chicago, except for the whimsies of Grant Achatz at Alinea,
making
news most recently at Next
, his homage to AppetiteDeficitSyndrome. But arriving on Memorial Day with a week to spend, I sought the advice of my friend Francesco, the wily gourmand whose work takes him there often. You may recall this self-styled Don Juan's scaringly candid confessions on dining seduction. If not,
click here
.
"We want to go to Schwa," he said. "My friend will get us in." Schwa? doesn't sound very appetizing. I Googled: "Maverick chef cooks and serves. Cutting edge cuisine. Doesn't answer the phone." It gave me shivers remembering the unsmiling crew at the counter of David Chang's Momofuku Ko cooking and serving. I was wary. It seems the place is BYOB and Francesco's friend's cellar was deep and old and very French. At least the wines would be thrilling. We pulled up to a shabby storefront shrouded in black. "Get lost," it seemed to say.
"It looks closed," said my driver.
I tugged at the door. It opened. I knew at once I'd
arrived at Schwa, a modest dump even after a decorator fan insisted on tarting it up with bizarre fixtures in each blackened show window and Edison bulbs above. A screen held up on crutches blocked our view of the bathroom. Call it unpretentious and whimsical to be kind.
Owner and no-longer sole chef Michael Carlson, the one in shorts and sneakers with standup forelock and standout beard, runs back and forth serving, seconding at the range and on the run, delivering a different course to each table, explaining it, and actually smiling. Unlike the Stepford Sons at Ko, these guys seem to be having fun.
We started with an experiment or two. Sniffing, swallowing. By then I was hungry enough to devour the potato soup in the deconstruction of a stuffed baked potato on a plate with its emulsified bacon and a swatch of scallion puree. In fact, there were great moments - the truffled quail egg ravioli, a mini homage to San Domenico, smartly tailored tortellini in clarified apple consommé, a pad thai with jellyfish as noodles (better than it sounds) and shad roe with morels.
Our benefactor with the connection had gathered wines to pair from his family's cellar, seven bottles for the four of us plus that half bottle of Sudiraut that went with the dish shown here featuring the chef's favorite drinks, Jameson Scotch and Dr. Pepper. 1466 North Ashland Avenue. 773 252 1466. You can leave a message. Maybe they'll answer.
***

Is This Cartier or L2O?
As a born gourmand lucky enough to be recruited in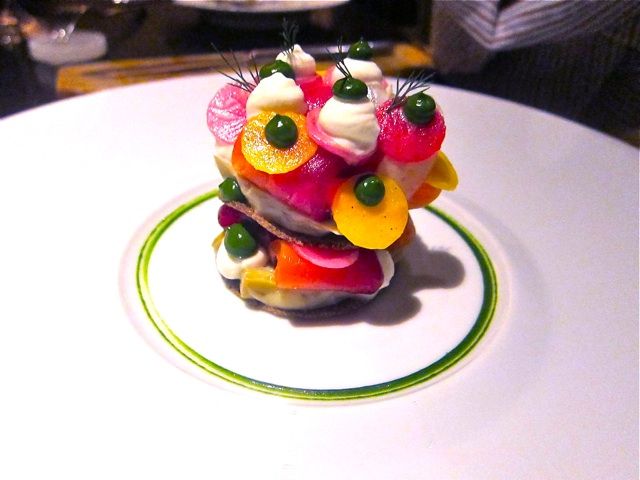 time to document the dining revolution, I've mooned over tall food, drawings in coulis, geometric patisserie and even asymmetrical molecules as in Nathan Myhrvold's astonishing pastrami. Never have I seen food as beautiful as this exquisite flower at L20. It could be a vintage brooch from the Duchess of Windsor's collection. Incredible that this jewel hides smoked salmon and artichoke on pumpernickel with smoked crème fraiche, and is as delicious as it is precious.
The tiny fish could be a whimsy from Faberge for Czar Romanov. Perhaps it provoked a fleeting smile before the
bitter end. In fact, this almost too cute little swimmer is a tiny rouget barbet, standing on its fin, nesting in saffron pea risotto, perfumed with lavender.
We managed to resist the $390 ounce of Caspian golden osetra caviar and the langoustine tartare with caviar as a $75 extra on the everyday $120 four course dinner. Still, I almost fainted at the bill, $817 after tax and tip for the four of us. I'm not saying we didn't have $800 bucks of nourishment, service and aesthetic stimulation; it's just that as you know, from my confessed pinchpenny habits, dinner at L20 was a rare experience for me. I'm sure it's easy to spend as much at Per Se or Le Bernardin and not want to wear the smoked salmon on your lapel. 2300 N. Lincoln Park West. 773 868 0002.
***
Top Chef, Top Goat
Girl and a Goat. That I had heard of. Stephanie Izard, so far the only woman winner of "Top Chef." My Chicago family warned me her $1.5 million restaurant in an old factory in Chicago's West Loop was impossible to book except perhaps for a final turn at 10 pm. A friend with clout comes through. I walk in and am shoved back
by a wave of riotous sound. Back to the wall, at least we're not drowning from the insanity ricocheting across the room. "Everything to share, everything to come as it's ready." I've heard that before. But here's a trend. They've found a way to charge for bread in Chicago and I'm a fool for bread. Since it's just $4 each, I ordered the pig in a blanket, Mr. Potato bread and the pretzel bread, all three warm out of the oven, each with a duo of spreads or dips. I probably would have ordered goat five ways too, but my kin look alarmed at the prospect. What bothers me here is that items I like - chickpea fritters and tempura soft shell crab - are muddied up by sitting in stew-like sauces. My sister-in-law can't stop eating the ham frites - potatoes fried in pork fat, to dip in smoked tomato aioli. Salty, dangerously addictive. Only a strong desire to wake up tomorrow gets me to stop after two handfuls. 809 West Randolph Street. 312 492 6262.
***
Paris Club
Being the hottest new flava' in town rarely has to do with how good the food is. Given how booked the Paris Club is, I am surprised we are having the best meal of my
week in Chicago. Perhaps the excellence of somewhat updated French cooking has to do with the presence here of Chicago fixture, Jean Joho, as a partner with the scions of the Lettuce Entertain You franchise. Joho's Alsatian roots show in the excellent crisp, free form tarte flambée with bacon and caramelized onion. Almost everything we tasted was not just good or very good but the way it ought to be: Sweet potato frites properly salty. Short rib bourguignon with fresh string beans.
We could easily have put together dinner on a budget with small plates like pretzel croquettes with "European butter" (more bread-for-bucks) the fabulous croque monsieur fingers (bread again) to dip into an eggy emulsion. Lamb meatballs, chicken drumettes and a generous serving of macaroni - crispy and not overly cheesy. But we shared the caesar too and classic skate wing, perfectly cooked. I could only take a bite of the chicken in its foie gras sauce. I had no problem finishing it next morning at breakfast. (Calories don't count when you're out of town.) 59 W. Hubbard Street. 312 595 0800.
***
Prepping With David Keh
Long before he first tasted the dim sum wizardry of chef Joe Ng and partnered with him at RedFarm, Eddie Schoenfeld was deep into Chinese culture. I met him when he was the first Caucasian captain at a Chinese restaurant, the stage for the brilliance of Uncle Tai's Hunan Yuan, in the golden moment for Chinese restaurants in New York. If you were still teething then or snacking on Gerber's, you cannot imagine the excitement in our discovery of Uncle Tai's asterisks, cool and blue on the menu, marking a glorious defiance of Chinese restaurant cliché: Frog's legs, eel, braised oxtail, and what a great bounty of game. Later, Eddie emerged as a partner with David Keh at the uniquely stylish Auntie Yuan, designed by Sam Lopata. Click here to read my vintage review.
***
Singapura Fusion
I am going for the real deal - hot or diabolically torrid - on my first visit to
Singapura
, letting my companions, a Tiger from Singapore and a Lion from Malaysia, handle the ordering. The use of the abacus as room divider and décor, and the bold march of blowsy lotus lamp shades just
above our heads - red, scarlet, turquoise, Astroturf green - is ambitious for this strip of Curry Hill. The welcome is warm if a bit shy.
My pals debate what to try in the various categories. They are brutally critical. Clearly homesick for these familiars - Indian paneer, Hakka noodles, Malay rendang, Indonesian beef semur - they are not about to yield a unit of jolt on the Scoville heat scale. Can you get the house to lower the flame? Should you? Go to my web site Insatiable Critic by
clicking here
and find out for yourself.
106 Lexington Avenue between 27th and 28th Streets.


***

Connect to me at twitter.com/GaelGreene.
The photograph of Yanou Collart are by Patrick MacMullan and may not be used without his permission.



Photograph from Il Buco Alimentari, Calliope, Chicago Eats and Singapura may be used without permission

Gael Greene. All rights reserved.
Fork Play copyright Gael Greene 2012.