Salt Warning. Who's on First. Clyde Scores. No Madding. UNESCO Tribute. Café China. Trucking for Citymeals.
Dear Friends and Family,
I wish I could make a dent in the stubborn addiction
to salt I detect in most chefs. I remember complaining once to Ryan Skeen, in his brief stint at Five & Diamond, that the prawns were too salty to eat. He was standing at the pass to the tiny kitchen. "But we love salt," he said, picking up a fistful and throwing it into a pot.
Donatella's pasta cook has the salt gene too. We brought our neighbors who'd never been to her pizzeria on Eighth Avenue last Friday because it's on our list of favorites. We asked for the pizza extra crisp - it was so good we ordered a second. Everyone was pleased with the chopped vegetable salad (even though its raw white carrots were too woody to chew). We shared a small black cocotte of first-rate eggplant parmigiana Donatella sent as an extra. But the gnocchi with pesto was unbearably salty. I complained and the waiter cheerfully took it away. "Can you redo it with no added salt?" I asked. How naïve of me. What could the chef do? Mix a fresh batch of pesto sauce? I don't think so. The dish he quickly brought back was still salty.
I asked not to have any added salt at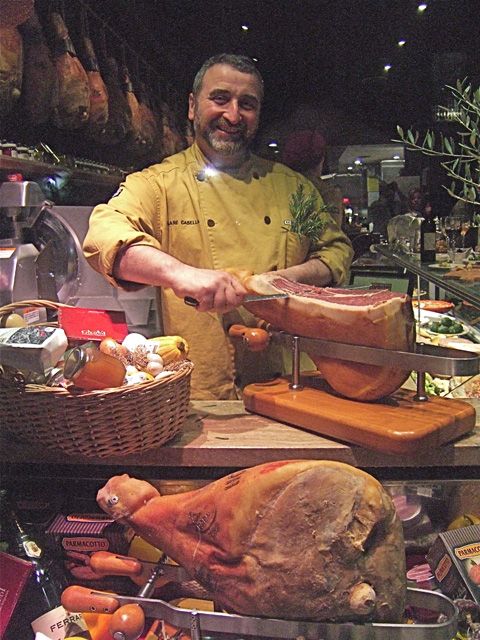 our treasured once-a-week hangout. My order of zuppa mia did not taste of salt abuse, but that night's special, a fabulous chunky bean soup, did. I hate to think that was why it was so marvelous. The mixed salad of the day was a salt lick. Cesare, calling the line that night, took it back. A second version was fine. At a business lunch a few days later, a few of the dishes were much saltier than need be. "What would happen if you just cut down the salt in each dish 10 percent?" I once asked him. He smiled that sweet daffy smile of his. That, "you ditzy dame" smile.
Since we eat out six nights a week, I am a captive victim.
***
Fork Play's green banner today could represent asparagus (local stalks have yet to arrive). Instead, our colors aim for the Mexican flag in honor of Cinco de Mayo. Yes, the red could be bolder but my PA likes the way this red echoes my hat in our logo.
***
You Ate It Here First
You would have learned about the spiritual uprising at Empellón Cocina (105 First Avenue) by reading my BITE on March 5, weeks before Pete Wells got around to
celebrating it in last Wednesday's Times. Now, I suspect, it could be months before you can get a table after 6 p.m. I wrote about RedFarm (529 Hudson Street) August 29, five months before the Times' rave - too early some bloggers snarled, but it was already thrilling the day it opened, after a month's warm-up with friends and family. If you'd read my BITE then, you could have rushed down before the lines became forbidding, long before Wells chimed in on March 7.
Crowned the new critic after Sam Sifton got booted to a top role upstairs, Wells chose Wong for his first review January 3. A pointed decision. He scattered two stars from on high with intimations of bliss - and the tight little shop (7 Cornelia Street) couldn't handle the storm. I told my readers about Wong September 19, and again November 17, when I confirmed that the place was as good as my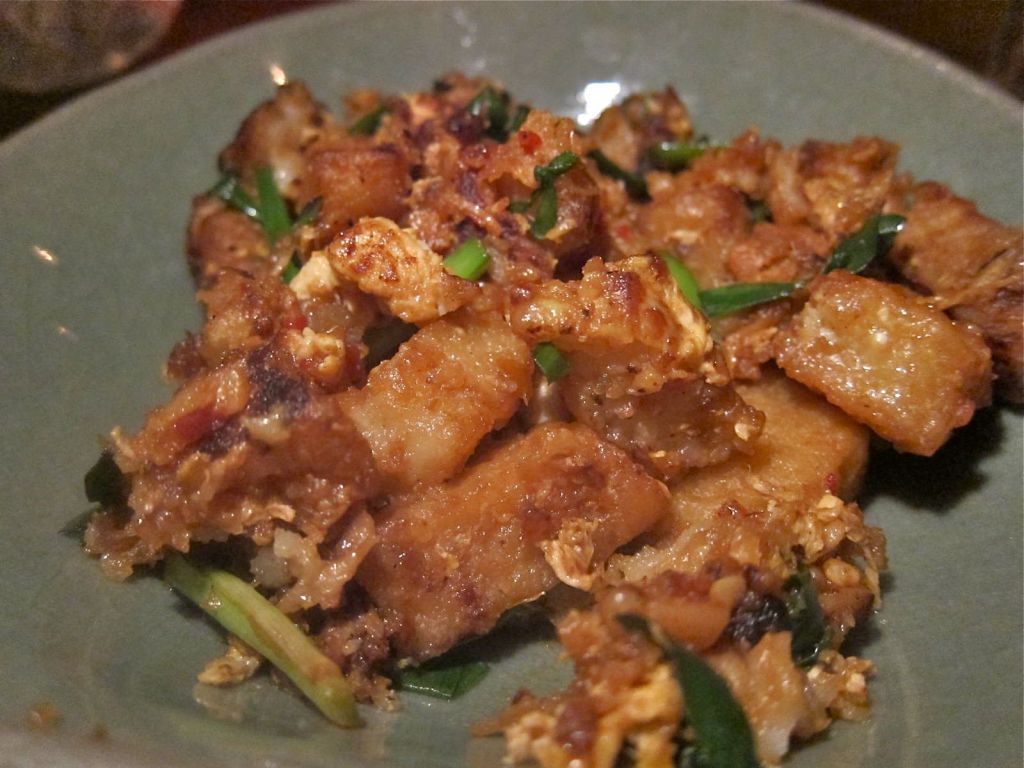 first early impression. You could have had your choice of tables for a while, at least on a weekday. My pleasure in an evening at Café China also could have been yours days before Wells' two star bow yesterday (Times Dining May 1).
Of course, the food world waits on edge to see what the Times will do. I open the Wednesday dining section eagerly myself (intrigued, if not mystified by some of the faraway little places Wells favors.) I'm just reminding loyal followers of BITE on InsatiableCritic how privileged you are to get early global warnings. And for those who've not stopped by recently, there's your reward - in the know before anyone else. Check out my Vintage articles too when you've got a few minutes to reminisce.
***


Clyde Scores

There, impossible to miss as you drive up improbable Tenth Avenue, is Walt Frazier times 25 in a staccato of bigger-than-life photo panels, stretching from 37th to 38th Street. The name on the door - Clyde Frazier's Wine and Dine - tickles me too. Wine and
dine, not beer and burp. The design, by Pritzker award-winning architect Thom Mayne from Morphosis (a Knicks fan, it turns out, even taller than Frazier), is a hoot too. Wall to wall, floor to ceiling Walt, with cutouts of his custom made suits hanging from the ceiling and 56 flat screens above the bar and the kitchen. According to Ark Restaurant boss Michael Weinstein, partner with the Knicks legend here, Walt stops by every night he's in town after the game. The dandy likes big plaids, cheetah spots and fish, simply done.
It's not easy to narrow our order. Starting with snacks, we want them all. Chanterelle owner-chef David Waltuck, Ark's new executive toque, has created a hit parade menu of everything Americans like, with Asian nuance and his own Chinese picks. Red stars signify Clyde's favorites. Click here to find out mine so you'll know what to order. 485 Tenth Avenue.

***

UNESCO Tribute

No one would argue with UNESCO's listing the Gastronomic Meal of the French as "Intangible Cultural Heritage." I smiled, trying to imagine what would be America's. Protest Marches, The Mosh Pit, Texting Under the Table?
To celebrate the honor, New York Consul General of France Philippe Lalliot joined with Omar Kahn, a well-heeled and irrepressible gourmand and Senior Partner at Sensei International, to put on a dinner.
Are you imagining a roster of France's top chefs, the usual media bigs, plus perhaps local champions of French
spirits? Too obvious. Although turning to Le Bernardin's Eric Ripert, our treasured French import, might seem obvious too. Ripert brought in David Bouley, an American who never minded being mistaken for French. Bouley served an "Oeuf Organique de Connecticut" in a comte cheese nuage crisped with Mimolette. Ripert's "Homard du Maine" was perfection poached bouillabaisse-style. Christian Delouvrier, the often overlooked ambassador of French deliciousness, did squab with exquisite petits pois de Printemps. David Waltuck, who knows everything about sublime sweetbreads, was perhaps the most whimsical choice (his and Karen Waltuck's pioneering Chanterelle so sadly defunct). It was he who insisted they serve cheese as well. Adrian Marcia made a dazzling selection and the Succès Noisette and macarons were by François Payard.
Surprisingly, the 42 seats were not dominated by the usual suspects. I spied a few media icons, some wine gurus (for treasures like Le Blanc de Blanc of Le Mesnil, Corton Chrlemagne, Chateau Margaux, and a lofty Hermitage from M. Jaboulet), Ariane Daguin, and Allan Chapin, whose Café Le Perche in Hudson provided remarkable breads. The shock was seeing a dozen students from Universities and professional culinary programs scattered among us, dazzled if not shocked themselves. "After all, they will carry on this heritage," the Consul General noted.
***



The Madding Crowd
What a lark we had that Friday evening early in the fireworks of NoMad, the new escapade of the four-star team at 11 Madison Park. It seemed as if the entire waxed-and-polished floor entourage from 11 Mad had been shanghaied to launch this new dining scheme for the group that owns the Ace Hotel, a block north. And here, in Parisian designer Jacques Garcia's faux Victoriana VIP dining room - velvet swathings, pressed herbs, slipper
chairs, crushed velvet banquettes too low for the bare table - smiling minions flit, float and dance attendance, delivering survival information, arcane poop, occasionally interruptive cheers and gifts from the kitchen.
All of us, gourmands and food world pros, bowed to the seduction. Everything we tasted was good, very good or "interesting." That usually means "intriguing, but not anything I care to eat again." A stiff drink in an oversize glass and personal tour of the "manor" - through the packed atrium with glass ceiling, riotous bar with treasures of booze, and Thatcher Wine's curated library - left me on a major high. But then I went back. It was a sedate Tuesday. Two-thirds of the retainers had vanished. The rest made me sad. Read about it by clicking here. 1170 Broadway between 27th and 28th Streets.
***
Trucking for Citymeals
Lunch takes on more meaning when you feed the homebound as well as yourself. Food truck fans are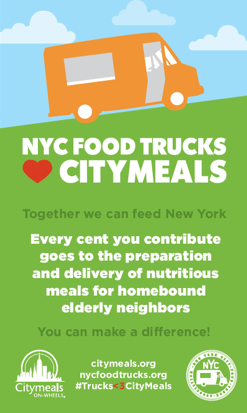 discovering this week that they can help feed a frail elderly neighbor while buying their own lobster roll, taco, grilled cheese sandwich or ice cream treat. Our town's hottest rolling kitchens have pledged to support Citymeals-on-Wheels as it delivers meals to needy seniors who can no longer shop or cook for themselves.
Some of the city's most popular roving vendors will be collecting donations through May 15. Each day, two trucks will donate five percent of the day's revenue to support the lifeline of meals going to the elderly shut-ins Citymeals serves. Last year Citymeals delivered 1.8 million meals to 16,500 of New York's invisible needy neighbors.
Among the participating trucks: Andy's Italian Ices, Big D's Grub Truck, Bongo Brothers, Coolhaus, Cupcake Crew, Desi Food Truck, Eddie's Pizza, Frites'N'Meats, Gorilla Cheese, Green Pirate Juice Truck, Kelvin Natural Slush Co., Kimchi Taco Truck, Luke's Lobster, Marky Ramone's Cruisin' Kitchen, México Blvd., Mexicue, Mike 'N' Willie's, Milk Truck, Morris Grilled Cheese, Mud Truck, Nuchas Empanadas, Palenque Colombian Food Truck, Pera Turkish Tacos, Phil's Steaks, The Red Hook Lobster Pound Truck, Rickshaw Dumpling Truck, Schnitzel & Things, Shorty's, Souvlaki GR, Sweetery NYC, Taim Mobile, The Treats Truck, Valducci's Original Pizza, Van Leeuwen Ice Cream, and Wafels & Dinges. Each day's truck locations will be listed at www.nycfoodtrucks.org or www.citymeals.org. Or follow @citymeals on Twitter.
***



China Café




"What is this neighborhood?" I cry as the car creeps through a street of pulsing bars and pubs east of Fifth Avenue in the 30s. We round the corner. Scraggly bamboo branches in pots outside signal our destination: Café China.
We're here because I couldn't resist the enticing
email that arrived from first-time restaurateurs Yiming Wang and her husband, Xian Zhang: "After years in the U.S. without finding a single respectable Chinese restaurant, we decided to open our own," they wrote. It was a pitch, of course, but unusual and provocative. "We aspire to change the perception of Chinese food as greasy fast food served dirty and cheap," they went on. "We offer a Chinese-only menu using fresh ingredients, banishing MSG and General Tso's chicken."
Now, a quick glance at the menu tells me this is Szechuan territory. Our pepperheads are raring to go, but I worry that some in our sixsome can't eat spicy. I comb the menu for respite, ordering scallion pancakes and pork potstickers, along with five-spice beef and ginger-flavored bitter melon, evoking an "Eeeow, that's hot."
Yes, you'll want to go. 13 East 37th Street between Fifth and Madison Avenues. Click here to know what we fell for.
***
Connect to me at twitter.com/GaelGreene.
UNESCO photograph courtesy of

Consulate general of France / Quentin Biscos

.

Photographs of Pasta at Donatella's and Cesare Casella may not be used without permission of Steven Richter.

Photographs of the Carrot Salad at Empell

ó

n Cocina, Wong's Turnip Cake, Clyde's Deviled Eggs, the Egg at Nomad and the Fish Blossom at Cafe China may not be used without permission of Gael Greene. All rights reserved.
Fork Play copyright Gael Greene 2012.