FORK PLAY: April 17, 2012



Toxic Food Words. Brasserie Pushkin. Caviar Excess. Benoit Comes of Age. Faux Spring at Telepan. A Girl and Her Pig.
Dear Friends and Family,
Anticipating the worst, I checked out "Toxic Food
Words" at www.chow.com. In reviewing restaurants for
44 years and ranting about food even longer, surely I would be guilty of every sin listed in "The Words We Love to Hate!"
Give me a break. Imagine four decades of mashed potatoes and flaming crêpes without resorting to "laced with" or "spiked with." I commit "luscious" once a week. I can't help it. It feels so exact to me. As for "foodie," shall I say mea culpa? The 1985 American edition of the "Official Foodie Handbook" by Paul Levy and Ann Barr, gave me credit for first using that term to embrace the mushrooming ranks of like-minded dining enthusiasts. (And why isn't "mushrooming" on the toxic list?)
I doubt that I was the first to evoke "decadent," applied to a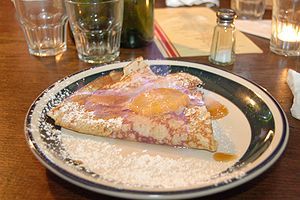 twice-roasted potato, but I'll plead guilty there. "Foodie" the appellation was fresh and not patronizing before I and the world abused it. I'm pleased to say I have never written the word "yummy," but I think it a lot and say it to close friends. I've never committed "flavor profile" or "turkey day" or "quaff," "jaw-dropping" or "sold like pancakes." Though some may say I invented "foodgasm," I have never typed out that word before this moment. Prove me wrong and I'll treat you to dinner at RedFarm.
***
My assistant, Lauren Bloomberg, must take credit, or blame, for today's colors.

She chose ramps green and soft shell crab coral as harbingers of spring. I probably don't need to repeat my disdain for ramps for inspiring a conspiracy to cook springish at any cost.
***
The Russians are Coming
Brasserie Pushkin, a seedling of Moscow's popular Café Pushkin, set in a 19th century Russian mansion, by
entrepreneurial artist Andrey Dellos, landed like a mirage on West 57th in early March. It's housed in the awkward space where Shelly Fireman's La Tradizionale finally bowed out after heroic makeover attempts. The menu, styled as if it were "The Pushkin Telegraph, Vol. 1," has vintage graphics and pockets of prose. It does look a bit like Trader Joe's flyers, but so what? It's whimsically disarming and you can wile away the moments reading as you wait for the next course, which may or may not take a while.
I can see the royal banquettes just past the macaron shop and the Murano chandelier as we trudge upstairs - a
trek no one at Shelly's ever dared make us do. Now we're parked on the low-ceiling mezzanine, with Titian blue skies and cherub wallpaper overhead, walnut boiserie, and waiters with cubist pompadours. Shadows of leaves behind glass coyly suggest a garden lurks beyond, not just an elevator shaft. The place seems to be full of people speaking Russian. Amazing what $5 million dollars worth of rubles can buy. I'm sure Mr. Fireman would have a word or three for it. Click here to find out what we ate, what you should order. Try the chocolate macaroon and swoon. 41 West 57th Street between Fifth and Sixth Avenues. 212 465 2400.
***


Caviar Excess
Sitting upstairs at Brasserie Pushkin
beside an exuberance of Russians reminded me of the last time I had more caviar than I could eat. Moscow was frigid and grey when our rag-taggle crew of writers arrived for the opening of the 10,000 sq. ft disco, Manhattan Express, in the Hotel Rossiya, facing Red Square. It was 1993. As co-directors of then sizzling Club USA, nightlife magnets Will Regan and David Rabin had been fingered as consultants. There was a gun check and metal detector at the door. Moscow was grim after the breakup of the Soviet

Union. People lined up along the street to sell a bit of lace, a jar of pickles or a lamp so they could buy bread or potatoes for dinner.
The Post's Richard Johnson had an American friend living in Moscow who offered to get us caviar for $85 a kilo. The night before our flight home, he delivered the tin and a tall Nescafe jar to repack it in. Russia had strict export limits on caviar - grams, not kilos - and metal would be picked up in security, he warned. I filled the jar to the brim, licking the spoon. There was so much caviar left. I didn't want to wolf it down. I feared nightmares in which I was or was not Catherine the Great. Next morning I ran out to find another jar. The small Nutella with its plastic top looked about right. I raced back to my room and flushed it away, scrubbing to obliterate that sweet nutty smell. I put the big jar in my suitcase and the small one in my tote. If one got confiscated surely the other would sneak through.
That morning there was an attack on the White House
- their White House. Chaos paralyzed the airport. There was no security line. On the plane, a stewardess didn't mind stashing my Nutella in the fridge. Back home, I gave the small jar to my adored hairdresser Frederic Fekkai. The bigger one went right into my fridge. I didn't give a party. I didn't invite friends for cocktails. I didn't even mention it to my guy. Maybe it was outrageously selfish of me. But it's not like I hid it behind the ketchup bottle and the Dom Perignon.
Every morning for weeks, I piled firm grey caviar on bagel thins I cut and toasted myself, sometimes on cream cheese, sometimes with a dab of yogurt. It's not that I would have denied Steven.He just didn't seem all that interested. I ate it for days. It never spoiled. I felt very rich. I felt, in another life I might have been Russian.

***
Benoit Comes of Age
I was hungry to eat French. Not "Modernist" French. I was thinking classic, and not tricked-up classic, either. It would be a vacation from dazzling pan-Asian, fiercely creative American, Italian on a bender, yet another pizza joint. Alain Ducasse's Benoit New York struck me as the obvious choice.
Some people rescue stray cats. Others I know adopt vulnerable recently-divorced husbands. Visionaries take on ravaged countries. Alain Ducasse, in his evolution from Michelin three-star wunderkind at Louis XV in Monte Carlo, to a Gallic iteration of a global Let-Us-Entertain-You emperor, has a weakness for aging bistros. His Benoit offspring, where Jean Jacques Rachou tried to do Brasserie La Cote Basque, is inspired by the Parisian original, 100 years old this year. It's not that I didn't like Benoit when it first opened in 2008, I did. I just never thought to go there. Now, with the obsessive passion for perfection of its latest kitchen commander, Payard's Phillippe Bertineau, this may be Benoit's big moment. If you agree with me, that Frenchness is needed more than ever, click here so you'll know what to order. 60 West 55th Street between Fifth and Sixth avenues. 646 943 7373.
***



It's Not That Great Being King
It was probably the surprisingly balmy evening that got me feeling very "Our Hearts Were Young and Gay." The outdoor tables at King were almost full. Inside, the doors were flung open to a rather bucolic village mood on the edge of Soho. Something about the reach for majesty in the interior pleased me. It borrowed from baronial vintage West End Avenue lobbies. And the waiter in the fedora with the casual style was clearly a professional. I'd never heard of chef Francis Derby and I was instantly on guard when his menu offerings took on airs more science lab than dinner.
Then came that amazing clam and mussel stew under
thick toasted country bread slathered with sublime rouille. I gave the place a measured rave in BITE. When I questioned chef Derby on Sunday about the menu, he somehow forgot to mention he'd walked out two days earlier, when his kitchen reign was about to end anyway. As he finally confessed Monday, after my blog was activated for all to read, "They kept talking about a new menu and it clearly wasn't going to be mine."
We quickly attached a caveat to my King blog. But that's how I found out something was shifting in the Denton Brothers empire, because the smoothy in the fedora was Joe Denton. Yes, the Dentons split. Brother Jason got the empire. Joe got a buyout and was talking about a fresh start in Brisbane, Australia, where his wife and child were already living. I know there's more to this story but I couldn't tease it out from either brother. If you're trying King, you're on your own. 5 King Street between Sixth Avenue and Houston. 212 255 0700.
***
Faux Spring at Telepan

On a recent cruise, we met Brian Van Flandem, the man who created the first cocktails at Per Se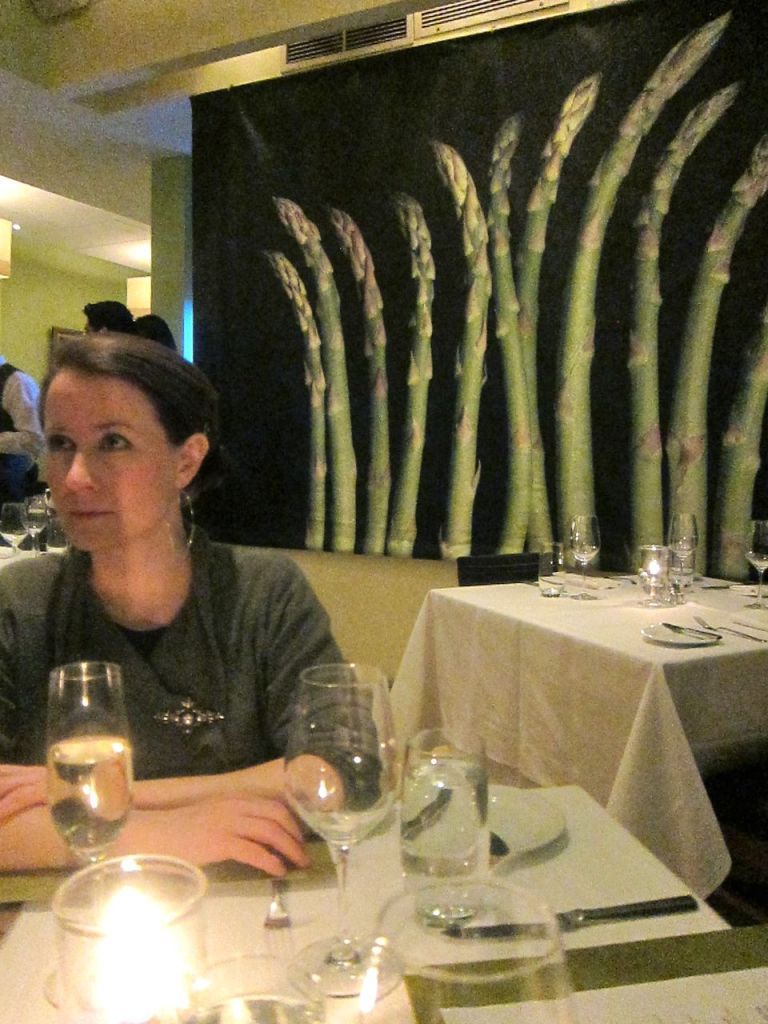 and went on to become a world-tripping mixologist consultant. Lively, passionate, opinionated, determined to prove you can create a great drink from almost any fruit or vegetable and spirit or two, he confided he lived not far from us (although he was rarely home) and he loved Telepan.
That's where we met last week, facing a spectacular mural of asparagus.Recently, Bill Telepan has been getting rave reviews for his dedication to Wellness in the Schools. But before that, before he got his first look at what his daughter's school cafeteria was feeding her, I'd met friends for a summer lunch and discovered his remarkable finesse with vegetables. That day I tasted three variations on corn.
This week he confessed that the early arrival of spring-like weather had knocked him for a loop. Normally
he would still be focusing on root vegetables, sunchokes, cabbage and Brussels sprouts. It was the weekend when Passover and Easter collided. He sent out a special amuse of a smoked trout potato latke, chopped liver with a small matzoh flag and a dollop of dried fruit chutney salad, his charoses representing the mortar used by Jewish slaves to build the storehouses of Egypt. I found the vegetable-bread soup tame, but was wild about celeriac in mustard seed crust with escarole flan and white beans. I can't think of another chef who would even dream it. And as his mixologist fan promised, the chef's signature house-smoked brook trout on a buckwheat-potato blini was a thrill to speed my heart rate. 72 West 69th Street. 212 580-4300.

***

A Girl and Her Pig


Are you an April Bloomfield sycophant? Have you been hungering for her cookbook? If you're not quite
sure, not totally committed, as I have been, to this woman's totally over-the-top maniacally piggy overdrive at The Breslin, you'll know when you see the cover of "A Girl and Her Pig" (Ecco 29.99). That is April, too shy to emerge from the kitchen, plain un-made-up face, hair pulled back, a baby pig slung over her shoulders. It's for you or it isn't. You could heed Jamie Oliver, "This chick cooks like a ninja, and now she's giving you all of her secrets - what are you waiting for?"
That's the point. If you had hoped for more about Bloomfield, early angst, erotic confessions, a soupçon of kitchen confidential. Apparently scarily demanding in the kitchen, she drives everyone, even herself, for a perfection she cannot reach, says her ghost, J.J.Goode. But she does tell you what you need to know about lemons, and salt-packed anchovies, her obsessiveness about tomato
ripeness. She doesn't like shelling peas so she buys them frozen for the green pea and ham soup she resurrects (from the "chilly day when dad was being stingy with the heat"). Did you know you have a choice of keeping the soup green or not? No fooling, no deviation, no pretension.

As for her marvelous (I won't say mind-blowing, because that's toxic) Caesar salad - the best I've ever eaten - she likes to make it and eat it with her hands. I'm licking my fingers. That's how I eat it, too.

***
Connect to me at twitter.com/GaelGreene.
Photographs of Brasserie Pushkin's coat check lockets and pelmeni, Benoit's skate, King's clam and mussel stew, and Telepan's asparagus mural and house-smoked trout may not be used without permission of Gael Greene. All rights reserved.
Fork Play copyright Gael Greene 2012.