FORK PLAY: March 27, 2012
Shades of Blue. Steak Frites. La Quenelle. Vitae. Sloppy Serafina. The Hungry Giant
Dear Friends and Family,
Do you reel, amazed, amused, from each new shock, aware of its history as the Times evolves? The loss of a
column. The tiny print. Ads on the front page. And just a few days ago below the fold, Sex. S&M. Bondage. "Discreetly Digital, Erotic Novel, Sets American Women Abuzz," the headline read. I almost choked on my morning kibbles and bits. "Abuzz"? Skip to the jump. "Aflame" would be more like it. An erotic trilogy in print - yes, lovely old fashioned print - has apparently awakened not just hunger for more erotica, but actual sexual heat.
"Fifty Shades of Grey," an erotic novel by an obscure author that has been described as "Mommy porn" and
"Twilight" for grown-ups, has electrified women across the country," the report began. There was a book auction. Big bucks committed. There will be a 750,000 copy print run in a redesigned paperback edition.
This is the same NYTimes that brooded in 1966 over including the word cunnilingus in a review of an off-Broadway show where that very act occurred on stage. "Isn't there a scientific word for it?" Managing Editor Arthur Gelb asked the Culture Editor, my then-husband Don Forst.
"Yes, there is a word" Don said. "It's cunnilingus."
And now panting, heaving Chicklit with whips, chains and handcuffs is front page fodder.
I immediately thought of my own erotic novel, "Blue Skies, No Candy," my constantly concupiscent protagonist,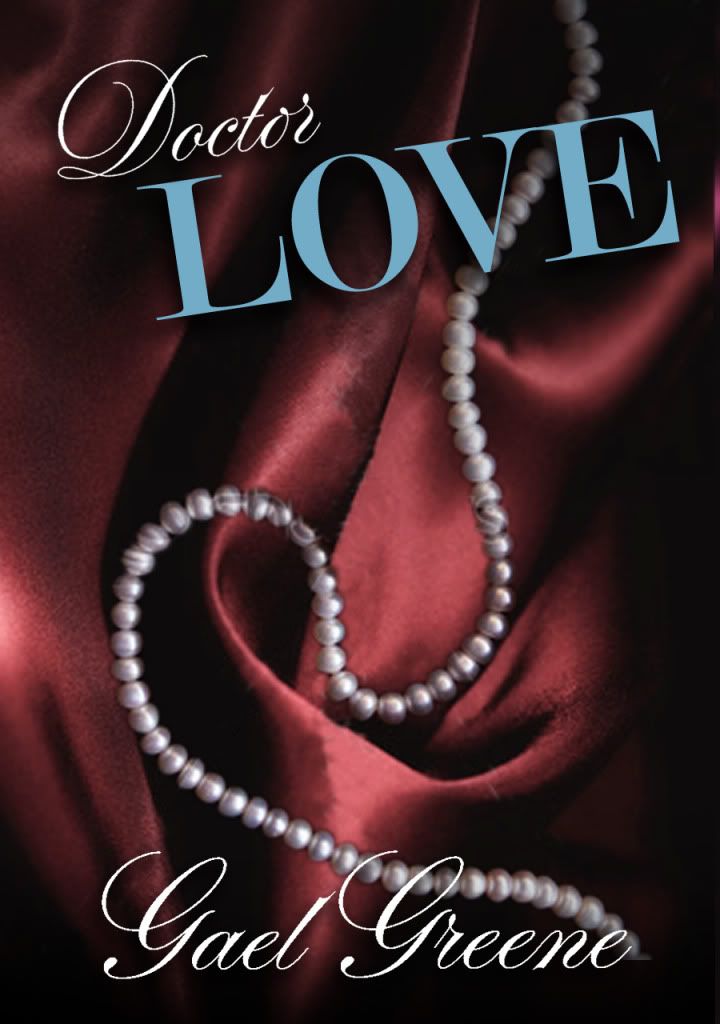 Kate Alexander. A bestseller in both hardcover and paper 35 years ago, I recently published a digital version. I also posted "Doctor Love," my second erotic novel online for sale, in time to heat up Valentine's Day. When I brought back "Delicious Sex: A Guide for Women and Men who Want to Love Them Better," I felt there was never a time when Delicious Sex was more needed. Click on any book cover to order now.
I read the Times quoting Lyss Stern, the founder of the DivaMoms website, on the new horniness: "I think it makes you feel sexy again, reading the books." Amen.
What do you read after you've flamed out on "Fifty Shades of Grey?" Shades of Blue, I hope. It's time to reprint "Blue Skies" and "Doctor Love" in paperback. I am sitting here right now waiting for savvy publishers to call.
***
Our colors today, a shade of gray and a shade of blue, celebrate American's new passion for porn.
***
A Tip of the Hat
Most of the regulars on my reviewing safaris are eager to try the hottest new place. But my friend Cassandra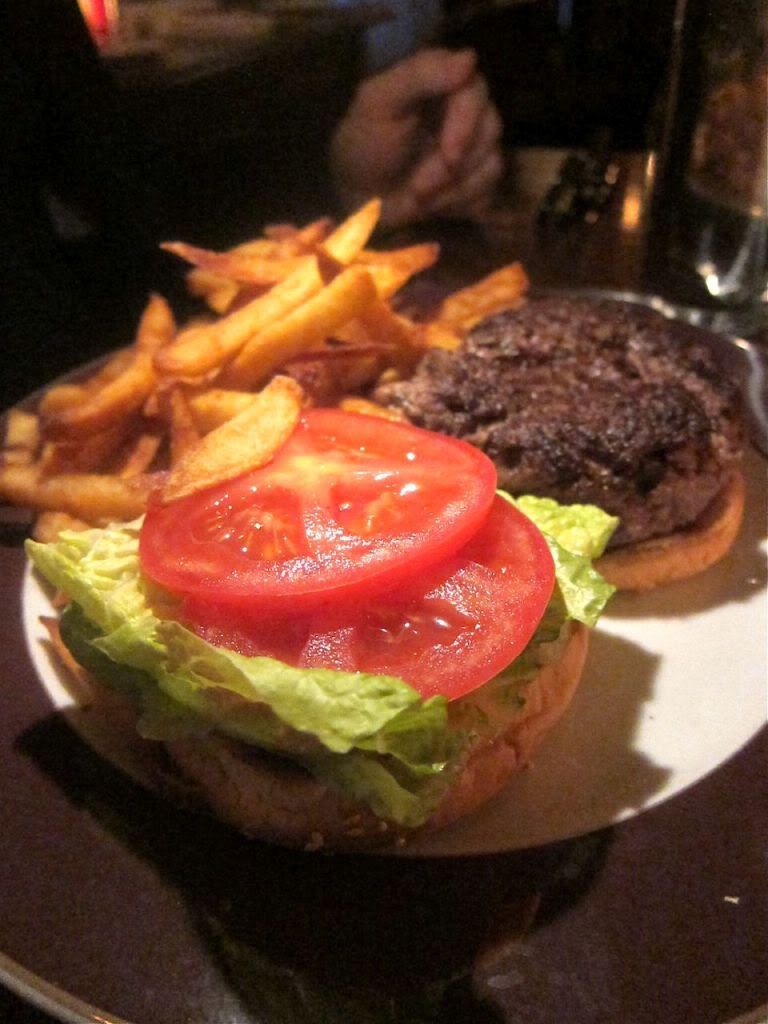 seemed determined last week to meet at an off-again-on-again oldie, one of her neighborhood favorites, Steak Frites."They have an amazing salad with seared tuna and shrimp, enough for two, so inexpensive. And I love the mushroom ravioli. And the burger is great. Of course, I would never order it. (Cassandra has a whole fish or the closest swimmer to whole she can get every night.)
I'd been to Steak Frites eons ago. I vividly remember a great over-salted burger. Now the place has been amusingly tricked out with dressmaker mannequin forms and hats. The lights hanging over the bar wear London Derby shades. I could walk right out in that big brimmed red felt number in a row of chapeaux lined up on a shelf near our table. It's surprisingly busy for a Monday."It's the food and the prices," Cassandra hisses.
My guy has been on an onion soup binge lately. This lush cheesy version is as good, maybe even better, than the excellent rendition at Benoit. The rest of our foursome
shares the Côte d'Azur salad as a starter. It comes on a platter with big thick triangles of seared tuna and jumbo shrimp - tasteless and only slightly overcooked. It's actually a first-rate toss of greens with avocado, grape tomatoes, cucumber, artichoke, haricots vert, roasted red pepper and black olive - very fresh, zestily dressed.
You definitely won't close your eyes and think you're in Italy eating this spaghetti Bolognese. Al dente is not spoken here, but it's acceptable. The mushroom ravioli freshened up with arugula and fava beans in a pecorino broth is a bit tough. Or just troppo al dente?
Proprietor Andrew Silverman does indeed have a hat fetish, he confides. "I've always wanted to open a place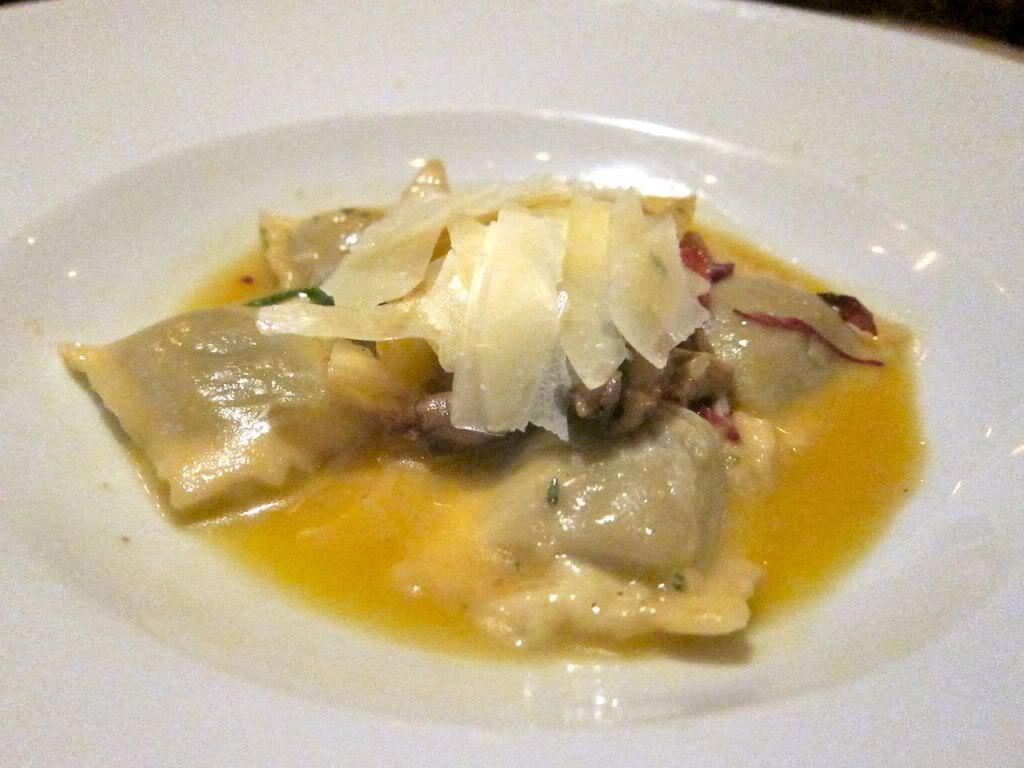 called Brasserie Chapeau."

And he's not done dressing up Steak Frites. The oyster bar opens this week, and he plans to put all the waiters in hats. Alas, that $19 grass-fed hanger steak will be more expensive any minute. But the Union Square burger is plump and gently handled, lush with caramelized onions, applewood-smoked bacon, cheese if you wish and excellent fries. If this were my neighborhood, I'd be a regular here too. 9 East 16th Street just west of Union Square, 212 675 4700.
***


Reinventing the Classics at La Quenelle
While marketing crêpes at Café Breton
in hostage to hard times, Chef Cyril Renaud was coasting on neutral.

He spent hours plotting a return to the high-toned and sophisticated ways that won him three stars at now defunct La Caravelle.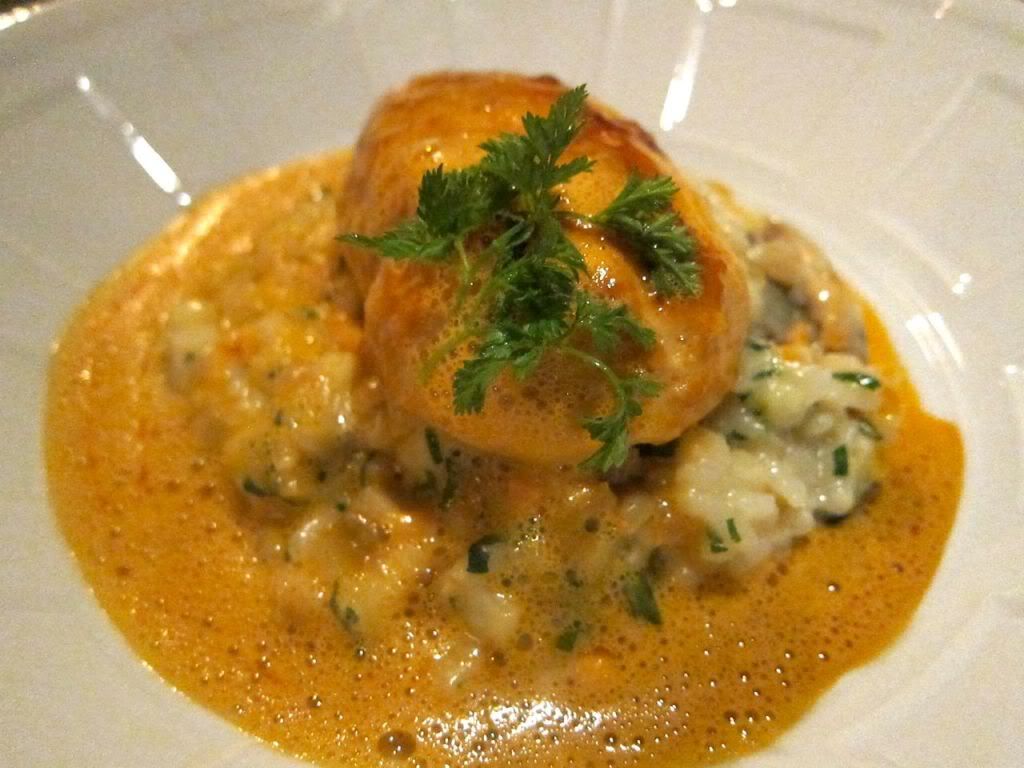 It's clear from the flare and complexity of the new menu - Kamut grains and black rice, red wine maple sugar reductions, chocolate braised short rib - flipping crêpes and burgers could never fulfill this man. I imagine him in his signature chef blacks, brooding and fantasizing over his crêpe pans watching the Dow for a sign.
As stocks hit a four-year high, he was ready to launch La Quenelle, where his couturier variations on classics are confident and mostly delicious at prices that are not unduly aggressive these days: entrées $27 to $32.
Unfortunately, having aban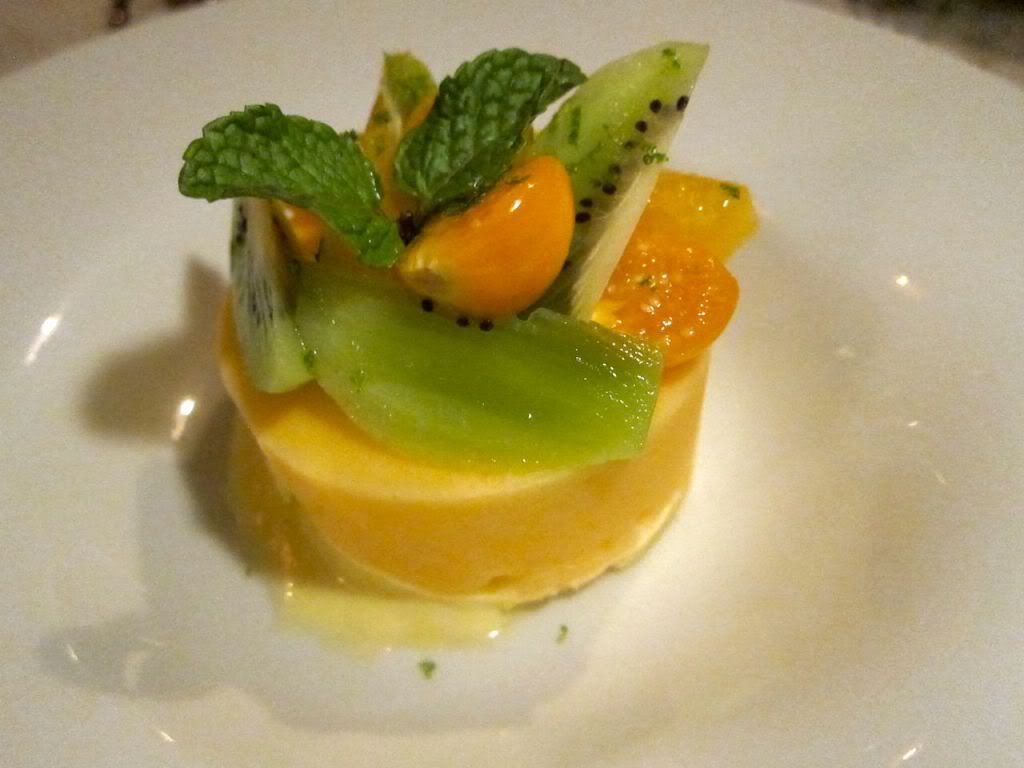 doned his charming digs at Fleur de Sel when the economy hit the skids in 2009, he was left to mount his high hopes in the same crabby space that was good enough for crêpes but not kind to his signature pike quenelle with seafood and roots risotto. If you loved Renaud's food in the glory days or, if you hunger for innovation with a French accent, you'll want to check in anyway. What should you order? Click here to find out. 254 Fifth Avenue between 28th and 29th Streets. 212 213 4999.

***
Chef Plays Up His Curriculum Vitae
I might not have rushed to Vitae if I'd realize it was just in its third day. But any time I don't have to hop a $25 taxi to Alphabet City to chart a promising new feeding venture, I'm eager. This is a soaring space on a midtown street not far from Rockefeller Center. And the dining room is empty so we have our choice of tables, with time before the luscious amuse to study the cove ceiling and chain-link
fence motif that looks good inlaid in terrazzo on the floor, but bizarre on the walls.
I'm a dark rum fan but after a few sips of a tangy, woodsy Bourbon sidecar, I could become a convert to bourbon. Sinatra crooning in the bar drifts our way. Warm squares of Parker House-inspired rolls arrive on a black iron pan - slicked with duck fat, I discover later. Then, for each of us, a demitasse of celery root soup with trout roe and chive, complex and delicious. I burst a crunchy fish egg with my tongue.
It's rash to telegraph a rave so early, but I was excited to discover Edwin Bellanco, a chef I've never noticed before and who's been around forever. Click here to read more and discover what dishes fired my enthusiasm. 4 East 46th Street between Fifth and Madison Avenues. 212 682 3562.
***



Sloppy Serafina
Granted, Serafina has prospered and multiplied
around town on a measure of Italian charm and brio, adequate pastas and barely acceptable pizza. Still, I was hoping its latest outpost would become our new neighborhood hangout for supper after the movies in the same space as Tom Valenti's West Branch that we loved. The two of us came directly last night from our usual 68th Street movie house in a bemused state from belatedly discovering "Hugo."
I liked the greeting. I didn't need to say a word to get seated at a four-top rather than a mingy table for two. But then the disaster began to unfold. I had promised my guy an early evening. "We'll have our pizza and pasta at the same time or bring whichever is ready first," I told the waiter. The spaghetti aglio e olio arrived lukewarm and timidly garlick'd. I sent it back for another try. I loved the buffalo mozzarella on our margherita pie - the menu offers four variations in cheese - but the crust was tasteless, the tomato sauce nerdy.
The re-warmed pasta - maybe it was even freshly made - came steaming, without a serving spoon, a tiny quibble. Then a busboy brought small saucers when I asked for plates so we could help ourselves to a little of each dish. I didn't see a sign of the glass of Barbera d'Alba I'd ordered until it appeared on the bill. How long has this place been open? Weeks now. Come on, guys, you can't fool Upper West Siders. 2178 Broadway at 77th Street. 212 595 0092.
***
Munch-and Sip-and Pop-up Giant
"I hope you won't mind my bragging about my wife Caitlin," the chef's favorite ghost writer Andrew Friedman emailed. A pop-up book about food for kids. I had to have it.
"How Do You Feed a Hungry Giant?" by Caitlin Friedman, illustrated by Shaw Nielsen (Workman $18.95) is preposterous in a way that seems to delight children. I do hope they still read or like being read to and maybe
love pop-up as much as I do.
A hungry giant lurks in the backyard near the sandbox. Frankly a bit scared, Oscar starts with three bunches of grapes and quickly empties the fridge of leftover pizza, quesadillas, chocolate milk, then starts on the pantry: thirty three jars of peanut butter, one hundred and ninety seven chocolate chip cookies Mom has made for the school bake sale.
A perfect gift for a gourmand's child: It's got the joy of eating, the satisfaction of feeding the hungry, plus a small cookbook tucked into a pocket, "Recipes for a Hungry Giant or 8 Little Kids." It's wanton and silly and not preachy at all. Click here to buy it.

***

Connect to me at twitter.com/GaelGreene.
The new cover designs for Blue Skies, No Candy, Delicious Sex, and Doctor Love are from chowciaodesign.com.

Photographs of the Burger, Dressmaker's Mannequin,

Côte d'Azur salad

, the Derbys at the Bar and the Ravioli at Steak Frites; the Quenelle and "Creamsicle" at La Quenelle; Vitae's Gnudi; the Spaghetti and Room at Serafina UWS may not be used without permission of Gael Greene. All rights reserved.
Fork Play copyright Gael Greene 2012.