FORK PLAY: December 22, 2012
Downtown Celebrations. Eating Around: North End Grill. Alison's. Anejo. Don Antonio. Papa Gaga.
When I started Insatiable Critic in 2008 - before I got deleted by New York magazine - I planned to write a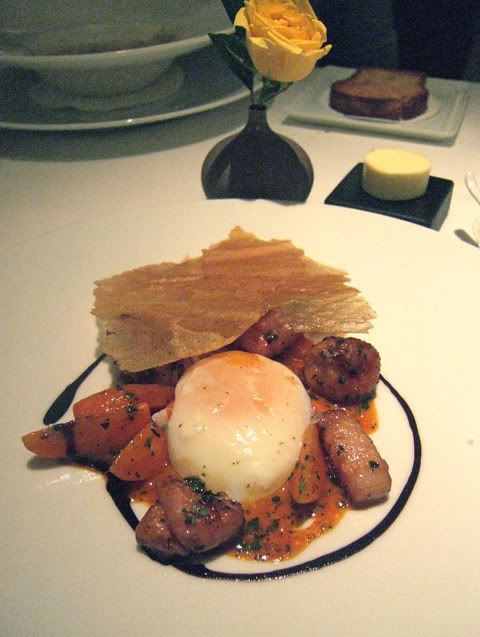 weekly blog, BITE: My Journal, and an Ask Gael too. That hasn't quite worked out. I get Asked. And I answer quickly by email, but rarely have the time to fancy it up for posting on my home page. I'm not sure where all the times goes. Some gets Twittered away.
If you make your own reservations you know how much time that takes, finding a spot that isn't already fully booked between 6 and 9, back and forthing to coordinate with friends. Always a nap before dinner. Got to wake refreshed as if it were a new day, to do justice to both friends and dinner.
This week I got an email from a new bride wanting a place downtown to celebrate her wedding. They are both wine professionals - no Spanish restaurants, she instructed, since her husband sells Spanish wine and that would feel like work - and not outrageously expensive.
Immediately I thought of Corton with its princely cellar of Burgundies. Perfect for winos. I love the room. That big square of creamy white with embossed plaster flowers, crystal necklace lights in each corner - I find it highly romantic. And though Paul Liebrandt's food has a modernist flair, not my weakness, it can be quite good. I love that irresistible mignardises come in a
triple-tier-see-through box. If they do choose Corton, I'll hope owner Drew Nieporent is doing his host number. Maybe he will recognize them as wine professionals and pour something ecstatic. 239 West Broadway, Tribeca.
I didn't include my own favorite downtown spot of the moment, ABC Kitchen, because the chatter can get operatic when it's full. I try to go once a month myself but never on my honeymoon. 35 East 18th Street between Broadway and Park Avenue South. I took my Valentine to Kibo for his favorite vegetables from the robata and the fabulous spicy beef with udon. We had a Japanese Caesar salad too and the curried cauliflower. 111 East 18th St. at Park Ave South. To see my other choices for celebrating downtown, please click here.
***
I found this stunning combination of mauve and turquoise in a photograph of a painting by Bacon and borrowed it for FORK PLAY.
***
South to North End Grill
Crawling along North End Avenue in Battery Park City, I felt far from Manhattan, in Cleveland or Connecticut, even a well-bred commuter town in New Jersey. We hadn't hit the Ellis Island Ferry mooring yet when the cabbie spied tables in a vast stretch of window.
Inside, the fresh-scrubbed staff was very Danny Meyer: smiling, welcoming, breathlessly accommodating. I loved my Jack Rose, but alas it didn't numb my nerve ends to the passing parade bumping my chair in the too-crowded passage between tables in the dining room. But I loved the energy of the design, the black wall of recycled snow fence, the light shades like umbrellas floating up above.
Meyer came up to the table and asked if I wanted him to pretend I wasn't there.Floyd Cardoz, liberated from the more Indian fusion of his reign at Tabla, stopped by too, complimenting himself on the halibut. He was correct. It was perfectly cooked, a splendid plate from a menu with unusual appeal. He seemed exhausted. Still mastering an exotic grill. Of course I'll be back to taste more. Click here to read my first impression. 104 North End Avenue off West Side Highway. Enter opposite Chambers Street.
***


Alison for Grownups
Probably those of you old enough to remember the romantic intimacy of Alison on Dominick are old enough to complain constantly about noisy restaurants. Alison is back from her long Hamptons retreat and her new Alison Eighteen is as decorous - well-lit and sou
nd-gentled as you might wish.She fled the city for the Hamptons after 9/11 when the air was still foul and her street was closed to food deliveries. For a while there was an Army truck at the curb and guys carrying machine guns.
At first on returning to Manhattan, she had no plan to open another restaurant. It was the ground floor Flatiron space in her partner Michael Namer's Alfa Development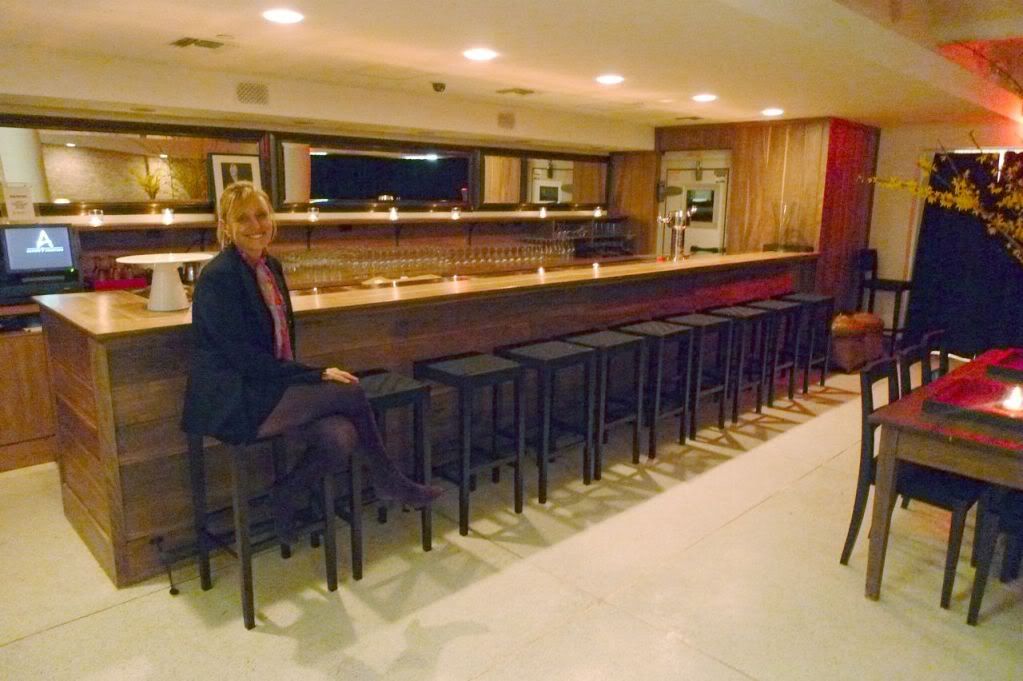 headquarters - 7000 square feet in a 1905 building - that enticed her.
From the moment you check in, you feel that grownups are in charge - or at least, the professionals have drilled the youthful corps for more than ten minutes. Robert Gurvich, who ran the kitchen at Alison in Bridgehampton returns too. For a reading of what I tasted in a BITE that is definitely an early first impression, please click here. 15 West 18th St. between Fifth and Sixth Avenues.

***
Anejo by Anjelo Sosa
I was excited to see some restaurant action on Tenth Avenue and especially a move by Angelo Sosa, a chef with good bones (CIA, Jean-Georges' kitchen). I liked his
cooking at Yumcha, so I was eager to check out Anejo Tequileria.
It's tucked into a tiny storefront with a bar and mostly tall tables. The dining room traffic was run by a patient and committed lieutenant, especially considering the cramped, limited space.And the waiter was instantly on our case.A very good margarita, marvelous ballooning taco chips - the menu called them crackers - and pineapple guacamole with chipotle put me in a good mood. I liked the mizuma salad with cashews (I would have preferred them just spicy, not sweet.) and a toss of radishes and radish greens even more. My pork tamal striped with crema was good enough.
But then came tacos, very ordinary tacos. Tacos are the point here. There are no grandes platos, just guacamole, salads,
a few small plates (sopes and tamales).I decided it was not worth a BITE. Sosa fans will find it anyway and they can decide. Actually, Todd English and a posse of guys wandered in as we were about to leave.And he looked happy. If the locals love it, good for Tenth Avenue. 668 Tenth Avenue at 47th Street.

***
What is it about Naples?
Our four days in Naples a few years ago when we couldn't find a pizza to love only convinced me I needed more time in Naples. I wanted to rent an apartment, stay for a month and figure it out -- the city, not the pizzas. It's that soft soggy over-oiled crust that puts me off. I like the look of Don Antonio, the new Hell's Kitchen venture of Roberto Caporusco of Keste, in partnership with his fabled mentor, Antonio Starita, the dean of Neapolitan pie-makers. I've no
doubt the long narrow space on West 50th will get a pre-theater crowd and Keste fans will pace the sidewalk waiting for tables to turn.
I might go back just for another taste of the breaded and fried spaghetti cake, fritattine. Shouldn't all Italian restaurants do that with pasta? Other antipasti, like homemade burrata, luscious potato croquette and the classic arancini are wickedly delicious - items to eat and hate yourself afterward, especially if you are having a pie top-heavy with mozzarella, as they are here. Our foursome had two. As for the Montanarine, Antonio's fried and then baked free-form oval - I loved it. But we are crisp pizza lovers - not cracker thin, just cooked through. Celeste on Amsterdam at 84th Street does it. So does Donatella Pizzeria on Eighth Avenue at 20th, if you ask for it "well done." Enough pizza confessions. Check out the latest at Don Antonio, 309 West 50th Street.
***
Papa Gaga at Joanne's
He can't help being Papa Gaga. A guy can't hide in a cave just because he's got a daughter with so much chutzpah she has changed form and everything else about herself on her relentless quest for acceptance and then fame. (I'm not PETA or a vegetarian, but I will never think of her without seeing her draped in meat.) It doesn't seem fair that Joseph and Cynthia Germanotta couldn't quietly and modestly open Joanne's (named for his sister), an earnest little feeding station where Vince and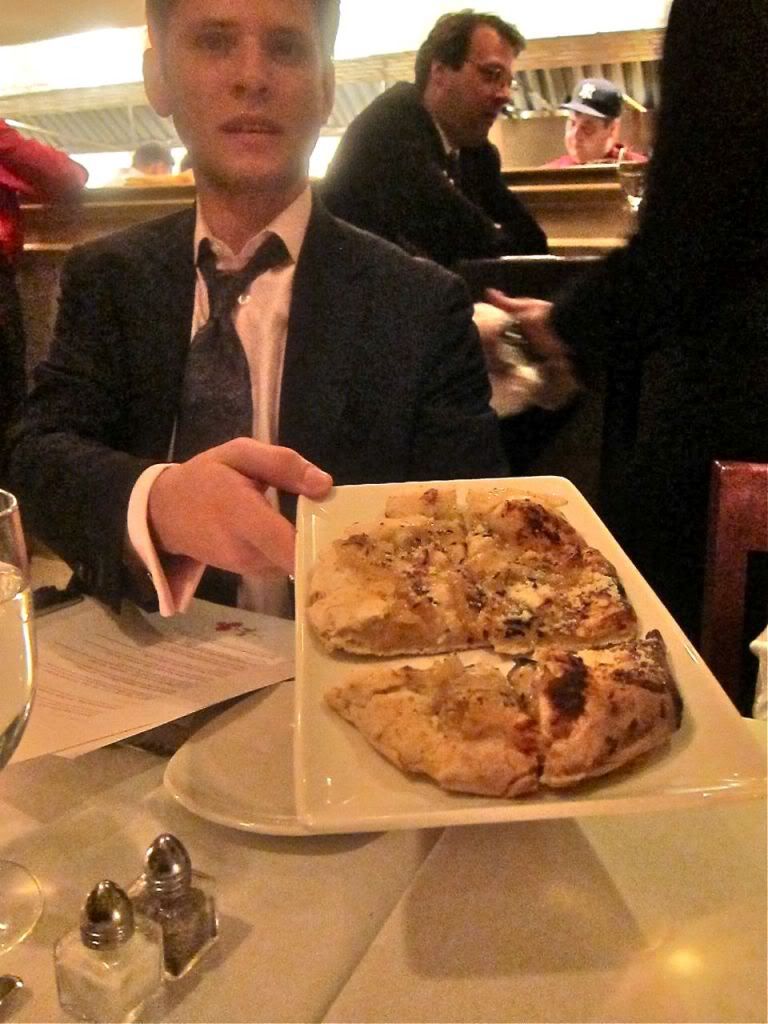 Eddie's once was, without drawing heat-seeking missiles. The missile was unleashed by the Post's Steve Cuozzi, who found the place so pitiful on the first night that he couldn't control himself. He didn't fault executive chef Art Smith, who was there from Chicago that night, clearing tables himself, Cuozzi reported. It was the Lady's family. "For Day One, couldn't they try to get some people who act like they've seen the inside of a restaurant before?"Ewww. So mean.
I'm afraid the service is still lame, though every time Cynthia Germanotta came to our table, we succumbed to her charm. It's the kitchen Art Smith (an Oprah discovery)
should be worrying about. Aside from the fine focaccia, a lush lasagna (too small, too pricey) and my $38 veal osso bucco, much needs to be reconsidered. Okay, the meatballs and spaghetti were fine - but $23?
I've had wonderful food cooked by Art Smith in the heat of competition on Top Chef Masters. Art, what can you do? 70 West 68th Street between Columbus and Central Park West.
Connect to me on twitter at twitter.com/GaelGreene.
Photographs of Corton's Exquisite Egg, The Udon from Kibo, Alison in Her Cellar Lounge, and the Fried Pizza at Don Antonio may not be used without permission of

Steven Richter

.

Photographs of North End Grill's Bar, The Fabulous Bean and Kale Soup at Alison 18, Todd English Late Night-ing and the Pork Tamale at Anejo Tequileria, and Joanne's Spaghetti With Meatball, Foccacceria, and Osso Bucco may not be used without permission of Gael Greene.
Fork Play copyright Gael Greene 2012.