FORK PLAY: December 8, 2012
Adultery Is Back. Caffe Storico. Masak. Bowery Diner. Water Club's Sunday Deal. Dinner at RedFarm.
"Adultery is back," said the ad on top of a cab.
What could they be advertising? I wondered. Did
adultery ever go away? Surely I've done my best for the cause of playing around. More than Newt Gingrich, if I may say so. Blue Skies, No Candy, with its hero Kate Alexander, champion of adultery in the afternoon. Delicious Sex, my how-to-keep-it-hot guide to having more fun in bed.
Oh, I see. It's an ad for Mad Men. Well then, I'll borrow it to announce I've just brought back my 1981 novel of ecstatic adultery, Doctor Love, as an ebook - available till February 16, on sale for just $1.99.
I've retired from the euphoric marathon that elevated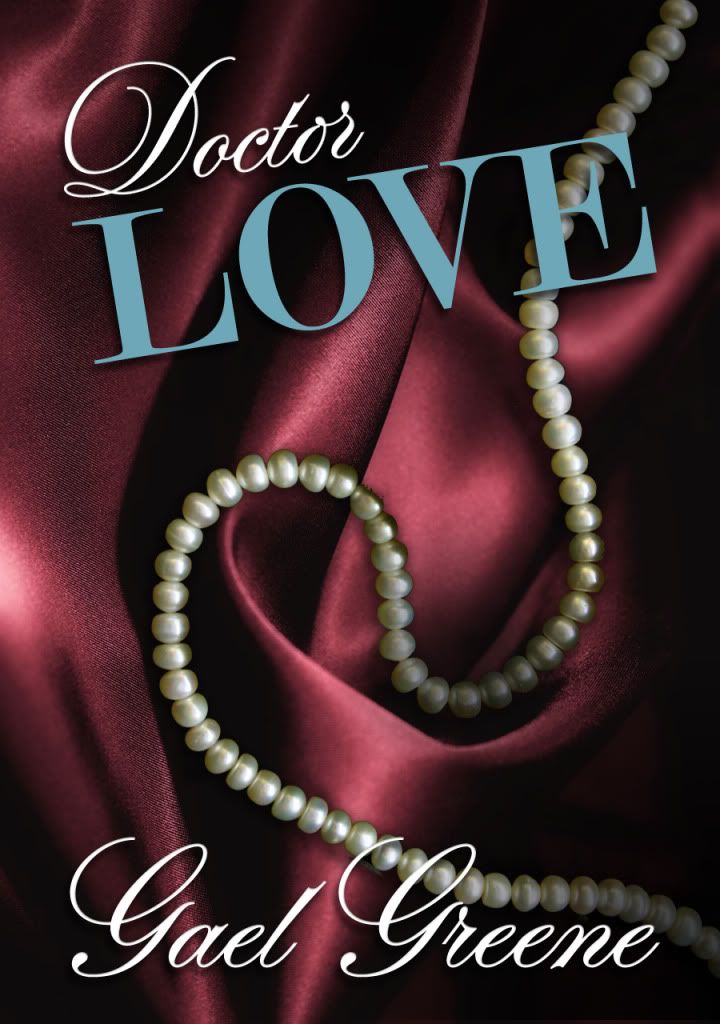 temperatures for the adventurers among us in the '60s and '70s, and on into the disco '80s. But I do worry about the cool couples I watch in my restaurant rounds obsessing over their technology. When they caress under the table, it's one hand on the thigh, the other texting.
I invite you to meet Doctor Love, Barney the intuitive lover, get into his head as he divides his time between Debra, his irrepressible playmate-in-kinkiness, and Lindsay, the wholesome, cotton-pantied woman of his dreams. I promise you a steamy read and a few laughs, too in a novel "as serious and funny as life itself." Click here to buy it now.
***
I found this Van Gogh blue sky and green branches in a photograph of the artist's Apple Blossom painting in Sunday's Times
and wanted to see if we could capture the hues here on Fork Play. I probably won't get to Philadelphia to see "Van Gogh Up Close," but even in a newspaper reproduction, those ferocious attacks of paint reminded me of our visit to Auvers, where the artist spent his last strikingly prolific days - the corn fields, the church, the cemetery where he lies next to brother Theo, the entwining ivy that ties them together still.
***
Caffé Storico Glows
Having poured $65 million into a major gussying up, it makes sense that the New-York Historical Society - the
city's oldest museum - would move to upgrade its feeding. Hitching a cultural rock to a restaurant rock star isn't new. MOMA gets major buzz from The Modern by Danny Meyer with Gabriel Kreuther at the range. Even Meyer's perversely unnamed "Untitled" lends cachet to the Whitney. But maybe Meyer was too busy launching restaurants in Battery Park or didn't want to compete with himself at Shake Shack two blocks away.
Step in Stephen Starr, Philadelphia restaurant biggy, with Manhattan scores already at Buddakan and Morimoto. Philadelphia-based Chris Sheffield's SL Design dreamed up the warm white glow of Caffé Storico, with its golden dangles of chandeliers and long yellow banquette.
Cicchetti, the small plates of Venice, some of them too salty but good, supply just one of the themes. It's all over the map for pastas.To read more and know what you should order, click here. 170 Central Park West, entrance on 77th Street. 212 485 9211.
***


Bowery Diner Ambition
I like the look. I like the vintage diner airs with retro metal chairs in pastel hues. I like the pretty crowd. I like the waiter's modish haircut. I'm nuts about this Reuben. If The Bowery Diner were in my nabe instead of $19.65 clicks on the taxi meter away, it would become one of my haunts. At least on the evidence of this first early visit to the newest venture of Motorino's Mathieu Palombino.
I'm out on reviewing forays even now as I usually am,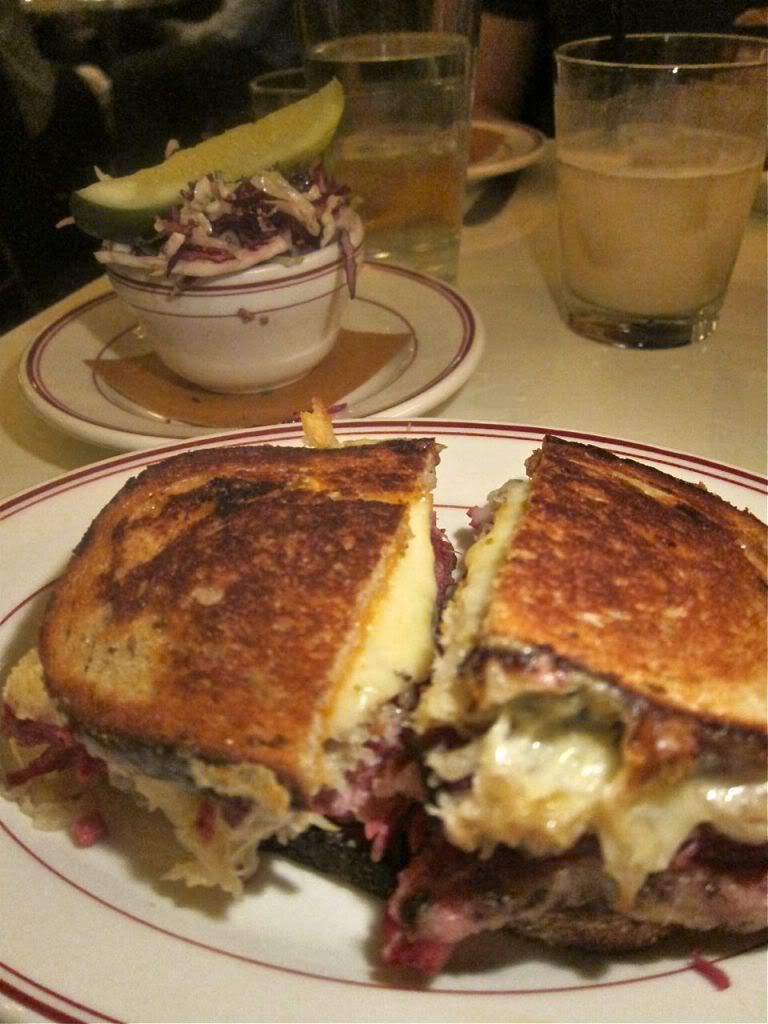 longing for this Reuben sandwich: house-cured pastrami, juicy and smoky, on sturdy toasted rye with Gruyère, Russian dressing and sauerkraut. Okay, slightly namby-pamby sauerkraut.
You might want to assess your own detour to this still shabby stretch below the hot hub of Houston, where Daniel's DBGB sits across from Keith McNally's Pulino's. Only the New Museum breaks up the moldering in this block. If it's a major trek, you might best put together a few friends so you can get a rez - six is the minimum - but if you're early enough on a frigid night and only four, you might be lucky enough to score a booth in the back. Will you go? Click here for more on who's there and what to order. 241 Bowery between Prince and Stanton Streets. 212 388 0062.

***
Masak Does Singapore
I like to think it's a sure thing when I drag myself and my guy all the way to the East Village for dinner - a definite reservation, a chef whose work I know, a spot
people are already loving. But I didn't hesitate when a friend from Singapore agreed to meet us at brand new Masak. I was eager to know what she grew up eating. It was so early in Singapore-born chef-owner Larry Reuten's East 13th Street turn that the place was almost empty (the small store front filled up as we sat there).
If not for my friend, Cheryl Tang (Tiger in the Kitchen), I would not have known that the black and
white shades framing the bar and kitchen were from Singapore and mimicked the colors of British Colonial homes. The menu graphics were whimsical too. I liked the music tape. You can always make me feel I'm in the right place with the Beatles or Bob Dylan. And apropos of nothing at all Asian, I was impressed by the best Pisco Sour I've tasted since Lima, the work of a guest bartender, adding drama to an already exotic house list.
With Quih Pie Tee, literally "Top Hats," small fried pastry snack cups at $2 to $3.50, I wanted to order them all. But given other exotica begging to be discovered, I agreed we would start with two of the pulled pork with Brussels sprouts slaw and a pair of the shrimp, jicama and egg melange - so all four of us could get a decent bite of each mini pie.
The mantou buns, steamed, then fried to a nutty gloss, were so wonderful, I didn't focus on how
disappointed I was in the unappealing duck croquettes and chili crab dip. Indeed, we ordered more buns and scooped up dip anyway. Granted the fish head curry looked like a shipwreck and I might not return just for Babi Assam pork shoulder with cauliflower and fried black rice. But Steven's oxtail and tendon noodles with baby bok choy saved the evening for me. I didn't miss the myriad Rendang flavors (ginger, lemongrass, coriander) muted in the burger since it was cooked just to my taste. I liked the ginger-scallion fries too.
By the time the fat fingers of toasted corn bread (a $5 side) arrived, it took real effort to eat another bite. But I harnessed my inner strength and devoured two wedges.
I could ignore gummy little marbles of Tang Yuen
dumplings and refresh my mouth with the cooling, smooth chocolate ginger ice cream alongside. Jasmine shortbread cookies extended my mellow mood. For me, the trip was a rewarding adventure. I debated sending my readers there. Now I see Masak won a measured rave in The Times "Under $25" last week. Splitting the bill, we paid $127 including tip for the two of us. Still, it's good news that eaters who know Singapore find Masak more exciting now. It was already exciting to me. 432 East 13th Street. 212 260 6740.

***
Just say "Gael Sent me" to enjoy a New England style Sunday Supper at the romantic The Water Club, our advertiser. Start with chowder or a half dozen oysters, then choose baked cod or roast beef with Yorkshire pudding. Boston Crème pie or Brooklyn Ice Cream factory ice cream will be dessert. The price is $30 in honor of the Water Clubs 30th anniversary. Beverage, tax and tip are extra. I hope "Gael sent me," gets you a table with a view but I'm not promising. East River and 30th Street (enter on 23rd Street) 212 683 3333.
***
Dinner at RedFarm
If you follow my pats and pans, you probably rushed to RedFarm and found the line waiting to get in. Even so,
just to signal that "inauthentic Chinese locavore food" can enhance romance, owners Eddie Schoenfeld and dim sum maestro Joe Ng agreed InsatiableCritic.com could offer a dinner for two on Valentine's Day.
I asked readers to describe their most romantic dinner and chose Jordan Milman's tale of the kaiseki dinner in Kyoto that led to a life-changing epiphany and a wedding last fall. Click here to read his letter.
Connect to me on twitter at twitter.com/GaelGreene.
Taxicab photograph is by Alex Nunez and may not be used without his permission.

Doctor Love cover design by chowciaodesign.com.


Photographs of Caffe Storico's langoustino fritto, Masak's pastry cups, crab dip, waitress, burger plate and oxtail-tendon noodles, and RedFarm beef tarts may not be used without permission of

Steven Richter

.
Fork Play copyright Gael Greene 2012.