The Doggy Bag. Valentine's Day. LeCirque: Chefs on Parade. La Mangeoire. Prima on First.
Dear Friends and Family,
Got an "Ask Gael" from a reader last week wanting to know, "Is it in poor taste to ask for a doggy bag or to ask the waiter to package leftovers 'to go' at places like Le Bernardin or Daniel?"
I pointed him to FloFab's approval in her Times Etiquette column and added my own but advised him not to ask for a doggy bag. That dodge isn't a giggle anymore. Indeed, as runners clear, they often ask if you want to take anything home. Just say, "I'd like to take that home please." Or, "Would you please pack that up for us to take home."
In the '60's and '70's, I never thought about leftovers. Yes, the leftover sirloin at The Palm looked awfully appealing. But my then husband, the Kultur Maven, had convinced me toting leftovers home was tacky.
In the '80's with homeless people sleeping in boxes everywhere, leaving major leftovers behind seemed criminal. I asked to have anything that looked edible packed up and would often leave shopping bags next to
cardboard boxes lined up on the church stairs at Fifth and 55th.
I recall once asking a man holding open the door at the bank with a tin cup for change if he would like something to eat. I always asked. I would never assume. "What is it?" he said.
"Duck pasta," I said, "It's delicious."
"No thank you," he responded waving me away. "I'm a vegetarian."
Today, when soup kitchens have multiplied and still cannot meet the demands of the hungry, it seems wanton to leave good food behind. Now the homeless are more scattered. I don't mind if anyone thinks it's tacky. I take leftovers for myself. Chicken to slice on a salad at lunch. I wouldn't dream of leaving behind Brooklyn Diner's Chinese chicken salad - easily enough for two. Once I could not eat the second cut of wild salmon after two or three chef extras in a tasting dinner at Le Bernardin. "I'll take that home please for breakfast," I said. I did. It was sublime next morning cool on a toasted bagel.
***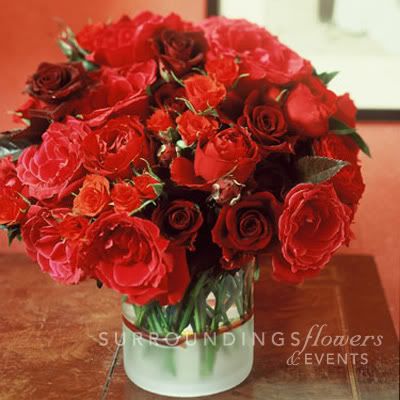 Fork Play colors are as close as we could get to the brilliant red and burgundy hues of the glorious roses friends sent me this week. They chose red, they said, to celebrate all the shades of red I was wearing at dinner the evening before. It was pretty cheeky of me to clash that way I guess. I'm glad they took it as a fashion statement.
***
How Rich Is My Valentine?
Valentine's Day dinner has become oppressive. I'm not saying my ex-husband - the most romantic of Valentines - gave much thought to Valentine's night dinner. It was easy in the 60's. No booking pile-ups. No pricey menus. Instead he searched for unusual vintage jewelry. Darling, wherever you are, I'm still wearing your gifts.
Now Valentine's dinner is yet another challenge for striving New Yorkers. Special menus at inflated prices. The need to book weeks ahead. For several days my mailbox has been plastered with the quacks of flacks promoting romance. Le Bernardin's nine course tasting at $235 per person with wine pairings at $170 plus tax and tip is already sold out for February 14. Only the Saturday February 11 preview is still available. Or it was two days ago. I recommend making love before dinner because who knows what hormones will still be raging after nine courses including sea medley, lobster, dover sole and venison.
RedFarm's Valentine's menu is more modest. Still it's even tougher to score a table for wizard Joe Ng's superlative dim sum. But two of the tiny storefront's 44 seats will be reserved on Valentine's Day for a duo of InsatiableCritic readers. Just email me at insatiablecontests@gmail.com and tell me about the most romantic meal you ever ate or cooked. On February 1st I'll announce the winner of "Valentine's Day dinner at RedFarm."
***


Le Cirque By Default And By Design
All of us were unmoved by lackluster starters one
Saturday night at a two-week-old spot I hesitate to condemn on just half a meal. "Shall we move on?" I ask my companions. So the four of us decamp to Le Cirque for the $35 Cafe dinner. I had no idea it was Craig Hopson's last night as executive chef. He wandered out of the kitchen and joined us, his spirit that of an athlete with his heart already elsewhere. He would be going home to Perth with his wife and children, he said, returning to work on Brewster - finally, a room of his own - opening soon downtown in a building that once housed a horse-carriage maker.
Upstairs in the kitchen off the private dining room, his replacement, chef Oliver Reginensi, shanghaied from Americano after less than a month in its kitchen, was
feverishly working on Le Cirque's restaurant week menu. It would be his debut in the "Monkeyhouse," son Mauro confides.
Last night we returned to taste. Sirio the ringmaster, leaning on his cane, had a full house of discount fans in the front room and was showing off his new chef draftee chosen to run Ristorante Sirio at The Pierre who had just arrived. The 39-year-old Cremona-born Filippo Gozzoli, trim and mephistophelean with his shaved head and dark muzzle of beard had an eager athletic air too, like a high-price kicker waiting for the call.
"We're taking him to dinner at Le Bernardin," Mauro confided, slim and elegant in his close-cut Italian suit, but still sporting a black eye. (From a fall, he said.) "We're
showing him New York."
I had chef Reginensi's slow cooked egg with sweetbreads, practically a rerun of his Americano egg, and his chicken Diablo, both annoyingly salty. The first-rate apple crumble and the gift of a mignardises plate (I ate everything chocolate) restored my good mood.

***
Prima On First
Friends, with a car and parking karma joined us for a Saturday night adventure in the East Village. At first glance Prima, next door to the hallowed Prune, seems
claustrophobically small, dark and crowded with shared tables and tall stools. On second glance, the narrow storefront has style with its bar where savvy late comers will sip champagne with seafood on pedestals. It looks right into the compact kitchen, tight as a submarine.
Except for the $80 côte du boeuf platter at the table behind us - a special the chef did on request - servings are unassuming and unadorned on small plates, entrees $15 to $28. In an era of complex menu design with items to share that are not necessarily shareable, followed by snacks and appetizers, Prima gets it all on a 5" x 7" page: six starters, six sea critters, five sauces, a burger and six sides. The surprise is how good most everything is. Want to know more? Click here.

***
La Mangeoire Evolves
Why am I back at La Mangeoire after leaving it to neighborhood loyalists for most of its 35 years? Amazingly it has survived after legions of its Gallic peers and superiors faded away. Such longevity in this cruelly fickle town might be reason enough to check in. For me, it's
the arrival of Christian Delouvrier in the kitchen that has it flashing on my radar. Owner Gérard Donato brought the wandering chef in as a consultant to his kitchen in 2009. I came. I tasted. It wasn't Delouvrier enough for me. I longed to see this gifted professional shake up the dowager a lot more.
Well now he has. In August of 2011 the house got a facelift and Christian took over the range. What was strictly Provençal has become "Country Cooking." For these next few weeks the specials include cassoulet. Click here to see what you want to order.
***
The Incurable Collector Deaccessions

Now for Valentine's Day, shop at my office flea market for vintage costume jewelry and antique evening bags, Steuben glassware from the Sixties, American folk
art, vintage table top and kitchen and grocery store collectibles. Opening boxes that have been in storage since I sold our little church on the hill outside Woodstock I'm finding crocks and pitchers, an old coffee grinder, graduated earthenware mixing bowls, and copper pots, some of them with the marker's logo and address. Email me for information and to make an appointment.
***
Connect to me on twitter at twitter.com/GaelGreene.
Photographs of the pork chop at The Dutch, animal shaped dim sum at RedFarm, Sirio Maccioni and Craig Hopson in the Lounge at Le Cirque and the shellfish platter at Prima may not be used without permission of Steven Richter


Photographs of the egg at Le Cirque and La Mangeoire's foie gras may not be used without permission of Gael Greene, all rights reserved.
Fork Play copyright Gael Greene 2012.