FORK PLAY SECOND THOUGHTS: December 22, 2011
Apologies to Tony. Last Minute Gifts. Keeping Warm
Dear Friends and Family,
I was seized by some kind of devil last week. Somehow my mind insisted he was Tony Fortunato, the smart and devoted owner of the Upper East Side's wildly popular hangout,
T-Bar Steak & Lounge. The editor corrected my column changing each mention of Fortunato to Fortuna. "What's wrong with her?" I thought. It's Fortunato. But, no, I now learn, it isn't.
I want to apologize to both Tony Fortuna and to my editor who thought she was seeing gremlins when my Fork Play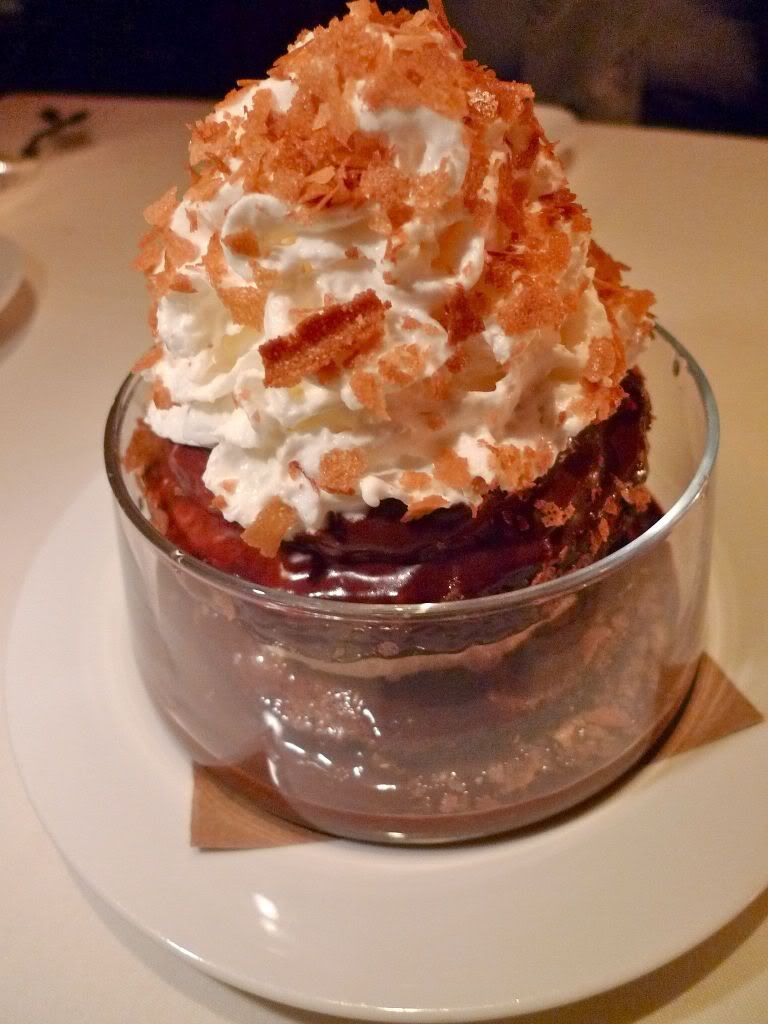 flew into her email box. This mea culpa gives me a chance to show you photos I took of T-Bar's stunning desserts served in seven-inch glass bowls for the table. My favorite is the banana parfait layered with mille feuille and sticky coconut caramel sauce, and the brownie stuffed ice cream with a hill of whipped cream. There's a lemon cheesecake with pineapple rum glaze too. I'll save that for my next visit.
Fortuna credits the surging crowds at the bar itself to women in the neighborhood who find the lounge safe and welcoming (and the men who inevitably follow. Their squeals and roars making it so noisy in the dining room, do not seem to discourage dinner fans. Everything on the menu is designed to please local appetites and a request to have a dish some other way is a command. The steaks are first-rate too. That's how Fortuna does it. Just what every neighborhood needs.
***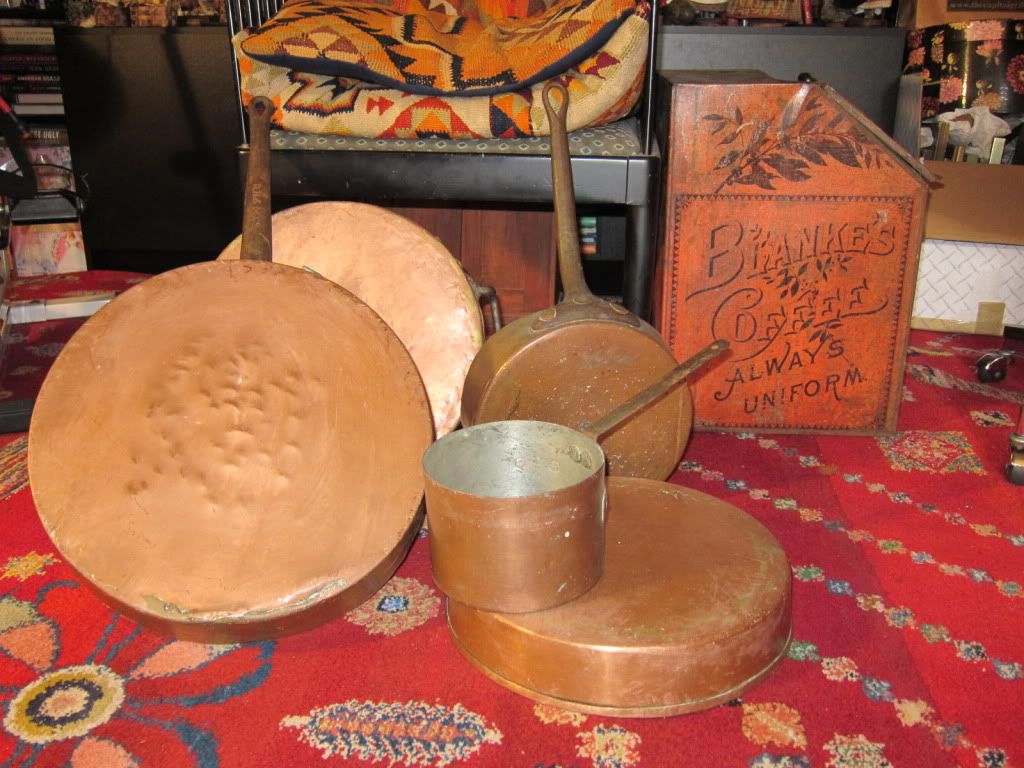 Last Minute Gifts
My intentions were good. I was offering to sell the treasures from my Woodstock house just arrived for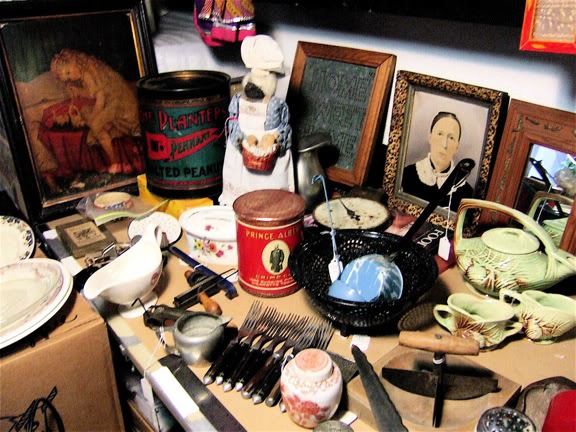 storage to anyone needing a gift for an incurable collector like me. I'd forgotten I had so many copper pots. I'd never noticed that the heavy little stock pot was stamped "Commodore Hotel." The coffee grinder that used to hang on a post in our country kitchen turns out to be a rare antique. The desk where I display this odd mix of things I no longer have room for has already evolved since the enclosed photo was taken but the image will give you an idea of what appeals to me; vintage kitchen collectibles and tableware, grocery store tins.
Because this black and white photograph doesn't do justice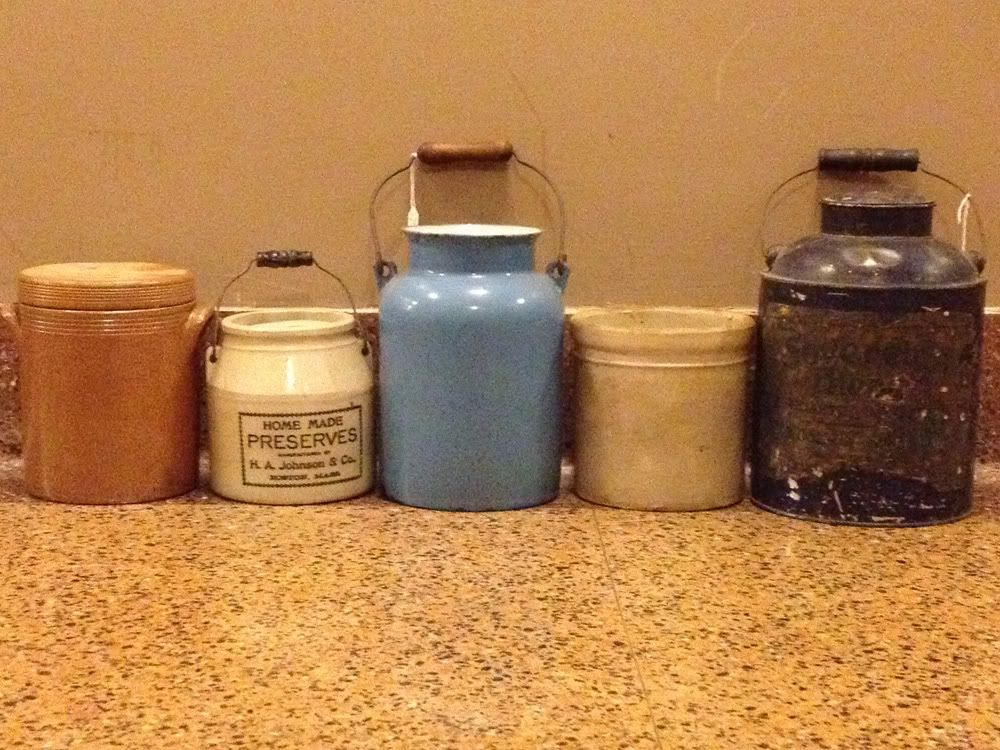 to the glorious 8 by 8 foot Russian raccoon rug/bedcover made by my furrier for our old Church/House in Woodstock. It's lined in brown velvet and still in perfect condition. These raccoons are from the icy edges of the Amur river and making the fur especially lush. By the way, the Bishop's chair is for sale too.
I asked
anyone who wanted more information to email, not realizing the email box was full. Try again, it's not too late to get "delivery" before Christmas if you live close enough to stop by West 73rd Street and carry your purchase away. Email for more information.

***
Connect to me on twitter at twitter.com/GaelGreene .
Photos of Dessert's at T-Bar Steak & Lounge and Treasures for Sale may not be used without permission from Gael Greene.
Fork Play copyright Gael Greene 2011.