FORK PLAY: December 20, 2011
Time Out for the Critic. Brooklyn Diner. The Smith Midtown. Donatella's Spin. My Holiday Flea. Lupa Anyway. T Bar Woos the Nabe.
Dear Friends and Family,
I know most gourmands believe being a restaurant critic is a dream job. I am one of them. I definitely agree.
Of my carefree days at New York magazine, I often said, "I would pay them if they didn't pay me."
I still set out every evening hoping to discover a brilliant new chef or a chef newly dazzling or at the very least, taste something to send my senses soaring. Sometimes I do and often I don't, but both experiences can be emotionally wearing. Then I escape to revisit old favorites as I did often this past week. The manager recognized us at Brooklyn Diner -- all decked out in holiday sparkle - and gave us
our choice of booths. The Road Food Warrior insisted on sitting up front even when she warned us of a wind chill factor from the door. I turned my pashmina into a stole and head scarf and ate with my gloves on: my usual, the Chinese chicken salad with canned mandarins and crunchy things. I love it. The portion is huge so I took half home for the next day's lunch.
Steven reads the entire menu and then almost always
settles on the 15 inch hot dog - passersby stop and stare. It comes with a pile of fabulous fried onions (that I am allowed to share) and a pickle. Happy man.
The manager sends over a wedge of the new chocolate cream pie for a tasting. I take a bite, he takes a bite, I take another bite. Yes, it's deeply chocolatey and wonderful. But probably, if we wanted dessert, we'd order the strawberry cheesecake.212 West 57th Street
***
Fork Play wears classic Christmas colors today: Santa Claus red and evergreen like the live tree my nieces Pamela and Dana sent me. It's still in its ball of soil for replanting if it survives the stress and brain waves of my office. I have almost enough animals and small souvenirs from my travels right here in my insatiable collectors' clutter to trim it, including a miniature French chef. Young Elvis is the star at the top.
***

The Smith Comforts Midtown
I count The Smith, in the East Village far from my nest, as a favorite spot to eat everything I love that isn't good for me, on a shoestring. Most hauntingly, my favorite mac'n'cheese. (Click here to read my earlier BITE on The Smith's good honest, el cheapo grub).The Smith
Upper West Side is in the works across from Lincoln Center, promised for this summer.In the meantime The Smith Midtown is already a huge and boisterous smash even though the staff and kitchen struggle to keep tables turning. Senses battered by the happy ruckus of young'uns canoodling at the bar, our wait is painful. Then suddenly we're settled at a window-side table somehow shielded from the full brunt of the din. I'm getting high on a Normandy Sidecar, and guzzling thick house made potato chips with blue cheese fondue, deviled eggs and a mountain of spaghetti with meat balls. What to eat for the prudent and the wanton? Click here to read more. 956 Second Avenue at Northeast corner of 51st Street.

***

Donatella's Spin
The two of us are big pizza fans. That leads us to many out-of-the-way pizzerias and a lot of ho-hum pies.

I decided we could count on Donatella's Pizzeria
and her iridescent gold
Neapolitan style oven last Saturday night.

It's a surprise to find the brand new mother criss-crossing
the room, coaching
her crew, moving us to a quieter table, flashing photos of th
e little hero dressed in his Santa Claus romper, a
dorable. All babies are adorable. At le
ast no parent or grandparent I know, showing off the newborn heirs has ever argued with my "how cute."

"Oh, so intelligent."

"Hope I get to meet him before he's off to Harvard." Enough of that.


The food: excellent pizzas. We asked for them extra crisp since I am not a fan of the soggy Neapolitan model. Cousin Mitch chose the special with shaved Brussels sprouts, Taleggio, prosciutto and parmigiana. Steven went for his favorite here, the spicy Diavolo, its crust crisply bubbled and browned, my favorite too. Then everyone had pasta. Steven asked if he could have paccheri dressed with garlicky fresh tomato sauce and breadcrumbs, rather than Genovese style. Donatella was yes, yes, yes, to every whim. (Sorry, I can't promise you'll get the same.) Even the saffron lobster risotto was commendabl
e. And the kitchen sent out an extra: gnocchi with roasted mushroom, vincotto and caciocavallo cream sauce. Creamy, gummy, all my weaknesses on a plate.

My best intentions - to stick with the seasonal chopped salad only - went gang agley. Cousin Mitch and wife
Alison, now a Washington insider, have suffered many indifferent dinners making the re
viewing rounds with me. "Let's go somewhere, I know will be good," I said, and so it was. 184 Eighth Ave near Northeast corner of 19th Street.

***
The Incurable Collector's Flea
The after-Christmas sale starts today at my Upper West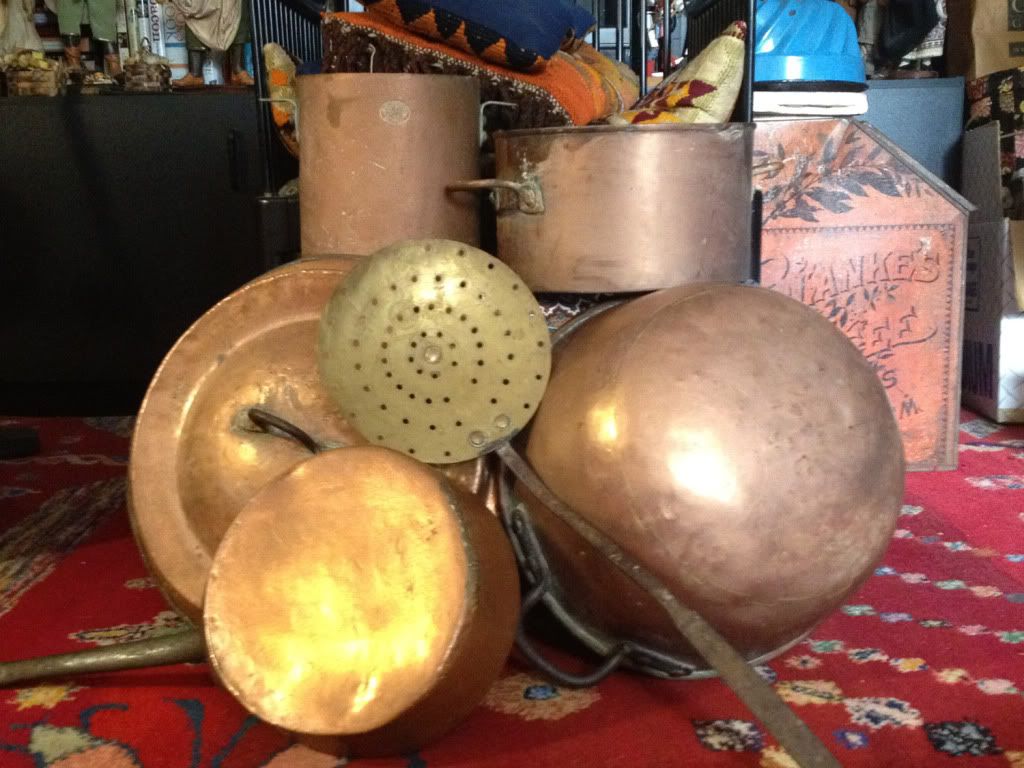 Side office flea market. Email for an
appointment
if you live nearby. Check out two big boxes of copper pots and pans - including a few signed treasures - crocks rare and not-so, vintage table top and grocery store collectibles, evening bags, American folk art, vintage New York
magazines.. Treasures from the little church on the hill in Woodstock just don't fit on our reduced wall space and shelves. Prices from $2 up.

Make an offer. I don't want to die like a Collier brother, crushed by a cache of magazines.. Click here to see more
.
***

Lupa Anyway

I wasn't thinking when I reserved for five at Lupa
on a Friday night. An insane proposition. The bar is jam-packed. With teeny tables crammed so close together there is
nowhere you can stand and wait without being in the way of traffic. I planted myself on the coat check woman's stool, displacing her tip pot. Luckily she was a good sport about it. The table that had supposedly paid when we arrived just didn't move.
After half an hour, maybe more, finally seated, we jumped on the waiter to bring us Aperol spritzers. I whipped my friends into choosing secondi while I ordered the excellent escarole salad and vegetables for the table - butternut squash a la Romana, treviso with vincotto and marvelous fried cauliflower, salty with great capers. The house sent an autumn vegetable salad to say "sorry."
Penny added an order of bavette cacio e pepe for the table to share. It was marvelous. The orata cooked whole was moist as I like it. The bucatini al'amatriciana was meaty and spicy, a little too hot for S
teven but perfect for me. As was the chicken alla diavolo.Diavolo anything gets my attention. I finished the dark meat and passed the rest to Fred.
I'm not sure there's a way to overcome the Lupa conundrum. Or should I say curse? It's beseiged by cognoscenti and innocents alike. Maybe a rainy Monday. 170 Thompson between Bleecker and Houston Streets.
***
T Bar Woos the Nabe
If you find the Caesar salad shockingly pallid, there's no point in complaining because that's the way the regulars like it at T Bar and Lounge (scroll to the bottom). And the place is sardined every night because young women feel comfortable at owner Tony Fortunato's bar-lounge (the guys follow) and the
restaurant menu is designed to please the locals. Fortunato made his debut at Jean-Georges' Lafayette in 1986 and was the face out front when Gray Kunz was king of Lespinasse. Some years ago he split with his partner Charles Palmer and redid the old Lenox Room on Third Avenue. He put in a Mercedes of steak ovens and then discovered the secret was searing them on the griddle.
He sends us fried calamari with a sweet chili sauce dip and wonderfully sticky tamarind glazed chicken wings with small cubes of pineapple from the bar menu.
Now I see big white bowls of salad going to almost every
table. My chopped salad with hearts of palm and haricots verts, tomato, radicchio and cucumber is lively and fresh, better than the wimpy Caesar. "Everyone has a different idea for how they want their salad," he confides. "I give them whatever they want." The Black Angus steak tartare is salty and good spread on crisp thins of bread. If I lived in the neighborhood I would know to ask for the macaroni really browned and crisp. And I'd invite a crowd to share the dazzling banana parfait piled into a big glass bowl with coconut tuile, coconut ice cream, banana brûlé and a sauce that's half caramel and half crème anglaise. There's a chocolate layering too with Kahlua and crumbled cookies. Both would wow any neighborhood. 1278 Third Avenue between 73rd and 74th Streets.
***
Connect to me on twitter at twitter.com/GaelGreene.
Photos of My Christmas Tree, Brooklyn Diner's Cake Display and Chinese Chicken Salad, The Burger at The Smith Midtown, Donatella's Chopped Salad, Lupa's Vegetables and Chicken Diavolo, and T Bar's Chopped Salad and Chicken Milanese may not be used without permission from Gael Greene.
Fork Play copyright Gael Greene 2011.