FORK PLAY: December 7, 2011
Gift of Venice. Loi. Plaza Food Hall Reboot. Capizzi. City Slickers on the Farm. Morso. My Treasures.
Dear Friends and Family,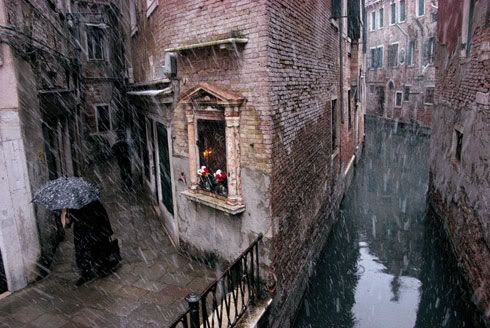 If like me you can never get enough Venice, give yourself the gift of this captured moment in that charismatic city by my guy, Steven Richter. It was 1996, our first winter together in Venice. We had just finished lunch in our fourth floor walkup, not far from the Campo San Bartolomeo, when I saw a few big fat flakes starting to fall, and then hundreds as if someone had slashed open a down quilt. Steven zipped up his parka, grabbed two cameras and disappeared for five hours. He told me later he stood on the bridge over this canal in Castello waiting for someone to walk by. Then she shuffled by. The woman with her umbrella. Bent against the wind. Dressed as she is, there is no way you can tell the decade or the century.
We stood on the same bridge this past O
ctober. It took 20 minutes before there was a pause in the stream of tourists, Barnum & Bailey in free fall, difficult to escape. Someone had planted a plastic flower with goo goo eyes in the window box. I wished I had not seen it.
The bright boat and orchid house are in Burano where residents can paint their homes any color they please and often paint their boats to match. Burano is famous for its lace. Alas, most of it comes from China today. I like to think the woman in the upstairs window crocheting is the last real artisan. But she may just be faking it.
One of Steve's prints on watercolor paper, framed so the deckled edge becomes the mat, is a perfect gift for someone you love who is smitten with Venice. Buy it now, framed for the 10% reduced price of the print; originally $1200, now $1080 for the smaller images; $2400 now $2170 for the larger. The prints are digital, scanned from Steven's beloved, now defunct Kodachrome, and printed on fine rag paper. "The versatility of the ink jet process on this stock gives the work its richness and presence," he says. Collectors find the texture remarkable.
The larger size comes from an edition of 20: paper size 31" x 43," image size 24" by 36." The smaller size from an edition of 40: paper size 19" x 25," image size 12" x 18." You may also buy any print in his portfolio at a 15% discount on the regular price. Click here to see some of his work.

***
Fork Play colors this week are copper for the collection of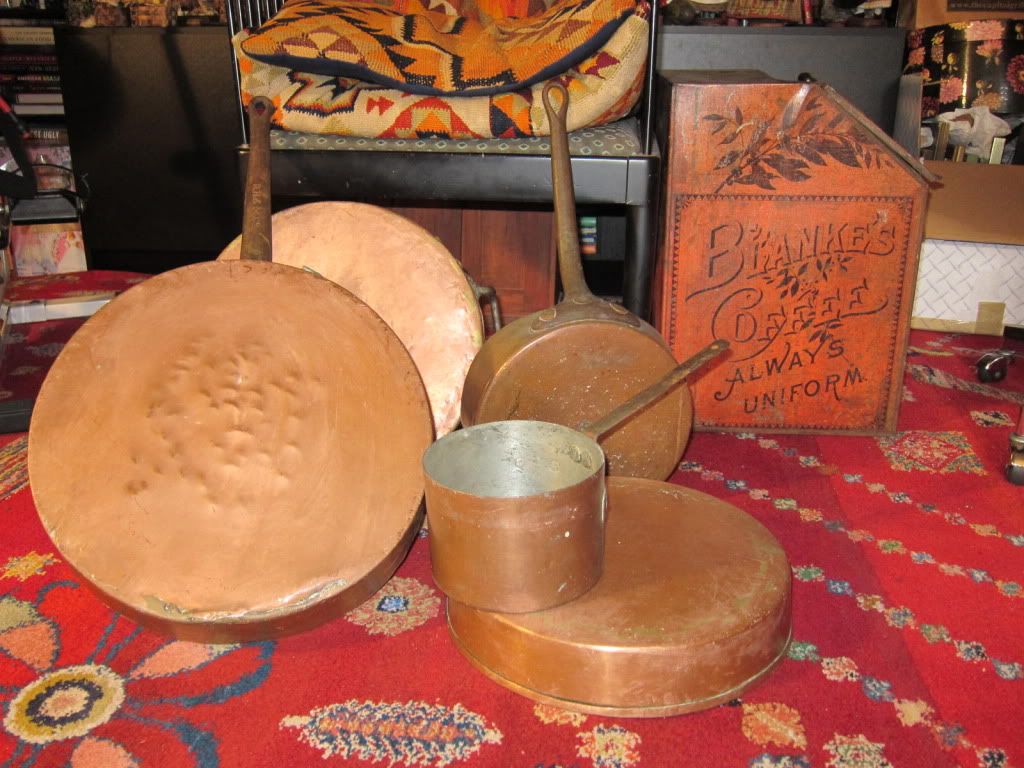 pots and pans that came out of my Woodstock home.

I've run out of wall space and must sell them. Red is the color of the large standing coffee bin that I can't bring myself to sell. You'll see it if you stop by to shop my little flea market of folk art, vintage kitchenware and grocery tins.
Email me for more information.
***

Channeling Martha
Maria Loi doesn't mind at all being billed as the Martha Stewart of Greece. That's how she sees herself on her
website. Products, cookbook translations and a cable show will surely follow. Meanwhile fish lovers, refugees from Milos' extortionary tariff on whole fish, healthy eaters of a certain age, grownups shall I say, grateful for dignity, happily make the crosstown detour to Loi. It is Maria's civilized cocoon, not too dark, not too noisy, a celebration of Greek cooking in the sprawling space where Compass exhausted its nine lives (click and scroll down to see review).
The locals have already sent welcoming flowers, she says, have come to taste and are returning, she says. If you want to know my favorite dishes, click here.

***

Todd Plays the Plaza
It's Monday after Thanksgiving. The Plaza Food Hall
has more than doubled in size almost overnight. Indeed, it is
soon to be "rebranded" as Todd English at the Plaza Food Hall
,
and we're meeting a culinary innocent from Woodstock to check it out.

Will she love the concept, "Everything you ever wanted to eat but were too plump to imagine all on one menu," as we do?

This appealing mini food mall in the subterranean concourse became our supper spot before or after a movie at The Paris, when it first launched in June, 2010. Then savvy tourists and possessive New Yorkers crowded us out.

We took our hunger elsewhere. I'm excited to be back. Now at 7:30 on a winter Monday - I've promised the Road Food Warrior we'll be home in time for the Giants game -- we have our choice of stations.


Are you a Todd English watcher? A groupie? A detractor...have you cynically tallied his many restaurant openings and decided "consultant" is an elusive concept.

Well then, more to the point than learning if the bucatini is properly al dente and smartly sauced, you'll thrill to a SuperTodd appearance. Read more.
In spring the whole concourse will be devoted to food shops, replacing jewelers and gee gaw peddlers. It seems the intrepid will gladly ride an escalator for oysters or a flatbread pizza but not for yet another pair of earrings.
***
All in the Family
It was the Sicilian heritage and the family history that caught my eye in an item about Capizzi Pizzeria and Wine Bar
(FloFab probably in the Times
). I didn't realize it was on the 9th Avenue flank of Port Authority, a rough stretch ripe for gentrification. Joseph Calcagno is the brave pioneer behind the white tile, the wood-burning oven and an ambitious wine program. Amazingly this outpost is already #8 on Trip Advisor's radar in NYC. Our threesome is in a pizza mood so we start with a duo of Capizzi's combinations - emphasis on sausage. Click here and scroll down to know more.
You never can tell when you might be in the neighborhood.
***

Two City Slickers on the Farm

I was the cynic. Not so far away, I beseeched my good friends Suvir Saran and Charlie Burd, when they proposed to buy the land in the farthest western corner of New York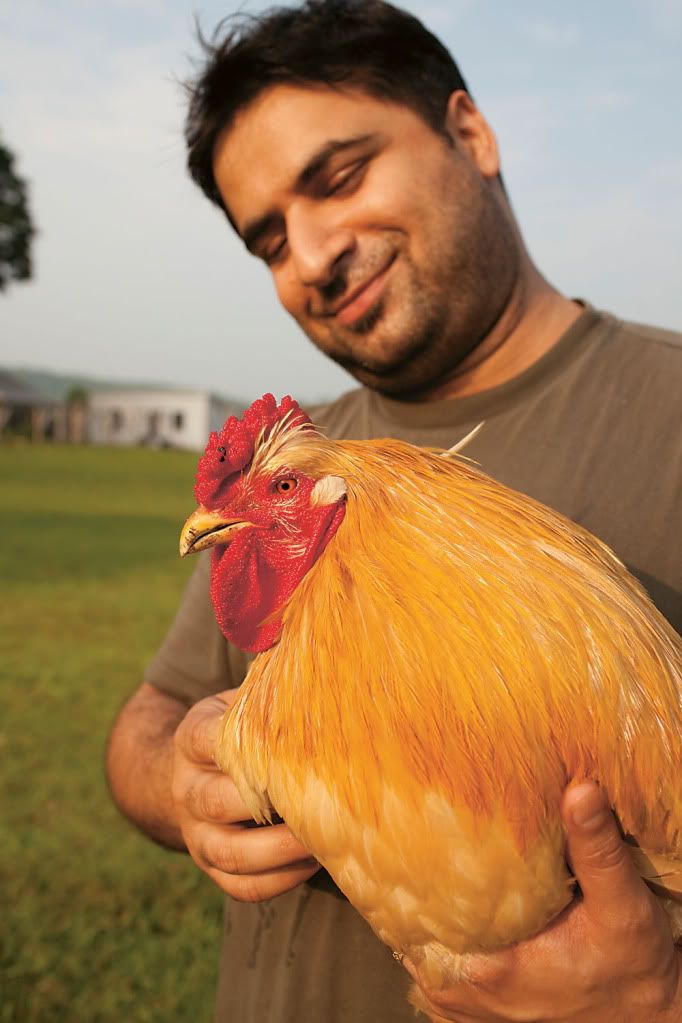 state. I never dreamed that a couple of urban dudes like Delhi-born Suvir and Charlie from West Virginia would so totally immerse themselves in raising heirloom goats and chickens, ducks, geese and alpacas on 67 acres that, quite frankly, I have not yet seen. Suvir's new cookbook, Masala Farm
(Chronicle Books $29.95), is full of wonder and the joy of this simpler life, courting the neighbors, sprinkling the produce from nearby farms with the flavors of India, cooking, of course by the season. Obviously, not so simple after all. Click here to buy.
I wonder now how I could ever have doubted their instinct, their passion to make this farm the center of Suvir's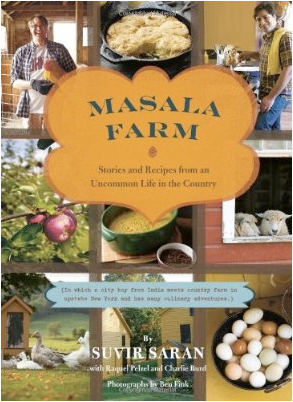 already seemingly overbooked existence. Charlie in residence makes it possible for Suvir to keep traveling, consulting, and teaching and to come home to this dream of a kitchen. Imagine making a frittata with your own just-laid eggs and crottin de chevre from a nearby farm.
I can't wait to taste the rustic apple tarte. And the upstate apple butter. (Hint). I haven't cooked from the book yet. I'm more caught up in the journey. But I know Suvir's food and his remarkable mastery of American cakes. Indeed you'll find his recipe for Almost Flourless Chocolate-Lacquered Chocolate-Peanut Torte from Masala Farm by clicking here.
***
Morso Is Not Enough So
It's not about the food. I'm pleased with the ferro flour
penne tossed with winter squash, braised kale and white beans as well as Saturday's special meaty lasagna and an order of noodles slicked with pecorino and olive oil to drag through a black pepper soot on the plate's edge. There is no buca (hole) in what is billed as bucatini with pecorino and black pepper. It's skinny spaghetti instead. And the speed that the dish arrives from the kitchen suggested a microwave. But it isn't steaming away suspiciously.
My pork chop isn't "rarish" as ordered, "pinker than medium," I said. It's not even pink and it's so dry and hard I can't cut it with a knife.
"Sorry about that." A manager whisks it away and
eventually a new one arrives. Yes, it does have a bone in the middle and some gristle but it's juicy and pink and the accompanying butter squash gratin is marvelous. Slightly sweet, it could almost be dessert.

No, it's not really about the food. If I lived above in The Sovereign, I'd probably come by occasionally for dinner. But Morso with its amusing 1960's poster art is definitely limping along without owner Pino Luongo tonight. The welcome is arrogant setting our teeth on edge to begin. The service feels improvisational, a lot of racing to the kitchen by our invisible table. It's a challenge to get water and a drink. $17.50 for Hendricks on the rocks. Was that $5 just for ice cubes? 420 East 59th Street between First and York Avenues. To think that some critics complained about the $50 prix fixe when this space was Frank Valenza's astonishing The Palace.
***
Gifts for the Incurable Collector
As I continue to unpack boxes from the little church on the
hill in Zena near Woodstock that I shared with the Kultur Maven, then my husband, I remember the two of us, obsessed acquirers. We had to have the ship's figurehead. Princess Waghump, Don called her. He didn't love the big black iron pasta machine and cabbage stuffer as much as I did but agreed I should have them. I don't even remember where we found the bizarre pasta cutter. Vintage grocery store tins were modestly priced then. I never ran out of space in the church to display them. If only I'd bought the loft I meant to buy before prices soared out of sight. I'd have room for the fabulous copper ware - molds and pots old and new. At the moment I've stashed the vintage standup red painted Blanke's Coffee bin next to the Diamond Dye box I used to store spices (also needs a new haven).
The black tole coal scuttle where we kept magazines near our two chairs at the fireplace just arrived - a beauty - it's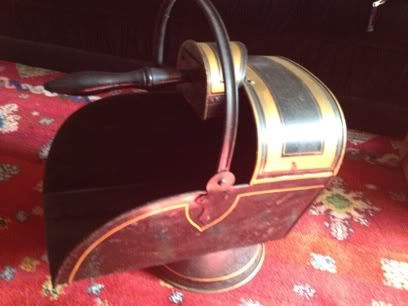 in amazing condition. The folk art rooster is weathered and rusted in beautiful colors. It should go in Marcus Samuelson's Red Rooster collection but it would not be cool of me as a restaurant critic (who has already insulted him) to try to sell him an artifact.
Come shop my little flea market here on the Upper West Side for yourself or your own folk art or vintage kitchen collector. Email for more information.
***
Photos of Venice in the Snow, Burano, the Mask and Clown, the portraits of Maria Loi and Todd English at Plaza Food Hall, Morso's pork chop and the Folk Art Rooster
may not be used without permission from Steven Richter.
Photos from Masala Farm are by Sam Fink and may not be used without permission from Chronicle Books.
Fork Play copyright Gael Greene 2011.