FORK PLAY: November 22, 2011
Racial Profiling. Wong Reducks, Jean-Georges' Home Cooking. Wine for Food Lover's. Penny's New French Interior.
Dear Friends and Family,

I get the Times delivered at home but on Wednesdays I like to buy the Post to see what dining outrage Steve Cuozzo's ranting about. The news guy outside our subway
station sees me coming. He reaches for the Times and tries to hand it to me. "Not the Times. I want the Post," I say. Every time. I guess what I'm experiencing is a sort of "racial" profiling. Is it because I'm blonde? Or white? It's certainly not my sensible shoes.

My experience is nowhere near the rage and fear of being stopped "on suspicion" and searched for no reason at all or being handcuffed and wrestled to the ground for walking in a no-walk zone or being the only one having my hands checked for explosive powder because my skin is beige.

Still it just makes me stop and think every time.

***
Fork Play colors this week celebrate Thanksgiving with cranberry and Cabernet. Sausage stuffing is my favorite thing about this holiday, but what color would it be? Beige? Tweed?


***

Wong Reducks

Barron's gourmand columnist Richard Morais, author of the novel "The Hundred Foot Journey," asked me to choose a spot I loved for dinner with good value for the money. He explained he was writing a column for Barron's. I suggested Wong, the small Village spot I rashly gave three hats in September after just one tasting. I wanted to check out if I'd been carried away. Morais, whom I'd met years ago in Spain, came with a signed copy of his luscious book of culinary ambition and stretch marks, he claims, from our last encounter. (I suggest you buy yourself his book for Christmas in case no one else does.)

I needn't have worried about the place drifting downhill. Simpson Wong has surrounded himself with a passionate, dedicated crew in the small space he built himself with recycled boards, school chairs and bookcases. His chef de cuisine Blake Joyal seems grateful and invigorated from having escaped the rarified h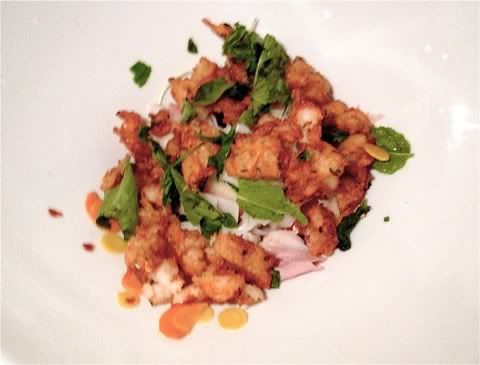 aunts of haute cuisine to help deliver Wong's unique "Asian Locavore" notions, a wonderful patchwork of mixed metaphors.

I couldn't wait to taste the shrimp fritters that haunted me, the soft sticky rice noodles with a crackle of crunchy shrimp, green apple, ham, cucumber, torn basil splashed with a lemony nectar.

Bonito flakes fluttered as if alive, atop a pot of chanterelles, enoki and shittake nesting a poached egg waited for me to smash it. And I could have called for another one after quickly devouring my deep fried braised duck bun with ginger and black beans, except we were expecting a whole duck with sticky rice wrapped in lotus leaves. 7 Cornelia between Bleecker and West 4th Street.

To read my first take on Wong, click here. To read Morais's version in Barron's, click here. Then please come back for the rest of Fork Play.

***

Kicking the Cookbook Habit

I'm no longer an incurable cookbook collect
or.
E
ating out five nights a week doesn't allow for much co
o
kin
g. And my shelves are already buckling so a food book has to be really special to be a keeper. It doesn't matter t
hat I love Bobby Flay's cooking or admire Thomas Keller or have a warm spot for Jonathan Waxman and Larry
Forgione. A book I keep has to be so beautiful that I want to eat the photographs. Or
it can feed an obsession, like The Bacon Cookbook by Jim Villas. Or it can have the simplicity and purity of Nancy Silve
rton's The Mozza Cookbook (Knopf $35) and make me think I might actually use it.
But I had to have Home Cooking with Jean-Georges (Potter $40) as soon
as I read that many of the dishes
that curled my toes at
ABC Kitchen
came out of his seasonal improvisations at home: crab toasts with sriracha mayonnaise, spicy roasted carrots with avocado, sour cream and toasted pumpkin seed
s, and butternut squash with balsamic vinegar and chile p
anko crumbs.

Jean-Georges says he came up with the technique of boiling a squash whole while watching a movie. "I didn't want to miss the good parts - and the kids didn't want to pause it for me while I tended the stove." Tender and moist, this lazy-man's gambit emerged at ABC Kitchen last fall as a buttery squash crumble I crave.
***
Everything You Always Wanted To Know

I tease my friends
Karen Page and Andrew Dornenburg
that I can't keep up with what book they're slaving over at the moment. They're too shamelessly prolific. And always working. Then I got my copy of the encyclopedic
Food Lover's Guide to Wine
(Li
ttle Brown $35). Obviously a lot of eating and sipping and gurgling and wooing sommeliers to get their secret yearnings went into their research.
Gael: I know you include a sidebar that lists more than 150 wines under $15 but what are your personal favorites?
Andrew: It's a tie between two sparklers, Gruet Brut sparkling wine from New Mexico and Lucien Albrecht Crémant d'Alsace from France. Both are great with salty and fried dishes, and with hors d'oeuvres at holiday cocktail parties or anytime.
Karen: I'm a fan of Trimbach wines from Alsace. They're great value and widely available. I'd pair Trimbach's Gewurztraminer with Indian or Thai cuisine, Pinot Blanc with Cantonese cuisine, Pinot Gris with Asian or Indian cuisine and the Riesling with very spicy Hunan or Szechuan cuisine
Gael: What wines do you two personally favor for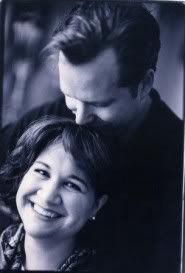 holiday feasting?
Karen: As the holidays are all about making everyone at the table happy, we like having both a white wine and a red wine on the table. We like a Gewurztraminer or Riesling as the white (esp. with the white meat), and for the red, a Pinot Noir or Cru Beaujolais (esp. with the dark meat).
If it's a simple roasted duck, Pinot Noir is a classic pairing. We like to mix it up a little and also go with a Chateauneuf du Pape for its peppery notes and jammy fruit.
By the way, when we say we want to make everyone at the table happy, we mean everyone -- so if there are non-drinkers present (whether pregnant women, designated drivers, or otherwise), we pour Fizzy Lizzy sparkling fruit juices in nice glasses, just like the wine. The Fuji Apple Fizzy Lizzy can be a stunt double for high-acid apple-noted Riesling, and the Cranberry Fizzy Lizzy takes the place of fruity Beaujolais or Pinot Noir.
Hmmm....you didn't ask about pie. Both our friend Cynthia's apple pie and Bud "The Pieman" Royer's chess pie, pair beautifully with Eden Ice Cider from Vermont, which is the only non-grape-based wine mentioned in The Food Lover's Guide to Wine.
Gael: What sommelier comment most surprised you?
Karen: Most of us assume anyone with a French accent knows more than we do about wine. We were surprised to learn that when Per Se's sommelier Michel Couvreux told his French parents he had decided to become a sommelier, their reply was, "What's a sommelier?"
And given the myth of haughty European sommeliers, we were amused that
Le Bernardin
sommelier Aldo Sohm, who was named the World's Best Sommelier in 2008, thinks of himself as an "Enjoyment Manager," bringing pleasure to people through wine.
***

French Obsessions


I've loved joining my friend Penny Baird when she stalks the Flea Markets at Clignancourt on the edge of Paris to
bring France home for the clients who count on her luxurious home interior designs. She is known for mixing old pharmacy fittings and rustic cabinet work from ancient tabacs with vintage chandeliers, billowing iridescent taffeta and slightly shabby tufted leather love seats.

Now in her New French Interior (Random House $50) she moves beyond the traditional to explore contemporary and modernist design. Using ten of her own recent projects, she illustrates architectural details adapted from art deco, a monochromatic palette based on creams and ivories, bold forms in furniture and lighting, and restrained tabletop settings.

You won't be surprised that I asked Penny wher
e she likes to eat right now in Paris and her ideas for amusing young children.

PENNY: My favorite "new" restaurants in Paris are the Atelier of Joël Robuchon on the Champs Elysees and the new Spring at 6 Rue Bailleul Want to be on top of things? The very popular Hidden Kitchen Supper Club by two Americans in their home is going public as Wine Bar and Restaurant Verjus. The wine bar opens any minute at 47 Rue Montpensier and the restaurant at 52 Rue Richelieu. Same place, separate entrances.

My fall-in restaurant is Bucherie de la Rouilliere, Rue Cannettes near St. Sulpice. Warm welcome, fantastic bistrot fare, heavy on moelle, delicious frites and salads. My favorite pastry is the praline millefeuille from Laduree and in a pinch Pierre Hermé. For amusing the kids-a cooking lesson-lunch at Atelier des Chefs. My son Philip's favorite Le Nôtre Wednesday class. All the museums have ateliers for kids all day Saturday.

***
The photograph of Wong's shrimp fritters may not be used without permission from Steven Richter.

Fork Play copyright Gael Greene 2011.