Fork Play: September 20, 2011
Old London. Wong. Lookbook on Le Bernardin. The Mark. Pastry Paris. Preserves & Pickles. Plum Rum Conserve.
Dear Friends and Family,

I can't say I'm addicted to JJ Flats 7-grain Flatbreads (3g whole grain, 100 calories in 6 pieces). If they suddenly ceased to exist, I am sure I could quickly find something else to slather with cream cheese and stave off serious withdrawal symptoms. But I keep them around for
moments when only something salty and crunchy will do. "JJ Flats are baked in a Traditional New York Bakery!" it says on the back of the package. Their exclamation point. But, in fact, JJ Flats are not baked in New York. "Old London Foods, Toast of the Bronx" is now toast. It has moved to Yadkinville, NC, leaving behind 228 long time workers, some in their 60s and 70s, who mostly cannot get work (according to a Times report about one who has found a job with no benefits at half the salary.)

I know there are bigger issues, like why manufacturers can't make it in New York City. I know I can simply stop buying JJ Flats and find some other teething ring. Probably my lament will just get people who never tasted these 7-grain crackers to go look for them. Maybe the company wants to use up the boxes they have already printed and thinks no one will notice. Sorry. You're outed now Old London.
***

What's Wong is Right

I suppose these are scary times. One minute the market is up and I have enough money to live on till I'm 113. The next minute it's down and I have to keep working till I'm 108. I distract myself with rushing around trying to get into the most promising new restaurants. Right now I could just build a lean-to on the island at Christopher Street and Seventh avenue and dine out every night. Got to check out Frankies. Wanting to return to Spasso.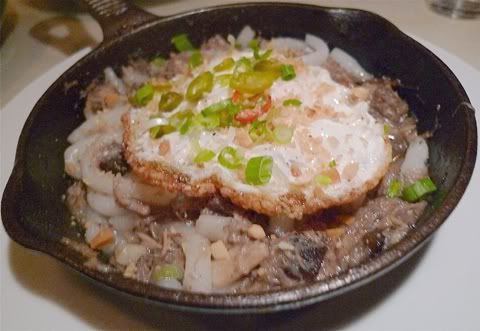 Too long without an evening at RedFarm. And now Malaysian-born Village stalwart (Café Asean, Jefferson Grill) Simpson Wong has quietly, without any trumpets, launched his namesake Wong, a bold and delicious experiment in more and less Asian fusion in a do-it-yourself little storefront at 7 Cornelia Street (between Bleecker and West 4th). "Asian Locavore," he calls it, ever so innocently. All it took was one evening at Wong to convince me. It began with a tangy apple cider Jack Daniels cocktail and an unlikely toss of shrimp fritters in a sweet-potato-jicama batter with ham, rice noodles, watermelon and a splash of nuoc mam sauce. (Asian pears moved in for the melon with the first cool shock of fall.)

Yes, he recognized me, with longtime friends of his on the recycled school chairs, and sent out scallops with crispy duck tongues as well as the Newport Steak tataki with rau ram leaves, bone marrow on brioche and a sprinkle of Amagansett salt. I'm actually laughing as I write these ingredients. Amagansett salt, indeed. Laughter releases endorphins - I read it in the Times. Obviously eating well and laughing out loud should be an everyday exercise. Click here to see what dishes I liked most at Wong.
***
Lookbook at Le Bernardin


I was delighted to be invited to a friends and family preview dinner September 6 at Le Bernardin to see the new look, not quite finished that evening, but already everything Maguy wanted it to be: dramatic, luxuriou
s, elegant, and sexy. I had expected to see more press faces. But the gathering was mostly friends and I am both - always a difficult path to navigate. I was an early fan of Le Bernardin on a left bank quai in the '70s, and later a friend - the three of us - Maguy, Gilbert and I - would all go dancing at Castel's after the dinner service on Rue Tryon. When the handsome-brother-and-gorgeous-sister act arrived at 155 West 51st Street, I stayed away, wanting to give them time to settle in. Then friends called to tell me it was already perfect, I could wait no longer. They were shocked and angry, but forgave me when they read my review, mere weeks before the Times chimed in. Click here to Read Le Bernardin Beguiles Our Crocodiles.

Now Maguy and her partner, chef Eric Ripert are angry and saddened by last week's BITE - a description of the makeover (following Fl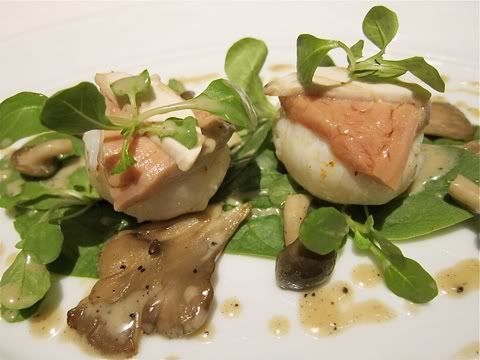 oFab's scoop in the Times). Indeed, I found it hard to choose new dishes from nearly the same menu we had on August 30, the closing night before workmen moved in. As the chef reminded me, the menu changes with the seasons. It was still summer on family night. His new fall menu arrives at any moment. I'll certainly be back to explore it and see the lighting fully adjusted. My comments on food and service - mostly superlatives with a few pans - come from my experiences at three recent meals as a customer-critic. Pitiful two-faced monster that she may be.
***

Jean-Georges on The Mark

Maybe you'd see me at The Mark (25 East 77th St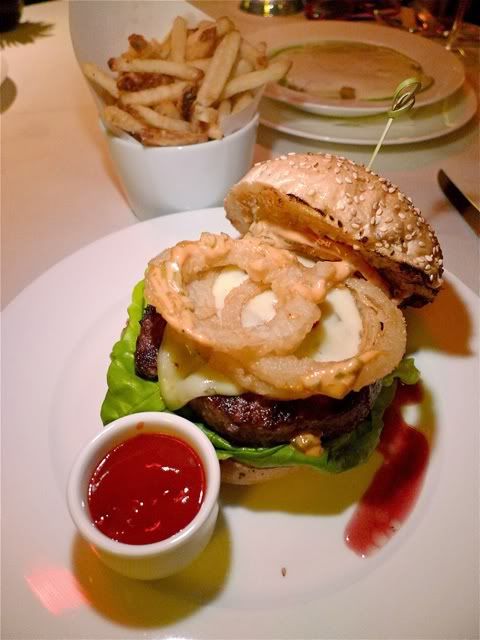 reet) more often if I lived on the upper east side. Probably not. I'm an ABC Kitchen habitué. The Mark seems expensive to me, though three of us had more than we could finish one September Friday for just $60 each. That is more than I want to pay for dinner when I'm not working. Still, I wanted to see how it might have changed since Vongerichten took over. I hated the flabby Michelin man pizza. But the pea soup poured on parmesan foam - a borrow from Jean Georges on Central Park West at lunch - knocked me off my socks. I could smell that garden pea scent behind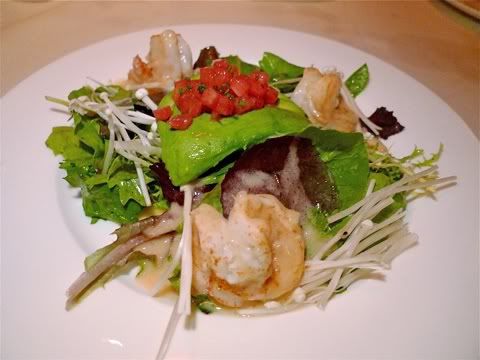 my back. The Road Food Warrior's cheeseburger - with pepper jack, avocado, crunchy onion rings and Russian dressing was absolutely un-pick-up-able. Everything just poured out. They should call it the squishy burger. It's very good even so. I licked my fingers, my thumb, even my wrist. I guess eastsiders eat their burgers with a knife and fork.

***
Pastry Paris

Maybe you have to have been Parisian in another life (merci, Woody) to be as amused as I am by Susan Hochbaum's whimsical photography in Pastry Paris (The Little Bookroom $19.95). Maybe it's enough to be Parisian in your soul. I have to smile when I see pastry through her eyes: an éclair that could almost double for an elongated art nouveau sign reading, "Metropolitan." Or a Gateau St. Honoré mimicking a pleated halter gown that Marilyn might have worn.


A divorced graphics designer, newly in love, on a year's retreat to Paris, Hochbaum haunted pastry shops in every arrondissement. She quickly realized, as her book's subtitle suggests: In Paris Everything Looks Like Dessert. She sees sweets in the dome of Sacre Coeur, gas caps on the sidewalk, striped columns of the Palais Royale. "It's hard not to love a city with a patisserie on every block, where pastries are sold all day to people who never get fat."

She quotes Antonin Caréme, "The fine arts are five in number, namely painting, sculpture, poetry, music and architecture, the principal branch of the latter being pastry." Part food fantasy, part homage to this unfailingly beautiful city, she tells the history of each pastry classic just in case you want to contemplate it before taking a bite, and even includes a glossary of addresses.

It's not officially out till October 1, but click here to pre-order on Amazon. My friend Naomi, whose sweet life requires waking up in Paris three or four seasons of the year, is definitely getting a copy from me. And you too, Penny Baird, interior designer-author of The New French Interior (out September 27 from Random House). Click here to advance order at a huge discount now.

***

The Rites of Late Summer

I could happily live in Paris (with a pied à terre in New York), but I can also imagine mellowing out in East Hampton months at a time. My pulse seems to slow just stepping off the Jitney. We only had two weeks this year - a chance to stare at the ocean, smell the tide, escape to Montauk for lunch, languorously watching fishing boats unload. I discovered new talent: Chef Joe Isidori at Southfork Kitchen in Bridgehampton, confirmed my faith in Todd Mitgang at South Edison (closed now for the rest of the year), and came happily home again to Nick & Toni's. Click here to read What I Ate This Summer.

Summer fruits were everywhere. But it was the peach-nectarine pie that restaurant critic Stacy Dermont of Dan's Papers presented to me at Almond in Bridgehampton (after my dinner-reading of Delicious Sex and Blue Skies, No Candy) that was the awakening. The great pie moment of summer. An amazing home-made pie, crust short and tender (Crisco, indeed), filling firm and not too sweet. It made Round Swamp Farms' pies seem shabby. Tucked around the pie in a big wicker basket were jars of preserves. Blueberry. Blackberry with horseradish. Nectarine. (I had some with aged cheddar on a Balthazar baguette this morning.)

Back home I reached for The Best Little Book of Preserves & Pickles (Red Rock Press, $15.95) by Judith Choate, a James Beard award winner. It has been sitting next to my keyboard all summer, taunting me, reminding me of late summer jams and preserves I used to make for Christmas gifts. Well, of course, that was eons ago. When life was simple. Before computers, email, twitter, before being thrown out like garbage by New York magazine. I'm probably not going to be making my fabulous plum-rum raisin conserve this year. But you can. Click here for the recipe. Do it now while plums are still in the market. Judith Choate's little book will tell you everything you need to know about preserving. Click here to order it now.

***
Photographs of Wong's egg foo young, Maguy and Eric at Le Bernardin, his scallops with foie gras, and the cheeseburger and the shrimp salad at The Mark may not be used without permission from Steven Richter.

Fork Play copyright Gael Greene 2011.