To foster nurturing and healthy relationships, environments and programs that encourage positive youth development and enable all young people in Greater Portland to live substance-free.
The 40 Developmental Assets

OMOP promotes & integrates Search Institute's Developmental Assets® approach in our programming to further positive youth development in Portland.


Interactive Asset Building Tip of the Month:


Constructive Use of Time



Creative Activities: Hand down a hobby - teach a young person a skill
Youth Programs: Suggest that your kids join a local org as a counselor or mentor
Religious Community:
Keep talking to children even if they say things about religion or spirituality that worry or disappoint you
Time at Home:
Honor mealtimes as "connecting times"
Interactive Online Resources for Parents & Families

Support for Everyone
Connecticut Turning to Youth & Families (CTYF) has a great website dedicated to peer-to-peer support for youth recovery from alcohol and/or drug addiction. Not only does this website offer local resources and ways to get involved, it offers a glimpse into the lives of recovering teens and how they support each other.
To view stories from Vinnie, Marissa, Mario and others, go to the CTYF VIDEO GALLERY


(hat tip to Reclaiming Futures Blog)





Harnessing the Internet to Combat Youth Substance Abuse




The Treatment Research Institute (TRI) and Unyos, a Maryland-based software developer, announced today they will collaboratively develop a software platform to help parents, professionals and others address the danger of teenage access to rogue Internet pharmacies.





Due for release September 2009 at


www.websafeparent.com

, the novel TRI/Unyos website will offer a mix of downloadable, science-based information, other multi-media resources, and an on-line community network, to help concerned parents, patients and professionals understand and manage the dangers that Internet access to prescription drugs poses to cyber-savvy teen-agers and young adults.



State Farm Youth Advisory Board Service Learning Grants Now Available
Applications accepted August 1 through October 2, 2009
State Farm's Youth Advisory Board service-learning grants range from $25,000 - $100,000 and are designed to create sustainable change in local communities across the United States and Canada. Find the application form and more HERE

Target's Field Trip Grants


The Target Corporation has announced that it will award 5,000 field trip grants of up to $800 each for the coming K-12 school year.




Educators, teachers, principals, paraprofessionals, or classified staff of these institutions must be willing to plan and execute a field trip that will provide a demonstrable learning experience for students. Learn more

HERE

Home Depot's Building Healthy Communities Grant Program
Awards grants of up to $2,500 each to nonprofit 501(c)(3) organizations, public schools, or tax-exempt public service agencies in the U.S. that are using the power of volunteers to improve the physical health of their community. Grants are made in the form of the Home Depot gift cards for the purchase or tools or materials. Click HERE FMI

Maine Health Management Coalition Survey: Quality Counts for ME

Healthcare quality is a very important issue in Maine and across the country. Because healthcare quality matters - and because there are things that we can do to help make it better - the Portland Public Health Division has become part of Quality Counts for ME. Quality Counts for ME is a statewide effort that is working to improve healthcare quality in Maine.


There is a website you can visit to learn more about the quality of care at your doctor's office. Go to www.mhmc.info to compare quality ratings for doctors and hospitals across Maine.

Once you have visited the website, we would also like you to tell us what you think. Please go to: SURVEY MONKEY to give us some feedback on the site.

For more information about Quality Counts for ME please email Scott at scc@portlandmaine.gov

Positive Tickets In the News!

Thank you to Mike Clifford & Margaret Jones (
A-GTO 4 ME
Technical Asst. Specialists), David Hench (PPH Staff Writer), Benjamin Chambers (
Reclaiming Futures
), Jan Beitzer (
Portland's Downtown District
), Zach Davis (
Portland Pirates
), Lt. Bill Preis and Parkside Community Policing's Michelle Lauture and the many members of OMOP for helping Positive Tickets make the news - locally AND nationally!
Click here for the Press Herald Story!
Click Here for the Reclaiming Futures Blog Featuring Positive Tickets!
Thanks to an Office of Substance Abuse grant, OMOP is thrilled to collaborate with Portland Schools and Day One to bring LifeSkills Training & Lions Quest to Portland Schools.
Here's what Portland Schools' Safe & Drug Free School Coordinator, Susan Stseele had to say about the new programs:
"We are excited in Portland to be sharing the Lions Quest and Life Skills programming with our students. All students benefit from ongoing conversations that support their social and emotional growth. The more they build their self awareness and practice positive social skills, the more successful they will be in their academic programs, too."
Botvin LifeSkills® Training at Lyman Moore Middle School
Rather than merely teaching information about the dangers of drug abuse, Botvin LifeSkills Training promotes healthy alternatives to risky behavior through activities and will be held for the entire 6th grade! Learn more about LST


Lions Quest at Reiche Elementary School
Lions Quest programs are school-based, comprehensive, positive youth development and prevention programs that unite the home, school and community, to cultivate capable and healthy young people of strong character, through life skills, character education, SEL, civic values, drug prevention, and service-learning education.
Learn more about LQ

Area Happenings & Updates

Lights! Camera! Action! Movie Nights in Portland
Tuesdays for Teens in Parkside
Parkside Neighborhood Center is having a FREE movie night for older youth (ages 14-21) on Tuesday nights, starting July 14th, from 6-8 pm. PNC is hoping to encourage young people to access the Parkside Neighborhood Center, and they anticipate starting a group for older youth this fall. The movie night is aimed at encouraging young people to feel comfortable in accessing this space.

Contact Rachel at

553-5940 FMI




M

ondays for Families at

Reiche


The FREE movies start at 6:30 and are generally over by 8:30 once the clean-up is done. Children should have someone to walk them home and anyone under 10 needs a responsible chaperone who stays with them through the movie. Popcorn and drinks are provided and prizes will be given away at the end for those who stay and help clean up. The movies are every Monday at the Reiche Community Center on Brackett Street and will happen through August 31.

Contact

WENA

FMI.





Skate P

ark Plan About
Ready to Roll
By TIM DEVANEY, PPH Staff Writer August 6, 2009
"A contractor will begin building a skate park next spring that could bring Portland national recognition, according to Portland's Skatepark Planning Committee.
With several recent grants, including $10,000 from the Tony Hawk Foundation, the committee has collected more than $250,000 for a cutting-edge park with challenges for all skill levels. The committee is ready to begin planning, and the park could be completed as early as fall 2010."
Read On...
Maine Youth Action
Network

MYAN's 26th Annual Peer Leadership Conference




November 9th & 10th, 2009




Augusta Civic Center


Open to youth in grades 7-12 and adult advisors
Gain information, inspiration, skills & connections to create amazing community change!
Fee and registration information available on www.myan.org in early September



6th Annual Maine Youth Anti-Tobacco Summit




Planned & hosted by MYAN and sponsored by the Partnership For A Tobacco-Free Maine (PTM)




November 10th & 11th, 2009




Augusta Civic Center


Open to youth in grades 7-12 and adult advisors
Get the skills & connections you need to stop, quit, and resist. Be an anti-tobacco advocate!
Free thanks to PTM's sponsorship!
Registration materials available on www.myan.org in early September.
Project SUCCESS &
SIRP/"12-2-1" come to the Midcoast Region
Mid Coast Hospital Substance Abuse Prevention Program will be introducing two youth prevention programs this fall in Brunswick - Project SUCCESS at the Brunswick Alternative High School and Student Intervention and Reintegration Program (SIRP) for all local high school aged students. Project Success will be delivered by a trained Project SUCCESS Counselor and consists of an educational series delivered to all students followed by a series of support groups based on student need and interest. SIRP - which will be locally known as

"12-2-1"

(12 hours 2 change 1 life) is an intervention program for youth who are currently making high risk choices, referrals will be accepted from schools, parents, students, counselors, police departments and JCCOs. These evidence based youth programs will compliment the strong community prevention work already being implemented through our community coalition, CASA (Communities Against Substance Abuse).

For more information, contact Melissa Fochesato, SAP Program Coordinator (207) 373-6957.
Addressing Dropout: National Summit comes to Maine

Former Portland Dropouts Address Education Summit (Press Herald)


By KELLEY BOUCHARD, Staff Writer July 28, 2009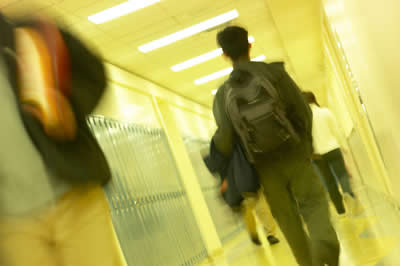 Anthony Lary was disconnected when he stopped attending Portland High School during his sophomore year. He was living on his own, looking for a job and a purpose in life, without support from his parents. Neither of them had graduated from high school, so he couldn't see the point.

Then a friend talked Lary into going back to school when he was a junior. He found refuge with and encouragement from the teachers in Portland High's alternative education program. "They were more connected with us," said the 18-year-old Lary. "It was more like a family in the classroom."

Lary, who graduated in June, was one of three former Portland High dropouts who took center stage at the opening of Maine's first statewide dropout prevention summit Monday at the University of Maine. Read the full Press Herald article


Parks help children and families grow together
"City Parks and State Parks offer many opportunities to help children and families learn and explore together. These types of activities really reinforce the Support Assets and the Commitment to Learning Assets, as well as many others." From The Asset Edge Blog
Want to get active here in Portland? Check out Healthy Portland's PLACES TO PLAY

Map!





Consider this

: Children Now
Enjoy More Freedom At Home, But Are More Restricted Outside The Home

(

ScienceDaily

, Aug 4, 2009)
Parents are faced with a difficult task when they try to balance authority with children's autonomy: they are trying to be the right kind of parents, while at the same time trying to form the right kind of kids. "Today's parents face demands that require near-constant surveillance of their children. Allowing children more autonomy to express themselves and their disagreements at home may well be a response to the loss of more substantial forms of children's autonomy to move through and participate in their communities on their own." Read the full article

National News Stories & Links