Greetings!
Please join us Friday, August 24, 2012 at 4:00pm local at the Guidance Aviation Student BBQ as we welcome our new students and recognize recent accomplishments of our current flight students and staff members.
WHERE

Guidance Aviation main hangar, adjacent dispatch
Google Map: CLICK HERE
WHEN

Friday, August 24, 2012
Helicopter Rides start at 4:30pm local time
Food served at 5:00pm local time
INFO

We will be serving pulled pork sandwiches, baked beans, watermelon, soft drinks and water for up to 300 persons - first come, first serve!
HELICOPTER RIDES

We will be providing helicopter rides throughout the event!
We hope to see you Friday, August 24th for the BBQ!!
Frequently Asked Questions about Attending
Guidance Aviation


#1 "Does the post 911 GI Bill cover 100% of tuition and fees?"
Answer: Yes, if you are 100% eligible for Post 911 benefits. Through our partnership with Yavapai College, students may acquire their Associate of Applied Science Degree, Professional Pilot, Helicopters. This Degree Program is VA Chapter 33 benefits approved for eligible U.S. Military Veterans using their Post 9/11 GI Bill benefits.

#2 "How do I enroll?"


Answer:

Contact Student Services for the Enrollment Checklist and you

'll be on

your way. Submitting an application packet is simple and consists of 8 - 12 items that can be put together in one day. The one item that takes the most follow through is the required Medical Test. The following link should help you get the

Medical Test

taken care of without any concerns. SEE:

http://www.faa.gov/pilots/amelocator/

If you haven't contacted Student Services yet, do that today! We are here to help you through the paperwork and get you started flying ASAP!!


Student Services Toll Free:
(877)-235-9444
Student Services Email:

[email protected]




Enrolling in the Professional Helicopter Pilot Degree Program
Career Track I: Life Comes Full Circle


If we are fortunate enough through our life, the hard work pays off. When it does, sometimes
Left to right: Johnny Stonecipher, Amanda Stonecipher,Kenan Bahadir, John Stonecipher

we are rewarded with financial gain and often with the respect of others. We are more fortunate when our influence and success creates success in others and we have the opportunity to witness the phenomenon, making it self evident that our life has come full circle. The latter recently happened to John Stonecipher, CEO and President of Guidance Aviation on June 9, 2012.

Stonecipher, his wife Amanda and his 2 year old son Johnny met up with Kenan Bahadir, Guidance CFI-I, Guidance Graduate and now a professional helicopter pilot for Maverick Helicopters in the Grand Canyon. Stonecipher worked the same job more than 15 years ago and in part, that job helped Stonecipher formulate the idea for the first FAA approved high altitude helicopter flight training academy in Prescott, Arizona.

Kenan now flies EC-130s for Maverick Helicopters. "Flying with Kenan brought me back to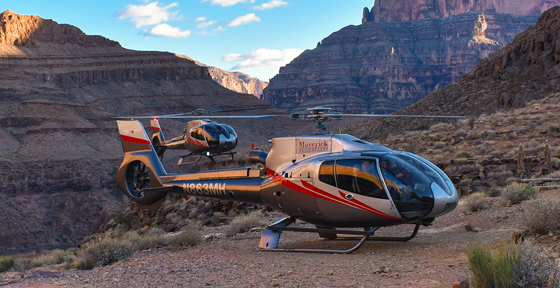 Maverick Helicopters: EC130's

my roots, where it all started. It was a fantastic day to see Kenan living his dream of being a professional helicopter pilot", remarked Stonecipher.

"I chose Guidance Aviation because it was simply a better program than the other program(s) offered at the airport at the time", stated Kenan. "Less restrictive, access to more airports and more "real world", off airport operations like mountainous terrain operations".

Kenan starting helicopter flight training with Guidance Aviation in 2008 and by May of 2010 he was an Instructor Pilot (IP). In December of 2012, Kenan was hired by Maverick Helicopters and is now flying an EC-130 while also staying on part-time at Guidance conducting stage checks.

"I am grateful for what John Stonecipher, CEO, Guidance Aviation, has done for me. He personally called Maverick Helicopters and recommended me", says Kenan.

Career Track II: Guidance Pilots become Search and Rescue Pilots for Yavapai County Sheriff's Office (YCSO)


On June 26, 2012, Yavapai County Sheriff Scott Mascher gave the Oath of Office to pilots from Guidance Aviation who are participating as contract employees when flying YCSO's "Rescue 1" helicopter on search missions.





Front L to R - Brad Blucher, Alex Clark, Kenan Bahadir, Curtis Marshall, and Ken Wilson. Pilot Benjamin Lewis was not available at the time of this photo. Standing in back L to R - Lt. Jeff Newnum and Sheriff Mascher


Following the Oath of Office, Sheriff Mascher provided each pilot with a YCSO wing pin signifying their commitment to duty when called upon for search and rescue missions. Each specially selected pilot expressed appreciation for the opportunity to work in this unique assignment with YCSO. Many of these pilots have already flown missions and were able to see firsthand how valuable the "Rescue 1" helicopter is to saving lives in an aerial search capacity.

Read more: http://www.prescottenews.com/news/current-news/item/20219-guidance-pilots-receive-oath-of-office-from-sheriff-mascher#ixzz20GrXukiS


Also present during the June ceremony from Guidance Aviation were

(pictured foreground L to R)
Chris Horton who is Manager of Flight Operations,
Nancy Armstrong who is Director of Finance and Personnel,
and David Roy, Director of Safety and Flight Operations.
Congrats to the following graduates!

They have earned their Associate of Applied Science, Helicopters, through the Yavapai College Professional Pilot Program and through their training at Guidance Aviation have earned their CFII (Certified Flight Instructor, Instruments):




Robert J. Ardy

Nicholas Buller
Kerry S. Depuy
Brian A. Dillen
Nathan R. George

Erik R. Gulbrandsen
Nathan M. Lyon
David C. Micale
Nicholas M. Monroe
Antoine E. Sanders
Austin T. Sanderson



Guidance's Own Appointed to HAI Safety Committee
Chris Horton, Manager of Flight Operations, Guidance Aviation, was interviewed and selected
to sit on the Helicopter Association International Safety Committee

(
http://www.rotor.com/AboutHAI/Committees/Safety.aspx
)

for his first two-year term.


The primary objective of the Safety Committee is to improve hazard and risk identification, assessment and mitigation, with the result of eliminating accidents and fatalities in the helicopter industry. The Committee seeks to advise and educate the helicopter industry on safety issues.

The HAI Safety Committee is comprised of members running the gamut of the helicopter
Chris Horton

industry, including heavy lift, off-shore, EMS, Electronic News Gathering, flight training, and much more. Chris represents the flight training industry on the committee and will work towards coordinating with industry professionals to help improve total quality and safety assurance throughout the helicopter flight training industry.

Chris Horton is both a helicopter and airplane pilot.

Way to go Mr. Horton!

Guidance Safety Audit Complete, Info on Results



Guidance Aviation completed its Flight Operations Safety Audit with Starr Aviation's Safety
and Loss Prevention division. The audit began in May with a Safety Management System review by Greg Freeman, Starr's Vice-President of Safety and Loss Prevention. Mr. Freeman, a Certified Safety Professional (CSP), acknowledged Guidance's safety endeavors that are rarely seen by even the industry leaders. His audit reflected the hard work put in by Guidance's Safety Program Manager, Ben Lewis (and previously Matt Cavenagh), including significant accomplishment in the SMS manual, hazard identification and analysis, developing and implementing an Emergency Response Plan, and most importantly, creating a Positive Safety Culture!

In his recent visit (August 14th, 2012), Mr. Freeman recognized the outstanding and collaborative efforts made by Guidance and industry professionals in conducting SMS training for employees and students, redefining trend analysis, mitigating risks, and improving a JUST safety culture. Many of these safety accomplishments are the result of a coordinated effort among the Senior Management Staff, the Guidance Aviation Safety Board, Safety Program Manager, the instructors and students. Congratulations to the Safety Board for an excellent Safety Audit review.

Keep up the hard work and fly safely.

Recipients of Safety Excellence Award and Student Awards to be Announced Friday, August 24, 2012


Like our last Student BBQ, we'll be announcing the recipients of the Guidance Aviation
Curtis Marshall, left, was the previous recipient of the Safety Excellence Award.

Safety Excellence Award and Student Award.

The Guidance Aviation Safety Excellence Award is awarded to a Guidance Aviation Instructor Pilot each semester who demonstrates outstanding commitment to overall program safety and improving the Safety Management System (SMS) at Guidance.

If you missed the pictures from the last Guidance BBQ, you can check them out HERE.
Cirrus Aircraft, Sennheiser Aviation, Dick Rutan join Guidance Aviation to Support Think Global Flight


Oshkosh, WI., July 25, 2012 - Captain Judy Rice met with Cirrus Aircraft's Co-Founder and
CEO, Dale Klapmeier for a photo op and hand shake as Cirrus Aircraft joins the Think Global Flight team which will be flying a Cirrus SR20 G3 around the world. "We have much to plan and discuss with Cirrus. Right now, we are just ecstatic to have Cirrus on board to help promote education and aviation around the world," states Rice.

Additionally, Captain Rice met with Dick Rutan, who is now a spokesperson for both Think Global Flight and Fly To Learn. Fly to Learn, the software powered by X-Plane, will be delivering the curriculum found within Think Global Flight's Student Command Centers. "Today is a great day as we are seeing it all come together," exclaims Rice.

Think Global Flight is an around-the-world flight of adventure to spark interest in S.T.E.M. education worldwide. Captain Judy Rice and Navigator Nauer will be taking off from Honolulu, Hawaii in the Fall of 2013 in a Cirrus SR20 G3, donated by Guidance Aviation.

Current supporters of Think Global Flight include Fly To Learn - Powered by X-Plane, Cirrus Aircraft, Guidance Aviation, Sennheiser, Live Your Dream, Aerox, Spidertracks, Turtlepac, Janet's Planet, Brightline Bags, Gulf Coast Avionics and numerous individual, worldwide donors.

For more info, go to http://www.thinkglobalflight.org
Helicopter Flight Training Highlights
Solos, Checkrides and New Professional Pilots from this past semester at Guidance.
Congratulations to all of you, great job!
There's more! You can view all of our student accomplishments and photos at:

Fixed Winged Front:

Quarterly Highlights of Airplane Flight Training



MADDIE ROY EARNS HER PRIVATE PILOT CERTIFICATE
Our Fixed Wing Front Highlight this quarter is on Maddie Roy of Prescott, Arizona who has just recently earned her Private Pilot Certificate, SEL, Airplanes. Great job Maddie!

Tom Funk, CFII, Maddie's flight instructor, is Guidance's Designated Pilot Examiner, airplanes.
Tom Funk, CFII, DPE

Funk has been flying airplanes since 1977 and has more than 11,000 hours pilot in command time and has accumulated more than 10,000 hours of flight instruction given.



Since 20

02, Tom has been a FAA Designated Pilot examiner and a member of the Designated Pilot Examiners Group of Arizona.



Want to fly a Cirrus SR20 G3 with the Garmin Perspective, or the Piper Sport LSA with autopilot and ballistic parachute? Tom is the man you want to meet. Presently, he is Chief Flight Instructor at Guidance Aviation for the Airplane Curriculum.



Below is a picture of Maddie just after her first solo in June of this year.


























GUIDANCE'S CIRRUS SR20 G3 FEATURED IN AVED JOURNAL

Guidance Aviation's Cirrus SR20 G3 has been a busy bird flying around the country supporting S.T.E.M. Education (Science, Technology, Engineering and Mathematics Education).

Check out the recent article in AVED Journal (pages 16 & 17) at:
http://issuu.com/stateaviationjournal/docs/avedsummer2012issue?mode=window&backgroundColor=%23222222

Cirrus SR20 G3 with Garmin Perspective, Synthetic Vision, Ballistic Parachute
Contacting us and keeping in touch
There are a n

umber

of ways of contacting Guidance Aviation and keeping in touch.
Student Services
Gui

dance Aviation Website
The Collective Web
Recent website updates you should know about.
All of our student testimonials and other videos can now be viewed on one page.
More videos to follow.

See:
Guidance Aviation TV
Guidance Aviation
6565 Crystal Lane, Prescott, AZ. 86301
Tel: 928.443.9370