About Us

The ICA Institute is a non-profit research institute working to foster research and dissemination of knowledge on the rise of China and India and their impact on global markets, global resources and geopolitics of the world. The ICA Institute's mission is to generate new perspectives on the role of market and resource driven economic development. ICA Institute fosters interaction and dialogue between academic scholars, industry leaders and policy makers on the impact of emerging economies in general and China and India in particular. Specifically, The ICA Institute is positioned to be a catalyst between faculty and students in International Business and industry leaders and managers.

www.icainstitute.org


Events | Announcements
Innovation in Executive Education for Emerging Markets
(ICA Institute | Aug 27, 2009)

Innovation in Executive Education for Emerging Markets is a two-day dialog intended to reveal the implications of trends related to the impact of emerging markets on executive education. Perspectives sought include technology, recruitment, public relations, and branding. Attendance at this summit is by invitation.
Book Review
THE RISE OF CHINA AND INDIA: A New Asian Drama
(World Scientific | May 27, 2009)
As China and India evolve into superpowers, what is the reaction of Singapore? The thoughts of three strategic thinkers are compared: Michael Leifer, Kishore Mabhubani and Tommy Koh. Though differing in their perspectives, they concur that Singapore's long-term survival is dependent on its being a proactive and sociable member of a regional order, be it with a core that is accomodationist, civilisationally-oriented or idealistically pragmatic. (China: An International Journal - Volume 7, Number 1, March 2009, pp. 81-104)
Opinions | Electronic Media
Interview: Secretary of State Clinton 'On the Record' from India
(WSJ | Jul 21, 2009)
Secretary of State Hillary Clinton goes "On the Record" from Mumbai, India.
Courting India And China

(Forbes | Jul 22, 2009)
"...with American companies struggling at home, she (Hillary Clinton) knows that for at least the next few years, the world has just two big, fast-growing markets--India and China--and American companies can't afford to be left out of competition for sales..."

Why India will do a China
(Business Standard | Jul 24, 2009)
"...India is in the midst of a growth acceleration, which will last years and surprise the world much like what China has delivered over the past ten years..."
Headlines

Inhofe weary of administration apologies
(The Washington Times | Jul 21, 2009)
Sen. James M. Inhofe, Oklahoma Republican, said Tuesday that Secretary of State Hillary Rodham Clinton's apologizing for the United States being a major contributor to climate change was poorly timed and will further doom Capitol Hill legislation to limit carbon-dioxide emissions.

China Favored Over India on Growth, Merrill, RBC Says
(Bloomberg | Jul 21, 2009)
China's gross domestic product grew 7.9 percent in the second quarter as the nation became the first of the major economies to rebound from the global recession. The Chinese government's 4 trillion yuan ($585 billion) spending package and record bank lending have helped the Shanghai Composite Index to soar 78 percent this year, making China the world's best- performing major market.

India, China not rivals, but partners in emerging Asia: S M Krishna
(The Times of India | Jul 22, 2009)
"India and China may be competitive in economic and trade areas, but they are not rivals. There is enough space for both India and China to grow"...

World trade: Unpredictable tides

(The Economist | Jul 23, 2009)
World trade is no longer collapsing and fears of rampant protectionism have not been realised. Even so, the way to revival looks far from smooth...


Politics | Economy
Washington to ink SE Asia pact with eye on China
(AFP | Jul 21, 2009)
Signing could also help extend US sway in an area where Asian giants China and India have been forging goodwill by joining a number of regional bodies...

India and America: Dripping healing oil

(The Economist | Jul 23, 2009)
At the heart of this strengthening was a nuclear co-operation agreement that made India an exception to the global counter-proliferation regime and a more legitimate nuclear power.

Capital Markets
Fung family firm into India
(The Standard | Jul 21, 2009)
The owners of Li & Fung (0494) will invest US$30 million (HK$234 million) for a stake in Future Logistic Solutions Ltd, an Indian supply-chain and logistics firm
Agriculture
Video: Agricultural Outsourcing
(Allied Ventue | Youtube | Jul 21, 2009)
Contract farming - can grow soya, wheat,sunflower, peanut, beans and pulses, sugarcane, jatropha a
nd take output to india in raw or processed forms...
InfoComm Technology

The Gap Widens in Online Population
(WSJ | Jul 21, 2009)
Asia's share of the world's online population will swell to 43% in four years, while North America will represent just 13% of Internet users...China's online population is poised to surpass the U.S.'s this year...Beyond China, other Asian countries with fast-growing Internet audiences include India, Indonesia, the Philippines and Pakistan, while growth will be slower in mature economies such as Japan and South Korea.
Innovation

India Is a High Tech R&D Hotbed
(Daily Tech | Jul 22, 2009)
China has pulled ahead of India with respect to R&D centers with 1,100 of them compared to the 800 R&D centers in India. China offers funding to help encourage students to complete PhDs and financial incentives like tax breaks to lure R&D centers into the country.
Industrial Resources | Manufacturing

Coke tops view despite dollar, shares off
(Reuters | Jul 21, 2009)
The world's largest soft-drink maker's broad geographic footprint, especially in developing markets such as India and China, helped it weather an industry-wide slowdown in the United States.

Caterpillar is saved by Brazil, India and China
(Time CNN | Jul 21, 2009)
Caterpillar, a large Midwestern manufacturer whose factory workers are represented by the United Auto Workers, turned a profit for the quarter...
Real Estate

China bank lending: A bubble in the making?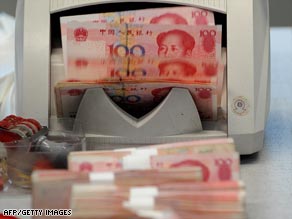 (CNN | Jul 24, 2009)
Real estate prices are on the rise and Shanghai's stock market is up about 70 percent this year. Chinese officials have warned of a significant rise in bad debts in coming years, and economists here say it could sow the seeds for huge bank bailouts down the road.
Health | Medicine

Large Study Points to the Brain Benefits of Eating Fish
(The New York Times | Jul 21, 2009)
The study, which included 15,000 people ages 65 and older in China, India, Cuba, Venezuela, Mexico, Peru and the Dominican Republic, found that those who ate fish nearly every day were almost 20 percent less likely to develop dementia than those who ate fish just a few days a week.
Featured Blogs
India at URI
(Univesity of Rhode Island)
Arising from the 2009 Honors Colloquium on India at the University of Rhode Island (URI), this site tra
cks India and India-related activities at URI.

China Business Blog

(China Business Services | Jul 27, 2009)
http://www.chinabusinessservices.com/blog/



Sincerely,

ICA Institute

Please email your feedback/suggestions about this newsletter to prashant.das@icainstitute.org