Book That Job eZine & Blog
Rhonda Musak
I've recently relaunched my blog as the Book That Job Blog & eZine!
Please enjoy my last three posts: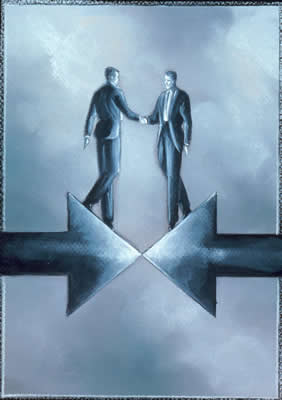 For an actor, it can sometimes seem that there is never enough rehearsal time. Clocks are ticking as soon as rehearsal begins and a director's agenda is priority.

If you have ever found yourself in this position on a project, you may feel like you're not getting the rehearsal that you need in order to do the job that is expected-not to mention the kind of acting work you know that you can do.

That's why it is crucial to learn how to create powerful rehearsals that you can do on your own...

Handling the Challenges of Acting with Grace
One of the things that makes acting so challenging is dealing with the business that goes along with it. From auditioning to performance, the actor is faced with rejection, correction, high hopes, sure things that fade away and a need to prove one's acting abilities time after time.
It sounds exhausting! I
am, however, focusing on this not to be a complete downer, but rather to highlight a quality that can take an actor far when faced with less than ideal circumstances: Grace.
This business--show business--is just too elusive, changeable and outrageously unpredictable to choose to operate from anything less...

Top 5 Lessons from my Summer Acting Intensive for Teens
I recently returned from the Chicago area having completed two absolutely wonderful weeks of leading my Summer Acting Intensive for Teens program. I was blessed with some of the loveliest students I could possibly imagine full of passion and commitment to profound art of the acting.
Along the way, I was reminded of some excellent lessons, five of which I share with you here today...

Quick Links
Have you studied with me? If so, if you would be willing to write a review of your experience of working with me on Actor Rated it would be greatly appreciated!


Follow Book Club for Actors' on Twitter at #asabc
NY Actors Tweetup
You don't have to be on Twitter to join this super fun actor networking event!
The next Actors Tweetup will be held:
August 6
7 - 11 pm!
Pig 'n' Whistle
202 W. 36th St.
@ 7th Ave
If you would like to be on the NY Actors Tweetup mailing list, please e-mail lovely hosts Erin Cronican & Marissa Mutascio at NYAT.
Acting Classes
Fall "Boutique Classes"
To Be Announced
Greetings!
Gorgeous and glorious high summer days are upon us! While I freeze for most of the year, I look forward to July & August as my absolutely sure thaw-out time. Ah...
Before I head out to Fire Island at the end of the month, I'm very much looking forward to leading my next Laser Acting Workshop on August 15: Who Are You When You Step into an Audition Room?
And, of course, lots of theater on the docket for August! The 16th New York International Fringe Festival will be running from August 10-26. So much amazing theater to be experienced...one year I even saw 23 shows! For complete details, check out FringeNYC.
And what, you ask, will I be reading on the beach? Why Christopher Durang, of course! Hope you will be able to join our next Book Club for Actors'. We will be meeting to discuss this fantastic playwright right after Labor Day.
Warm summer wishes for a relaxing August-
Rhonda
Rhonda S. Musak
Acting Coach
Art & Soul Acting
Laser Acting Workshop: August 15
Monthly acting workshops...expand, explore, express!
Who Are You When You Step into An Audition Room?
We've all had that experience when auditioning of entering an audition room clear, present and willing to be in the moment. It's an absolutely amazing experience when it happens on its own, but when it doesn't happen naturally, what's an actor to do?
In this perspective-shifting workshop, participants will:
Develop a fresh and inspiring perspective on auditioning.
Become more confident in their ability to be present and in the moment during an audition.
Discover their ideal audition self so they can positively impact their entire audition experience.
Workshop Preparation: Please bring one of your audition monologues to the workshop. We will not necessarily be working on the monologue itself, but rather it will be used to support the evening's learning.
WHEN: Wednesday, August 15, 6:30-9:30
WHERE: NYC Midtown studio location will be sent along with registration confirmation.
FEE: $35
What's Going on with Acting Class?
Complete details to be announced.
I'm thrilled to share that I'm going to be changing gears in support of greater learning!
Instead of scene study classes this fall, I will soon announce a series of "boutique classes" that will give students the opportunity to design the course of study that most excites them, along with more flexibility to suit class timing needs.

Stay tuned for more details.
What's Up with the Book Club for Actors'?
Remaining reading time - 5 weeks!
On Tuesday, September 4 & Saturday, September 8 we will be discussing the plays of Christopher Durang.
The Book Club for Actors' is offered twice; please choose either meeting:
WHEN: Tuesday, September 4, 7-9:00 - East Village OR
Saturday, September 8, 3-5:00 - East Village
WHERE: Location will be e-mailed with RSVP confirmation
Please begin by reading Laughing Wild. After that, feel free to read any play from the Christopher Durang Reading List found on the Art & Soul Acting website: Christopher Durang Reading List . For the most robust conversation, participants are asked to read at least 3-4 plays.
Be ready to share what you have discovered about this amazing playwright so we can all learn and grow together.
Looking forward to it!
(For a firsthand look at what it's like to be a Book Club for Actors' attendee, please check out The Green Room Blog's article "Book Club For Actors: Like College, but FREE!")
Summer Acting Intensive for Teens
Art & Soul Acting travels! The Summer Acting Intensive for Teens is a one-of-a-kind traveling professional acting workshop. Teens spend a week training like the pros!
Created in 2011-but dreamed about for a long time-the aim of this workshop is to bring acting training to teens who might not otherwise have the opportunity to study professionally.
SAMPLE WORKSHOP SCHEDULE
Classes: Monday-Friday, 5-hours a day
Final Rehearsal: Saturday, 5-hours
Dinner Break: 1-hour
Warm-Up & Half-Hour Call: 1-hour
Performance Cabaret: 45 minutes
Post-Performance Celebration!
The group activities made me feel as one with my fellow actors in the workshop, and I believe the trusting bond was carried on from the stage to everyday life. I made friends, improvements, and most importantly memories to last a lifetime.
~ Brandon Vlach ~
If you are interested in hosting a Summer Acting Intensive for Teens in your area--or know someone who is--please visit the Art & Soul Acting website for complete details. Workshops are booking now!
2012 Workshops
June 25-30: Lockport Township High School
July 9-14: Minooka Community High School
Summer Acting Intensive for Teens
LEAP with Passion Workshop News
2012 celebrated the 4th year of the annual Leap with Passion Workshop. It is a sought after favorite of many of my students.
Leap with Passion into 2012!!!
For 2012 Leap attendees,it has been my pleasure to create
Leaps & Bounds
-- a
bite-sized
monthly reminder to inspire deep integration of all the discoveries made during the Leap workshop.
Please look for it in your e-mail inbox near the middle of each month.
Leap with Passion into 2013!!!
Never too early to plan ahead as Leap goes global!

Tentative dates:
Saturday, December 1 - London
Sunday, December 9 - NYC
Saturday, December 15 - NYC
Saturday, December 22 - Chicago
Saturday, December 29 - NYC
Rhonda's thoughtful guidance helped me zero in
on the things that matter most to me.
~ Stephanie Joiner ~
Click for complete details & registration.
What's the Student News?
If you've studied with me and have news to share, please let me know the details by about 5 days before the end of the month; I am happy to include it here!
"Dangerous Girl" - video by WorstKase Scenario
Shea is featured as the Fish Seller
Laurel Fulcher
Difference
45th Street Theater, NYC
Details to come.
Chuck Marti
Jenna Kantor
Ragtime
Performing the role of Evelyn Nesbit
Details to come.