Join Our List

Two Convenient Locations
Waterbury
134 Grandview Avenue
Suite 101
Waterbury CT 06708
203-756-8911
Middlebury
1579 Straits Turnpike
Lower Level
Middlebury, CT 06762
203-758-2588
OUR
DOCTORS
Kenneth Allen, MD
Duncan Belcher, MD
Gerald Berg, MD
Stewart Berliner, MD
Anthony Carter, MD
John DeLeon, MD
Eric Hyson, MD
Andrew Lawson, MD
Marco Verga, MD
Justin Champagne, MHS, PA-C
Daniel DeJesus, MPAS, PA-C
Ross Utter, MHS, PA-C
NO BUTTS
ABOUT IT....
Smoking Affects Your Business
An educational breakfast seminar
brought to you by
Waterbury Regional Chamber's Health Care Council
Wednesday, October 28th
Courtyard by Marriott
63 Grand St.
Waterbury
Call 203-757-0701
for more details or reservations
Greetings!
It's October and that means one thing to all of us here at DRA - Breast Cancer Awareness Month! This is the time of year when we hear all about breast cancer from every form of media out there. That is a good
thing; however, there is something that works even better than an article or ad and that's personal interest. Ask your best friend, wife, mother or sister if they have had their yearly mammogram and if they say no, get on them about it! Don't let them give you a list of excuses. You know the old quote, "What a difference a day makes," well you should see the difference a
year
makes in the life of a growing cancer.
I came across a great quote from the Woody Allen movie Deconstructing Harry, "The most important words in the English language are not 'I love you' but 'It's benign.'" Nothing says I love you more than making sure the people you care about stay healthy. So be a pest for a good cause!
Donna Johnson
Community Relations Liaison
WORDS TO KNOW.......
Ever wonder what they are talking about on your mammogram? Here are a few key words that are often used.

Calcification Calcifications are calcium deposits that show up in breast tissue. True cysts are benign and don't usually need any treatment. If a cyst is painful or if it looks atypical on ultrasound, then needle aspiration may be indicated.

Cyst A cyst is a fluid-filled sac that might feel especially painful just before your menstrual period. True cysts are benign and can be easily drained by your doctor. If the fluid shows any traces of blood, it will probable be further tested for cancerous cells.

Image-guided biopsy For this type of biopsy a mammogram, MRI, or ultrasound is used to pinpoint the exact location of a suspicious mass. The doctor inserts a needle into the mass and removes a sample of the cells for testing.

Look for more "Words to Know" next month.
"Busting Mammo Myths!"
It's time to switch over to ultrasound and try to clear up some of the confusion about when an ultrasound is needed and why.
"How dense or how much dense tissue is needed to have an ultrasound?" Normal dense breast tissue can make it hard to see a cancer on mammography. As a result, Connecticut law requires health insurance companies to cover screening breast ultrasound (in addition to mammography) for women with dense breasts on mammography. There are four classes of breast density: 1. Almost Entirely Fat, 2. Scattered Fibroglandular Densities, 3. Heterogeneously Dense, and 4. Extremely Dense. Women with densities of #3 or #4 are considered to have dense breasts.
DRA Joins The Home-to-Home
Sixth Annual

"Frames for our Friends"

Bowl-a-Thon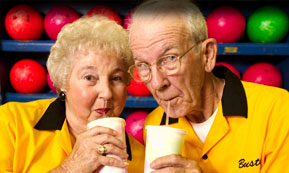 Please join DRA and others for the 6th Annual "Frames for Our Friends" Bowl-a-Thon on Sunday, October 25 at the Thomaston Lanes in Thomaston, Connecticut. The Home-to-Home Foundation works to bring joy and purpose to the lives of nursing home residents through volunteerism and extensive community involvement. The organization acts as a conduit between nursing facilities and volunteers to enhance human contact and evoke the spirits of people who are still very much part of our community. In simple words we bring some fun into the lives of this forgotten population!
The Bowl-a-Thon needs teams of 4 to bowl any one of the three shifts available starting at 10:00AM until 4:00PM on Sunday, October 25th. The cost per team is $150 (the price of games and shoes are included) and every member receives a t-shirt and goodie bag. Throughout the day there will be raffles, prizes, music and loads of fun! You do not have to be an experienced bowler to join in the fun!
For information about becoming a sponsor or organizing a team you can contact Donna Johnson at DRA 203-756-8911 or Jennifer Fiorillo at HTH 203-591-9061.
P.S. There are TVs at the lanes so don't be worried about missing any games on Sunday! Yankee fans, there are no excuses not to bowl, the World Series doesn't start until October 28th!!!
LOOK FOR OUR NEW ADS!
DRA has recently initiated a new ad campaign for our Waterbury and Middlebury offices that you will begin to see in your local papers. Our new campaign centers around what we are trying to do at DRA. Simply stated we are trying to "THINK, WHAT WOULD YOU WANT IF YOU WERE THE PATIENT?" We sincerely want to take into consideration how our patients feel about how their exams are scheduled, performed and in general how they are treated by staff. We hope our new mantra brings you a better experience at DRA. Please feel free to contact me here at DRA, my e-mail is
djohnson@draxray.com
and my phone is 203-756-8911.