Upcoming Health Lectures
PlaneTree is co-sponsoring six "Get Healthy @ Your Library" lectures in October, to be held at various
Santa Clara County Library
locations.
Click here
for a flyer you can post or pass on.
Strategies to Improve Your Memory
The latest research on reducing the risk of dementia will be combined with practical tips and exercises for improving memory during this workshop presented (in English and Mandarin) by representatives from the
Alzheimer's Association
. (Note date for a second English presentation, below.)
Mandarin Chinese presentation by Peining Chang:
2 p.m.
English presentation by Jennifer Mangosong: 3:15 p.m.
Psychologist
Hildy Agustin
, Psy.D., will present new information about how our brains are much more malleable than previously thought, and offer simple, fun techniques to improve cognitive function at any age.
Building Better Bones with Safe, Effective Exercises
Sherri Betz
, P.T., is a dynamic speaker who serves on the Professional Education Committe for the Foundation for Osteopososis Research and Education (
FORE
). She will discuss osteoporosis, demonstrate effective exercises for bone health, and warn against unsafe ones. Her
Osteoporosis Exercise Book
($19.95) will be available for $15 after her talk.
Strategies to Improve Your Memory
See description above. However, this presentation will be in English only.
Get Your Brain Going! Start with Your Feet!
Exercise is vital for brain health.
Leslie Oldenbrook
, D.P.M., will outline foot problems and solutions so sore feet needn't keep you from being active. After the talk, the first 60 participants will receive a free foot screening from Dr. Oldenbrook and his associate, podiatrist Dr. John Sangueza.
Two Conferences for Caring People
"Caring for the Elderly: Moving From Science to Compassion"
is the title of this year's
Compassionate Care Conference
. The author of
My Mother, Your Mother: Embracing
"Slow Medicine," the Compassionate Approach to Caring for Your Aging Loved Ones
, Dennis McCullough, will be the keynote speaker. The conference is primarily for professionals who provide medical, spiritual, or practical care for older adults, and will also be helpful to family and informal caregivers.
Sponsored by the
Coda Alliance
and O'Connor Hospital Chaplain Services, it will be held on Thursday, October 15, on the
O'Connor Hospital campus
. The fee for this all-day conference is $35 dollars. CEU credits are available.
Family and informal caregivers may especially want to save the date and make arrangements to attend
"Caregivers
Count!"
The
free
, one-day conference will focus on self-care, support,
and information about community resources.
Pre-registration is required for this Saturday, November 14th, event hosted by the
Aging Services Collaborative
, which includes city and county agencies, faith-based and non-profit organizations, and other community advocates.



You Can't Fool Mother Nature




Your body thrives on fruits and vegetables - taking a multivitamin or other nutritional supplements is not a substitute for eating well.

FruitsAndVeggiesMatter.gov encourages us to eat more of nature's colorful bounty. Guidance regarding how many vegetables and fruits each member of your family should eat and how to increase your family's consumption; tips for selecting and storing produce; and money-saving advice are provided. The CDC website also allows you to select favorites among its numerous recipes, then print them as a cookbook.



How Can 0+0+0+0+0 Be More Than 2?




By being on nutrition labels! Manufacturers of processed foods can manipulate product ingredients and listed serving sizes to keep trans fat levels below 0.5 grams - which allows them to claim "0 trans fat" on food labels. Unfortunately, during a day of meals and
snacks which include several servings of crackers or cookies, margarine, popcorn, or other foods that have just under 0.5 grams, all those zeros can easily add up to more than 2 grams.


Even in very small amounts, trans fat raises "bad" cholesterol, lowers "good" cholesterol, and promotes inflammation. Two grams "is the maximum safe limit, according to many health authorities. But the consumer wouldn't have a clue" from reading the nutrition labels, stated the

Center for Science in the Public Interest

, the group that first urged the Food and Drug Administration to list trans fat on food labels, in

a news release

.

"Furthermore," the CSPI continued, "that two grams of trans fat is about as much as one could expect from the trans fat that occurs naturally in milk and meat products. There really is no room in the food supply for the artificial trans fat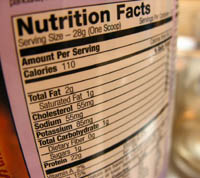 that comes from partially hydrogenated oil."
If you can't rely on manufacturers' claims that products contains no trans fat, how can you avoid it?
Here's one tip: the presence of trans fat is revealed by the phrase "partially hydrogenated" in a list of ingredients. This article points out some convenience and restaurant foods more likely to contain partially hydrogenated oils. General information about which dietary fats to use or shun is available here.



Rare Diseases Aren't So Rare




Medical conditions classified as "rare" in the U.S. typically affect no more than 200,000 Americans; the incidence of most rare diseases is lower than 1 in 1,500 people. So why the contradictory headline?


An estimated 5,000 to 8,000 rare diseases exist. When all people with these "orphan" conditions are totaled, about 25 million Americans have rare diseases - approximately 8% of the population. Thus, although only a relative handful of patients share any specific diagnosis, many millions share the common experience of having diagnoses -

often preceded by lengthy periods of testing and misdiagnosis;
unfamiliar to family, friends, and even many doctors;
with little scientific research to guide their care;
and for which drug companies have not developed medicines.
If you or a loved one has a rare disease, these websites offer medical information and ways to communicate with others who share the same diagnosis:




National Organization of Rare Disorders




(U.S.-based)

(U.S.-based)





Get Diabetes under Control ASAP




Because high blood sugar has such pernicious effects on many organs, the International Diabetes Foundation has brief fact sheets highlighting their "Ten Steps to Better Glucose Control: A Practical Guide for Health Care Practitioners." The organization is particularly keen to shorten the length of time between
diagnosing type 2 diabetes and achieving good glucose control.


Patients being urged to consider using insulin may be heartened by the results of a recent study which compared metformin plus insulin with standard triple oral therapy (metformin, pioglitazone, and glyburide).




Tiny treasures made by hand
Fill the booths in a ballroom
grand.
Closely look, see fine detail,
Gape amazed - they're all
for sale!
Award-Winning and International Dealers Benefit PlaneTree
Many activities at the Showcase of Miniatures are free, requiring only the $7 adults/$5 seniors/$3 kids admission fee: children's workshops both days, an adult "Tools and Techniques" session on Sunday, and best of all, a stroll down exhibit lane where house, park, room, and playground displays astound novice and expert alike.
Show up at the Showcase for PlaneTree this year! And please come by our table to say hello as you enjoy this small world of artistic wonders.
This flyer
has more details. (Please share or post. Thanks!)

Among recent additions to PlaneTree shelves are two titles which have been getting lots of media attention. If sampling the links below piques your interest, either can be borrowed for 2 weeks; just bring in or apply for your free PlaneTree Library card.



A Universe of Coverages


If you're confused or annoyed by all the simplistic and exaggerated claims about health care systems outside the U.S., you'll appreciate The Healing of America: A Global Quest for Better, Cheaper, and Fairer Health Care. T. R. Reid's painful shoulder gave him personal experience with health care in 10 countries, primarily democratic ones with free-market economies and universal coverage. His experiences in each country enliven his succinct history and analysis of each health care system.



"Among health policy narratives, this book's clarity, comprehensiveness and readability are exceptional, and its bottom line is a little different from most," wrote a New York Times reviewer.


NYT

also posted the transcript of an interview with Reid. His recent

Fresh Air

segment with Terry Gross is available on NPR's website. In addition, Reid's 2008

Frontline

documentary "Sick Around the World," which compared five countries' systems, can be viewed online. Access is free for all of these.



"Please, sir.
I want some more."


Imagine you are the former head of the Food and Drug Administration and a physician. Yet, despite your medical expertise and work in support of healthy eating, you yourself are irresistibly tempted by tasty treats. How would you confront your cravings?


Well, if you were David Kessler, you'd explore the research on why we crave unhealthy foods, and then write The End of Overeating: Taking Control of the Insatiable American Appetite. Dr. Kessler takes on the food industry and why its focus on "sugar, salt, and fat" causes us eat more sugar, salt, and fat. In a Wall Street Journal interview, he expressed the hope that, after learning how our brains are wired to respond to these foods, readers will be better able to control their desires for unhealthy foods.


Kessler's hour-long presentation at a bookstore is a video on C-SPAN. His conversation with Moira Gunn for NPR's

Tech Nation

is available on IT Conversations.




Support PlaneTree
Donate online

PlaneTree Book Group
We're skipping the October session because it conflicts with Showcase of Miniatures, a world-class art show of which PlaneTree is the lucky beneficiary (see above).
On Nov. 14, we'll talk about Finding Joy: 101 Ways to Free Your Spirit and Dance with Life by Charlotte Davis Kasl. (Note: we now meet on the second Saturday of each month.) You may borrow or buy it from PlaneTree. If you don't have a chance to read this selection, please come anyway to enjoy our lively discussion and excellent company.