June 16th is World Sea Turtle Day, named in honor of the birthday of Dr. Archie Carr who was the father of modern sea turtle biology. A renowned herpetologist, naturalist and professor of zoology at the University of Florida, Dr. Carr is perhaps best known to the public as the author of eloquent books about sea turtles and the tropics. For those familiar with sea turtle research and conservation, Dr. Carr is revered for his scientific contributions and vision. He was passionate about sea turtles, and his enthusiasm was contagious. Born in 1909, Dr. Carr spent his career in the Americas where sea turtles were intensely exploited for much of the 20th Century,
just as they were in other areas of the world.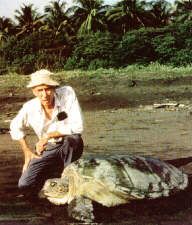 Dr. Archie Carr. Image by Jeanne Mortimer
Dr. Carr left a remarkable legacy of science and conservation, including a program that has safeguarded an imperiled assemblage of nesting green sea turtles in Tortuguero along the wild Caribbean coast of Costa Rica. At the time he first encountered these animals, so many were killed for their meat and calipee (for turtle soup) that the population was headed for extinction. In 1959, Dr. Carr established the world's first sea turtle research and conservation organization, Sea Turtle Conservancy, and initiated what is now one of the longest and most successful conservation programs in the world. With nesting increasing five-fold in recent decades, the Tortuguero population is the largest green turtle nesting colony in the Western Hemisphere and the second largest one in the world. Hundreds of young biologists began their careers in Tortuguero, while the local community has taught social scientists important lessons in grass-roots conservation.
Make a difference on World Sea Turtle Day!
Make a Donation or Adopt a Turtle
Dr. Carr would be enormously pleased by the ongoing success of green turtles in Tortuguero and closer to home in Florida, where formerly depleted populations of green turtles are nesting in greater numbers each year. He would be excited too by the powerful conservation ethic for sea turtles emerging in much of the world. After decades of conservation, the remarkable resurgence of the Kemp's ridley in the Gulf of Mexico and the hawksbill in the Caribbean, two species in a perilous state at the time of his passing in 1987, are cause for celebration. As envisioned by Dr. Carr, good will and good science are the foundation for preventing the extinction of sea turtles in our modern world, but efforts must be concerted and they must be long-term.
Green Sea Turtle. Image by Neil Ever Osborne
If he were alive today, Dr. Carr would have reveled in the technology that has allowed us to follow turtle movements with satellites and determine the nesting origins of individuals from their DNA. He also would have urged us to remain committed to reducing the very significant threats sea turtles face now, including habitat destruction, accidental capture in fishing lines and nets, and marine pollution. And he would have encouraged us to stay vigilant in the years to come as changes in ocean temperature and chemistry dramatically alter marine landscapes, including critical turtle nesting and feeding areas. Sea turtle scientists and conservationists are mindful of the significant challenges that lie ahead, but on World Sea Turtle Day, as we celebrate Dr. Carr's life and work, we are buoyed by the good things that have happened for these species in recent decades and the people around the world who are working to make a difference.
By Marydele Donnelly
STC Director of International Policy