September 2012
Educational Options


& TalentIgniter

Newsletter



Besides her years of expertise as an educational consultant, Dr. Ruf also is well established as a national and international speaker on all issues of giftedness.

Dr. Ruf has posted a new blog on

TalentIgniter.com/blog

titled

"Gifted Programs are Under-Funded, But . . . That's Not an Adequate Excuse for Doing Nothing."

Available early this fall, an article by Dr. Ruf will appear in The Center for the American Experiment's published symposium. The subject is "Fragmented Families and Splintered Classes: What Minnesota and the Nation Might Come to Look Like."

Greetings!

There is something very stabilizing about fall, isn't there! It's a time of getting back into the old routines. We hope you are all enjoying life in September!

Dr. Ruf and I spent the last part of the summer with our "babies." Dr. Ruf rediscovered how much work is involved in tending to babies and young children, when she got to do "grandma" duty after the recent birth of her second grandchild, a boy. She is thrilled. And I spent a long Labor Day Weekend with "the kids" when my daughter and seven of her friends flew in from around the country for our annual Minnesota State Fair event - the Great Get-together!

By the way, I want to thank everyone who "liked" us on Facebook last month. I managed to send almost everyone our ebook, Keys to Successfully Raising the Gifted Child. However, there were a few people whose Facebook mail I was not able to access. So if you "liked" us between August 7-14 but didn't get the ebook, please let me know how I can get that to you. Thanks!

Kathy Hara, Editor
Teach Kids to Love Math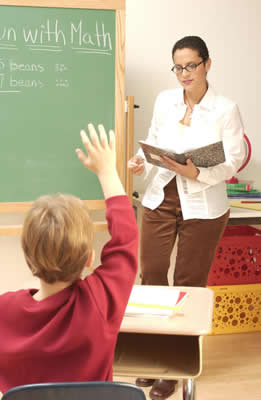 Here's an article in the Wall Street Journal from August 29 about how parents may be inadvertently influencing their children's negative feelings about math. In her article A Worksheet for Math-Phobic Parents, Sue Shellenbarger gives some good advice about encouraging math abilities in everyday, fun ways. And the good news is that parents don't have to know math in order to help their kids.
Wolfram MathWorld
If you or your child is interested in math, it looks like Wolfram MathWorld should be your first stop for resources. With thousands of contributors, Eric W. Weisstein has been assembling the site since 1995. And it is provided as a free service to the world's mathematics and internet communities as part of a commitment to education and educational outreach by Wolfram Research, makers of Mathematica.
MathWorld reaches millions of readers around the world, and it also serves as a clearinghouse for new mathematical discoveries that are routinely contributed by researchers. Its entries are extensively referenced in journals and books spanning all educational levels, including those read by researchers, elementary school students and teachers, engineers, and hobbyists.
Mensa Encourages Reading
The Mensa Foundation recognizes and encourages education, gifted youth and lifelong learning through programs like the Mensa for Kids website and other activities.

To encourage the joy of reading, the Foundation has also developed the Mensa for Kids Excellence in Reading Award Program! To win a gift certificate, and to receive an Excellence in Reading T-shirt, kids must read (or have their parents read to them) books from provided lists. The lists are divided into age appropriate sections, from kindergarten through 12th grade.
Just for Fun!
Can you read this title? It is "Just For Fun!" The fun part is that each letter is a photo of a galaxy. Go to My Galaxies, and you can write any message you like, and then save it on your computer. Be sure to click on the links while you're there, so you can learn about the Sloan Digital Sky Survey and the Galaxy Zoo.
Gifted Issues Presented by Great Potential Press
During National Parenting Gifted Children Week this past July, Great Potential Press presented a series of guest blogs covering some of the biggest topics in childhood development and gifted education today. Some of the topics covered included 2e, spanking, identification, advocacy, and more. Visit GPP's website to read them all.
Gifted Ed Blogs
In Minnesota: Gifted Conference at St. Thomas University


On Friday, September 28, the University of St. Thomas will present its one-day biennial conference on gifted education. St. Thomas faculty members with expertise and professional experience in gifted education will present "Myth Busting in Gifted Education" from 8:30 a.m. to 3:30 p.m. at Opus Hall in Minneapolis.


Registration ends September 17.
Visit www.EducationalOptions.com to learn about how Dr. Ruf's 4-Step Process will empower you to get your bright child's needs met. The website also includes many articles written by Dr. Ruf and others about gifted issues; categorized lists of books recommended for those seeking more information about their gifted children and themselves; Dr. Ruf's speaking schedule; an archive of this monthly newsletter, beginning in 2006; and more.



TalentIgniter invites you to browse the many features offered on its website, including the following:
5 Levels of Gifted: School Issues and Educational Options
Formerly titled Losing Our Minds: Gifted Children Left Behind), 5 Levels of Gifted, published in 2005 by Great Potential Press, combines four years of data gathering from 50 families
78 children with nearly 30 years of research and experience in the field of giftedness, individual differences, and high intelligence. The book is aimed primarily at parents and vividly describes the upper 10 to 15 percent of the intellectual continuum in human beings from birth to adulthood as manifested in their behaviors, thoughts, accomplishments, and test scores. She introduces the concept of Levels of Giftedness and makes it very clear how many factors contribute to a person's intellectual levels and achievement.
Keys to Successfully Raising the Gifted Child
You know your child is gifted. But how does that impact day-to-day life and your role as a parent?
Written by Deborah L. Ruf, Ph.D., and Larry A. Kuusisto, Ph.D., Keys to Successfully Raising the Gifted Child is for parents who are new to the idea that their children might be intellectually advanced or gifted. This ebook addresses important parenting issues, including what to actually tell your child about his or her giftedness, how schools approach learning differences, best ways to provide emotional support, sibling rivalry, and more.
The book delivers lots of provocative information that will lead to hours of good discussion, debate, and further investigation and research by group or class participants studying the gifted and talented.