Whether you are heading back to school or just wanting to revamp your lunch routine, now is a perfect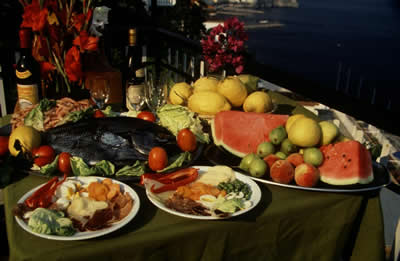 time to check out these lunch tips for increased focus, concentration, and energy throughout the afternoon.
#1 Take Five. Include at least one food from each of the Five Food Groups (Fruit, Vegetable, Grain, Protein, and Dairy). Since no one food contains all of the nutrients our bodies need, including foods from each food group at lunch will help ensure our body has the nutrients it needs for optimal functioning on and off the field.
#2 Make Most of Your Grains Whole. Whole grains are packed with nutrients including fiber, Vitamin E and B Vitamins.
#3 When Choosing Protein Foods, Think LEAN. Eating protein rich foods at lunch will help you keep focused throughout the afternoon. Lean protein choices include dried beans, eggs, fish, chicken, and lean roast beef.
#4 Be Bone-Smart and Include Dairy Sources at Lunch. Lowfat or nonfat milk, reduced fat string cheese and lowfat yogurt are all rich in calcium and vitamin D, two important components of strong bones.
#5 Think Your Drink. Keeping well hydrated throughout the day is essential for maintaining focused energy. Two of the best drink choices are water & lowfat or nonfat milk.
#6 Ending Lunch on a Sweet Note is OK. Savor a small treat such as a peppermint patty, fruit dipped in chocolate, a piece of chocolate, a homemade cookie or pudding if you desire. It really can be a part of a healthy training diet.
Have fun incorporating these 6 tips into your lunch bag and watch your afternoon energy and concentration levels soar.