Activity of the Month: Golfing
Sharpen your hand & eye coordination, overall balance and overall golf game as you go for a 3-5 mile walk around your local 18 hole course. Add a bag of clubs over your shoulders to provide a bit of strength conditioning during this walk. Although golf can be a bit frustrating at times, the beautiful surroundings of trees, manicured greens and glistening water features will hopefully promote a sense of peace and rejuvenate the soul.
Events of the Month
July 14-15:
38th Annual Ballard Seafood Fest
Experience a bit of Scandinavin Culture during this 2 day festival. Enjoy the talented entertainment as you enjoy delicious Salmon BBQ. If you are feeling extra hungry, enter the lutefish eating contest. Check out
www.seafoodfest.org
for more information.
July 27th:
Opening Ceremonies of the Summer Olympics in London.
Be inspired by the World's best gymnasts, swimmers, divers, runners,volleyball players, basketball players and more as they "Go for the Gold!
Sports Nutrition Gem: Cherries for Pain Relief
Relief for p
ost-exercise muscle soreness and pain may be found in a glass or two of tart cherry juice. Several scientific studies support this connection between decreased muscle pain and natural anti-inflammatory foods including cherries. In particular, a recent study from the Oregon Health and Sciences University showed a significant decrease in muscle pain among long distance runners after drinking cherry juice twice a day for a week (J Int Soc Sports Nutr 2010; 7:17-22). The Cherry Marketing Institute has set up the www.choosecherries.com website to provide more information about the possible connection between tart cherries and post-exercise soreness.
App of the Month: Gilt Taste FREE
Want to use your iPad in the kitchen but are afraid it will become sticky, gooey or full of flour? If so, check out Gilt Taste's new app. After selecting a recipe from their continually expanding recipe collection, you can flip from step to step without touching the screen. With a wave from left to right past the Pad's built in camera, cook's can move forward in a recipe (and right to left to go back to a previous step). Move your iPad into the kitchen and check out recipes from top chefs while keeping your iPad pristine. Click on the image to learn more about Gilt Taste today.
Recipe of the Month:
Grilled Corn & Red Pepper Salad with Orzo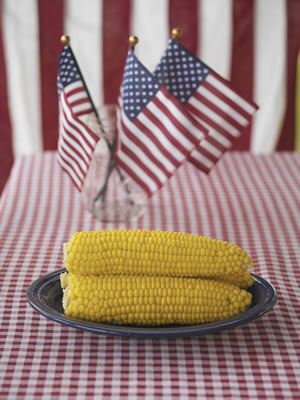 4 ears of corn
1 red bell pepper
1 cup uncooked orzo
4t. olive oil, divided
2T. lime juice
2T. fresh flat-leaf parsley
1 t. cumin
1 jalapeno pepper, diced
¼ cup crumbly cheese (e.g. feta, cotija or queso fresco) (optional)
¼ t. freshly ground pepper
Preheat grill. Remove husks from corn. Rub bell pepper and ears of corn lightly with 2t. olive oil and place on grill. Grill over medium high heat for about 12 minutes (3 minutes per side). Remove from grill and cut kernels from cobs and dice pepper.
Cook orzo according to package directions, omitting oil and salt. Drain and place in large serving bowl. Mix in remaining 2t olive oil.
Add corn, bell pepper, lime juice, parsley, cumin, and diced jalapeno pepper to orzo and mix gently. Sprinkle on cheese, if desired, and serve.
Makes 6 servings