Visit our newly rebuilt website by
clicking on the logo above.
At our site, check out past newsletters, recipes and learn more about the services we offer.
Be sure to leave us a message letting us know what you think.

Enjoy the tastes & flavors of Mexico this Saturday as we commemorate Mexico's historic victory over the French at the Battle of Puebla on May 5th, 1862. To get the fiesta started we have included two healthy and delicious Mexican recipes. Using limes, black beans, avocados, red bell peppers, cumin, tomatoes, corn and more, you can enjoy the flavors of Mexico while obtaining essential nutrients

. Ole'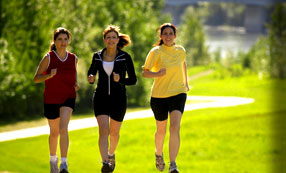 Activity of the Month: Running
May is a perfect time to slip on a pair of comfortable running shoes and head out to enjoy the Spring flowers and sunshine wihile working your heart.
Need a little motivation? Make it social. Instead of meeting a friend or spouse for coffee or lunch, go for a run together and let the miles pass quickly as you chat along the way.
Want to find a new running trail? Check out www.mapmyrun.com and find new paths near home or near your next vacation spot.

Events of the Month

May 5th Windermere Cup & Boat Parade
Head to the Montlake Cut this Saturday to watch the University of Washington's Men & Womens' crew team races along with other local crew team races. Then, stay to see the colorfully decorated sail and motorboats parading through the Montlake Cut to mark the Opening of the 2012 Boating Season. Click here for more details.
Chihuly Garden and Glass Opening May 21st
Located at Seattle Center, Chihuly Garden and Glass is comprised of an Exhibition Hall, the centerpiece Glasshouse and a lush Garden. Click here for more information and to buy tickets.
.
Sports Nutrition Gem:
Preventing Stress Fractures
A stress fracture is defined by The American Academy of Orthopedic Surgeons as an overuse injury that results when muscles are fatigued to the point that they cannot absorb shock adequately. As a result, the tired muscle transfers the added stress to the bone causing a small crack or "fracture." Resting for 6-8 weeks will generally result in a full recovery.
Athletes engaging in sports including track, cross country, basketball, gymnastics, and tennis have a higher incidence of stress fractures. In addition, women tend to have more stress fractures than men. While gender and sport can place an athlete at a higher risk for stress fracture, all athletes can benefit from the folloiwng prevention tips:
1. Gradually build up your exercise intensity, especially when beginning a new sport or season.
2. Cross-train with strength and/or flexibility training.
3. Obtain adequate amounts of Calcium and Vitamin D rich foods and beverages daily to maximize bone density.
4. Replace shoes and cleats frequently.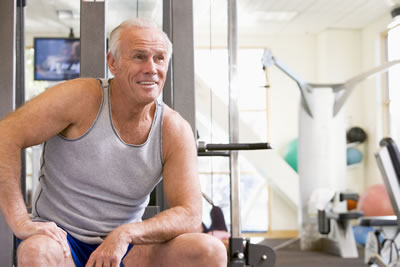 App of the Month: Workout Trainer Free
Wanting to add variety to your current exercise routine? Try Skimble's Workout Trainer App. Containing thousands of free workouts there is surely one to fit your needs and interest. Each exercise routine is timed with step-by-step audio instructions. Use the Shakerciser tab to customize your search by time, body part and intensity. This app is perfect for individuals desiring to improve their fitness without exercise equipment. Click on the photo above to learn more about the Workout Trainer. .
Available on iPhone, iPad, iPod Touch, and Android devices.

Recipe of the Month:
Beef Fajitas with Corn Salsa
3/4 lb of beef sirloin, sliced into 1/2 inch wide strips
3 teaspoons canola oil, divided
1 orange bell pepper, sliced into thin strips
1 red bell pepper, sliced into thin strips
1 sweet onion, sliced thinly
Corn Salsa, recipe follows
Mix lime juice, chili powder, cumin, and garlic in a large resealable plastic bag. Add beef slices. and toss to thoroughly coat. Place bag in the refrigerate for 2 hours. Remove beef and discard marinade.
Heat 2 teaspoons oil in a large nonstick skillet over medium-high heat. Add beef and saute for 3-4 minutes or until slightly pink in center. Remove beef from skillet. Add remaining 1 teaspoon oil along with peppers and onion to skillet and saute until tender, about 5 minutes. Return beef strips to skillet and heat for final 2 minutes. Meanwhile warm tortillas in oven or microwave. Serve immediately with corn salsa and sour cream.
Corn Salsa
2 cups frozen sweet corn, thawed
1 jalapeno pepper, seeded & finely diced
1/4 cup cilantro, chopped
Combine all ingredients in a small bowl. Cover and place in refrigerator until ready to serve.