Simple Steps for Grilling Success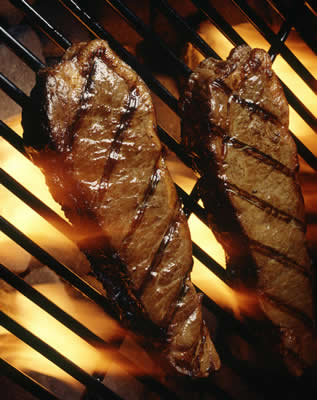 Now is the time to take meal prep out of the kitchen. However, before you fire up the grill for your next meal, keep in mind these simple steps for grilling success.
1. Mis en place.This French culinary phrase loosely translated as "mess in place" refers to having everything gathered together at the beginning. Assembling all of the ingredients and equipment including fuel beforehand will facilitate a calm grilling experience.
2. Keep engaged. Once you turn on the grill, keep focused. Grilling is not the time to have a lengthy phone chat, read a novel or water the plants. Keeping your attention on grilling will yield a desired result and allow you to easily address any flare-ups or modify cooking times.
3. Minimize cross contamination. Do not use the same plates, cutting boards, and utensils for raw and cooked meats.
4. Use a meat thermometer. Taking the temperature of grilled meat, chicken, and fish will take the guesswork out of determining doneness and prevent under or overcooking. Here is a chart of safe internal temperatures.
Minimum Safe Internal Temperatures for Meat, Poultry and Fish
| | | |
| --- | --- | --- |
| Type of Food | Temperature (oF) | Rest Time |
| Fish | 145 | none |
| Pork | 145 | 3 minutes |
| Poultry | 165 | none |
| Ground Meat: Beef, Pork, Veal, Lamb | 160 | none |
| Beef, Veal, Lamb Steaks & Chops | 145 | 3 minutes |
5. Give it a rest. After removing beef and pork from grill, wait for a few minutes before serving. This resting period allows the juices to return to the meat surface and will result in a juicier and tastier product.
Keep these simple steps in mind as you grill for a tasty and safe dining experience. Bon Appetit!