CEO/ CEO Magazine
PARIS P.
I hope that everyone is well rested and have recovered from this past CIAA weekend. Many memorable moments came out of CI this year and I can't help but to feel some type of way about the people I saw. "Sexy" would sum it up in one word for this year's CIAA because Charlotte was on point with both fashion and attitude. Though I did see one raggedy girl on Saturday who was quite out of place with Tommy jeans on and a big belt loop symbol. What topped it off was the hole in the back of her jeans showing some of her butt. Ewwww. You know better than that(you know who you are), but beside's her, Charlotte went in....and went hard.
Now although I was able to hit up many of the parties, I had a very busy time trying to get around to all the promoters events to show my support all while having a good time. Each and every party I showed up to rocked the house and I was fortunate to meet some celebrities along the way. PinkyXXX was one of those celebs I ran into at Club Nikki's and in case your clueless to exactly who she is, let me school you real quick. PinkyXXX is one of the hottest females in the adult entertainment industry right now. CEO Magazine was able to snag an exclusive interview with the lady in pink thanks to Emaj ENT, Dreamers ENT, and Mike Gaston Productions. In addition I was also given the opportunity to join in the festivities Thursday night down at Club Nikki's located on Little Rock Rd. where they throw their regularly scheduled event "Temptation Thursday" each and every Thursday night. This paticular night was different from the norm though. One because it was CIAA so every dancer in the Carolinas Came down to make that money and two because Pinky graced the stage with not one but two performances. Can you say, "GOOD LORD ALMIGHTY." Hmmmm, overly enjoyable I must say.
Other than Nikki's, the weekend was filled with events thrown by promoters that I would never miss again. This weekend was also an opportunity to link up with some people I hadn't seen in a while (Shout out to Tanoia Hill and Davion Hart). We had a ball at the MAZ ENT.'s Founders Hall event on Saturday. Shout outs to Maz ENT as well, they definitely made the "Paris P's Top 5 Event's to not miss" list.
But while we're on the subject of missing people, has anyone seen Jkwon? Jkwon, you know "Everybody in the club getting' tipsy ey, ey, ey." Yes him, well neither have I, be sure to check out that article about Jkwon's possible where-abouts,PinkyXXX's Interview exclusively with CEO Magazine, Pharrells tanks designs, Naomi's abuse and many more hot articles in this weeks issue. Be sure to check out and download the CEO Magazine's Mixtape Vol.1 as well. Email about any questions or concerns or if you interested in advertising to over 7,000 people in NC.
I leave you with this quote, "No one ever had to tell a star it was a star for it to start shinning, it's the fact that it was shinning that you noticed it was a star in the first place."
With that said take note to the way you carry yourself and always strive to be at 100% because eyou never know who's watching...You determine what they see.
PARIS P. CIAA 2010 TOP 5 Parties
MAZ ENT - FOUNDERS HALL SATURDAY
IKNOWTANK.COM and IV HORSEMEN ENT - PRESTOS FRIDAY
EMAJ ENT, DREAMERS ENT, MIKE GASTON PROD. - NIKKI'S THURSDAY
PME (SPORT E ODIE) - BACKSTAGE SATURDAY
FLY LIFESTYLE - BENTLEYS FRIDAY
Until next time Charlotte.
"Be easy and always keep it 100."
Altercation With Driver Puts Campbell In Bad Light
Despite Being Accused Of Punching & Slapping Her Driver On Manhattan's East Side, Supermodel Faces No Charges
The spotlight is shining on supermodel Naomi Campbell and, once again, not in a good way. Campbell is accused of slapping her New York City driver. He said she then jumped out of the car and fled. Campbell's day went from bad ... to worse.

Just hours after Campbell, 39, was featured front-and-center in an AM New York article titled "Bosses From Hell," her limo driver claimed she assaulted him as they were traveling across town on 58th Street. The driver spent hours giving a detailed statement to police, but then, according to officers, declined to press charges and asked that the report be closed, saying he plans to settle the incident in civil court instead.Campbell's attorney told police he will make the catwalking queen available for questioning at a later date.

In a statement the supermodel's spokesperson said: "There shouldn't be a rush to judgment. Naomi will cooperate voluntarily," and added, "there is more to the story than meets the eye." Some New Yorkers seemed will to give Campbell the benefit of the doubt.
"She's known to have a bit of a temper, and that can carry over in some cases," said Spencer Ross on the East Side. "But who knows exactly what happened?"This is not Campbell's first brush with the law. In 2006 she was arrested here in New York and later pleaded guilty to assaulting her housekeeper.
The dangerous diva avoided doing hard time by agreeing to five days of community service, along with anger management classes. Then in 2008 she pleaded guilty to assaulting two police officers in London's Heathrow Airport.

"Yeah, she probably did it. Well, she's got a history hasn't she?" tourist Nick Rockcliffe said.

"We should dedicate Britney Spears song 'Oops I Did It Again,'" said Clara Alvarez of Whitestone. While nothing was proven in Tuesday's incident, the slap-happy supermodel may have already been convicted in the court of public opinion.

Police said there were no visible injuries on the driver.
Pinky XXX - Interview
Respect The Grind
INTERVIEW BY PARIS P & ARMOND WORTHY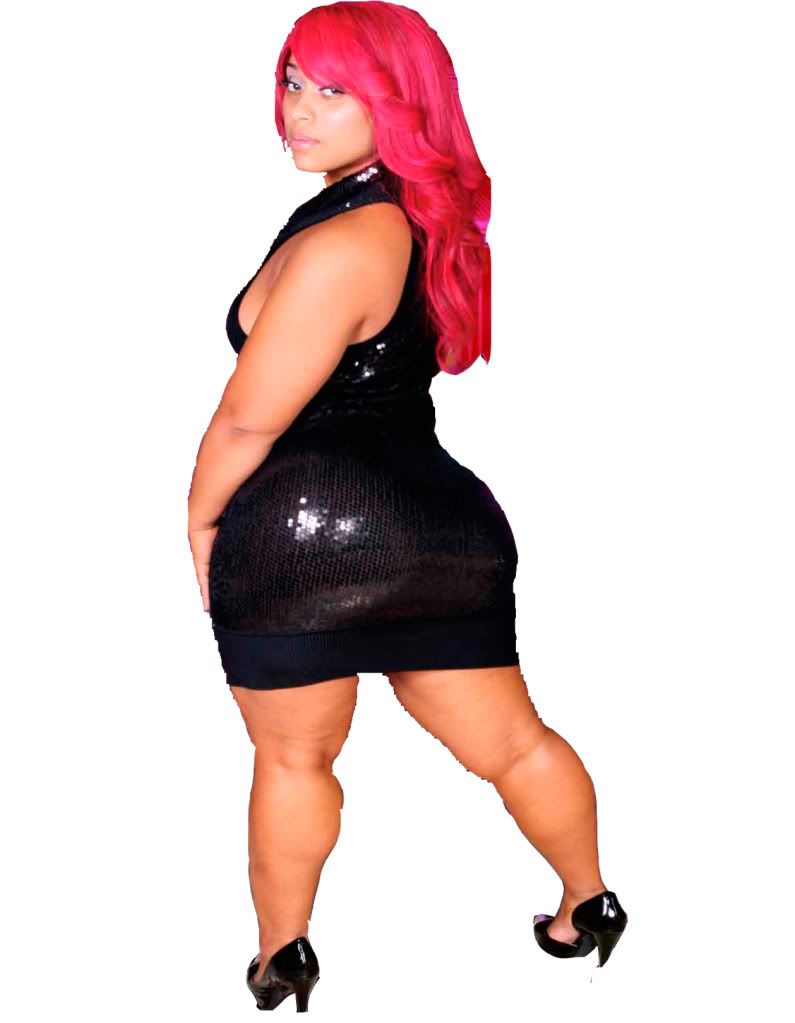 Q:
What sets you apart from every other female in the game?
A:
What makes me different from other Porn Stars is that Im the most recognizable one and people other than those who watch porn know who I am. I have a range of age groups and ethnicity's who know who I am from my pink/red hair and not to mention my big butt. I also understand that there's a difference between being a bitch who fuck on film and being a porn star. I own all of my products and websites and I continue to make moves as the Boss I am from setting the standards for feature shows to being able to only work for myself exclusively and switching up the game and only shooting with condoms now. There's so much more details but i don't want to offend anyone so next question.
Q:
Give me three of the biggest pleasures and three of the biggest pains of working in the Adult Film Industry?
A: Three of my best pleasures of porn is I make enough money to invest, save, and take care of myself and even before the recession its hard to make an income to do all those things without living month to month or check to check. I can honestly say money wise I've never had to struggle in this business or start at any ones bottom and for that im very blessed. I came in the game owning my own business already producing and directing independently and also having a strict plan and time-line of what business i wanted to handle. Another pleasure of mine is that porn is watched by so many all over the world that my popularity spread very quickly where I could travel getting good money very early on in my career. The third pleasure would be the sex because it comes very natural to me and I'm good at it so my job is a lot easier.
A: Three things i cant stand about the industry is dealing with the dark and grimy side of the industry, not having enough female talent on my level that I can work with, and people fronting on me cause they know I have more than them or they think Im rich and want to charge me up the ass for shit they know would be hella cheap for someone else. But at the end of the day between me and my partner it all gets dealt with.
Overall I really don't have too many complaints because my opportunities and popularity only continues to grow and the position Im in in the game I make the rules.
Q: Is there anyone in the "industry" who you look up too?
A: The person I look up to in the industry is Jenna Jameson obviously for her hard work, branding, and millions of dollars
Q: How do you keep yourself from losing focus with so much of what you do, being centered around a party atmosphere?
A:
Staying focused in a party atmosphere is important to me because I always want to reach my full potential of collecting my money at all my events. From taking pictures, selling DVDs, selling 8x10s, and dancing. There has been times in the past where I felt spoiled with bottles and drank too much and it didn't help that I would make three times more money the nights I was fucked up but I had to cut that shit out and push myself to have the same fun and energy as if I was liquored up.
Q:
As a featured entertainer do you receive more "perks",if so, do you get alot of hate from the women who already have tenure at the clubs your featured at or is it all love?
A: As a feature entertainer yes it does come with perks. I'm booked the most professional way where I don't have to deal with anyone personally and all my monies is collected before the event. I also am promoted on the radio and on flyer's where I always mention my website for more exposure. I love traveling all over meeting my fans its super fun. Women who work at the clubs I appear at are very nice to me and always spend money with me. Sometimes people who come with me notice females hating on me but I never see it they don't do it in my face and the same girls always want autographed stuff for their boyfriends or husbands.
Q: What is one of the biggest misconception's people get about you?
A: The biggest misconception that people think about me is that I have a lot of sex and that I escort. I actually have the least amount a sex for any porn star I know and even a lot of non porn stars. I absolutely do not escort or do private shows of any kind. I came from the life of being a strip hoe and the whole point of me starting my own business and doing porn is so that I would never have to make myself accessible person to person ever again. It would be a huge fall backwards to do so for any amount. I look down on people who assume or start rumors that I do and I don't care that everyone else in porn does escort I'M NOT EVERYONE ELSE! I'M A BOSS! I DON'T HAVE TO!
Q: Finish this sentence: If I wasn't an adult film-stress I would be...................
A: If I wasn't a adult film-stress I would've loved to work with animals or children.
Q:
Men Or Women???
A:
I do a lot of girl girl scenes for my website but I prefer men.
Q:
Whats the next big move for Pinky?
A:
My next big move is music. I've already performed musically in Michigan, Texas, New Jersey, and Ohio. I plan on surprising everyone with my hot music and doing more touring and working with hot artists. I love doing radio and wouldn't mind having my own show but I know the smartest move would be television so hopefully that will come soon. I don't feel limited in any way and I know I will have my time to shine in every aspect of life I want.
Q:
Any rumors you wanna go ahead and lay to rest while we're here?
A: There's no specific rumors I want to mention but I will lay to rest this idea... I have never been pregnant and I do not have any children.
Q:
Tell the fans how they can get in contact with you............Any Shout Outs
A:
For my fans who want to contact me go to
http://www.pinkyxxx.com
click on contacts and you will find all my info including where to send pics if u think u got what it takes pinkieass@yahoo or to book me
tsemedunn@aol.com
also you can fill out offer form for bookings at
http://www.noirproductionsinc.com
to send me music send to jeremyroyalty@yahoo and to listen to my music check out
myspace.com/pinkymusicpage
and to follow me on twitter
twitter.com/therealpinkyxxx
I want to give a shout out to my manager Danielle thanks for smashing for me all the time and having my back. Thank you to my partner Jeremy Royal for making sure no one thought they could get over on me and having the great sense for business that you do and making my product so hot with your filming and editing skills. I want to say thank you to CEO Magazine I appreciate the love and thanks for being patient with me on getting this done I've been moving around hella much lol. Last but not least thank you to all my fans for your support y'all make me feel real special and I hope to meet all of you at an event near you muuuaaahhhh xoxo
CHECK OUT THE 5 EXCLUSIVE NEW TRACKS FROM PINKYXXX
Special Thanks goes out to EMAJ ENT, Dreamers ENT., & Mike Gaston Productions for the opportunity to make this interview possible. Make sure you check them out each and every Thursday down at Club Nikki's.
Yes, the multi-talented music mogul/ business man Pharrell Williams has concurred yet another facet of life. He is one of the first musical artists to tackle the untainted market of furniture décor. Gallerie Emmanuel Perrotin presented Pharrell's latest designed creation, The Tank Chair, March 22nd to March 28th at Colette and again from March 30th to April 24th 2010 by appointment only.
T hough this may be your first time hearing of Mr. Williams transition into the furniture design industry, he has previous creations dating back to 2008 where he collaborated with Domeau & Peres (known for their unique furniture designs mainly in Europe) to create the "Perspective Chair" a very limited edition piece with came in four colors; black, red, yellow, and cyan. Only four of each color were made to be sold. These particular pieces were very unique and said to represent the love between a man and woman. Pharrell elaborated by saying, " I had often wondered what it would be like to truly be in love, not lust for once...So I decided not to ask what it was like in someone's shoes or what it was like to sit in their seat...I decided to sketch out my own experiments." And thus "The Perspective Chair" was born. Domeau & Peres also collaborated with Pharrell on a another design in 2009 called "Brookyln Machine Works", a high end fixed gear bike that came in all yellow. The bike is on display at the W Lounge, a special space in the W Hotel Paris. The bike comes in an edition of only 1.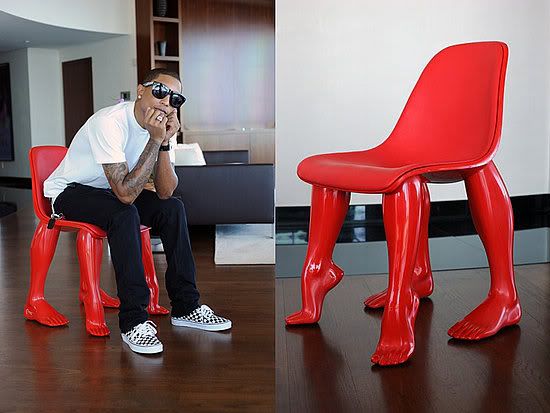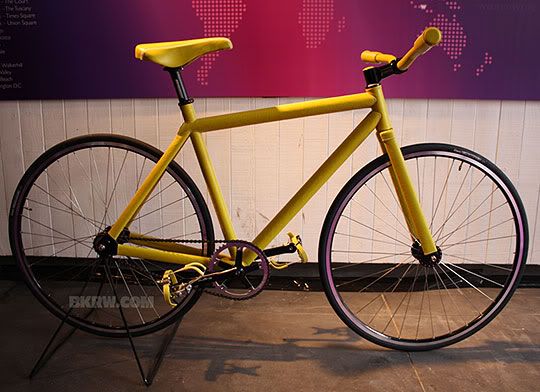 Even with his amazingly artistic mind, two head's are still better than one. Knowing this Williams continues collaborating his talents with great talents in the art world including Takashi Murakami who you might know for his art work on the cover of Kanye West's Graduation Album cover, the animated characters in Kanye's "Good morning Video" or also his unique Louis Vuiton line that displays the cartoon like flowers baring smiley faces. Takashi and Pharrell also teamed up in 2009 to create the sculpture "The Simple Things" the pieces were created using over 20,000 rare stones and was sold in the first 30 minutes of the Basel art show for 2million dollars.
Now tackling the theme of war with the "Tank Chair" made of Plexiglas and foal of calf, the four pieces of the Tank Chair are released in a limited edition of eight pieces in each style. Pharrell truly puts the art in artist and make's me anxious to see the market he plans to plunge into next.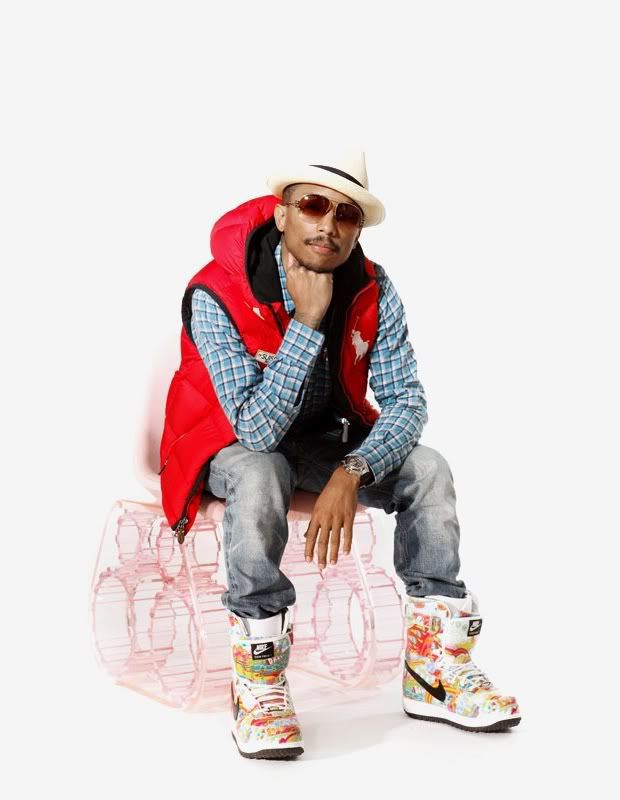 Paris Lookbook #1
Volta 2010 Spring Footwear
Consisting of only a few styles, yet crafted with premium materials and superb construction, Italian footwear company Volta previews a series of new colors for Spring 2010. Featured are four classic schemes, including royal blue, cream, brown, and beige styles in canvas with leather trim detailing. Look for these now via
Hanon
CLAE 2010 Spring/Summer Collection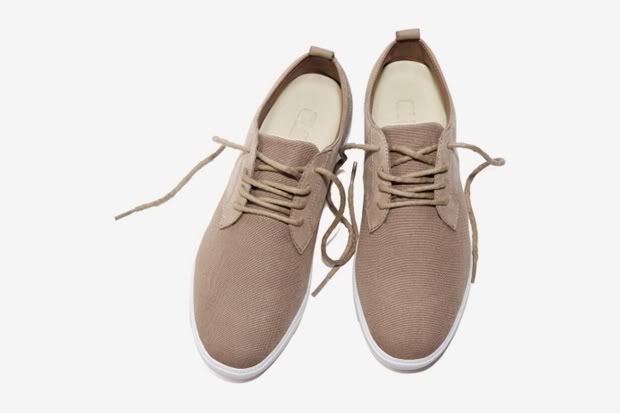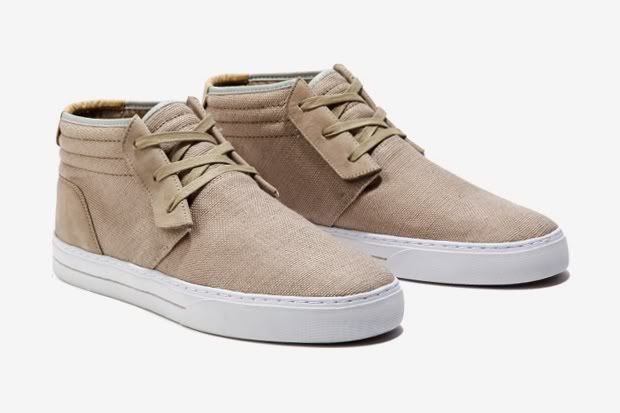 One of the brand's most extensive collections to date,
CLAE
give us a look into additional styles from its Spring/Summer Collection. Created with minimalism in mind, the lineup does a great job of capturing that aesthetic while still incorporating varied colors and material options. Look for these models at CLAE stockists now.
Supra NS 2010 Spring Strapped II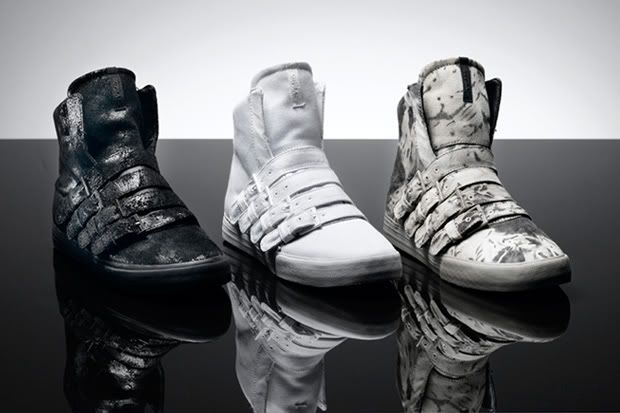 Wrapping up the Spring 2010 NS lineup from
Supra
is the Strapped II. Steve Aoki's signature shoe has been completely redesigned from the original - the new model retains the signature four-strap design while sporting a taller cuff and lower-profile vulcanized sole. The Strapped II will be releasing over the next two months in Black Full-grain Leather, Grey Canvas and Acid Wash Denim versions.
EK by New Era Series 81 Resort Collection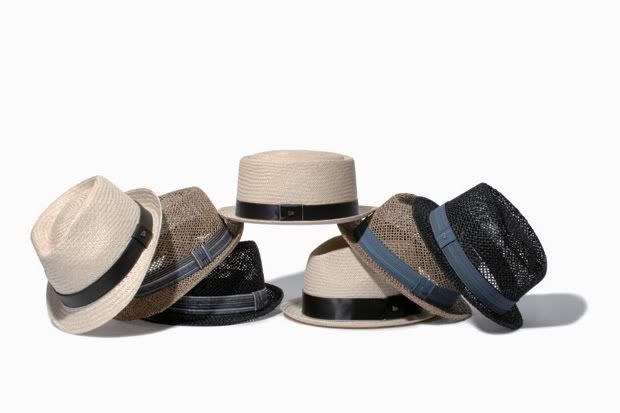 New Era Japan continues its focus on a more sophisticated lifestyle range with this new Series 81 Resort Collection being the latest addition to its Spring line. Featured within the collection are two different styles, including its fedora and trilby models, each boasting stylish bands over classic colorways. All four designs are now available through the New Era Japan webstore.
Source: Warp Magazine
Casio G-Shock 2010 March Release "Men In Earth Blue"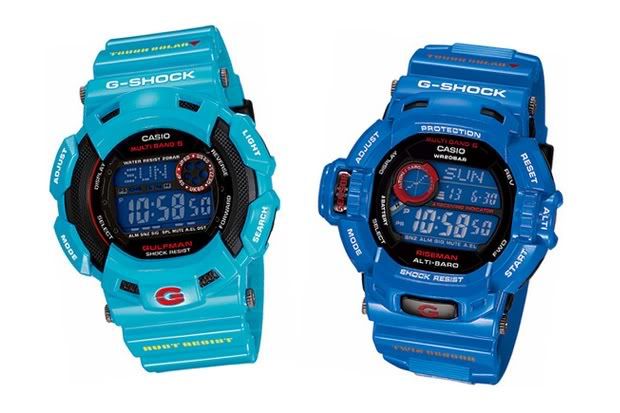 CASIO G-SHOCK continues on with its "Men In..." theme as we see two new releases under the "Men In Earth Blue" collection. The two tonal offerings are based off of some of G-SHOCK's more technical models, the GW-9200 and its predecessor, the GW-9100. Although they fall under the same pack, the colors are slightly different with the GW-9100 embodying a lighter shade of blue. The collection is available at select retailers as of March.
Head Porter Block Series
Head Porter launch a new series of bags to add to its current seasonal batch. Taking on a tonal colorway, all four feature the Head Porter touch with superb Japanese construction amongst a minimally designed yet well executed silhouette. Royal, red, green, and purple options are now available through Head Porter retailers, including
honeyee
.
HAVE YOU SEEN ME??? ST Louis Recording Artist possibly kidnapped!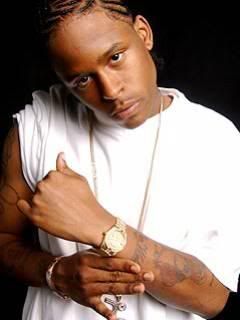 CEO-MAG.com has learned that ST Louis rapper J-Kwon, famous for creating the popular song (Everybody In The Club Get) Tipsy, has been missing for more than a month. According to his label Gracie Productions CEO/President Tony Bucher, J-Kwon (government name Jarrell Jones), has completely dropped off the face of the earth.

Here is the label's official statement:
J-Kwon is a big part of the Gracie family, and we are obviously increasingly worried and want to make sure he is ok. We've already received thousands of emails from fans and supporters who are worried about J-Kwon, and we want everyone to know how much we appreciate the love and support.

If anyone has seen J-Kwon or has access to him, please let him know we are worried about him, and to please let us know everything is ok.

And it gets worse. CEO-MAG.com just caught wind that word on the street is that J-Kwon may have gotten into the WRONG BUSINESS . . . and may have got CAUGHT UP!!!
SOURCE - MEDIATAKEOUT
SHE IS
She is....the one that has this heavenly lit glow and its not just when the suns behind her
Every time our eyes meet..that true beauty still exists..she is a true reminder..
She has so much definition to her from her head down to her tip toes
Each moment spent with her is like riding down a road of cool breeze so im thinking Baby lets roll...
She is...Some thing like a fallen angel you can tell from her glamorous eyes to her puff Lips
Excuse me if im going overboard..but if she came as a cold beverage of her glass I Would take more than just a few sips...
She is...The one who reminds me of a sweet dream, so please let me stay sleep for some days
She got me going past cloud 9 im traveling through space
She is...Someone that connects with my mind and I connect with hers
Its more about action with her...than just expressing these verbs...
She is...got me feeling like we are laptops because me and her developed a link
I was with N.E.R.D seeing sounds but when I laid eyes on you I could barely even
Speak...
She is...The one that makes me think that gravity is not an issue
I'm flying high with the stars and beside me is a missile...
She is...The dopest living thing walking on two feet...
Sweet words that crawl out her mouth puts an extra thump to my heart beat...
She is... the most shining bright star that you ever did see
She calls me her American boy but her mind I would to be an American Dream... 
-Sir Abstraxxx
"C'MON SON"

Ed Lover Takes Over The Web and Mainstream

For those bloggers or fans who spend time on hip hop websites you can't escape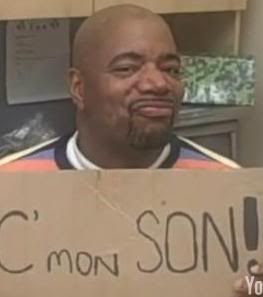 checking out the funny videos by radio personality Ed Lover. The c'mon son is a phrase that has swept from 09 in 2010. Lover took his thoughts on various topics along with a cardboard sign that read c'mon son and the rest is history.

NFL player Chad OchoCinco celebrated after a touchdown by holding a c'mon son sign. Even the USA network incorporated the phrase into their show and gave Lover credit. The phrase began to get so popular in mainstream that ESPN Monday Night Football tried to copy the phrase by changing it to C'MON MAN!!!

Lover did speak on this is in one of his blogs and acknowledged he received no credit or acknowledgment for that. The c'mon son phrase and blogs have begun to sweep the nation. Fans send pics of their c'mon signs into Lover's website and he post as many as he can. As long as Lover keeps delivering his comedy the c'mon son saga won't be stopping any time soon.
Meet Jay-z's Baby Momma
Meet Shenelle Scott, the rumored baby momma of Jay-Z's son. What, Joe Camel has a son!? That is the rumor and a UK tabloid claims to have proof! Read more and see photos and video here.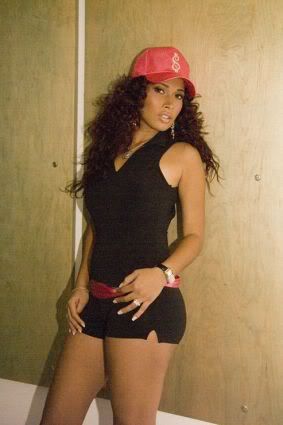 Shenelle Scott
At least that is what UK Now magazine is reporting. According to the magazine, Jay-Z got Shenell pregnant back in 2001, and the UK tabloid claims to have evidence. Not really sure how they would have obtained DNA, cause that is the only evidence I would believe, but that is just me.
Jay-Z, also affectionately nicknamed Joe Camel, reportedly bought Shenelle and his son a $2.5 million home after DNA test confirmed the boy to be his.


Shenelle Scott Biography
Here is what we know about Shenelle Scott. She is a gorgeous 28-year-old model who lives in Trinidad. Her name is often misspelled Shanelle, and in fact so many media reports spell it Shanelle, I am not sure which is correct.
Shenelle Scott met Joe Camel while on the set of his Big Pimpin' video, long before Jay-Z met Beyonce. The rapper's representative has always denied the claims saying there is "no truth to these ridiculous rumors." But The UK tabloid claims they have proof. Lil' Jay is claimed to be 7 years old, and Beyonce reportedly knows about him as he comes to visit when Shenelle comes to New York for modeling gigs. In fact, this was a blind item from Sandra Rose.
Shenelle Scott was reportedly paid $1 million to keep Jay-Z's name off of the birth certificate.
What do you think of these allegations?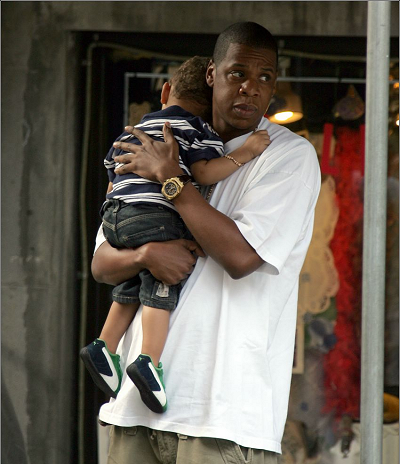 This is your publication Charlotte and we want to do our best to make sure we give you something to make you think, laugh, or get involved in so support it. Tell all of your friends to subscribe or subscribe them yourself by emailing us and putting their emails in your message.
CEOMAG strives to be Charlotte's number one source for entertainment news, music, fashion, and community news. All of our articles are based on our opionons, feel free to email us yours. Spread the word and tell your friends, family, colleagues, and coworkers to sign up.
Leave your comments, suggestions, or if you have any news, footage, articles, and info for CEOMAG, hit us up at
Ceomag@live.com
.

Sincerly,
CEOMAG

,

CLICK THE ABOVE IMAGE TO SUBSCRIBE FOR FREE
PARIS P.
ARMOND WORTHY
TANOIA HILL
ABSTRAXXX
CEO Magazine Mixtape Vol.1

1. Intro

2. O'let Do It Remix - Diddy, Rick Ross, Gucci

3. Girls on Girls - Lil Wayne

4. Layed Out - DJ Kay Slay

5. Invented Head - Chris Brown

6. Shawty Lo - WTF

7. Pass The Dutch - Young Money

8. Over - Drake

9. Believe It or Not - Drake & Gucci

10. Back to the Crib - Juelz Santana ft. Chris Brown

11. Age - Lil Wayne

12. Beamer Benz Bentleys - Lloyd Banks Juelz Santana

13. Hey Ho - Ludacris

14. My Chick Bad Ludacris ft. Nicki Minaj

15. Atlanta GA - Shawty Lo ft Ludacris, Gucci &, the Dream

16. Lil' Freak - 3 6 Mafia

17.Cabin Fever - Wiz Khalifa

18. There Goes My Baby - Usher

19. Outro
Security

Events

Personal

Travel

Etc.

FOR MORE DETAILS CALL 704.891.9950

fO