News and Tips

November 2010

Roger G. Flygare & Associates, Inc.

1715 South 324th Place, Suite 250

Federal Way, Washington 98003

(800) 574-0414 (253) 661-2711

Greetings ,

King County Court Reporter Update

In the last few newsletters, I've attempted to share with our readers the potential problems related to the layoffs of official court reporters from the King County Courthouse and what the effect of those layoffs mean to the end user of their valuable expertise in preparing transcripts.

On November 2, 2010, the voters will decide the fate of a tax initiative that is earmarked for the King County Justice System. Sources close to budget talks have indicated that money "may" be allocated for retaining court reporters. There seems to be other expensive projects that were added into the initiative after it was originally drafted, i.e., the renovation or expansion of a juvenile detention center that may impact the full funding of court reporters.

One thing that is certain, though, the remaining official court reporters will be in high demand after the election and reduction of their workforce. An overview that I can offer you is that any impact on official court reporters will be felt in the freelance deposition arena as well. You may wonder about how that could possibly be the case and I will share with you that it has absolutely nothing to do with them entering the deposition marketplace.

In the world of court reporting, students are a key resource to replenishing our workforce which is impacted by retirees, folks who just don't want to continue being a court reporter and quit, and reporters moving into courthouses from the deposition settings; however, when an employment cap is placed on court reporter positions at courthouses that produces a huge negative result of stemming those governmental positions from being filled from existent private workforces.

The downside of this is that there will be a lower demand to the schools that train and educate court reporting students and eventually those institutions may close their doors to those programs. Without students, the profession is on a downhill slide that it cannot correct or create any positive shifts in employment and so it is potentially a spiraling circle of diminishment and eventual collapse of a profession.

Your help is needed to put the profession of court reporting back on track by requesting a "live" court reporter be in attendance at your court hearing and also your deposition settings rather than a machine that is recording your client's valuable and irreplaceable words being uttered in and out of court which may or may not be recorded for lots of reasons.

Best wishes to you all,

Roger G. Flygare, CEO
Roger G. Flygare & Associates, Inc.




Transcription Corner


By Anna Hirsch

Transcribing 911 Calls

Why is it important to have 911 calls transcribed? There are a number of reasons why this can be important to your case.

First, if you are in a jury trial and you wish to play a 911 call as part of your case, a 911 caller who is highly agitated and crying during the call can cause jurors to become biased and influence their impartiality.

Second, some 911 callers are so hysterical during the call that it is hard to understand them. Having a written transcript of what is being said can help jurors to fully understand the contents of that call.

I recently transcribed a case where the prosecutor played a 911 call and each juror was given a copy of the transcribed call to assist them in hearing what was said during the call. This is a third option for using transcribed 911 calls.

911 calls can also be used in cases other than trials. Give us a call to discuss transcribing any 911 calls.

These are just some of the reasons why having a transcript of 911 calls can be helpful to you and your clients. We at Flygare & Associates are here and ready to help you anytime with all of your transcription needs.





Flygare & Associates In-House Transcription Department transcribes a variety of hearings, meetings, videos, text messages, voice messages, emails, etc.

We are here for all your transcription needs.


For more information about transcription or any of the other litigation support services that we offer visit us at www.flygare.com

Video Vault


This month, as we can see by taking a look outside, the weather is changing and no matter how prepared we are for a video shoot, if our cars are not weatherized or prepared for the weather, we may never even make it to the job.

Here are a few ideas to help you to make it to all of your fall destinations.

On the top of the list, have your car professionally winterized at your local auto shop. They can do a number of things including changing your radiator fluid, checking your battery and adding deicer to your window washer fluid.

Tires are next on the list, you may get your car started but may not be able to get up and down the roads. Tire chains or studded tires are a good idea for those snow days. Don't forget to check your spare tire and make sure it has air in it. A can of fix-a-flat can patch a small hole and inflate a flat tire in some situations, but not all, so make sure you also have a jack and wrench to replace a tire if you find yourself stranded with a flat tire that fix-a-flat won't patch.

Flares, flashlights, blankets, an emergency cell phone and car charger, a tool kit and duct tape should be in your car emergency kit year round. Jumper cables are good to have year round also and now they even have kits that charge your battery from your own cigarette lighter outlet in your car.

Thank you for reading this installment of Video Vault and I hope all your fall travel gets you where you need to go.

~Chris Lewis

Please call or send an e-mail to RGflygare@flygare.com if you would like more information on this or any of our previous stories from the video vault. All calls and e-mails are considered private and highly confidential.

For our continued thoughts on videotaping in today's legal environment, visit us at www.flygare.com .

.

What museum opened a controversial metal-and-glass pyramid entrance in 1989?






Check back next month for the November trivia time answer.

*Last month's trivia time question:

What E.B. White opus notes: "If I can fool a bug, I can fool a man, People are not as smart as bugs" ?

Answer: Charlotte's Web

Click here

for a sneak peek at this months trivia time answer

FIND Carib Raj's Treasure!




Arrrrg me matey, be ye the first to navagate to the trivial answer from June 2010 on our website and click on the answer.

Then keep ye your eyeglass trained on Carib Raj for your share of the loot.

Free Lunch
A little extra something for nothing.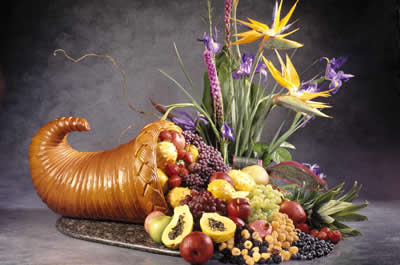 This month we offer a couple of recipes to brighten your holiday table.
Want a change from the regular old boring cranberries in a can? Here's a couple cranberry relish versions to kick your holiday mean up a notch.
Cranberry Relish No. 1
2 bags whole cranberries
2 Large Navel Oranges, with rind
2 Large Granny Smith Apples, cored
1 Cup Sugar
Put all ingredients through a meat grinder or chop very fine in a food processor. Mix all together and add sugar. Chill at least overnight.
NOTE: Splenda can be used as an alternative to sugar. This recipe can be made a couple days ahead of time, the longer it sits the more the flavors blend. You can add more cranberry, apple or orange to adjust this recipe to your taste.
Cranberry Relish No. 2
1 Small Can Crushed Pineapple
1 Small Can Mandarin Orange Segments
1 Large Can (15 or so oz.) Royal Anne Cherries
1 Large Can (15 or so oz.) Whole Berry Cranberry Sauce
1 Cup Pecan Halves
Drain all the liquid from the pineapple, orange segments and cherries. Put the can of cranberry sauce in a bowl and add the other fruit (sometimes it's best to mix up the cranberries before adding the other fruit). Mix all the fruit together. Chill well. Overnight works best to allow flavors to blend. Just prior to serving add the pecans.
NOTE: If you wish to sweeten it a little you can add sugar or splenda to taste.
The Best Turkey Recipe Ever!
Anna found Emeril Lagasse's Recipe for Brined,Herb Roasted Turkey and she said, "This seems like a lot of work but it's worth it. The breast meat comes out very moist and the turkey has great flavor." Click here to see the full recipe and instructions .
Have a wonderul Thanksgiving!

Tech Talk
By Jona Christoe
Marketing and Technology
We, here at Flygare & Associates, are trying to give you more of what you need in litigation support. In order to find out what we can do better or add to our list of services, we have created a survey. Please take a few minutes to
click on the link
, answer a hand full of questions, and help us to improve your litigation support experience.
Our newsletter is created and sent using Constant Contact, a web based newsletter, survey and event planning tool. I have tried several newsletter software porgrams and web based newsletter applications, and have found that Constant Contact gives us the biggest bang for the buck.
If you would like to try Constant Contact for yourself click this link and get a two month free trial. If you decide to stick with Constant Contact you will also get a discount on your first months fees. Be sure to drop us an email and let us know what you are doing with your Constant Contact.

Have a great November and I'll talk with you again in December,
Also...
If you discover a way our newsletter or website could be more interesting or a better tool let me know by email and I'll send it over to our web development team to see what can be done.

Or if you know of a tool (web site or app), that you find especially useful and you would like to share, email it to me at jona@flygare.com .

Our Home Office
Roger G. Flygare & Associates, Inc.
1715 South 324th Place, Suite 250
Federal Way, Washington 98003
Roger G. Flygare & Associates, Inc.
(800) 574-0414 (253) 661-2711