Greetings!
Thank you to everyone who came out to support Christine Davlin and myself at the joint event between our local ASTD and HRMA chapters on September 19, 2012 at the Lexington Country Club. It was an amazing evening of networking, reconnecting with friends, and training!
I enjoyed being able to see those that I hadn't seen in a while, as well as meeting many new professionals from our community. It was awesome watching Vikki Dingman work the room educating folks about ASTD of SWFL and encouraging them to join.
Our presentation, "Will The Real Culture Please Stand Up" was well received. I loved the interaction and engagement from the audience. And, it was a great experience to present with Christine Davlin - she truly is a shining star and a great role model for our profession. Christine, don't forget we still need to go out for our celebratory date!
All in all, a great time was had by all. Just another reward for being part of such a great organization - ASTD of SWFL does bring value to its members and to its community.
Stay connected, and I hope to see you at our October chapter meeting.
Your 2012 ASTD of SWFL President,
Ken Bodenhamer
Welcome our New Board Members!

Angie Kurschner, the chapter's Secretary, is currently the Human Resources Specialist and Recruiter for R+L Truckload Services corporate office in Fort Myers, Florida. Prior to R+L Truckload Services she held positions at Rasmussen College and Lennar Homes. Angie's key areas of focus are logistics, college recruiting, training and development, internship program implementation, new employee on-boarding and orientation, and finally social media and marketing.
Rebecca Montgomery, the chapter's Director at Large, is currently the Human Resources Manager for Bass Pro Shops in Fort Myers. She has 7 years experience as an HR Manager in the retail industry. She is a native of Ohio and graduated from Bowling Green State University with a Masters in Organization Development in 2005. She is a local and national member of ASTD.
September Joint Meeting with HRMA Recap


Special thanks to Ken and Christine for presenting at the September joint meeting with "Will the Real Culture Please Stand Up" at the Lexington Country Club. Not only was it a great opportunity for us to connect with another organization and network, but it also provided a chance for everyone to take an honest look at what shapes and impacts our organization's culture.
Using the characters from everyone's favorite childhood movie, The Wizard of Oz, we were able to view our organizations in relation to each of their missing attributes. Heart representing traits such as compassion and caring, Brain representing communication and creativity, Courage representing accountability and responsibility, and finally Happiness being the combination of all 3 and finding purpose. Each participant spent the evening reflecting on our own and our employee's perception of the organization as a whole and on ourselves individually.
A few great concepts used were:
Culture begins to impact employees before they are even hired. It starts when they turn in their application. What is their experience?

Culture can be felt in something as simple as acknowledging or not acknowledging the person you pass in the hallway.

Experiences foster beliefs. Beliefs drive action. Actions produce results. Results create new experiences. Rinse and repeat.

Whether leadership recognizes it or not, their actions and words shape the organization's culture. Words in a mission statement or an employee handbook are useless until they are exemplified and reinforced by the leadership and management teams supporting daily business.
Where does your culture's yellow brick road lead your employees? Do you find that the Emerald City is really run by a man behind a curtain or do you find a group of people working together to walk down a path leading to endless possibilities?
Upcoming Events
October's chapter meeting is a highly interactive session where we will not only learn about process facilitation but also apply it to one of our chapter's core processes, Membership. All hands on deck for this meeting, we need your help!
Wednesday Coffee Social at Books a Million on October 24th, 5:30 pm. A chance to socialize, talk about the chapter meeting, and of course topics of your choice over a cup of coffee, tea, or your favorite beverage.
November's chapter meeting will provide you the opportunity and tools to assess your organization's training practices. This session is a kick off for the December's Employee Learning Week.
Stay tuned for more information about the December Cocktail and Hors'duervre evening event that celebrates Employee Learning Week 2012.
Did You Know?

Our website has a blog.
We don't need to wait for monthly meetings to share ideas and spark thought provoking conversation.
Anytime you have a question and want to get another person's opinion or suggestions, all you have to do is log on and ask! www.ASTDSWFL.org
We offer one on one tutorials for our website.
Get even more value out of your membership by utilizing this service to understand the tools and resources available to you. Charlie Carpenter, our VP of Communications and Technology, will provide you with step by step guidance to access what you have already paid for! Send an email to Charlie
We have a BOGO program for visitors.
Do you know someone who could really find value in our group, but wants to try it out first? Members, utilize this program and provide that person with a free meeting and meal. Click the link below for the BOGO ticket. Members must be present to qualify.
BOGO TICKET
21 Ways to Double Your Value

ACTION
Don't Wait to be Asked
Take Action to Create Value
Guilt is Good
The Right Tool for the Right Job
DEVELOP
Start Where You Are
Invest in Yourself
Live What You Are For
Be Misunderstood
MEASURE
Reinvent Your Goals
Find Your Goal Buddy
Feed Forward, Not Backward
INNOVATE
Help Them Invent It
What's It Worth To Them?
Know What Your MVP Values
RECRUIT
Hire Your Weakness
Stop Networking
Get Someone Else Ready
Don't Play the Blame Game
EXCITE
Be Different
Get Heard
What's Your Story
You Deserve to Be Valued, Respected, and Admired for What Matters!
Congratulations Rebecca for making this month's newsletter special. Thank you for volunteering to help with chapter communications!
To everyone else, thank you for reading and enjoying this month's newsletter. Our chapter is vibrant and growing. Attend a meeting and you will find it to be value adding.

Sincerely,
Charlie Carpenter
ASTD SWFL - VP of Communications & Technology
Meet October's Speaker

Helen Wythe, President of HELEN J. WYTHE & ASSOCIATES a consulting firm providing facilitation, training and coaching services to a wide variety of clientele at local, regional, national, and international levels guiding organizations to create successful workplaces structures and relationships.
Helen holds two internally recognized certifications in process facilitation - Certified Professional Facilitator (CPF) from the International Association of Facilitators and Certified Technology of Participation (CTP) from the Institute of Cultural Affairs. Helen has been facilitating groups for over 25 years and hung out her own shingle in 1994.
Whether you next meeting is face to face or virtual, HELEN J. WYTHE & Associates can help save you precious resources and ensure that the agreed to outcomes are achieved.
October 17th, 2012
Monthly Chapter Meeting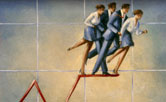 So What Kind of Facilitator Are You???
My clients tell me that the best way for people to understand what a process or group facilitator does is to experience it. That is what those who attend the October 17th, 2012 SWF ASTD Monthly meeting will experience.
Helen Wythe, BA, CPF, CTF, OSW will first answer some key questions such as: What are the 5 W's and an H of Process and Group Facilitation? How does a Process Facilitator establish trust with a group of people? How is Process and Group Facilitation different than a Learning Facilitator?
She will share a couple of stories about how people tried to identify and solve a problem, make a decision, or create a plan without the benefit of a process facilitator. Then, with the guidance of a process facilitator learn how they achieved their desired outcome.
Helen will finish up the session by leading attendees through a process facilitation exercise on a topic of deep concern to the Southwest Florida Chapter of ASTD. As a group exercise we will focus on the Growth and Retention of Membership in our Local ASTD Chapter. The outcome of this facilitated exercise will be ideas for Vikki Dingman, the chapter's VP of Membership and other chapter volunteers to consider for action.
You can pay by credit card or choose to pay at the door. We can only accept credit cards online.

MEMBERS: $15 with lunch, $10 without lunch - GUESTS: $20 (lunch) $15 (no lunch)
Lunch is from Jason's Deli
When you register please choose the type of Lunch that you would like to have from our menu listing. If you are planning not to have lunch please choose that option. Thanks!

Ice Cold Water will be provided for everyone.
Our Chapter donates to the Harry Chapin Food Bank at every Monthly Meeting. We can't do it without You!

The

mission

of the Harry Chapin Food Bank is "to overcome hunger in Charlotte, Collier, Glades, Hendry, and Lee counties through education and by working in a cooperative effort with affiliated agencies in the procurement and distribution of food, equitably and without discrimination."
Every dollar donated allows the Food Bank to distribute $6 worth of food!
Save the Dates for 2012

Monthly Chapter Meetings
Oct 17
Nov 21
Dec 12 Dinner
Monthly Meetings
FGCU FIOG
The Atrium Suite 1181
8695 College Parkway
Fort Myers 33919
Wed 11:30-1 pm
Dinner Meetings
Holiday Inn Airport
Wed 6-8 pm