Greetings!
At the August meeting we stuck to our guns with the Best Practices theme and once again the attendance was great!
On September 19th we will have a joint networking meeting with HRMA at the Lexington Country Club from 5-7 pm.
Even if you haven't registered yet you still can and attend!
Don't forget the Wednesday Coffee Social at Books a Million on September 26th, 5:30 pm. A chance to socialize, talk about the chapter meeting, and of course topics of your choice over a cup of coffee, tea, or your favorite beverage.
Our Chapter Events will help you to train, coach, and facilitate others to make substantive change within any organization. In October on the 5th we have a Master Class where you will use your DiSC Personal Profile to learn how to be a more effective trainer. We do have to pay up front for each attendees DiSC profile, a $50 cost with great value, so register early to make sure you get your profile in time for the class.
The chapter meeting on Oct 17th is a highly interactive session where we will not only learn about process facilitation but also apply it to one of our chapter's core processes. All hands on deck for this meeting, we need your help!
So learn and grow with your local ASTD chapter. I promise it will be value adding.
Charlie Carpenter
ASTD Southwest Florida Chapter
VP of Communications & Technology
Master Class - Use Your DISC Profile to Improve Training Performance - Friday October 5th

In this specialized session, we will use your DiSC profile to strengthen your skills as a trainer. We will examine different behavioral styles and learn how to adapt training to each unique style.
For this session, we will use the latest DiSC tool, "Everything Workplace." This profile explores the priorities that drive learners at work. This will be a highly personalized learner experience. Your personal profile will include in-depth information including tips, strategies, and action plans to help you become more effective. We will use your personal DiSC profile to explore ways to make you a better learning and education professional.
Upon registration and payment for this workshop, you will be sent a link that will allow you to complete your personal profile prior to the workshop.
The $50 DiSC Personal Profile is included in your registration fee.
You must come to the workshop with a completed printed version of your profile.
Course Objectives:
Discover your DiSC Style
Understand other Styles
Learn how to use this knowledge to improve training design and delivery
Use this knowledge to improve relationships and improve the quality of your work
Event Cost:
Non-member: $125 (includes Profile, One-year membership, Continental Breakfast)
Non-member: $95 (includes Profile, Continental Breakfast)
Member: $75 (Includes Profile and Continental Breakfast)
Student: $75 (includes Profile and Continental Breakfast)
:

05 Oct 2012

8:30 AM - 12:00 PM

:

Keiser University 3800 Colonial Boulevard Suite 200 Fort Myers, FL 33966
Recap of the August Monthly Meeting

Best Practices
One of the most valuable resources a membership in ASTD-SWFL offers is the ability to share in the triumphs and failures of fellow members. Our August meeting was a prime example of utilizing this value to best effect.
Led by our board members, the meeting consisted of lively, interactive discussions of key areas of training and development. The topics were generated by requests received throughout the year and covered the interests of all types of members including practitioners, consultants and learning leaders.
Techniques to incorporate Role Playing in to your presentation
Advertising - best practices on how to "sell" your training (even if you are training internally) how to market programs and develop new customers.
Keeping the attention of adult learners, games and tricks
Establishing and building trust in a multi-generational group
Members enjoyed the opportunity to both learn from others and share their own experiences in a free exchange of ideas. Chapter President Ken Bodenhammer remarked, "although this type of sharing happens all year in less formal ways, it's always nice to have a meeting dedicated to knowledge and experience transfer. We don't all have to invent the wheel with every training initiative."
Members can share anytime using the Blog found in the Members Only section of the website.
Teresa Hiatt
Director of Community Outreach
ASTD SWFL
President's Message

Dear Members,
Socialize it!
I did it! I finally updated my LinkedIn page. Remember last month how I said I needed to do a better job at practicing being more professional and making a better first impression as a facilitator or when introducing myself. I did it! Practice does make perfect. Since updating my page, I have been expanding my network by getting more invitations from professionals who recognize the value of being linked in with other professionals who have expertise, knowledge, and social affiliations - like ASTD.
I am even making a better effort at doing more networking on LinkedIn and Facebook when it comes to talking about, commenting about, or just liking something about ASTD of SWFL, and the amazing programs we offer professionals within our community.
So, I have to thank Vikki Dingman, our V.P. of Membership, for suggesting that I update my page by adding my affiliation with ASTD both nationally and locally. And, I have challenged many of you to do the same.
Now, when it comes to Twitter, I am still somewhat of a twit. I don't really get it yet. So, I am making Twitter my next project. I must master this too, as I feel it is very important to remain cutting edge.
As one of our 2012 ASTD chapter goals - creating more awareness about ASTD of SWFL within our community - let's get to it. Let's socialize it!
Stay connected and I hope to see you at our September networking event with HRMA of SWFL.
Your 2012 ASTD of SWFL President,
Ken Bodenhamer
Thank you for reading and enjoying this month's newsletter. Our chapter is vibrant and growing. Attend a meeting and you will find it to be value adding.
Sincerely,
Charlie Carpenter
ASTD SWFL - VP of Communications & Technology
September 19th, 2012
Joint Meeting - ASTD & HRMA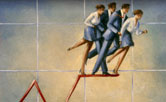 Will the Real Culture

Please Stand Up!
The Southwest Florida Chapters of HRMA and ASTD are joining forces once again for an evening of networking and learning.
The topic for this event is "Will the Real Culture Please Stand Up!" being presented by Christine Davlin and Ken Bodenhamer of ASTD.
Every company has a culture, whether it is intentional or not. Therefore, culture can be an asset or a liability.

Before you can manifest the environment you wish to achieve, EVERYONE needs to clearly understand your core values that define the company's culture.
This is easier said than done. Human Resources and Training Professionals must work with senior management to clearly identify the desired culture, be honest enough to share what the existing culture is, be ready to discuss what changes are needed to achieve the desired culture, and learn how to nurture company culture over time.
So, the question is, what message is your culture sending to others?
Join us for this event to learn some answers, raise some questions, and have some open discussions.
Networking and cocktails are from 5-6 pm and the program is from 6-7 pm.
1 CEU of Credit


Save the Dates for 2012

Monthly Chapter Meetings
Sep 19
Oct 17
Nov 21
Dec 12 Dinner
Monthly Meetings
FGCU FIOG
The Atrium Suite 1181
8695 College Parkway
Fort Myers 33919
Wed 11:30-1 pm
Dinner Meetings
Holiday Inn Airport
Wed 6-8 pm
Master Classes
Oct 5
Friday 8:30-12 noon
Keiser University
Suite 200
3800 Colonial Blvd
Fort Myers 33966
Our Chapter donates to the Harry Chapin Food Bank at every Monthly Meeting. We can't do it without You!

The

mission

of the Harry Chapin Food Bank is "to overcome hunger in Charlotte, Collier, Glades, Hendry, and Lee counties through education and by working in a cooperative effort with affiliated agencies in the procurement and distribution of food, equitably and without discrimination."
Every dollar donated allows the Food Bank to distribute $6 worth of food!
Become a Sponsor
SW FL Members advertise
here, only $10 per month. National Members $60 per month. Non-Members $60 first month with Chapter Membership Included!