Greetings!
Our July meeting was well attended and we had an opportunity to experience a little "Train the Trainer." The Topic was Presentation Skills Best Practices. The session was collaborative and the take aways from the meeting are terrific. These have been posted in the Members area of the website. The meeting went so well that we are sticking with the Best Practices theme for the August meeting.
Our Board Members will tag team for a multiple skill Best Practices Session. It won't be a one way presentation, we expect all the attendees to participate in the Sharing of Best Practices. Register from this newsletter, the website, or even twitter! Registration closes Tuesday the 14th at Midnight.
Don't forget the Wednesday Coffee Social at Books a Million on August 22, 5:30 pm. A chance to socialize, talk about the chapter meeting, and of course topics of your choice over a cup of coffee, tea, or your favorite beverage.
Our Chapter Events will help you to train, coach, and facilitate others to make substantive change within any organization. On September 19th we will have a joint networking meeting with HRMA at the Lexington Country Club from 5-7 pm. In October we will learn about Process Facilitation and have a Master Class on DISC. Wow, great stuff is this way coming!
Read on and follow the links. Don't forget to register for the Monthly Meeting on August 15th. We will be back at FIOG FGCU at the Atrium, Fort Myers for a lunch meeting from 11:30 am to 1 pm. We look forward to seeing your there.
Charlie Carpenter
ASTD Southwest Florida Chapter
VP of Communications & Technology
Meet the August Speakers (It's Your Chapter Board)

From left to right your Chapter Board Members are: Teresa Hiatt, Charlie Carpenter, Christine Davlin, Ken Bodenhamer, Lorna Kibbey, and Kathy Chouquette.
Please welcome our newest Board Member, Vikki Dingman. Vikki is the new VP of Membership.
She is currently the Director of Human Resources for R+L Truckload, headquartered here in Fort Myers, Vikki previously has held positions with Lowe's Home Improvement and McDonald's corporation. She is an SPHR and also adjunct teaches within the school of business for a local private college.
This group is charged with making the August meeting fun, informative, and interactive. This meeting is going to be awesome so don't miss it!
Recap of the July Monthly Meeting

Teresa Hiatt provided the meeting attendees with best practices tools and tips for conducting and delivering Effective Presentations. She reminded us of the best practices that we often overlook, tend to forget, or take for granted. This was a very refreshing session and we all benefited from it.
The building blocks, that are measureable, for Effective Presentations are the following:
Planning prior to the presentation
Methods and media for instructional delivery
Instructor credibility and communications
Group facilitation
Evaluate the training event
Without the measurement how can we continue to improve and meet our organizations goals for training and development? Teresa gave us a tool for measurement and we have it posted in the member's area of the website for you to download and use. Her presentation is there as well.
We all had a chance to chime in with our experiences and those were some great "war stories" of lessons learned in a wide variety of situations that we as trainers face.
Last year we focused on the 9 Areas of Expertise that ASTD defines as the core for the Certified Professional in Learning and Performance (CPLP). This year we have been focusing on the Best Practices that support our continued learning of the CPLP skill set. Join us at the next meeting and you too will learn something new!
Charlie Carpenter
VP of Communications and Technology
Southwest Florida ASTD
Your Chapter has been Recognized by National ASTD!

We have achieved the 2012 CORE Requirements

We have achieved the 2012 Membership Star Award

for Local and National Members!

Volunteering at ASTD International Conference & Exposition (ICE)

I am sorry that I could not attend our meeting in June to present, in person, my adventure as a volunteer during the ASTD ICE National convention held in Denver this past May. Thank you, Lorna Kibbey for giving me the information needed to sign up as a volunteer for the conference.
In order to volunteer with ICE, you need to complete a form and participate in a training-orientation webinar. ICE volunteer appreciation includes a complimentary conference attendance for each day of volunteering with a maximum of two days allowed along with some other benefits. Since volunteering is limited I still had opportunities to participate in all other aspects of the conference.
As a volunteer you need to select a position. These positions range from assistants, monitors, floaters and other placements. As this was my first time at ICE, I was unsure of which one to choose but I thought the position of session monitor would be the best. This allowed me to be in a session to help out and learn more while I was there. By receiving the confirmation of my volunteer status, I was put in touch via email with Penny McDaniel and Robbi Munz. Both of these people served as strong contacts and mentors for my first experience with ICE. Any questions I had were answered timely and from a wealth of experience and knowledge about the program.
The live webinar was very informative and provided information about the 230 sessions which occurred at the conference, details of the convention center and the volunteer handbook. I highly suggest that each volunteer read the volunteer handbook as it was a very useful tool to understand what was expected. The handbook provided guidance from when and where to show up, to working as the session monitor including headcounts from each session, clean up, and ending the volunteer work for the day. I can tell you I had a fantastic, busy, and professionally organized day.
I encourage everyone to participate as a volunteer during the ICE Conference. It was an amazing educational and networking experience for me. I met so many
wonderful speakers from different professional and cultural backgrounds. Another benefit I got from the program was watching how various components of the preparation and planning were handled. Everyone always hopes that a program will run flawlessly but I have to admit that there were some issues that occurred. These issues for example, participants affecting the room temperature control; the use of microphones being affected by high ceilings or not working at all, low voice of the speaker; and poor lighting cutting into the use of slides provided me with some ideas for us to watch out planning and implementing our local training programs. Keeping up with the details and having back up plans are necessary in any training location and environment. I consider watching and participating in how the organization handled these kinds of issues as an additional opportunity for growth.
I found that I benefited both personally and professionally from this experience as a volunteer. I am looking forward to being a volunteer again next year in Dallas and I hope to see many of you there right alongside me as volunteers and participants.
by Kathy Chouquette
Treasurer, Southwest Florida ASTD
President's Message

Dear Members,
30 SECONDS?
So, since our last chapter meeting, I have been thinking non-stop about my credibility as a presenter. And then I started thinking about my credibility as a professional when introducing myself in social and business settings. GREAT! Looking back, I will admit, there have been occasions where I really could have done a much better job at both.
Moving forward, my 30 second commercial for whatever setting needs to be more effective and professional. I need to make a better first impression. I need to take more care and time when preparing for a presentation or for attending a gathering. I need to practice.
So listen to this, I am making a commitment to improve my 30 second commercial. As I practice speaking about my experience, my credentials, my certifications, and some of my accomplishments - I have decided to start bragging about how I am a member of the American Society of Training and Development, both nationally and locally.
Shoo! I think I am going to need more than 30 seconds.
Stay connected, practice, and I hope to see you at our August chapter meeting.
Your 2012 ASTD of SWFL President,
Ken Bodenhamer
Thank you for reading and enjoying this month's newsletter. Our chapter is vibrant and growing. Attend a meeting and you will find it to be value adding.
Sincerely,
Charlie Carpenter
ASTD SWFL - VP of Communications & Technology
August 15, 2012 Chapter Meeting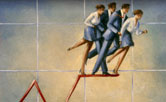 Training the Trainer -
Sharing Our Best Practices
We all know we are a talented group and we also know that our group likes to share what they do and learn new tricks from others, so we think it is a good time to do a "best practice" meeting! Let's stir up our brain cells, and give those in attendance a chance to relay their own success stories.
With that said, our upcoming ASTD August meeting is:
"Sharing our best practices!"
To keep us focused the following topics will be discussed:
Techniques to incorporate Role Playing in to your presentation
Advertising - best practices on how to "sell" your training (even if you are training internally) how to market programs and develop new customers.
Keeping the attention of adult learners, games and tricks
Establishing and building trust in a multi-generational group
A member of the board will kick off each topic and then we will open it up to the participants for additional ideas and/or questions. Come and learn what successful tips others have and share your own! Please bring any samples (if it applies) you may have to share with the group.
This will be a fun and interactive meeting! We look forward to seeing you there!
MEMBERS: $15 with lunch, $10 without lunch,
GUESTS: $20 includes lunch
You can pay by credit card or choose to pay at the door. We can only accept credit cards online.
Lunch is from Jason's Deli
Please let us know when you register if you want a lunchbox with sandwich, chips, and cookie or a Vegetarian Lunch.
Ice Cold Water will be provided for everyone.
WHEN:
August 15th from 11:30 to 1:00
WHERE:
The FGCU Florida Institute of Government which is at The Atrium - 8695 College Parkway, Suite 1181, Fort Myers, 33919.
Save the Dates for 2012

Monthly Chapter Meetings
Aug 15
Sep 19
Oct 17
Nov 21
Dec 12 Dinner
Monthly Meetings
FGCU FIOG
The Atrium Suite 1181
8695 College Parkway
Fort Myers 33919
Wed 11:30-1 pm
Dinner Meetings
Holiday Inn Airport
Wed 6-8 pm
Master Classes
Oct 6
Sat 8:30-12 noon
Keiser University
Suite 200
3800 Colonial Blvd
Fort Myers 33966
Our Chapter donates to the Harry Chapin Food Bank at every Monthly Meeting. We can't do it without You!

The

mission

of the Harry Chapin Food Bank is "to overcome hunger in Charlotte, Collier, Glades, Hendry, and Lee counties through education and by working in a cooperative effort with affiliated agencies in the procurement and distribution of food, equitably and without discrimination."
Every dollar donated allows the Food Bank to distribute $6 worth of food!
Become a Sponsor
SW FL Members advertise
here, only $10 per month. National Members $60 per month. Non-Members $60 first month with Chapter Membership Included!