Greetings!
Our June meeting gave all of us a taste of what being at ASTD ICE (International Conference and Exposition) was like. Three of our members attended and shared lessons learned along with the excitement they gained from rubbing elbows with over 10,000 ASTD members from around the world!
This month Teresa Hiatt will cover the "How To" of Developing Effective Presentation Skills. We all can use a tune up on these skills from time to time.
Don't forget the Wednesday Coffee Social at Books a Million on July 25, 5:30 pm. A chance to socialize, talk about the chapter meeting, and of course topics of your choice over a cup of coffee, tea, or your favorite.
Our Chapter Events will help you to train, coach, and facilitate others to make substantive change within any organization.
Read on and follow the links. Don't forget to register for the Monthly Meeting on July 18th. We will be back at FIOG FGCU at the Atrium, Fort Myers for a lunch meeting from 11:30 am to 1 pm. We look forward to seeing your there.
Charlie Carpenter
ASTD Southwest Florida Chapter
VP of Communications & Technology
Meet the July Speaker

Teresa Hiatt,
now retired,
is the past president of the Professional Society of Sales and Marketing Training (www.smt.org). She was the Director of Sales Education at Ricoh Americas Corporation, where she spent 10 years directing sales training teams and conducting research. She also spent 5 years at Sony Corporation developing launch training for the VAIO computer launches.
As a Six Sigma Black Belt, she has conducted process improvement projects on training effectiveness and has published Return on Investment projects certified by the ROI Institute for Training.
Hiatt has served on Industry Panel discussions at national conferences with Gartner Research Group and CompTIA. She has delivered breakout sessions on sales training at the InfoTrends Office Document Technology Forum, SMT Sales Training conferences and the BTA Channel Partner seminars.
She is a regular contributor for Office Technology Magazine and contributing author to "Fortify Your Sales Force", a ground-breaking handbook for building productive sales team. She can be reached at teresa@hiattaviation.com.
Feedback from the June Monthly Meeting

What could be more satisfying than attending a conference of more than 10,000 fellow ASTD members in Denver CO in May?
Coming back to my local chapter and sharing the experience, that's what!
The June meeting of Southwest Florida ASTD featured myself and Lorna Kibbey, along with Kathy Choquette by virtual proxy, telling our stories of how to attend the conference (Kathy got in free by volunteering!) , how to get the most of the available resources, and how to use some of the great stuff we brought back with us.
In addition to sharing great content from the seminars and sessions, we shared what the Vendor Expo was like and how amazed we were at Chapter Leader's Day, where we got to pick up our Chapter Excellence Award! We also held a drawing for some of the gifts we collected at the conference.
Anyone who missed the meeting is welcome to contact us for additional information about the conference. I am saving my nickels to go again next year!
Teresa Hiatt
What's in the Members Section of the Chapter Website?

Members Only Section
Chapter Blog
Forums
CPLP Resources
BOGO - Bring a Friend
White Papers, Tools, and Tips
Free eLearning Courses
Social Media Free eLearning
Polls and Surveys
Private Member Directory
Chapter Board Meeting Minutes
Chapter Annual Reports
Chapter Processes
Board Position Descriptions
President's Message

Dear Members,
Coffee Talk
Our last social gathering at "Books A Million" was quite wonderful. Dr. Bill Moskal, Kathy Choquette, Richard Bell, and myself, spent our time catching up, getting to know each other better, and talking shop.
We had discussion about what was more important to have to be marketable in today's job market - a master's degree or certification, like the CPLP. What should one go after to get ahead in our profession, or to land that first job? Which has more value?
After sharing pros and cons for each, we didn't come to any final conclusions. I believe that in the future, more jobs in our profession will require a CPLP certification in addition to a bachelor's or master's degree. What do you think?
I would be interested to hear from you, our members, what your thoughts on this topic are.
Oh, and the coffee was really good too. Stay connected and I hope to see you in July.
Your 2012 ASTD of SWFL President,
Ken Bodenhamer
Thank you for reading and enjoying this month's newsletter. Our chapter is vibrant and growing. Attend a meeting and you will find it to be value adding.
Sincerely,
Charlie Carpenter
ASTD SWFL - VP of Communications & Technology
July 18, 2012 Chapter Meeting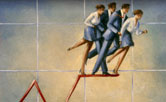 Developing Effective Presentation Skills
If communicating through presentations is important to your job or goals, this session will help build the essential skill set practiced by trainers and professional speakers and instill confidence in your delivery of important information.
Using industry standards developed by certification authorities, participants will be given a competency description and audit scorecard to use both for individual self-coaching and evaluation of presenters and trainers.
Session Objectives:
Creating value for your audience
Demonstrating delivery competence
List of top delivery skills and tips to master
Using questions strategically
Creating a positive environment
Evaluating a presentation event
Who should attend?
This session is designed for people who need to be able to master Public Speaking technical skills.
This includes anyone who has the responsibility or desire to deliver information in formal or informal groups.
MEMBERS: $15 with lunch, $10 without lunch,
GUESTS: $20 includes lunch
You can pay by credit card or choose to pay at the door. We can only accept credit cards online.
Lunch is from Jason's Deli
Please let us know when you register if you want a lunchbox with sandwich, chips, and cookie or a Vegetarian Lunch.
Ice Cold Water will be provided for everyone.
WHEN:
July 18 from 11:30 to 1:00
WHERE:
The FGCU Florida Institute of Government which is at The Atrium - 8695 College Parkway, Suite 1181, Fort Myers, 33919.
Save the Dates for 2012

Monthly Chapter Meetings
Jul 18
Aug 15
Sep 19
Oct 17
Nov 21
Dec 12 Dinner
Monthly Meetings
FGCU FIOG
The Atrium Suite 1181
8695 College Parkway
Fort Myers 33919
Wed 11:30-1 pm
Dinner Meetings
Holiday Inn Airport
Wed 6-8 pm
Master Classes
Oct 6
Sat 8:30-12 noon
Keiser University
Suite 200
3800 Colonial Blvd
Fort Myers 33966
Our Chapter donates to the Harry Chapin Food Bank at every Monthly Meeting. We can't do it without You!

The

mission

of the Harry Chapin Food Bank is "to overcome hunger in Charlotte, Collier, Glades, Hendry, and Lee counties through education and by working in a cooperative effort with affiliated agencies in the procurement and distribution of food, equitably and without discrimination."
Every dollar donated allows the Food Bank to distribute $6 worth of food!
Become a Sponsor
SW FL Members advertise
here, only $10 per month. National Members $60 per month. Non-Members $60 first month with Chapter Membership Included!