Greetings!
We will recap the April meeting about Audience Engagement: How to connect with your audience, even if they don't want to be there. Many thanks to Libby Anderson who was our speaker, she really got us all engaged!
In May our chapter participated in the HRMA Conference. We also sent representative to the ASTD 2012 International Conference and Exposition (ICE) held in Denver. A recap of the learnings from ICE is our meeting topic for June, which will be held at Hodges University on the 20th from 5-6:30 pm.
There is a lot of information in this newsletter, so take your time, read the articles, follow the links, and don't forget to visit our website!
Our Chapter Events will help you to train, coach, and facilitate others to make substantive change within any organization.
Charlie Carpenter
ASTD Southwest Florida Chapter
VP of Communications & Technology
Meet the June Speakers

Lorna J. Kibbey, the chapter's Past President, designs and delivers management and leadership seminars and services to public and private sector organizations. Her seminars focus on the many issues surrounding leadership, motivation, and communication. All are customized to fit specific needs of the organization. Lorna is a motivational speaker and has spoken at a large variety of conferences and meetings.
Kathy Choquette, the chapter's Treasurer, is a long time member of this ASTD chapter. When she first started, she became a VP-Membership which gave her the opportunity to meet new members and work towards increasing membership. Her professional experience includes over 30 years in corporate and private industry encompassing the fields of human resources, hospitality, administration, and training. Currently, she is promoting seminars that will help people return back to basic business strategies. Kathy's goal with the ASTD finances is to ensure that the members will have funds to use for programs and events that will support its member's needs.
Teresa Hiatt, the chapter's VP of Public Relations and Outreach, also heads the CPLP Certification project and offers information to anyone planning to take the exam. She was most recently the Director of Sales Education at Ricoh Americas Corporation, where she spent 10 years directing sales training teams and conducting research. She is a regular contributor for Office Technology Magazine and contributing author to "Fortify Your Sales Force", a ground-breaking handbook for building a productive sales team.
Feedback from the April Monthly Meeting

Audience Engagement:
How to connect with your audience..Even if they don't want to be there!
Libby Anderson provided an engaging hour that had everyone in attendance participating in her highly interactive session. She used real life examples to illustrate what Audience Engagement is all about. The following is a summary of the meeting take aways.
Typical attendees to training sessions can be classified into three categories.
Hostage - has to be there
Vacationer - just there to kill time
Learners - genuinely there to learn and want to be in attendance
How to get through to the difficult ones?
Establish your credibility using war stories
Get everyone involved with a task or activity that is productive moving toward the session's goal
Be sensitive when it comes to dealing with someone in pain, or that is distracted
Establish for them "What's in it for me" (WIIFM)
Be aware of the audience moods especially when the current situation in the organization it tough.
Anticipate - research the organization to understand what changes are taking place
Articulate - let the audience know you understand the situation and stay away from humor
Negotiate - propose how best to proceed in light of the situation and ask for feedback
Libby had us work in small groups to put our ideas and experiences together to present back to the group on how we have faced and dealt with Audience Engagement. She had us all engaged, connected with us, and we all had fun while learning.






by Charlie Carpenter, VP of Communications & Technology



ASTD 2012 International Conference and Exposition

Three of our chapter members attended the conference and our chapter won an award for the great work done last year promoting and teaching members about the CPLP (Certified Professional in Learning and Performance) Certification.
Advancement of the Profession Through CPLP Award! We are a High Performing Chapter thanks to all of our members who volunteer and participate in monthly activities.


ASTD 2012 International Conference & Exposition
Kathy Choquette and Teresa Hiatt
at the conference.


Lorna Kibbey volunteering to support activities at the conference. These three members will be sharing their awesome experience at 2012 ICE with the Chapter at the June 20th meeting being held at Hodges University in Fort Myers from 5 - 6:30 pm.
What's in the Members Section of the Chapter Website?

Members Only Section
Chapter Blog
Forums
CPLP Resources
BOGO - Bring a Friend
White Papers, Tools, and Tips
Free eLearning Courses
Social Media Free eLearning
Polls and Surveys
Private Member Directory
Chapter Board Meeting Minutes
Chapter Annual Reports
Chapter Processes
Board Position Descriptions
President's Message

Dear Members,
It's Wednesday afternoon, and I am sitting in Joe Muggs inside Books- A- Million waiting to be inspired. And, I am waiting for my ASTD friends to join me for some coffee and some socializing.
My mocha is just the right temperature and packed full of chocolaty goodness - I'm beginning to get my second wind.
While relaxing, I begin to ponder about the state of our local chapter, our membership, and more importantly the future of ASTD of SWFL. Questions keep looping through my mind: Are we moving in the right direction? Are we providing value added programming? Are we growing? Can we do better? Are we connecting with our members?
STOP! I take another sip of my frothy concoction. In that instant, it comes to me, the answer to all of these burning questions is, YES! YES! YES! YES! And, YES!
SHOO!
Now inspired, here's what I do know for certain: over the last few months we have had 40% or greater of our membership attending monthly chapter meetings; membership is growing; our chapter received a Chapter Excellence Award for our focus on the CPLP; we have three members participating in a CPLP study group; we have three members going to ICE in Denver; we achieved CORE; and we had a presence at the Tri-County HR Conference.
And, according to ASTD National, ASTD of SWFL is considered a HIGH PERFORMING chapter!
Now, I don't want us to get too comfortable with this high performance stuff. We, ASTD of SWFL, still have work to do. The future of our organization is dependent upon you, our membership. So, here is what I need from you. FEEDBACK! Please let us, your ASTD board, know what we can continue to do to provide you with an amazing chapter that offers value - so we can continue to evolve and continue to be HIGH PERFORMING.
Stay connected, and I hope to see you in June. Even better, come to our next social night and I'll buy you a cup of coffee.
Stay connected and I will see you at the June Chapter Meeting!
Your 2012 ASTD of SWFL President,
Ken Bodenhamer
Thank you for reading and enjoying this month's newsletter. Our chapter is vibrant and growing. Attend a meeting and you will find it to be value adding.
Sincerely,
Charlie Carpenter
ASTD SWFL - VP of Communications & Technology
June 20, 2012 Chapter Meeting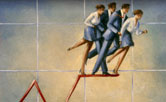 What can a Trainer learn from a Trainer?

Recap of ASTD ICE 2012

Three of our Members attended the International Conference and Exposition in Denver and they will share what a Trainer can learn from a Trainer.

Imagine 10,000 people gathered with one purpose - to attend an ASTD meeting! That is what the ASTD International Convention and Exposition is all about.

This year, three of our members traveled to Denver, Colorado, to participate in this event. Join us on June 20, to hear Lorna Kibbey, Kathy Choquette, and Teresa Hiatt share their stories and experiences.

This will not be a typical meeting. Lorna, Kathy, and Teresa will show you what they experienced from registration, to the expo, to amazing cutting edge sessions and keynotes.

They will copy some of the practices of the International meeting with a free book give-away and presents from the expo!
MEMBERS: $10
GUESTS: $15
STUDENTS: $5
You can pay by credit card or choose to pay at the door. We can only accept credit cards online.
Snacks and drinks will be provided for everyone attending the meeting.
WHEN:
June 20th from 5pm to 6:30pm
WHERE:
Hodges University
Room 339, U Building
4501 Colonial Blvd
Fort Myers, FL 33966

Needed: Volunteers for
SECRETARY:
The Secretary attends the monthly board meeting which are 1.5 hours in length and held between 8:15 - 9:45 am at Cracker Barrel in Fort Myers. This volunteer takes the meeting minutes which include actions, decisions, and what is next for the board to work on. This document is published in MS Word and shared with all the board members. If you are interested in this important position on the Chapter Board follow this link.

Volunteer to be Chapter Secretary
VP of MEMBERSHIP:
The VP of Membership has multiple responsibilities which include the following:
Work on ways to Grow our Chapter Membership
Maintain our members information to assure it is current and accurate
Follow up on membership renewals
Work closely with the Treasurer and the VP of Communication and Technology to maintain our member databases.
If you are interested in this important position on the Chapter Board follow this link.
Volunteer to be VP of Membership
Benefits for Board Members include discounts on ASTD National Membership and reimbursement for Local Chapter Membership once you have joined national. You also participate in the planning of all chapter events and activities and get to learn and grow with our other chapter leaders.
Monthly Chapter Meetings
Jun 20 Evening Mtg
Jul 18
Aug 15
Sep 19
Oct 17
Nov 21
Dec 12 Dinner
Monthly Lunch Meetings
FGCU FIOG
The Atrium Suite 1181
8695 College Parkway
Fort Myers 33919
Wed 11:30-1 pm
Dinner Meetings
Holiday Inn Airport
Wed 6-8 pm
Master Classes
Oct 6
Sat 8:30-12 noon
Keiser University
Suite 200
3800 Colonial Blvd
Fort Myers 33966
Please welcome our new chapter members!
Jim Wallert
Frank Horne
Keith Grossman
Vikki Dingman
Cheryl Vanande
Joanne Wallace
Julie Blauman
Daryl L. Kilpatrick
Thank you for joining the local ASTD Chapter of Southwest Forida.
HRMA May 2012 Conference

Ken Bodenhamer, Kathy Choquette, and Christine Davlin at our Chapter's Booth.
Our participation at the HRMA of Southwest Florida Tri-County HR conference on May 18, 2012, was successful in many ways.
In addition to signing up 5 new members, Darly Kilpatrick of Better Road Inc, was the recipient of our door prize a free 1 year ASTD membership.
We represented our local Southwest Florida Chapter of ASTD by sponsoring a table enabling us to provide awareness to the professional community of our existence in the greater Fort Meyers area.
We are in the paper! Upper left is Lorna Kibbey, Ken Bodenhamer, Kathy Choquette, and Christine Davlin. Great job TEAM!
On Line Lean Six Sigma Training
EVSave30
for 30% off discount on all e-Learning courses.
Our Chapter donates to the Harry Chapin Food Bank at every Monthly Meeting. We can't do it without You!

The

mission

of the Harry Chapin Food Bank is "to overcome hunger in Charlotte, Collier, Glades, Hendry, and Lee counties through education and by working in a cooperative effort with affiliated agencies in the procurement and distribution of food, equitably and without discrimination."
Every dollar donated allows the Food Bank to distribute $6 worth of food!
Become a Sponsor
SW FL Members advertise
here, only $10 per month. National Members $60 per month. Non-Members $60 first month with Chapter Membership Included!