Greetings!
We will recap the March meeting held at Seminole Casino Immokalee so you can see what you missed if you couldn't be there. It was an excellent meeting and lots of fun!
Our April meeting topic is
Audience Engagement: How to connect with your audience, even if they don't want to be there. We are pleased to have Libby Anderson as our speaker.
There is a lot of information in this newsletter, so take your time, read the articles, follow the links, and don't forget to visit our website!
Our Chapter Events will help you to train, coach, and facilitate others to make substantive change within any organization.
Charlie Carpenter
ASTD Southwest Florida Chapter
VP of Communications & Technology
Meet the April Speaker

Libby Anderson
M.S., SPHR is President of Human Resources Now and the Southwest Florida Employer's Association. She focuses on providing top quality Human Resource consulting and customized training and development. Libby's mission is to provide immediate and tangible outcomes by focusing on results and relationships.
Libby has 26 years experience working with companies ranging from hi-tech manufacturing, healthcare and specialty retail to hospitality, public sector and non-profit entities. Highlights of her career include working with the Ritz-Carlton Hotel Company in their effort to obtain the Malcolm Baldridge award for quality as well as working on an international level providing training on Human Resource topics. Libby was also selected as a recipient for the "Best of the Best" award for her work with Jacobson's Stores, Inc.
Libby writes for numerous business publications and is a featured speaker at programs focusing on Human Resource issues. She is Past President of the HR Florida State Council, the state affiliate of The Society of Human Resource Management and represented the Southeast Region of the United States on the Membership Advisory Committee for SHRM in 2006. She served on the Organizational Development Special Expertise Panel of SHRM from 2007-2011. Libby is certified as a Senior Professional in Human Resources and has her Master's Degree in Human Resource Development and Administration from Barry University, where she currently works as an Adjunct Professor.
Feedback from the March Monthly Meeting

March Meeting: Seminole Casino Immokalee


"Why it's the Best Company to Work For"
Our experience began when we arrived and were greeted by Seminole Casino Associates who knew about our meeting and where we needed to go. The hospitality was on display immediately. Little did we know, but we would soon find out why!
As we entered the conference center our hosts, Richard Bell (left) and Matthew Searles (right), greeted all of us and were pleased to hear that this monthly meeting would have the highest attendance in many months.

Everyone had an opportunity to mingle and enjoy snacks and beverages before the meeting began. The atmosphere of the room was exciting.
Ken Bodenhamer, our Chapter President, kicked off the meeting with the introductions of Richard Bell and Matthew Searles. Richard provided a brief outline of the agenda and then grabbed our attention with generous gifts from the Casino. We all received a post it note organizer, $25 to play games, and $5 toward food and beverages. That brought a round of applause.
The program began with a movie that chronicled the history of the Seminole Tribe in Florida. We soon learned how enterprising the Seminoles have been throughout their history and why Florida State University is so proud to be called the Seminoles. Next, we were introduced to the employee training program that comprises classroom training, hands on workshops, and eLearning. We soon learned that "It's all about You", which are the employees in all facets of the organization.
Matthew provided us with an in depth understanding of all the employee recognition programs that reward the application of the training that all of the associates receive. Million Dollar Moments really captured our attention. Going above and beyond for customers, what a concept, especially when you see it actually implemented. Many Chapter members stayed on to use their gifts and see first hand how the associates applied what they have learned.
The Chapter members in attendance were very vocal about how much they enjoyed this monthly meeting. For me it was a "Million Dollar Moment." Thank you Richard and Matthew!
by Charlie Carpenter, VP of Communications & Technology



Administrative Professional's Day Conference

Administrative Professionals' Day marks its 60th anniversary on April 25, 2012. The National theme this year is "Administratve Professionals, The Pulse of the Office." How true! The job has changed drastically in the past 60 years but the vital role our administrative professionals play in our success is escalating! Join us in celebrating this 60th Anniversary with a program of self discovery. Learn how to be successful through others and how to create your own success. Please join us for a day of celebration, education, and fun!
WHEN: Wednesday, April 25, 2012 FEE: $129
TIME: 8:00am - 4:15pm

Click Here to
REGISTER
WHERE: FGCU Campus, Cohen Center - Ballroom A
Fee includes continental breakfast and boxed lunch, door prizes and many more surprises!
What's in the Members Section of the Chapter Website?

Members Only Section
Chapter Blog
Forums
CPLP Resources
BOGO - Bring a Friend
White Papers, Tools, and Tips
Free eLearning Courses
Social Media Free eLearning
Polls and Surveys
Private Member Directory
Chapter Board Meeting Minutes
Chapter Annual Reports
Chapter Processes
Board Position Descriptions
President's Message

Dear Members,
I don't know about you, but our last chapter meeting at the Seminole Casino in Immokalee was more than I had hoped it would be.
Our gracious hosts, Richard Bell and Matthew Searles, provided us with a great meeting space, delicious treats, an amazing presentation, and a $25 gift card to the casino. KA-CHING!
This meeting had the largest attendance so far this year. Richard Bell, Training Manager, started us off with a history lesson of the Seminole Tribe of Florida. He then led us through Seminole Casino's Learning Structure that is offered to their 800 plus employees. Their structure consisted of core and management training. I was impressed with the number of training topics: a 2 day new hire orientation; Million Dollar Moments (customer service training); a 2 day supervisor training; Adaptive Management (for which they have 100 managers enrolled); and much more. Besides some E-learning, most of the training at the Seminole Casino is done in-house on a 24/7 basis!
Next, Matthew, who works in Employee Relations and HR, shared with us the Casino's reward and recognition program for their employees. Talk about a FUN working environment. They had 741 employees participate in the annual Halloween costume contest; they have Turkey giveaways; an employee appreciation day; a Holiday meal, Family Fun Day; a Super Star Talent Competition; Birthday celebrations; Million Dollar Moments Celebrations; and much more. Sign me up! When can I start? You could truly see and feel from all employees, that Seminole Casino is a great place to work and is worthy of being known as an "Employer of Choice".
A good time was had by all. It was great to see chapter members in a different setting enjoying each others company, while learning from fellow professionals that a successful training and rewards and recognition programs are possible. After the meeting, we made our way to the Casino floor where we got to rub elbows with employees of the Seminole Casino and, oh yes, a few High Rollers. Speaking of High Rollers, Inge Baugh, one of our newest chapter members, had Lady Luck on her side and walked away with almost $195.00! GO BIG MONEY!
Stay connected and I hope to see you in April.
Your 2012 ASTD of SWFL President,
Ken Bodenhamer
Thank you for reading and enjoying this month's newsletter. Our chapter is vibrant and growing. Attend a meeting and you will find it to be value adding.
Sincerely,
Charlie Carpenter
ASTD SWFL - VP of Communications & Technology
April 18, 2012 Chapter Meeting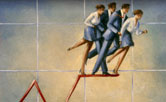 Audience Engagement: How to connect with your audience, even if they don't want to be there.

We've all heard about the value of Employee Engagement. As trainers we recognize that Audience Engagement is essential to a successful workshop as well.

Nevertheless, sometimes our audience can seem dis-engaged and even on occasion hostile about attending something we know will be good for them. Attend this meeting and you will learn:
The different categories of workshop participants and how to "connect" with each of them
What to do with the angry bird that can't fly away
"Reading" and responding to the various moods of an audience
MEMBERS: $15 with lunch, $10 without lunch,
GUESTS: $20 includes lunch
You can pay by credit card or choose to pay at the door. We can only accept credit cards online.
Lunch is from Jason's Deli
Please let us know when you register if you want a lunchbox with sandwich, chips, and cookie or a Vegetarian Lunch.
Ice Cold Water will be provided for everyone.
WHEN:
February 15 from 11:30 to 1:00
WHERE:
The FGCU Florida Institute of Government which is at The Atrium - 8695 College Parkway, Suite 1181, Fort Myers, 33919.
Save the Dates for 2012

Monthly Chapter Meetings
Apr 18
May 18 with HRMA
Jun 20 Dinner
Jul 18
Aug 15
Sep 19
Oct 17
Nov 21
Dec 12 Dinner
Monthly Meetings
FGCU FIOG
The Atrium Suite 1181
8695 College Parkway
Fort Myers 33919
Wed 11:30-1 pm
Dinner Meetings
Holiday Inn Airport
Wed 6-8 pm
Master Classes
Oct 6
Sat 8:30-12 noon
Keiser University
Suite 200
3800 Colonial Blvd
Fort Myers 33966
May 18 HR Conference

11th Annual Tri-County
HR Conference


On Line Lean Six Sigma Training
EVSave30
for 30% off discount on all e-Learning courses.
Become a Sponsor
SW FL Members advertise
here, only $10 per month. National Members $60 per month. Non-Members $60 first month with Chapter Membership Included!
Our Chapter donates to the Harry Chapin Food Bank at every Monthly Meeting. We can't do it without You!

The

mission

of the Harry Chapin Food Bank is "to overcome hunger in Charlotte, Collier, Glades, Hendry, and Lee counties through education and by working in a cooperative effort with affiliated agencies in the procurement and distribution of food, equitably and without discrimination."
Every dollar donated allows the Food Bank to distribute $6 worth of food!