Greetings!
We will recap the January meeting on Social Media - Twitter and Facebook. The handouts for the meeting are available for download as a pdf document as part of this newsletter.
Our February meeting topic is
e-Learning Standards and Best Practices,
which was identified in our member survey as one of the hot topics for 2012. We are pleased to have Mr. Brian Caudill, one of our Nation's leading experts, share his knowledge with our chapter.
There is a lot of information in this newsletter, so take your time, read the articles, follow the links, and don't forget to visit our website!
Our Chapter Events will help you to train, coach, and facilitate others to make substantive change within any organization.
Charlie Carpenter
ASTD Southwest Florida Chapter
VP of Communications & Technology
Meet the February Speaker

Brian Caudill has a wealth of experience in Web integration of training content and learning systems analysis. Mr. Caudill is an authority on the development and implementation of Sharable Content Object Reference Model (SCORM) and is well-versed in Learning Management System selection and integration, XML, Java Script, ASP, PHP, and Visual Basic.
He is a past member of the University of Central Florida's Accessibility Task Force for Implementation of Section 508 of the American Disabilities Act and a former member of the Core Group of the Department of Defense Joint Advanced Distributed Learning Co-Laboratory, where he provided technical consulting on SCORM to the military and private contractors. Mr. Caudill is a registered Department of Defense contractor holding a Contractor Access Card and secret level clearance.
He holds a B.S. in Psychology from the University of Central Florida (UCF) and is one of nine (1 of 9) nationally certified auditors for SCORM 1.1. Mr. Caudill continues to work with UCF on the Instructional Technology Advisory Council.
Mr. Caudill has also published white papers

and a book

on the subject of SCORM. Our Chapter is honored to have such a highly credentialed expert in e-Learning share his knowledge with our membership and guests.



Feedback from the January Monthly Meeting

Social Media - Twitter and Facebook
Our January meeting was all about Social Media. If you missed this meeting you missed a lot. Katie Meckley, the communications coordinator for the Lee County Visitor & Convention Bureau, talked about and demonstrated the advantages of social media.

She primarily focused on Facebook and Twitter. We all had either a smartphone, tablet, or laptop up and running during the meeting to keep up. To kick off the meeting she showed us that

there is a social media revolution going on! Watch this video on Socialnomics to gain some insight.
Social Media Revolution 2010

We learned how to Tweet with each other during the meeting and share our thoughts in real time. She covered the basics of Facebook and how to set up a Fan Page. To make sure we were all paying attention we were introduced to Poll Everywhere and we participated in a poll in real time during the meeting. It was very COOL!
Click on the Image to Visit the Poll Everywhere Website
After Katie finished up with Social Media Charlie Carpenter took us tip toeing through our chapter's website. There is a lot of content for our members. Resources on Social Media, CPLP, Podcasts, and even some e-Learning short courses.

It is all for the members and you have to log in on the website to get at it. If you forgot your password, not to worry, the website will issue you a new one, or just contact Charlie and he can help you with it.
We all had a lot of fun at this meeting and learned a ton! Don't miss the February meeting on e-Learning, we promise it will be value adding!
What's in the Members Section of the Chapter Website?

Members Only Section
Chapter Blog
Forums
CPLP Resources
BOGO - Bring a Friend
White Papers, Tools, and Tips
Free eLearning Courses
Social Media Free eLearning
Polls and Surveys
Private Member Directory
Chapter Board Meeting Minutes
Chapter Annual Reports
Chapter Processes
Board Position Descriptions
President's Message

Dear Members,
"WOW"!
After one month of being your ASTD SWFL Chapter President, all I can say is, "WOW"! January was an amazing month. Our chapter meeting on social media proved that many of us still have a lot to learn to stay connected and cutting edge. It was exciting to watch our 16 participants tweeting each other and following along on their I-Pads or Smart phones while learning what the ASTD chapter website has to offer.
Your chapter board has been working diligently to provide an organization that continues to bring value and integrity to our profession. They are dedicated and focused to ensure that we continue to thrive, grow, and remain financially healthy. They are truly passionate.
And, as promised, we are bringing the ever popular field trip back. Our chapter meeting for March will be on-site at the Seminole Casino in Immokalee. It will be fascinating to learn about their training philosophies and programs. So, stay tuned, more information will be coming your way on this exciting adventure.
Stay connected and I hope to see you in February.
Your 2012 ASTD of SWFL President,
Ken Bodenhamer
Thank you for reading and enjoying this month's newsletter. Our chapter is vibrant and growing. Attend a meeting and you will find it to be value adding.
Sincerely,
Charlie Carpenter
ASTD SWFL - VP of Communications & Technology
February 15, 2012 Chapter Meeting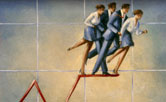 e-Learning Standards and Best Practices
This month's topic is e-learning. We will discuss standards, LMS (learning management systems), and best practices for building standards compliant content and tracking the results of that content.
Please join us as Brain Caudill presents the following:
Overview of the many standards within the e-learning space
Review the major standards and how they impact course development
Overview of the types of LMSs (Learning Mgt Systems)
What to expect from your LMS
Best practices for building content and tracking student results
Content deployment issues in e-learning projects
Handouts will be available!

GUESTS: $20 includes lunch
You can pay by credit card or choose to pay at the door. We can only accept credit cards online.
Lunch is from Jason's Deli
Please let us know when you register if you want a lunchbox with sandwich, chips, and cookie or a Vegetarian Lunch.

Ice Cold Water will be provided for everyone.
WHEN:
February 15 from 11:30 to 1:00
WHERE:
The FGCU Florida Institute of Government which is at The Atrium - 8695 College Parkway, Suite 1181, Fort Myers, 33919.
Social Media Mtg Handouts

Click on the Link and get the pdf
Save the Dates for 2012

Monthly Chapter Meetings
Feb 15
Mar 21
Apr 18
May 16
Jun 20 Dinner
Jul 18
Aug 15
Sep 19
Oct 17
Nov 21
Dec 12 Dinner
Monthly Meetings
FGCU FIOG
The Atrium Suite 1181
8695 College Parkway
Fort Myers 33919
Wed 11:30-1 pm
Dinner Meetings
Holiday Inn Airport
Wed 6-8 pm
Master Classes
Apr 7
Oct 6
Sat 8:30-12 noon
Keiser University
Suite 200
3800 Colonial Blvd
Fort Myers 33966
Become a Sponsor
SW FL Members advertise
here, only $10 per month. National Members $60 per month. Non-Members $60 first month with Chapter Membership Included!
Our Chapter donates to the Harry Chapin Food Bank at every Monthly Meeting. We can't do it without You!

The

mission

of the Harry Chapin Food Bank is "to overcome hunger in Charlotte, Collier, Glades, Hendry, and Lee counties through education and by working in a cooperative effort with affiliated agencies in the procurement and distribution of food, equitably and without discrimination."
Every dollar donated allows the Food Bank to distribute $6 worth of food!