Greetings!
Happy Holidays! This newsletter is packed with year end activities and what you can expect in 2012. We have installed the new Chapter Leadership Team, our Board, for the upcoming year.
We have a new President, Ken Bodenhamer! Not to worry, Lorna will still be on the board as the prestigious Past President.
We will recap both the November meeting and the December Awards Dinner meeting. There is a lot of information in this newsletter, so take your time, read the articles, follow the links, and don't forget to visit our website!
Our Chapter Events will help you to train, coach, and facilitate others to make substantive change within any organization.
Charlie Carpenter
ASTD Southwest Florida Chapter
VP of Communications & Technology
December Awards Dinner Meeting

Our annual awards dinner meeting was held at a new venue for our Chapter. The Holiday Inn Ft Myers Airport provided us with an excellent experience. The room, the food, and the service were the best we have had compared with any of our previous evening meeting locations. We plan to have at least 2 dinner meetings at this location in 2012.
Our President, Lorna Kibbey, presented the Annual Report for the Chapter. As it turns out 2011 was an eventful year with numerous accomplishments and firsts for our Chapter.
We covered all nine areas of expertise for the CPLP Certification, one per monthly meeting.
We conducted two Master Classes, Interactive Training Delivery and Introduction to eLearning.
Six chapter members attended ASTD ICE in Orlando.
Our President and President Elect attended ASTD ALC in Washington, D.C.
Membership increased this year by 19%.
ASTDSWFL.org website was designed and launched.
All communications were converted to Constant Contact.
We even launched and have grown @ASTDSWFL Twitter Account. (#ASTDSWFL hashtag)
Lorna announced her Shinning Star Awards and then handed the reigns for the chapter over to Ken Bodenhamer. 2012 promises to be just as professionally value adding as 2011.
We all enjoyed the evening with good friends and great conversations. For those that were unable to attend we missed you, but there is always next year.
Meet the New Chapter Leadership Team

Pictured in the photograph from left to right are Teresa Hiatt, Charlie Carpenter, Carol Marlow, Christine Davlin, Ken Bodenhamer, Lorna Kibbey, Kathy Choquette, Bobbi Jo Cusimano, and Cindy Hodge. Simonne Johnson was not present for the photograph.
In 2012 we will be focused and dedicated to: growing membership; creating community awareness and partnerships; providing programming as it relates to the ASTD core competencies; and more.
President - Ken Bodenhamer
Past President - Lorna Kibbey
Secretary - Simonne Johnson
Treasurer - Kathleen Choquette
VP Communications & Technology - Charlie Carpenter
VP Membership - Cindy Hodge
VP Programs - Christine Davlin
VP Public Relations & Outreach - Teresa Hiatt
Director at Large - Bobbi Jo Cusimano
Director at Large - Carol Marlow
Read the Biographies of the ASTD Southwest Florida Chapter Leadership Team by
Clicking Here.
Meet January Meeting Speakers

Charlie Carpenter
is the chapter's VP of Communications & Technology. He has developed and maintains our chapter's website, constant contact communication system, and Twitter account. He recently taught our Master Class, Introduction to eLearning held at Keiser University.
Charlie holds a Masters Degree in Manufacturing Engineering and provides training, coaching, and facilitation of continuous improvement methodologies for organizations of all sizes. He is the Master Black Belt instructor of Lean Six Sigma for Missouri State University's Management Development Institute.
Katie Meckley is the communications coordinator for the Lee County Visitor & Convention Bureau (VCB). She works with journalists from around the world to promote the county as a travel destination, works with local media on a daily basis where she deals with issues management and community relations, and also implemented and manages all of the Bureau's social media efforts. In her role, Katie oversees the day to day activity of the Bureau's Facebook, Twitter, Flilckr and YouTube accounts as well as coordinates all social media promotions and contests. She is actively involved in working with industry partners to help them gain a better understanding of opportunities social media provides to promote their businesses and to help develop social media marketing strategies and partnerships for the VCB and industry partners.
Previously Katie worked in public relations at Van Gogh Vodka and has sports marketing and community relations experience through her time at the Pensacola Ice Pilots ECHL hockey team and the Pensacola Sports Association. She received her bachelor's degree in communications with a focus on public relations and marketing applications from the University of West Florida in Pensacola. Katie is an active member of the Florida Public Relations Association and currently serves as the website chair on the association's Leadership Team.
President's Shinning Star Awards

Lorna Kibbey announced the Chapter Stars for the 2011 calender year. A certificate of appreciation and a gift card to the Cracker Barrel Restaurant was given to each of our Shinning Stars.
The first recipient was Susan Anderson for her contributions to the chapter as the volunteer chair for Employee Learning Week 2011.
The second recipient was Christine Davlin, the chapter VP of Programs, for her exemplary work all year long organizing our events. The focus in 2011 was the Certified Professional in Learning and Development areas of expertise. Great job Christine and we all thank you!
The third recipient was Kathy Choquette. She dove right in and took over the challenging role of chapter Treasurer. She took over for Mike Fischer who held the position for multiple years. Kathy took a crash course in Quickbooks so she can manage the finances. Thank you Kathy!
The fourth recipient was Ken Bodenhamer the chapter VP of Membership. He has grown our organization by over 19% this year alone. He has been tireless in his efforts to promote membership in the Southwest Florida Chapter of ASTD. Way to go Ken!
The final recipient was Charlie Carpenter the chapter VP of Communication. He took over for long time member Jim Jacoby and had some rather large shoes to fill. He took the job with one caveat that the chapter needed the technology of Constant Contact for communications. When the chapter had to convert to the Wild Apricot website platform he volunteered to handle that as well. Somehow he ended up with the Twitter account also. Thank you Charlie for all that you do!
Feedback from November Monthly Meeting

Value and Benefits of CPLP Certification
Our November meeting provided great insight into the value of studying for and then completing the ASTD CPLP certification process. The discussions were led by Jennifer Tomarchio, who was one of the first to receive the Certified Professional in Learning and Performance designation.
She explained the trials, tribulations, and process required to become certified. Knowing the effort required helped our chapter fully understand the value that the CPLP certification brings. It truly is THE designation for Learning and Development professionals and is applicable across the wide spectrum that defines our profession.
To help our members that were unable to attend this engaging and informative session we have added CPLP resources pages to the chapter website along with a link to the certification pre-test. These resources will help you decide if the CPLP is right for you.
Visit ASTDSWFL.org to check out the CPLP resources.
Meet the New Chapter President

Dear Members,
I am thrilled and honored to be your 2012 ASTD of SWFL President. First, I want to take a moment and thank the amazing Lorna Kibbey for mentoring me this past year and preparing me for this important role. Lorna's passion for our profession and her commitment to bringing value back to our organization has truly resonated within our chapter. I was again reminded at our December 7th meeting when Lorna provided our 2011 results that, WOW, I have some pretty big shoes to fill.
Secondly, the 2012 Board is made up of outstanding individuals. We will be focused and dedicated to: growing membership; creating community awareness and partnerships; providing programming as it relates to the ASTD core competencies; and more. I am confident that we will continue to move ASTD of SWFL forward and accomplish much.
So, let's make 2012 a memorable year. I look forward to interacting and engaging with each of you as we continue to grow professionally; make good business connections and life-long friends; and stay connected to our profession.
See you next year and Happy Holidays!
Your 2012 ASTD of SWFL President,
Ken Bodenhamer
President's Message

Hello fellow members!
As I sit to write your President's Message, my mind strays into thinking about firsts and lasts. This is my last letter as your current President, our last newsletter of 2011, and the last time Charlie will get to harass me about submitting this on time!
Along with the "lasts," come some firsts. Our progress in 2011 is remarkable and for the first time, we start a new year with state-of-the art systems, processes, and people! We've shown a membership increase of 72% since the start of 2010, and for the first time in a long while, we start the new year with more than 50 members. And, come the first of the year, your new President and Board will no doubt blow us away with new ideas for adding new value to our membership.
Thinking of firsts, I remember my very first President's Message. I had been serving as President-elect for five months when our President resigned, instantly giving me the position. I reviewed my first letter and amazingly, find that the words are right on target for the last letter
As I leave you with this message from our past and for our future, I want to say thank you to each of you who have provided support, encouragement, enthusiasm, creative ideas, and undying loyalty to our Chapter, and to me.
May 29, 2009 (An Excerpt from my first President's Message)
I am honored after years of service, to become your President. I am committed to strengthening our organization both in numbers, and in value. The American Society of Training and Development (ASTD) is centered on Workplace Learning and Performance - I will start by going back to basics in order to focus on your needs as members.
Success comes in many forms - and so do our members! For members who are corporate trainers, success means strengthening skills, securing a network of support, a never ending supply of new ideas, and enhanced job performance. For individual business owners, all of the above apply - plus the possibility of gaining new customers and business.
We are very privileged to have a local chapter of ASTD right here, right now. We must take advantage! As a training professional, I need people around me who do the work I do. I learn from each of you, I enjoy offering ideas to you; I need you to help me succeed. I hope you feel the same. Now is the time for us to take ownership and fully embrace this opportunity for fellowship, education, and service.
I will continue to serve on our Board in the coveted position of Immediate Past President - what a sweet job. Ken has worked hard to prepare for his new role and I know that you will join with me in giving him our full support.
It has been an honor to serve.
Thanks to everyone!
Lorna Kibbey
Your Southwest FL ASTD Chapter President
Thank you for reading and enjoying this month's newsletter. Our chapter is vibrant and growing. Attend a meeting and you will find it to be value adding.
Sincerely,
Charlie Carpenter
ASTD SW FL - VP of Communications & Technology
January 18, 2012 Chapter Meeting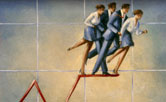 Technology - Our Website, Social Media, Facebook, and Twitter
Let's start off the New Year with some technology! We all know that our world is moving at the speed of light when it comes to technology, so let's at least catch up to what happened yesterday!
Charlie Carpenter, the Chapter's Communication & Technology VP, will provide an introduction and tour of our website so you can take advantage of the tools that are at your fingertips. Please bring a laptop or tablet computing device to access the internet for this highly interactive meeting.
Katie Meckley, the communications coordinator for the Lee County Visitor & Convention Bureau, will be talking about the advantages of social media. She will primarily focus on Facebook and Twitter. You will even get help to set up a Twitter account!
Please join us for an enlightening session discussing some valuable technology tools!
Plan to bring your laptops, iPads, Tablets, or smart phones to this informative and interactive session!
GUESTS: $20 includes lunch
You can pay by credit card or choose to pay at the door. We can only accept credit cards online.
Lunch is from Jason's Deli
Please let us know when you register if you want a lunchbox with sandwich, chips, and cookie or a Vegetarian Lunch.

Ice Cold Water will be provided for everyone.
WHEN:
January 18 from 11:30 to 1:00
WHERE:
The FGCU Florida Institute of Government which is at The Atrium - 8695 College Parkway, Suite 1181, Fort Myers, 33919.
Take the Next Step
Call Keiser University Today
239-277-1336
Associate, Bachelor's and Masters Degrees
Save the Dates for 2012

Monthly Chapter Meetings
Jan 18
Feb 15
Mar 21
Apr 18
May 16
Jun 20 Dinner
Jul 18
Aug 15
Sep 19
Oct 17
Nov 21
Dec 12 Dinner
Monthly Meetings
FGCU FIOG
The Atrium Suite 1181
8695 College Parkway
Fort Myers 33919
Wed 11:30-1 pm
Dinner Meetings
Holiday Inn Airport
Wed 6-8 pm
Master Classes
Apr 7
Oct 6
Sat 8:30-12 noon
Keiser University
Suite 200
3800 Colonial Blvd
Fort Myers 33966
Chapter 2011 Annual Report

Our President, Lorna Kibbey, presented the Southwest Florida Chapter of ASTD Annual Report to the membership at the December 7th Dinner Meeting.
If you were unable to attend you can get a copy of the report by
What's in the Members Section of the Chapter Website?

Members Only Section
Chapter Blog
Forums
CPLP Resources
BOGO - Bring a Friend
White Papers, Tools, and Tips
Free eLearning Courses
Social Media Free eLearning
Polls and Surveys
Private Member Directory
Chapter Board Meeting Minutes
Chapter Annual Reports
Chapter Processes
Board Position Descriptions
Living in the Past, the Present, and the Future
Give your Employees the Gift of Inspiration
Become a Sponsor
SW FL Members advertise
here, only $10 per month. National Members $60 per month. Non-Members $60 first month with Chapter Membership Included!
Our Chapter donates to the Harry Chapin Food Bank at every Monthly Meeting. We can't do it without You!

The

mission

of the Harry Chapin Food Bank is "to overcome hunger in Charlotte, Collier, Glades, Hendry, and Lee counties through education and by working in a cooperative effort with affiliated agencies in the procurement and distribution of food, equitably and without discrimination."
Every dollar donated allows the Food Bank to distribute $6 worth of food!