Greetings!
Welcome to the September Newsletter from the Southwest Florida Chapter of ASTD. We have three events this month and a Master Class on October 1st.
Sept 15th Networking and Education with HRMA of Southwest FL
Sept 21st Monthly Meeting - Managing Organizational Knowledge
Sept 28th CPLP Study Group - More details on Managing Organizational Knowledge
Oct 1st - Master Class - Introduction to eLearning
Please take the Member Survey to help us plan an exciting and knowledge filled 2012. Thank you in advance for your inputs!
We will recap what you may have missed last month and give you the details for Septembers activities.
Our Chapter Events will help you to train, coach, and facilitate others to make substantive change within any organization.
Charlie Carpenter
ASTD Southwest Florida Chapter
VP of Communications
What's Coming Up Next!

BOGO Coupons available Online click HERE.
Any member can invite a guest by giving them one of the business card invites.
The member is expected to attend with their guest (thus the term BOGO - "Buy one get one.")
The guest will turn in their invite for free admission to our monthly meeting and free lunch!
The guest must RSVP at www.ASTDSWFL.org so that lunch can be provided for them.
The offer can be extended only one time to any one individual.
Members should limit their free invites to two per month.
Master Class - Introduction to eLearning Oct 1, 9 am - 12pm, Continental Breakfast and Registration at 8:30 am, at Keiser University, Ft Myers. For Details and to Register Click on the Button.
Employee Learning Week - December 5-9 more details to come.
Meet this Month's Meeting Speaker

Jeff Graddy, Ph.D., is an executive coach and leadership consultant with Leadership Research Institute (LRI). He works at the individual, team, and organizational levels, with core
competencies in executive coaching and leadership development. Jeff's client engagements focus on creating immediate, sustainable change in areas that have proven impact on organizational performance, such as: leadership during transitions, personal effectiveness, team dynamics, and emotional intelligence. He relies on his training as a psychologist, his deep understanding of the real-world challenges of leadership, and his experience working with some of the highest performing companies in the world in order to drive business-relevant change.

Jeff serves across industries, including: healthcare, financial, government, information and business services, technology, retail, media, professional services, private equity, and not-for-profit. Jeff works with clients both domestically and internationally, serving top management and their teams, as well as executing broader training and development engagements at all levels of an organization. He uses a variety of approaches to achieve results, including executive coaching, training programs, survey design and execution, teambuilding techniques, talent planning, and strategic initiatives. Jeff also utilizes various measurement tools to aid client insights, such as personality testing, psychometric assessments, employee and customer surveys, and 360° feedback.
Master Class - Introduction to eLearning
October 1 at Keiser University from 9:00am to 12:00 pm
What is eLearning?
eLearning

comprises all forms of electronically supported learning and teaching.

eLearning

is essentially the computer and network-enabled transfer of skills and knowledge.

eLearning

applications and processes include Web-based learning, computer-based learning, virtual education, and digital collaboration.

Content

is delivered via the Internet, intranet or extranet, audio or video tape, satellite TV, and CD-ROM.

It can be self-paced or instructor-led and includes media in the form of text, image, animation, streaming video, and audio.
Learning Objectives
During the Course You will gain an understanding of:
eLearning
SCORM, the eLearning standard
A process to take existing courseware and convert it to eLearning
The basic tools required to develop eLearning courses
The Learning Management System, or LMS
For more Details and to Register click on the Button
Feedback from August Monthly Meeting

Coaching
The learning session on August 17th was led by Cynthia K. Hodge, Ph.D. and gave all of us in attendance an excellent perspective into Coaching.
We learned the purpose behind coaching, how it works, and how it is different from business consulting, mentoring, and therapy. This topic created plenty of questions and discussions. Cindy was able to illustrate the answers with real examples. The aspect that coaching is one on one and strictly confidential helped to clarify what Coaching is all about.
The critical elements of a Coaching Session are:
Start by asking the client "What would you like coaching on today?"
Ask powerful questions.
Hold the client's agenda, both today's and their ultimate desires, throughout the session.
Always hold the client and yourself NCRW (Naturally Creative, Resourceful, and Whole).
Questioning leads the client to self discovery for achieving their vision, or big agenda. We had a chance during the session to break into groups of three and try Coaching on for size. One of us was the Coach, one was the Client, and the other observed and took notes. The breakout lasted about 10 minutes and then each observer had a few minutes to provide feedback to the group. Wow, that was powerful.
Coaching is NOT:
Telling
Prescribing
Setting Goals and Objectives
Proposing Solutions
Teaching
Coaching IS:
Questioning
Visioning
Achieving self discovery by the client
Holding each other (both coach and client) NCRW
Being truly curious
Inspiring adult learners to engage their motivation to achieve their goals
This was a great session and if you missed it you really missed something special.
President's Message

Hello fellow members!
In late August, the National Speaker's Association (NSA) installed Laura Stack, CSP, MBA, as their new president. In her acceptance speech, she said something that really stuck with me. She was discussing the NSA agenda for the next year and she said it's not really so much an agenda, as it is a mission. Hmmm. In thinking about this, I think it really fits for our ASTD Southwest Florida Chapter.
So what is our mission? As stated on our official documents, our mission is to create a world that works better through exceptional learning and performance. I think our meeting agenda's for the last two years have served to fulfill this mission - and much more. I believe our mission is to provide fellowship, education, and service to our members and community.
In 2010, we took a journey to several organizations to see real examples of exceptional learning and performance methods. In 2011, we are close to completing our journey of introducing all nine areas of expertise for our profession.
Where will the journey lead in 2012? How will we continue to achieve our mission? I'm hoping you can help answer these questions.
On Saturday, October 1, 2011, ASTD SW FL will hold our annual retreat/planning meeting. I sincerely hope you can spend time with us to attend the retreat and help decide what is best for you, as a chapter member.
As I hope you have heard by now, October 1 is also the date of our second Master Class of the year. This one will be on e-learning. We'll hold our annual retreat right after the master class - mark off the entire day on your calendar right now!!
Also, I sincerely hope to see you on September 15, at Grandezza (4:30 - 6:30) at our networking/education event with HRMA. Many of you have expressed an interest in joint events with other community associations - please come and support this effort.
We are accepting volunteers for Board positions and starting to organize for 2012. If you'd like to help, we'd love to help you help ASTD SW FL.
You can call or write anytime - or, you can use our blog at www.astdswfl.org.
Thanks to everyone!
Lorna Kibbey
Your Southwest FL ASTD Chapter President
CPLP Study Group

This Month's Topic is
Management of Organizational Knowledge
Mark your calendars Everyone!
Our next CPLP Study Group is scheduled for Wednesday, September 28th at 5:30 p.m. You can come right after work. We will meet at Books-a-Million at the Forum. Click on the link for directions.
Since our members indicated an interest in learning more about the nine AOEs in the CPLP Certification, we invite everyone to attend-whether or not you are interested in the certification exam. Over the course of the year the study group will review all nine AOEs. The CPLP AOEs comprise the following topics.
1. Designing Learning
2. Delivering Training
3. Improving Human Performance
4. Measuring and Evaluating
5. Facilitating Organizational Change
6. Managing the Learning Function
7. Coaching
8. Managing Organizational Knowledge
9. Career Planning and Talent Management
When: Wednesday, September 28th Schedule: Every 4th Wednesday of the Month to study the topic presented at the ASTD Monthly Member meeting.
Time: 5:30 - 7:00 pm
Location: Books-a-Million at the Forum on Colonial off of I-75
Approach: Guided discussions following the ASTD CPLP handbook.
Please RSVP and we will provide any details you may need.
Thank you for reading and enjoying this month's newsletter. Our chapter is vibrant and growing. Attend a meeting and you will find it to be value adding.
Sincerely,
Charlie Carpenter
ASTD SW FL - VP of Communications
Member Survey
As you know, all of our chapter meetings for 2011 were based on ASTD's Areas of Expertise (AOE) that make up the CPLP exam.

Our goal is to continue to offer education and tools to our members so that you may continue to grow professionally.

With that said, we would like to know YOUR thoughts as we plan for next year's programming.
September 21, 2011 Chapter Meeting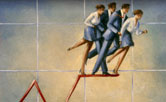 Managing Organizational Knowledge
Within every organization there is an immense amount of critical information that must all be captured, retained, and used in a way that helps that organization be successful.
When done well, Knowledge Management does exactly what the business needs:
gets people the right information,
right when they need it,
and in a way that helps them achieve results.
When done poorly, business leaders become frustrated, bogged down, and ill-informed - leading to poorer performance.
So come learn some simple tips about how you can you help your organization (or your clients) manage organizational knowledge...and how doing so will directly benefit you and the overall company.
On our ongoing journey to offer sessions based on the ASTD's Areas of Expertise, please join: Jeff Graddy, Ph.D. Leadership Research Institute, for an enlightening session discussing the different aspects of the Management of Organizational Knowledge!
MEMBERS: $15 with lunch, $10 without lunch,
GUESTS: $20 includes lunch
You can pay by credit card or choose to pay at the door. We can only accept credit cards online.
Lunch is from Jason's Deli
Please let us know when you register if you want a lunchbox with sandwich, chips, and cookie or a Vegetarian Lunch.

Ice Cold Water will be provided for everyone.
WHEN:
September 21 from 11:30 to 1:00
WHERE:
The FGCU Florida Institute of Government which is at The Atrium - 8695 College Parkway, Suite 1181, Fort Myers, 33919.
Take the Next Step
Call Keiser University Today
239-277-1336
Associate, Bachelor's and Masters Degrees
Become a Sponsor
SW FL Members advertise
here, only $10 per month. National Members $60 per month. Non-Members $60 first month with Chapter Membership Included!
For Details.

Our Chapter donates to the Harry Chapin Food Bank at every Monthly Meeting. We can't do it without You!

The

mission

of the Harry Chapin Food Bank is "to overcome hunger in Charlotte, Collier, Glades, Hendry, and Lee counties through education and by working in a cooperative effort with affiliated agencies in the procurement and distribution of food, equitably and without discrimination."
Every dollar donated allows the Food Bank to distribute $6 worth of food!